Jurassic World: Dominion Dominates Fandom Wikis - The Loop
Play Sound
George Yuri Ellwin[1] is a recurring character in the Freeform series, Good Trouble. He is portrayed by Craig Parker.
Yuri is an eccentric, pompous and self-centered high profile artist preparing for an upcoming show and in need of a new intern.
Biography
In his youth, Yuri was married to an unnamed woman and together they had a daughter, Blaise. They divorced and he allowed his ex-wife to take his daughter to Australia.
Later, his former best man became his ex-wife's new boyfriend and also a father figure to Blaise. Yuri hasn't seen his daughter since 2020 and she loves her mother's boyfriend more than her own father.
Personality
A very eccentric and self-centered artist, Yuri is a perfectionist in his art and demands great things from those around him. He is aware of his celebrity which makes him pompous and self-indulgent.
Physical Appearance
Yuri is a tall man with uneven dark brown hair, trimmed facial hair, grey-blue eyes, and black rectangular glasses. He wears relaxed clothing such as jeans and a black t-shirt. His jeans usually have paint or some kind of art supply on them. Yuri pairs his outfits with large rings.
Throughout Series
Season 3
In "Whoosh, Pow, Bang", Gael Martinez arrives at a penthouse loft for his new internship with highly esteemed artist named Yuri Elwin. Gael meets Gideon, Yuri's confused intern, who Yuri promptly fires when Gael arrives. He explains to Gael that he is doing a project about the aurora borealis and wants to use Norsemen tools for his project, instructing Gael to get them. He then asks Gideon why he hasn't left yet. His abrasive attitude visibly surprises Gael.
In "Because, Men", Gael vents to his friend Davia Moss about his internship, as Yuri is making him do errands during the day, even though the internship is supposed to only be at night. Davia suggests telling Yuri no, but Gael can't, as he believes he has to pay his dues. Davia later convinces him to stand up for himself and set boundaries, as working twelve hours a day unpaid is shit.
That night, Gael arrives for his internship to find Yuri painting on the floor. Yuri tells Gael to check the list of things for tomorrow. Gael tells Yuri that he isn't available during the day, stressing that the job was listed as being five hours a day, so he's been teaching the kids restorative justice through art at a middle school. Yuri offers to talk to the kids about being a famous artist, which Gael thinks is a great idea. Yuri knows it's great since he came up with it. He then asks if Gael at least paints if he doesn't do errands, then continues to instruct Gael to paint the canvases identically to him and mimic his style. The pieces are merely the backgrounds but should be simple enough.
In "Trust",
In "Driver's Seat",
In "She's Back",
In "Making a Metamour",
Season 4
In "Turn and Face the Strange", Gael enters Yuri's loft and barely misses a paint bottle being launched across the room. Yuri is having a full meltdown, complete with kicking brushes and destroying furniture. He hasn't seen his daughter in two years and she bailed on seeing him for the summer to spend time with her friends. He regrets losing his daughter to Australia. Gael can't imagine not seeing his kid, so Yuri tells him not to let Isabella Tavez leave for the pregnancy, as she might never come back.
In "It's Lonely Out in Space", Gael visits Isabella when Yuri calls, as he's in the office and needs Gael to come in. They need to sell a painting to a collector. He reminds Gael that he has a debt to pay, forcing Gael to agree to the random meeting. Gael apologizes to Isabella as he needs to go, with Isabella noting that he spends a lot of time with Yuri and questions his working hours.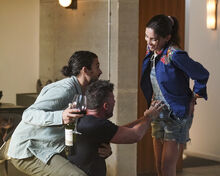 Yuri drunkenly unloads on Gael and coerces him into having some wine. Before Gael can drink it, Isabella arrives with a Toast Truck customer who needs to use the bathroom. Yuri compliments Isabella and shakes her hand. While the patron uses the bathroom, Isabella explains they are getting their steps in and were in the neighborhood. Yuri remarks that she has a pregnancy glow, which is similar to what his ex-wife had. Dennis arrives with another patron who needs to use the bathroom too, even though it's occupied by Isabella's friend. Dennis sneaks out to get back to work, with Isabella trying to cover that the whole group are friends. When Elaine leaves, Isabella tries to leave too but Yuri has her wait. He touches her stomach and remarks on the wonder of life. He puts his head against her stomach until Gael pulls him away. Once everyone leaves, Gael promises Yuri he can explain, but the man has an idea for a painting now.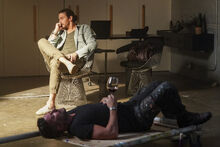 Yuri asks Gael about the relationship between Dennis and Isabella, with Gael noting that nothing is going on as they work together. Yuri tells him to watch out for the relationship. His former best friend - the best man at his wedding - has taken over the father figure for his daughter. His kid now loves him more than Yuri. He advises Gael to keep Isabella close, because whether it's Dennis or someone else, the mother of his child will meet someone new. When that happens, Gael has to ask what will happen to the "baby daddy" in the situation. Yuri asks for his opinion on the piece, and Gael likes it. However, Yuri calls it awful and pours his wine on it.
The next morning, Yuri shows the collector the new painting, thinking it's his best work yet. Last night, Gael painted the entire piece by himself. Yuri stumbled in after and Gael explains he was inspired by one of Yuri's sketches. All he has to do is sign his name on the painting. Yuri does just that on the bottom corner. The collector requests it be delivered to his residence and gives Yuri the check. Gael remarks that his share of the painting they just sold should pay off the advance he was owed, and now that they're square, he'll return to his normal hours.
Relationships
Notes and Trivia
Yuri was married with a daughter, though his ex wife took their daughter and went back to Australia.
Gallery
Images
Appearances
References