Jurassic World: Dominion Dominates Fandom Wikis - The Loop
Play Sound
Vitamin C is the thirteenth episode and the season finale of Season 1 of Good Trouble.
Synopsis
Jamal's trial begins, along with the Black Lives Matter protest Malika has organized, leaving Callie in a difficult position knowing she has information that could help Jamal's lawyers. Mariana gets some new information about the salaries at Speckulate from an unlikely ally, forcing her to make a decision about whether or not to release the spreadsheet outlining the pay gap. Meanwhile, Sumi's wedding day is here, and it's time for Alice to face her emotions head-on.[2]
Cast
Main Cast
Recurring Cast
Guest Starring
Trivia
A character dies either between the events of "Broken Arted" and "Vitamin C" or during "Vitamin C".[4]

The character was revealed to be Malika and Dom's mother, who suffered a stroke that caused a massive aneurysm in her brain. She was soon pronounced brain dead at the hospital. Though on life support, she would fail to breathe on her own if the tubes were removed. Malika and Dom ultimately decide to remove the ventilator, taking their mother off life support.

Because of her mother's stroke, Malika was unable to attend the first day of court for Jamal's hearing.

Most of the cast members, including Maia Mitchell and Cierra Ramirez, wrapped filming for the episode and season on October 14, 2018.

Sherry Cola and Zuri Adele wrapped on October 16, 2018, after returning to set for an additional day of filming.

Callie learns incriminating information about Officer Lawrence Griffin, one of the police officers involved in the shooting of Jamal Thompson.
Evan gives Mariana free will to choose a team to work on her activism app, including two engineers, a designer, and an assistant.
Davia still hadn't heard from Dennis despite calling every jail and hospital in the city and had left dozens of messages from him.

Davia later received a call from Dennis, revealing that he was in a hospital where he admitted himself for a 48-hour psych hold.

Vivian arrives at The Coterie again. Davia also meets Vivian's father, who reveals they are indeed homless; after Vivian's mother became ill, the family lost their house, which has since resulted in Vivian and her father staying in shelters or with friends.
Alice continues to plan Sumi and Meera's wedding, which is set to take place on the rooftop of The Coterie.
Trea and Alan Kwan arrive at The Coterie to give Sumi an engagement present, and Joey, Sumi, Meera, and Gael are forced to partake in a number of rouses to hide the truth.

Meera and Gael have to pretend to be engaged, and even kiss to make a point.

Angela and Mariana bond over their mutual experiences at Speckulate.
Callie is anonymously mailed a copy of officer Officer Griffin's personnel file. She then debates whether or not to leak the file to Jamal's lawyers.
Mariana decides not to publish the salary spreadsheet, as she believes that her app will have more of an impact on the workplace culture.
Gael tells Callie that he broke things off with Bryan because his feelings for Callie are different and intense. He admits that he should have fought for her and that if Callie has doubts about Jamie, Gael wanted her to know where he stands.
Sumi cancels her wedding after realizing she still has feelings for Alice. Meera angrily confronts Alice about knowing Sumi was going to call off the wedding beforehand.
Casey leaves The Byte Club after deciding that she has worked too hard for her position to risk it being taken away now because of salaries.
Callie's big dance dream sequence occurs.
Josh calls a company meeting to determine the source of the salary leak. The blame ultimately shifts from Josh to Angela but before he can fire her, Mariana interjects, saying that she hacked HR and posted the salaries. One by one, each member of The Byte Club and Raj Patil stand and take the blame. While Josh originally wanted to fire them all, Angela convinced him not to when Evan entered and demanded to know what was happening. At that point, several women admitted that Josh had attempted to kiss them, to which Josh claimed it was a smear campaign and he was the victim.
Jeff flies back to LA to tell Davia that he left Lily. However, Davia ultimately decides to stay in LA to get her masters in teaching instead of moving back to Wisconsin.
Mariana is unsure whether or not to stay at Speckulate following information that her app idea is legally Evan's per her contract with the company.
Alice calls her parents to come out as gay to them, and is surprised to learn that they already knew - they were just waiting for Alice to tell them. Trea and Alan Kwan assure Alice that they love her and just want her to get married so they can have grandchildren. After this, Alice tells Sumi she's not in love with her anymore.
Malika calls Isaac and he comes over after she invites Dom to her graduation.
Mariana and Raj kiss on the rooftop of Speckulate.
Featured Music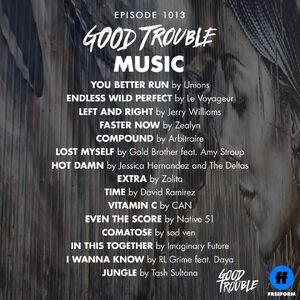 Gallery
Promotional
Behind the Scenes
References