Jurassic World: Dominion Dominates Fandom Wikis - The Loop
Play Sound
Us Against the World is the sixteenth episode in Season 1 of The Fosters. It aired on February 17, 2014.
Summary
Callie makes a life-changing leap in order to better her future and earn back the trust of her loved ones. Brandon makes a move of his own, much to Callie's disappointment. Stef is called to testify in Mike's case and is faced with a decision that could mean losing her job. Meanwhile, Jude unravels a mysterious message, and Mariana makes a bold move to win Chase's attention.
Synopsis
The episode starts with Callie at her last day during her stay in Girls United. They all speak about how Callie has affected them, and how they affected her. Later that night, Stef and Lena pick up Callie from Girls United. Mariana, Jude and Brandon are present for the welcome. Brandon approaches Callie after they have all left. He tells her that he moved in with his father, but didn't tell her earlier because he didn't want to manipulate with her decision. Callie is given a cell phone by Stef and Lena. Callie tells them that she is feeling at fault for Brandon moving out, and she will have to earn respect from the family. Callie goes upstairs and visits Brandon's room. She visits Jude and Mariana in her room. Mariana reassures her that Jude is unused to Callie being back.
In the morning, Mariana is due to going back to school. Students at school believe that Callie ran away with Wyatt from I Do. Jude looks through his backpack and finds a gift which is a decoration with a paper attached to it reading "And...". He is left confused by this. A man rings the doorbell at the Fosters. Stef has been served by court to testify in Mike's case about the shooting in Vigil. This could lead with Stef being fired from her job. Brandon, at his father's place, meets Dani. Her actions towards Brandon makes him feel uncomfortable. He questions his father about her. Just as Mike is giving Brandon money for the piano lessons, Brandon refuses and tells him that he just needs to take a break. Mike is left puzzled by this.
At school, Mariana and Callie enter only to see Chase and Kelsey together.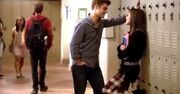 She questions whether Kelsey is saying bad things about her or not. After Callie leaves, Zac approaches Mariana. He asks her to go out to which she agrees. Jude, at his locker, receives another anonymous gift with the word "All". Brandon and Callie confront for the first time since he moved out. The conversation turns awkward for both of them, and Brandon leaves in somewhat anger. Back at Mike's apartment, he calls Brandon's piano teacher to discuss on Brandon's supposed break. Brandon is outside on the beach when he is hit by a boomerang. Vico comes along to pick it up. He joins by sitting down next to him.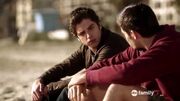 He asks him if he wants a joint to which Brandon declines. Vico asks him about Callie and her running away with Wyatt. Brandon becomes angry this. As a result, Vico tells him that he should go check out a party in which Vico is bringing alcohol. He shows him his fake ID. He suggests him that if he needs one himself, he could help him. Jude and Connor are having lunch when he is delivered cupcakes with the words "Was in". It is revealed by Jude that his mother gave birth to him at home, and she messed up Jude's birthdate. They end up eating the cupcakes. Mariana meets Brandon outside. She asks him about Mike's case. Because the case only has Ana's testimony, Mariana suggests to talk to her, but Brandon immediately doesn't allow her. Brandon goes at the Fosters' home. He goes through his closet and pulls out money. Stef is getting ready for questioning by a district attorney involved in Mike's case. Jude and Connor arrive at the Fosters' and find more gifts with the words "Anxiety", "At", "End", and much more. The boys attempt to discover the hidden message. At school, Mariana approaches Chase. She apologizes for the stolen fedora. Chase slightly flirts with her. He asks her if she will be joining the party that night, and she says she would. Stef is being questioned by a district attorney. She confesses the truth about the shooting. Brandon is at a diner meeting with Ana. He tricks her into recanting her testimony from the case in exchange for money. Mariana asks Lena for permission to attend the party later. Jude confronts Callie about the message. She reveals tiny hints about it. Mike steps in and says that Ana recanted. Everybody is thrilled, including Mariana. Brandon receives a call from his piano teacher. He says that he will tell his father about the cancelation of the piano lessons. Mariana questions him about this, and he tells her about the money he has kept. Mariana and Callie arrive at the party along with Zac.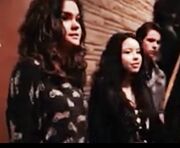 Mariana is talking with Chase when Kelsey steps in with drinks. He leaves them. Zac steps in later on as well. Brandon then arrives to the party. He joins Vico and is surprised to see Callie present. She leaves him as Brandon and Vico become partners later on. Mariana meets with Talya. She notices Chase and Kelsey and suggests that she makes a bold move. Talya gets another drink just as was Brandon. She makes rude comments and defends Callie's decision of the break-up. Mariana approaches Chase and slips her panties in his front pocket for sex.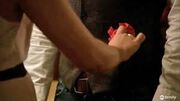 Upstairs, Mariana is waiting for Chase. Zac comes in instead, but shortly Chase comes along. Zac ends up leaving. Talya, angered by what Brandon said, tells Callie off. Chase and Mariana are making out before he attempts to take his pants off. Mariana becomes of his actions and immediately defends her actions saying that she was only flirting. Chase gets the wrong impression. Chase becomes angered by this.
Callie is outside when Brandon steps out as well. He notices her state of mood and asks her if it is Talya. He tells her that he told her about them, because he was sick of everybody saying that she ran off with Wyatt when that wasn't the case. He asks her how the post-breakup is easy for her since it's clearly uneasy for him. She tells him that hasn't been easy for her either, and she is hurting as well. Brandon asks her how long they have to feel this way, and she answers until they don't. Mariana asks for a ride home.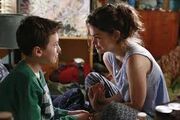 The next morning, it is Jude's 13th birthday. Callie gives him a book, Hanzel and Gretel, that their mom used to read to them all the time. Downstairs, he is surprised by everybody excluding Jesus. Brandon, during the celebration, takes the keys to a room at school.
Cast
Main Cast

Absent

Guest Starring

Co-Starring

Alain Uy as A.D.A.
Tai Bennett as Process Server
Jasmine Alvarez as Cute Eighth Grader
Livia Treviño as Court Reporter
Title Reference
Source Reference
TBA
Website
http://cis.hfcc.edu/~scotton/The%20Fosters/.
Featured Music
Trivia
This episode's title and information were revealed by Jules Kovisars, a production manager working for The Fosters. She posted it via her Vine account.
A scene or some scenes will be using snow as a prop or as a background.[1]
Gallery
Promo and Sneak Peeks