Jurassic World: Dominion Dominates Fandom Wikis - The Loop
Play Sound
The Toast Truck is a food truck business owned and operated by Dennis Cooper. The menu consists of a variety of foods added to an array of toasted breads.
Series
Season 3
In "Lunar New Year", Kelly tells Dennis his food truck is in a tow zone so he needs to move it, though it's currently not running. Matt, who knows about engines, volunteers to help. Dennis initially declines but Davia snarkily comments that Dennis would rather pay to get it out of impound. Dennis agrees so the men head out to the alley without Davia. Matt notes that the problem isn't the battery. He asks what kind of food Dennis will serve but Dennis doesn't know yet. Dennis tries the engine and it finally starts. Later, Davia tells Dennis that the ovens in The Coterie died and she needs Dennis to cook everything for their Lunar New Year event in his food truck.
In "Anticipation", Dennis tries to get people to try his food for the food truck. Davia declines, though Kelly accepts the offer. In Closing Arguments, Dennis tells Davia that he has all his certificates for The Toast Truck. It's all about the things you can make from toast. She remarks that he had her at bread. He rather emotionally admits that while he was at the hospital he saw the parents eating crappy food out of vending machines and remembered starving when Jacob was admitted so many times. He decided to park the truck outside of the hospital once a week and bring the meals up to parents of sick kids to bring them comfort. Davia thinks it's amazing.
Season 4
In "Turn and Face the Strange", Isabella finds a frustrated Dennis in the kitchen, trying to prepare for the soft opening of his food truck, which she's invited to. He adds that's coming up with the food costs. She offers to help as she has restaurant experience. She helps him reduce waste for his menu. He's so pleased with her work that he offers her a job at the truck. Gael, once alone, thanks Dennis for hiring Isabella. Dennis remarks that Isabella is good and saved his ass. Everyone and their friends attend the soft opening and it goes well.
In "It's Lonely Out in Space",
Employees
Menu Items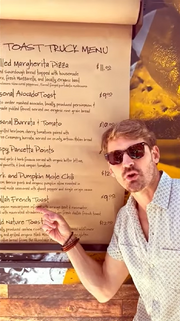 Grilled Marghertia Pizza - $11.00
Personal Avocado Toast - $9.00
Burrata & Tomato - $10.00
Crispy Pancetta Points
Pork and Pumpkin Mole Chili - $12.00
French Toast - $9.00
Nature Toast - $12.00
Seasonal Avocado Toast
Pizza Toast
Notes and Trivia
This Toast Truck marks the first time that anyone in the Good Trouble or The Fosters universe has owned an eating establishment.

However, it is the second time that a main character works for an eating establishment, as Callie waited tables during her time in Girls United.

The Toast Truck has a Twitter, Instagram, and TikTok account.
Gallery
References