Jurassic World: Dominion Dominates Fandom Wikis - The Loop
Play Sound
Things Unsaid is the thirteenth episode in Season 1 of The Fosters. It aired on January 27, 2014.
Summary
When Callie's probation officer learns of Callie and Brandon's relationship, it poses serious consequences for both teens. Stef and Lena are forced to take more severe measures to keep them apart. Meanwhile, Stef returns to work, leaving Lena riddled with anxiety. Jesus bonds with his wrestling team but Lena's reaction to a hazing tradition threatens to shake the hard-earned respect of his teammates. Kelsey's jealousy over Mariana's growing attraction to Chase (guest star Garrett Clayton) leads Kelsey to expose some nasty secrets from Mariana's past. Fearing Callie's actions will get them both sent away from the Fosters' home, Jude makes preparations. 
Synospis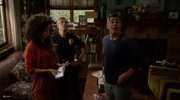 Callie's probation officer visits Lena and Stef to inform them of the incident with Brandon and Callie at the group home. Mariana is listening, and overhears the officer tell Lena and Stef that Callie was on her last chance at the group home. If she messes up again, she goes to juvey. Later, Lena, Mike, and Stef share with Brandon that they've taken a drastic step in keeping he and Callie away from one another-they've gotten a restraining order issued keeping Brandon apart from Callie legally. He gets angry and storms out. Mike, Stef, and Lena discuss the situation with Brandon, then Stef gets ready to head back to work for the first time since being shot. Stef tells Mike that he should be able to come to work with her, he tells her not to worry, it will work itself out.
At the group home, Daphne tells Callie to hurry with her chore, the van will be picking them up soon. Daphne walks away, so Callie retrieves a phone she's been hiding under the house. Later, Stef asks if there's any word about the investigation, and when Mike can come back to work. At play practice, Chase asks Mariana if she can hem his pants, she says can get into his pants after school, then is embarrassed by her comment, but Chase also asks her to run lines with him after school, she agrees. Lena calls to check on Stef when Timothy arrives to discuss something about work. He asks if she's okay, she tells him that she's worried about Stef's first day back at work, but that's she's fine. Back at play practice, Mariana's sewing machine tears up, Kelsey shows up to confront Mariana about running lines with Chase. She accuses Mariana of going after the guy she likes. Mariana denies doing anything wrong, but Kelsey doesn't believe her.
Meanwhile, the group home girls go on their field trip, Callie wanders off for a secret rendezvous with Brandon. It doesn't take long for Rita to realize that Callie's missing. She goes back to find Callie, who is still with Brandon in the art room. Callie tells Brandon she wants out of the house, then asks about Jude. She thinks Jude hates her, but Brandon says he just misses her. Daphne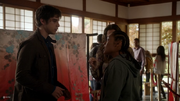 finds Callie just before Rita and saves Callie from getting caught with Brandon. Daphne tells Callie things are even between them now. Later at school, Mariana apologizes to Kelsey, who accepts her apology. Mariana sees Chase and informs him that she can't run lines with him, Kelsey steps up and offers to do the job. At the museum, a museum worker asks Cole to go to the women's bathroom. Cole gets into a fight with another guy waiting in line. At work, Stef arrests a kid who's on his fourth trip to juvey. At school, Mariana confronts Kelsey about going after Chase. Timothy informs Kelsey she can't go to play practice because she has to serve detention for being tardy again. Jesus attends wrestling practices, he gets discouraged when he is beat during a scrimmage, but the coach insists he's doing well. Timothy goes to Lena's office to inform her of news that shots were fired in town. She calls Stef, but doesn't get an answer. Later, Mike apologizes to Brandon for being drunk at Mariana's birthday and his audition. Brandon asks him about the times Mike was drunk when he was little. Mike tells Brandon he doesn't remember those times, Brandon tells him that's the thing about being a drunk. He tells Mike, "You can't remember, but the rest of us can't forget." The cute, dorky guy who works with Mariana on the school play, arrives to practice and asks why Mariana does all the work, but still gives Kelsey half the credit. Chase arrives, and Mariana offers to run lines with him. At wrestling practice, Emma tells Jesus he did a great job, then asks him to run with her the next day. He tells her he has a girlfriend, she says he also has a giant ego. Next, Jesus has to run through the team's tunnel of love but gets knocked out at the end by the guy who beat him in scrimmage.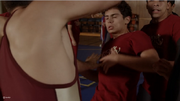 Meanwhile, Stef calls Lena back, who is relieved to hear from her and asks about dinner. Jesus shows up at her office, Lena freaks when she sees his black eye. Lena confronts the wrestling coach and demands the hazing be put to an end immediately, or she will have him fired. He complies. Back at the theater, Mariana helps Chase get through a rough line, he nails it, and they kiss. Mariana doesn't know it, but the cute, dorky guy who has a crush on her sees the kiss, as well as Kelsey. Back at the group home, the girls confront Cole about his actions during the field trip during their group meeting. Callie says that she thinks Cole was right in his actions, because Cole was doing what was right for him. She tells the girls to cut Cole some slack. Rita is impressed with Callie's wisdom. At the Foster's house, Mariana tells Lena she should reconsider how she's handling the hazing problem on the wrestling team. Then, Jesus announces there are ants in his room. Stef stops by the group home to check on Callie. She asks Rita if she can speak with Callie, but Rita tells her no, and that she can't show up unannounced. Stef tells Rita that she doesn't want Callie to think that she and Lena don't care about her. Rita tells her that Callie is in good hands, and that she hopes to see them at the next family day. Callie sees Stef leaving the home from her window upstairs.
Meanwhile, Lena confronts Jude about hoarding food in his room. He tells her he does it because other foster homes don't have a lot of food, and he's afraid that he's going to be moved to another foster home. Lena tells Jude that while she can't promise there won't be any surprises, but that he can't go through life afraid of what might happen. She also promises that he's safe in her home, and they won't surprise him with anything. At school, Kelsey accuses Mariana of selling her Jesus' pills. Back at the group home, Cole thanks Callie for what she said in the group meeting. Daphne tells Callie that she's getting out in two weeks thanks to the Independent Living Program. Daphne informs Callie that she has to do well at the group home for awhile before she can apply for the program. Then, Daphne surprises Callie by sharing that she has a two year old daughter that she hopes to get back from foster care one day. Back at the Foster's, Lena and Stef confront Mariana about Kelsey's accusations. They inform her that she's suspended from school because of what Kelsey told Principal Sanchez. Mariana is stunned by the news. At the group home, Callie sneaks off to call Brandon, but is caught by Cole, who demands that Callie give up the phone, but Cole's not doing it to be mean, he's trying to help Callie. Mike arrives at Stef and Lena's to apologize to Brandon for being an alcoholic while he was growing up. He also talks to Brandon about the restraining order, and tells him that he knows how Brandon feels. Mike says he felt the same way  when he and Stef divorced, and he only got to see Brandon every now and then. Mike gives Brandon money for piano lessons, but Brandon calls his instructor to tell him he can't take lessons anymore. He puts the money away. Later, Stef and Lena go to bed, but Lena can't sleep.

Brandon texts Callie, then receives a text back telling him things are over between them. He has no idea that Cole sent the message. 
Cast
Main Cast

Guest Starring

Co-Starring

Caroline Fogarty as Guide
Michael Patrick McGill as Coach Spears
Monica Garcia as Concerned Teacher
Lyn Alicia Henderson as Social Worker
Wolfie Trausch as Student
J. Omar Castro as Security Guard
Isiah Adams as Teen Boy
Title Reference
The title was a reference to how Kelsey told the principal some unsaid things about Mariana and the pills.
Source Reference
TBA
Featured Music
Main Article: Music Guide
 Bloom (Bonus Track) by The Paper Kites (Jesus is running on the beach and sees the girl he wrestled with.)
 Hello Mr. Sunshine by Amy Stroup (Chase asks Mariana to run lines with him.)
 Secrets by The Wooden Birds (Callie meets up with Brandon during her field trip.)
 Some Things I'd Rather Not Know (feat. Mindy Smith) by Madeleine Slate (Stef tries to visit Callie at the group home; Lena asks Jude why he hid some food in his room.)
 Shotgun to the Heart by Rosie and Me (Mariana's listening to music when Stef & Lena confront her about the stolen hat & her suspension.)
Trivia
This episode's title and information were revealed by Jules Kovisars, a production manager working for The Fosters. She posted it via her Twitter account.
This episode started shooting on October 22, 2013.
Gallery
Promo and Sneak Peeks