The Honeymoon is the eleventh episode in Season 1 of The Fosters. It aired on January 13, 2014. The episode is the first episode of 2014 and the return of the show after the summer finale.
Summary
The repercussions of Callie's decision to run away impact every member of the Foster family, including newlyweds Stef and Lena, who had offered to adopt the troubled teen. Both Jude and Brandon struggle with their own personal guilt about her running away. Mariana inadvertently discovers the whole story about Lexi's upcoming trip to Honduras.
Synopsis
The morning after their wedding, Stef and Lena are cuddling in bed whom are now happily married and admire their last names. They join the rest of the family downstairs in the kitchen. Sharon is cleaning up. Brandon asks about Callie's whereabouts, and she is supposedly at her guitar lessons told by Jude. Sharon and Stef talk about Callie and Jude's adoption from Stef and Lena. She assures her mother that she is sure of her decision. Wyatt and Callie are at a gas station after they left onto the highway in I Do. Wyatt demands answers, and she tells him that she was going to be sent to another foster home and couldn't handle that as she wanted to take charge of her life. They drive off and leave the state of California.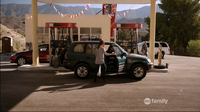 Back at home, Brandon and Jude are folding place mats. Brandon asks Jude if everything is alright since he caught Brandon and Callie making out. Jude resents him for saying so as he thinks he only has interest in knowing if he will inform people of the kiss. He asks him: "So what? You think you will be with my sister now?" He tells him that they can't be together as they won't adopt the siblings. Brandon replies saying that they will figure out a conclusion on the situation. Jude resents him once again claiming that Brandon is not any better than Liam. Brandon, filled with anger and confusion, tells him that he is not Liam and is nothing like Liam, and that he loves Callie.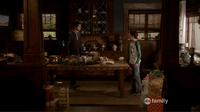 Jude walks away while Brandon is in a state of shock. Sharon brings in the new bed for Stef and Lena that reclines. Jesus enters Mariana's room while her and Lexi are working on their English assignment. He asks for time alone with his girlfriend, but Lexi lets him go after feeling she is letting her best friend down. She tells her that it is complicated when you are in love, and that she will understand once she has a boyfriend. Mariana is left angered by this. Back to Wyatt and Callie, they are visiting an area where aliens have supposedly landed. They order ice flavored ice cream, and they discuss about their future. She says that Jude is better off without her. Back at home, Jude was bound to play video games until he notices Callie's guitar is nearby which alerts him that Callie did in fact not leave for her guitar lessons.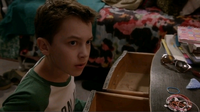 Jude rushes into Callie and Mariana's bedroom checking her closet and her drawers only to find out that it's empty. The family is shocked by Callie running away.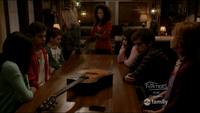 The family have a family meeting discussing about Callie. Stef worries that it may be because the mothers were to adopt the siblings. Lena suggests letting Callie having a day of her own to calm down while Stef thinks they should call Callie's probation officer. Stef says that Callie made things worse for herself. Jude asks Lena if Callie will be sent to juvie again to which she does not know and promises that everything will be okay. Wyatt and Callie are in a motel room settling for the night. While Callie takes her shower, Wyatt receives a call from Lena. She leaves a voice mail for him after he rejects her call.
She asks him about Callie, making him realize that Callie ran away and she lied to him. Stef is her room when her mother drops in. She tells her that whatever happens to Callie, she should adopt Jude. She calls him a really special kid. Stef agrees and calls Callie and Jude amazing, and she doesn't why understand this has happened. Sharon comforts her on the situation. Stef notices the new bed, and Sharon tries to brighten Stef. Wyatt and Callie are having dinner in their motel room. He asks her if she was going to call the Fosters. Callie disagrees. She says that she ruined things for Jude and either way she violated her probation. Wyatt asks her what is her plan, and she possibly makes the decision of going to Indiana with Wyatt. She suggests that if she went to Indiana with him, she could find a job as well as finding a place to live. Wyatt asks if she could stay with her father to which he is prison. Callie says that her father doesn't want her and Jude. Wyatt takes another wind with advice as he tells her that he doesn't understand why her father suddenly abandoned her, and he tells her that Callie always automatically assumes that somebody gives up on her. He suggests that maybe her father is looking for her. Wyatt goes to bed when he doesn't receive a response. Wyatt and Callie end up sleeping together in the same bed.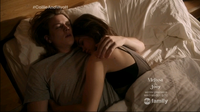 During the night, Callie approaches Wyatt in her sleep and wraps her arms around him to which they cuddle until Wyatt gets too uncomfortable. Wyatt rushes out the door to go to his car. As he gets to his car, Stef and Lena make an appearance asking about Callie.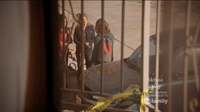 She looks out the window from her motel room, and she makes a run for it. It is revealed that Wyatt called Stef and Lena back. When they enter the room, Callie has disappeared. They rush out. Callie jumps in a truck and leaves. Stef and Lena question Wyatt about the events that have happened. They file a police report of Callie. Back at home, Mike is babysitting the Fosters to which they argue what they want for breakfast and lunch. Brandon asks Mariana if she thinks Callie is back with Wyatt. She says that she doesn't think as she thinks they broke up a month ago. Brandon doesn't understand why Callie would take off. Mariana says that finally felt like she had a sister. They realize they are late for school and Lena´s car won't start. Mike rushes all the kids into his car. Callie is dropped off somewhere, and she walks around. She walks towards a diner who are needed help. At school, Mr. Timothy tells Mariana that she will need a new partner. She now finds out that Lexi is leaving for Honduras and not returning. Callie is in her interview with a waiter who questions everything about Callie whom doesn't have a residence or a phone number.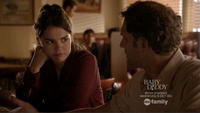 She is then rejected of her application, and she leaves. Stef and Lena are still continuing the search for Callie. They argue over what she should have done when Wyatt called back. They also argue about how to search for Callie.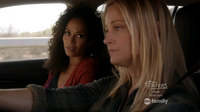 Stef, complete with rage, leaves the car and lets go of the glasses from the wedding that were supposed to be paid. Lena asks her if she feels better, and Stef doesn't feel better. Jesus gets home and sees a note from Mariana to go in the back. A picnic has been arranged for Jesus and Lexi. Mariana and Lexi were discussing about Lexi leaving which saddened of both of them.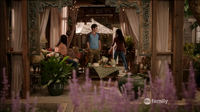 Lexi tells him that her family including her aren't coming back from Honduras. Jesus is shocked by this. Lexi's father was fired from his job after it was revealed that he was an illegal immigrant. She tells him that she doesn't want him waiting for her. He tells her that he will wait for her, and that he loves her. They kiss after his confession. Mike is still babysitting the Fosters when they find out that Callie took off again. Brandon is filled with guilt, and Jude walks away. Stef and Lena realize that they may have both been wrong about Callie.
Brandon visits Jude in his Jude shared with Jesus. Brandon tells Jude that ever since Callie left, he has been hopelessly figuring out why Callie ran away. He thought that she was with Wyatt; she might still be into him. He realized that she didn't run away with Wyatt, but she ran away from him. Jude is overwhelmed at the situation, and he says that he completely screwed this up and apologizes. Jude then takes the blame for Callie running away because he called her selfish and she ruined everything for him. Brandon and Jude share a moment as Jude cries on his chest, and he comforts him saying that it isn't his fault. Callie is walking down a street and takes the bus where she falls asleep and is forced to get out. She goes to a corner's store where she meets a prostitute.
The hooker tries to help Callie to which she rejects. She tells her that if she ever needs a place to stay for a little while, she could join her and her girls. Callie asks to borrow her phone. She calls Lompoc Federal Prison where her father supposedly lives temporarily. She finds out that her father has been released over a year ago. The hooker tells her that if she needs anything, she knows where to find her. Callie enters the corner's store. She heads for the fridge where she takes a sandwich and eats it in front of the cashier present. He tells her that she has to pay for her food. She grabs a can of soda and starts to drink it. The man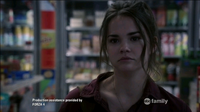 threatens her to call the police if she continues. She grabs a chocolate bar, and the man tells her that if she eats one bite, he will call the police. She ignores the cashier and takes the bite. The cashier calls the police to report a burglary. Callie is filled with emotion as she deliberately turns herself in.
Cast
Main Cast

Guest Starring

Co-Starring

Cassie Keet as Girl
Charles Emmett as Bus Driver
Shane Kaufman as Gutter Punk
Asante Jones as Delivery Man
Christopher Cho as Counterman
Title Reference
The title is a reference to the events in this episode happening during Stef and Lena's Honeymoon phase.
Featured Music
Main Article: Music Guide
 From Afar by Vance Joy (Callie and Wyatt in bed.)
 Heavy Heart by Madi Diaz (Jesus and Lexi say their goodbyes.)
 Save Me from the Fire (feat. Eliza Neals) by Barrett Strong (Callie and Wyatt talk about aliens, ghosts, and the future at the crater.)
 Girl With No Name by Jules Larson & AG (When Callie is on the bus.)
Trivia
Filming commenced on October 1st and ended around a week later.
The winter's season premiere date was revealed on October 21, 2013 by Zap2It .
The winter's season premiere promo was finally revealed on November 18, 2013 by E! Online.
The first official still of the premiere was revealed on December 3, 2013 by The Hollywood Reporter.
The rest of the official stills were revealed on December 6, 2013 by The Fosters official Facebook page and some more were revealed on December 11, 2013 by Just Jared Jr.
The first sneak peek for this episode was revealed on December 30, 2013 on ABC Family during an airing of A Cinderella Story.
Two more sneak peeks were released on January 6, 2014.
Gallery
Promos/Sneak Peeks