Taylor Shaw is a recurring character on The Fosters. Taylor is best friends with Jude. She is a straightforward, somewhat blunt yet friendly young girl. She quickly caught on to Jude and Connor's romance, but easily accepted it. She has become one of Jude's new friends in season 2; after Jude came out, they continue their friendship.
In season 4, Taylor introduces Jude to Noah, a boy from her Church Youth Group. Jude accuses her of bringing him to Youth Group because Noah is gay. Taylor admits that she hoped Jude would like Noah, or have him as a friend. A few days later at Lena's party, Taylor meets up with Jude and Noah there. She takes a picture of them together after she calls them "cuteness overload". She makes her first appearance in Light of Day.
Taylor is portrayed by Izabela Vidovic.
Biography
She lives with both of her parents. Taylor is shown to have been best friends with Daria for an implied long time despite their polar opposite and seemingly clashing personalities. However, they are clearly close and appear to often confide in one another.
Physical Appearance
Taylor has shoulder length brown hair, brown eyes, and pale skin. She maintains somewhat of a plain appearance. 
Personality
Taylor always seems to help her friends out whenever they need her.
Series
Appearances (21/101)
Season 2 (4/21)

Season 3 (2/20)

Season 4 (5/20)

Season 5 (11/22)
Relationships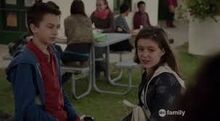 Attempted Kiss: Justify the Means (2x19)
First Relationship:

Start Up: Kingdom Come (3x20)
Break Up: Trust (4x03)

Reason: Taylor realized Jude didn't have romantic feelings towards her, as Jude is gay. She helps him fully come to terms with his sexuality when she introduces him to Noah, whom Jude later dates.
Trivia
She was the one who outs Jude and Connor's relationship at school in Wreckage. Under the belief that Connor was the one who didn't want to come out, she thought to be helping since she figured no one would care if they knew.
Taylor appears to be very observant, quickly catching onto Jude and Connor's romance in season 2 based on observations from their interactions with each other. 
When Jude and Connor are briefly banned from seeing each other, Taylor loaned her cell phone to Connor. He then used her cell phone to contact Jude and come out to him as gay.
Taylor's last name, Shaw, was mentioned in the episode "Many Roads" (5x19).
Quotes
Click here to see Taylor's quotes.
Gallery
Click here to see Taylor's gallery.
Community content is available under
CC-BY-SA
unless otherwise noted.