Jurassic World: Dominion Dominates Fandom Wikis - The Loop
Play Sound
"
See? Like, does she make you laugh? Are you best friends? Or have you made a big mistake because... Someone else was your soulmate this whole time and... You were just too clueless to see it?
"

Sumi Liu is a recurring character in the Freeform original series, Good Trouble.
She is the ex-fiancée of Meera Mattei and the ex-girlfriend turned best-friend of Alice Kwan. Sumi lives at The Coterie and is studying to become a doctor.
Biography
Personality
Sumi is highly intelligent and ambitious, studying to become a doctor. She has a good heart, but is riddled with insecurity and craves attention, willing to find it wherever she can. As a result, Sumi can be selfish and becomes unhappy when she isn't receiving the attention she desires. Generally, though, Sumi is bubbly, happy, airy, and easily excited. She hates conflict but often causes it between others due to her inability to recognize personal barriers. For example, Sumi is incredibly self-absorbed and crosses lines when it comes to her newly-founded friendship with her ex-girlfriend, Alice, whose affection and attention she tries to gain by sending mixed signals despite being engaged. She is remarkably smart outside of her flighty social skills.
Physical Appearance
Sumi is an attractive young woman in her twenties, with long dark brown hair and wide brown eyes. She has a slender physique and her bubbly personality radiates off of her, especially in her big and bright smile.
Throughout Series
Season 1
In "The Coterie", Sumi stayed the night at The Coterie and borrowed twenty-dollars, Alice's hoodie, and then gave her a kiss goodbye. That night at the party, Alice revealed that she was throwing the party for Sumi, was it was her birthday. Sumi is late and Davia snidely calls her a bitch to Mariana, and says that Sumi is taking advantage of her. Alice explains that the reason they're friends is that lesbians are more mature than straight people and stay friends with their exes. When Sumi arrives, Alice runs to get the cake from the kitchen and Sumi happily announced her engagement to Meera. The newly engaged couple party and socialize, and later, Sumi asks Alice to be her maid of honor. Alice accepts despite the fact that she still loves her.
Season 2
Season 3
Season 4
In "Turn and Face the Strange", Alice gives Sumi tips for applications for new residents. Sumi wants her to relax and enjoy her act, which is opening for Margaret Cho. She shouldn't worry about The Coterie. The fire alarm goes off so Sumi ends the call quickly. In the kitchen, Gael, Davia, and Mariana are trying to fan the remains of a burnt bagel when Sumi uses the fire extinguisher. Sumi has ideas for things to replace as she's upping the rent on the new loft. Gael recalls an emotional conversation with Isabella who is considering leaving - her new job would offer a free place to live. She doesn't feel right living in his loft anymore. In the present, Gael decides to take the new loft for $1,850. Sumi tells him that he has to apply, and if his credit checks out, she'll need first, last, and one months full deposit.
Gael greets Sumi and gives her the money for the loft. However, Sumi already leased the loft which hurts Gael's feelings. Sumi has an idea that might work. She tells Alice she's $5,550 richer, as she sublet her loft to Isabella to fix her money problem. Sumi reminds her it's a business transaction and won't let Alice be taken advantage of any longer, as her niceness is what got her stepped on before.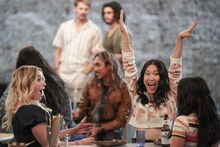 At Dennis's food truck opening, Mariana is with Callie when she sees a new guy in the lot and asks Sumi, who admits he's Joaquin and is a new tenant for The Coterie. He's an independent investigative journalist who just did a five-piece expose on deputy gangs in the Sheriff's Department. He also has a good credit score. Mariana praises Sumi then decides to introduce herself, to Callie's amusement. When the meeting goes poorly, Mariana tells Sumi she did badly. A few moments later, the music comes on and the groups begin to dance together.
In "Kiss Me and Smile For Me", Sumi is amongst the Coterie members that greets Stef and Lean upon their arrival. She helps prepare food for them, mingles, and partakes in Callie's impromptu going away party. She also happily greets Alice who has returned briefly from her tour with Margaret Cho.
Relationships
Notes and Trivia
Sumi always wanted to get married and have a big, fancy wedding.
She is known for cheating on her girlfriends, as she did so with both Alice and presumably, Meera.
Sumi is on her way to becoming a doctor.
She does yoga and takes aerial silk classes.
She loves trains.
Appearances
Gallery