Jurassic World: Dominion Dominates Fandom Wikis - The Loop
Play Sound
"
I love who I am. I'm proud of me.
"

— Stef Adams Foster

Stefanie Marie Adams Foster (née Cooper formerly Foster) is the daughter of Frank Cooper and Sharon Elkin. She is the wife of Lena Adams Foster and the ex-wife of Mike Foster, with whom she has one son with, Brandon. Stef is also the adoptive mother of Mariana, Jesus, Jude, and Callie, and the foster mother of Ka'maya.
She was a dedicated police officer for the San Diego Police Department who took down a number of criminals. She was partnered with her ex-husband, Mike Foster, per his request. In "Clean", Stef is shot in the line of duty and struggles to emotionally recover.
Stef was diagnosed with stage-0 DCIS breast cancer, and decides to have a lumpectomy instead of the drastic mastectomy surgery. When the lumpectomy tests positive for the BRCA-1 gene she decides to have a double mastectomy. Later, Stef was promoted to detective. Once she became a detective, she began busting prostitution and trafficking rings alongside her fellow officers. When her kids graduated high school, she opened a non-profit shelter for homeless and abused women while supporting her wife's political campaign.
Stef is portrayed by Teri Polo.
Biography
Stef grew up in a very religious household. A strong, attractive police officer, Stef is tough yet kind, even if she's not what would normally be described as "maternal". A divorcee now in a happy lesbian relationship with Lena, her soulmate and wife, Stef is the biological mother of Brandon and the adoptive mother of two kids out of the foster system. A loving, but stern disciplinarian, Stef has an agreement with Lena that they won't foster any more kids until Brandon has left home.
When Lena opens their home to the abused, defiant Callie Jacob, Stef is initially upset, especially when learning the girl was just released from juvie. Later on, she soon realizes that Callie is a broken girl who needs love and mending. After this moment, she and Lena may have no choice but to take her in. Along the way, they also take in Callie's younger brother, Jude, whom they eventually adopt. However, a problem with Callie's birth certificate prevents Stef and Lena from formally adopting Callie along with Jude.
They suddenly find themselves fighting for custody over Callie when her birth father Robert Quinn who, after discovering her existence, decides he wants custody over her as well. Eventually, in The End of the Beginning, Robert finally agrees to stop fighting for custody of Callie and allows Stef and Lena to adopt her, giving up his parental rights. However, various legal obstacles soon prove to be more roadblocks for them. After a long fight with the legal system, they manage to overcome these obstacles and finally adopt Callie in Lucky, much to their joy.
Physical Appearance
In Seasons 1, 2, and most of season 3, Stef had long wavy or straight blonde hair. As of Rehearsal, Stef has a pixie cut. She has blue eyes and is 5'6.
The Fosters
Season 1
Season 2
Season 3
Season 4
Season 5
Good Trouble
Season 1
Season 2
Season 3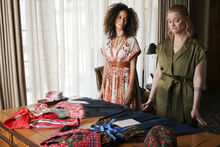 In Klompendansen, Stef and Lena visit the Hunters house for Brandon and Eliza's going away party, as they are leaving for Amsterdam. They arrive and are surprised to see that the party is Dutch-themed and they are meant to change into pre-selected costumes. The moms look at their costumes with Stef not wanting to dress-up. She also hopes to one day tell Diane how she truly feels about her. Lena warns Stef not to do anything today since the party is for Brandon and Eliza. Corey, Stef and Lena's former foster child, emerges in a Dutch costume which he isn't too happy about. He remarks that he knows he has to wear the costume for Brandon and Eliza, making Lena give an exasperated Stef a pointed look.
They emerge and see their children, causing everyone to hug each other. Diane loudly tells everyone they look amazing then explains to Stef that she heard about her back surgery which is why she has different shoes than everyone else. Stef gives her a forced smile. Diana has another surprise coming just as Connor emerges with drinks, surprising the moms, especially Stef who assures Jude they remember Connor from years ago. Diane asks how they know Connor to which Mariana blurts out that he was Jude's first boyfriend.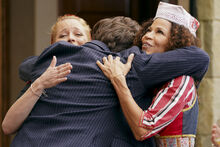 The Adams Fosters are taken on a tour of the house by Diane, and when they return Jamie has arrived. He makes his rounds with hugs, choosing to hug the moms at the same time much to Stef's surprise. She asks if Jamie remembers Corey and he does, noting that he was at Brandon and Eliza's engagement party. The Hunters and Brandon leave for the table while Stef, Lena, Mariana, Callie, and Jude talk about Connor for a moment before joining the table. They have assigned seats at the table, with Stef on one end and Jim on the other. Dinner brings revelations for the moms who didn't know Callie quit her clerkship, though Callie promises she was going to tell them today. Stef is horrified to learn that Mariana was verbally attacked by white supremacist's. Stef also remains unamused by Jim's political standpoints and his disapproving stance on Carter attending a state school. Diane tries to change the subject back to Brandon and Eliza's going away party, adding that it's also Stef's going away party, but Jim is persistent in his rants.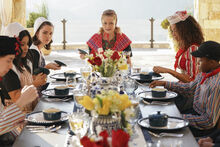 Diane explains everything they're eating with her revealing they're using their European trip to visit Brandon and Eliza in Amsterdam. Jim asks when Stef leaves for Venezuela, which she explains is in 10 days but she is very excited about going. Jim asks if she's worried about the social issues going on down there, but Stef explains the reason she's going is that the country is in crisis and she wants to help the children who were left behind when their parents were forced to migrate. Jim shifts the focus to politics and shames progressives for wanting to bring socialism to America, with Stef defending her stance on free Medicare and social security. Diane asks for politics to stop but Jim presses the issue. Jamie intervenes that they should table the conversation for now. This prompts Jim to ask why, since Jamie is a proud Republican. Jamie corrects that he's independent now, much to Jim's surprise. Jim asks Lena what she's working on in Sacramento to which she says homelessness and housing.
Jim asks about the housing bill, which sparks a debate between Stef, Lena, and Jim who have opposing viewpoints. The subject changes to why Callie went into criminal law. Jude thinks it's because of the homeless man who went into her apartment, which is news to the moms. Callie nervously tells Stef that it wasn't her apartment but Jamie's, which surprises everyone. Callie explains Jerod's break-in wasn't criminal, as he was suffering from a mental episode. She explains Jerod's situation to everyone, including Kathleen's involvement, much of which is new to Jamie. Diane admires the Adams Fosters family's need to serve and brings up hearing the homeless people's lack of shoes, a statement that makes Stef roll her eyes toward Lena who gives her a pointed look.
Stef and Lena hide in the bathroom. Lena worries about them being apart for so long, with Stef teasingly saying they should have lots of sex first as they kiss. Lena worries about their kids being quitters; Callie quitting two jobs and a relationship, Mariana quitting her job, and Brandon quitting his internship to go with Eliza. A knock on the door reveals Mariana, who is happy for the break. Lena asks why she didn't tell them about the supremacists, but Mariana just didn't want to upset them. Stef assures her that it's okay and asks what happens. She explains that the men asked if she was from brown lives matter and told her to go back to Mexico. She tries to claim it's not a big deal, and Lena comforts Mariana as Stef assures her that she was right to quit. Mariana tries to stand up for Evan just as Callie enters. Lena asks how it is seeing Jamie to which Callie covers that it's fine. Stef asks why they broke up.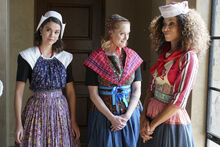 In the bathroom, Callie explains why she had and Jamie ended things and the situation behind her reasons for telling the tenants the truth. She asks if what she did was wrong and Mariana chimes in that it isn't. Lena asks Callie if she thinks it was wrong. Callie isn't sure which Mariana claims isn't true. Stef tells Mariana, who she affectionately calls "Miss Thing", to let her sister speak for herself. Callie thought what she was doing was right but didn't know it would end their relationship. Lena thinks it was the right thing to do with Stef knowing how hard it can be to be in a relationship with someone so different. She tells Callie to decide what she's willing to compromise, prompting Mariana to remark how she knows about that. Lena asks if things are hard with Raj, and Mariana reveals they broke up, which surprises the moms. Mariana quickly reveals that Brandon and Eliza have news, just as he emerges in the bathroom. He chuckles when everyone says they're taking a break. He tells about the guest house in the back that he usually hides out in. Stef asks what his news is.
The Adams Fosters emerge from the bathroom as a group and run into Diane. Diane asks why they were all in the bathroom, to which they cover that they were washing their hands. Diane introduces them to Fleur, who will be teaching them traditional dances. Everyone lines up outside as Fleur explains Stef's role in the dance, which includes an instrument. Their attempts are humorous as the group begins to have fun with the dances, eventually getting the hang of everything. Stef sits out on the dancing and instead plays the instrument she was given.
The families sit down at the table once the dancing is over, and more food is served. Jude tells his moms they should talk to Corey since his little sister is going into foster care. They exchange a worried look and Stef tells Corey to join them for dessert, as the boy has isolated himself. Things escalate at the table when Jim and Diane argue over Brandon and Eliza not going to Amsterdam for her music, but rather for Brandon's job. Lena and Stef change out of their costumes, with Stef surprised that Jim and Diane are fighting. They reminisce on how much they have overcome and how strong their marriage is now. They kiss just as Corey enters. Stef and Corey agree that he looks much better without the Dutch clothing. They tell him that they know about his sister, and Lena invites him to sit between them. He explains that his younger sister, Ka'maya, is living with her Grandmother who can't take care of her anymore. Ka'maya isn't his mom's kid, so the foster system won't let Ka'maya live with Corey and his mom. He explains that he didn't tell them because he didn't want them to feel as though he were asking them to take her in, because he's not. The moms exchange a knowing look.
Now alone, Stef and Lena hold hands as Lena wonders if they earned the right to be done with parenting after fostering four kids. She also notes that Ka'maya is only four so they would have fourteen more years of schooling. Stef emotionally reminds Lena that Frankie would be around Ka'maya's age right now. Lena reminds her that she can't quit the state assembly which means Stef would have to stay home and wouldn't be able to start her new chapter. Stef claims the only reason she was going there was to help kids. If there's a kid that needs her help here, she thinks it's fair to stay.
Stef, Lena, and Corey sit outside with him introducing Ka'maya to the moms. Ka'maya shows them her finger which has a purple band-aid, and Stef tells her that her favorite color is purple too. Lena compliments Ka'maya's pigtails, and the girl returns the compliment, commenting on Lena's big hair. Stef laughs that it gets bigger every day and the moms share a kiss.
The group gathers together to say goodbye, with Eliza hoping they didn't ruin the party. Jim reveals they will still visit them in Amsterdam, which makes Diane happy. Everyone hugs goodbye as Jude and Carter emerge openly holding hands for the first time which Jim notices but doesn't comment upon. Brandon and Eliza hug the mom's goodbye before they leave. Diane apologizes to Stef and Lena for her outburst earlier, but Lena tells them they're family and not to worry about it. They hug one another, Stef awkwardly accepting Diane's hug, and the Adams Fosters leave.
Once outside, Callie remarks that she is excited to meet Ka'maya while Mariana knew the nest wouldn't stay empty long. Lena asks Callie if she got the answer she needed when it came to Jamie. Callie feels that she did get an answer - what she did was the only choice she could have made. Lena is proud of the girls for taking such strong stands, and Mariana blurts out that she's dating Evan. She presses that she isn't like Callie and can't ignore her feelings for principals, especially since Evan is doing the best he can which she's okay with. Stef and Lena are okay with that since she's being true to herself which is all they can ask. The sisters hug Stef and Lena, then Corey. As they leave, Stef tells them to text when they get home. Stef whispers to Lena that she's looking forward to dealing with four-year-old problems and kisses her cheek. Corey waves goodbye to the car as Callie and Mariana leave.
Relationships
Over ten years prior to the series, Stef was married to Mike Foster. Their relationship hit a rough patch, and they soon separated, leading to a clear divorce. Mike was willing to make things work with her, insisting he would spend more time with Brandon and do marriage counselling. However, Stef instead revealed that she was gay and met someone. This marked the official end of their relationship, as shown in a flashback in Vigil. Their marriage produced one child, Brandon Foster, whose custody is shared between her and Mike. Currently, Mike and Stef still remain partners on the police force and are friends.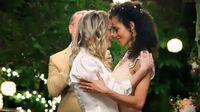 Main article: AdamsFoster
Lena is Stef's current wife and partner of ten years. It is revealed in Vigil, through the flashbacks, that the two met when Stef was enrolling a then five-year-old Brandon into school where Lena worked as assistant vice principal. Lena greeted Stef and offered to show her around the school where Brandon would be going to. After Stef realized she was a lesbian and had feelings for Lena, she officially ended her relationship to Mike and got together with Lena. They had been together ever since and in Vigil, Stef proposed to Lena and she accepted. In I Do, they are married, legally cementing their ten year relationship.
Trivia
Stef was shot in the ribs and almost died in the season one episode Vigil, but made a full recovery.
Her father didn't fully accept her homosexuality, while her mother did. Because of this, Stef had a bit of a strained relationship with him and never got the chance to fully make amends before his death, a decision she regrets. Right after he dies, she dreams of finally making up with him.
The first time Stef saw snow at a Padre game in Chicago she asked, "Daddy, why is the sky so dusty?"
While Stef was the one who was most reluctant about having Callie in the house, she was the one to form the most emotionally parental bond with her. During Callie's custody battle, Stef fought the hardest to gain custody over her against her biological father, even resorting to blackmail.
Gallery
Quotes
Click here to see Stef's quotations.
Appearances
References