I love who I am. I'm proud of me.

— Stef Adams Foster
Stefanie Marie Adams Foster (née Cooper formerly Foster) is the daughter of Frank Cooper and Sharon Elkin. She is the wife of Lena Adams Foster and the ex-wife of Mike Foster, with whom she has one son with, Brandon. Stef is also the adoptive mother of Mariana, Jesus, Jude, and Callie.
She was a dedicated police officer for the San Diego Police Department who took down a number of criminals. She was partnered with her ex-husband, Mike Foster, per his request. In "Clean", Stef is shot in the line of duty and struggles to emotionally recover.
Stef was diagnosed with stage-0 DCIS breast cancer in Season 3, and decides to have a lumpectomy instead of the drastic mastectomy surgery. When the lumpectomy tests positive for the BRCA-1 gene she decides to have a double mastectomy.
In Season 4, she was promoted to detective. Once she became a detective, she began busting prostitution and trafficking rings alongside her fellow officers. After all of her kids graduated high school, she opened a non-profit shelter for homeless and abused women while supporting her wife's political campaign.
Stef is portrayed by Teri Polo.
Biography
Stef grew up in a very religious household. A strong, attractive police officer, Stef is tough yet kind, even if she's not what would normally be described as "maternal". A divorcee now in a happy lesbian relationship with Lena, her soulmate and wife, Stef is the biological mother of Brandon and the adoptive mother of two kids out of the foster system. A loving, but stern disciplinarian, Stef has an agreement with Lena that they won't foster any more kids until Brandon has left home.
When Lena opens their home to the abused, defiant Callie Jacob, Stef is initially upset, especially when learning the girl was just released from juvie. Later on, she soon realizes that Callie is a broken girl who needs love and mending. After this moment, she and Lena may have no choice but to take her in. Along the way, they also take in Callie's younger brother, Jude Jacob, whom they eventually adopt. However, a problem with Callie's birth certificate prevents Stef and Lena from formally adopting Callie along with Jude.
They suddenly find themselves fighting for custody over Callie when her birth father Robert Quinn who, after discovering her existence, decides he wants custody over her as well. Eventually, in The End of the Beginning, Robert finally agrees to stop fighting for custody of Callie and allows Stef and Lena to adopt her, giving up his parental rights. However, various legal obstacles soon prove to be more roadblocks for them. After a long fight with the legal system, they manage to overcome these obstacles and finally adopt Callie in Lucky, much to their joy.
Physical Appearance
In Seasons 1, 2, and most of season 3, Stef had long wavy or straight blonde hair. As of Rehearsal, Stef has a pixie cut. She has blue eyes and is 5'6.
Series
Appearances
Relationships
Over ten years prior to the series, Stef was married to Mike Foster. Their relationship hit a rough patch, and they soon separated, leading to a clear divorce. Mike was willing to make things work with her, insisting he would spend more time with Brandon and do marriage counselling. However, Stef instead revealed that she was gay and met someone. This marked the official end of their relationship, as shown in a flashback in Vigil. Their marriage produced one child, Brandon Foster, whose custody is shared between her and Mike. Currently, Mike and Stef still remain partners on the police force and are friends.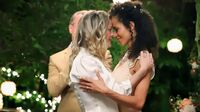 Main article: AdamsFoster
Lena is Stef's current wife and partner of ten years. It is revealed in Vigil, through the flashbacks, that the two met when Stef was enrolling a then five-year-old Brandon into school where Lena worked as assistant vice principal. Lena greeted Stef and offered to show her around the school where Brandon would be going to. After Stef realized she was a lesbian and had feelings for Lena, she officially ended her relationship to Mike and got together with Lena. They had been together ever since and in Vigil, Stef proposed to Lena and she accepted. In I Do, they are married, legally cementing their ten year relationship.
Trivia
Stef was shot in the ribs and almost died in the season one episode Vigil, but made a full recovery.
Her father didn't fully accept her homosexuality, while her mother did. Because of this, Stef had a bit of a strained relationship with him and never got the chance to fully make amends before his death, a decision she regrets. Right after he dies, she dreams of finally making up with him.
The first time Stef saw snow at a Padre game in Chicago she asked, "Daddy, why is the sky so dusty?"
While Stef was the one who was must reluctant about having Callie in the house, she was the one to form the most emotionally parental bond with her. During Callie's custody battle, Stef fought the hardest to gain custody over her against her biological father, even resorting to blackmail.
Gallery
Click here to see Stef's images.
Quotes
Click here to see Stef's quotations.
References
Community content is available under
CC-BY-SA
unless otherwise noted.