Jurassic World: Dominion Dominates Fandom Wikis - The Loop
Play Sound
Saturday is the sixth episode in Season 1 of The Fosters. It aired on ABC Family on July 8, 2013. This episode is written by Marissa Jo Cerar and directed by Norman Buckley.
Summary
The Fosters invite Ernesto (played by Carlos Sanz) and Sofia Rivera (played by Justina Machado) to dinner, and Stef worries that they will subjugate Jesus to views that disapprove of his non-traditional family. To make matters worse, Stef's conservative father, Frank (played by Sam McMurray), shows up and the family dinner threatens to turn into an all-out moral debate. Meanwhile, Callie attends a group therapy session for foster children and meets someone with a connection to her past - a past that will come back to haunt her. Wyatt holds a destructive party at his childhood home, which is under foreclosure, and Callie realizes he's much more hurt than he lets on. Mike shows up late to take Brandon to an important audition with a renowned piano teacher.
Synopsis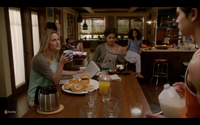 The Fosters began with Stef and Lena sitting down in the kitchen at breakfast helping Jesus plan dinner with Lexi's parents. Callie left and headed to Wyatt's home, which was being foreclosed on and they discussed their relationship. Wyatt invited Callie to his house party, which she declined because she had a foster home obligation. Meanwhile, Brandon was practicing piano and Lena wished him luck for his audition. The episode then cut to Callie in a foster child support group. Callie was skeptical and intrigued by one girl's story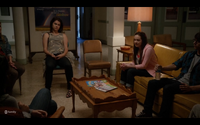 about her new foster parents. The girl told the group she thought she had found her final home with her current foster parents. Afterward, Callie invited the young girl to coffee so they could discuss things further. Back at the house, Mariana told her mother, Lena, that she was going to meet Garrett. Lena drove her to the dinner, but unbeknownst to her Mariana was meeting her biological mother. Mariana and her mother discussed her birthday, Jesus and she even gave her a gift. She gave Mariana a teddy bear.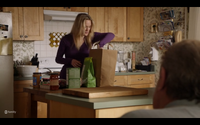 Brandon was at home waiting for his father, who was late and Brandon became enraged. Stef went over to her father's home and discussed Jesus' wanting to go to a catholic youth seminar. The conversation turned a bit sour when her father questioned her sexuality and her distance from the church. She left her father's upset. Brandon's father finally showed up and apologized for being late. He fell asleep watching the television. Callie and the young girl were sitting on a park bench talking. Callie was probing the girl about her foster family. During the conversation Callie accidentally asked a question and used Liam's name. The girl immediately closed up, and said she never said Liam's name and stormed off. Mariana and Callie were in their room talking. During the talking Callie mentioned that Wyatt was having a party.
Mariana pushed Callie to agree to go to the party. Callie agreed to Mariana's request. Stef and Lena were discussing the dinner with Lexi's parents. Stef was upset that they were going to be judgmental of their lifestyle. They headed down to the kitchen. Mariana and Callie went down to the kitchen also, and asked to go to Wyatt's. Mariana did all the talking and was misleading about the situation. She told her parents that her and Callie were going to watch a movie there, and lied about his parents being home. The episode transitioned to Brandon at his audition and he messed up his performance several times.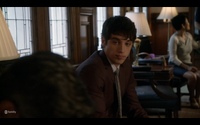 At night, Mariana and Callie went to Wyatt's home. Wyatt and Callie had an argument. Callie was trying to confront Wyatt about his behavior, since he was destroying the house, and he told her she doesn't know anything. Mariana was off elsewhere in the house talking to Kelsey and explained Callie is okay. At the dinner, Stef and Lena were discussing with Lexi's parents what boundaries there were to be with the kids. Then the door rang, and it was Stef's father, who didn't know they had company. He was offered a seat at the table and accepted. Back at the party Kelsey explained to Mariana that her parents gave Lexi the morning after pill. Brandon's father felt so guilty for ruining Brandon's audition by being late and falling asleep from drinking. He confronted the music teacher. Mike, Brandon's father begged the man to let Brandon to play again and not make Brandon pay for his father's discretions. During the dinner, Stef expressed her concerns about the bible camp seminar, and Riveras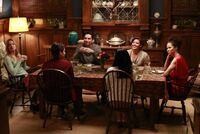 assured them there would be no prejudice against their family life style. The Riveras went further saying they support Lena and Stef as there is nothing more christian than family. Their response confused Stef's father. At the party, Wyatt lost his temper and began destroying the house more and made his way to his room. Callie managed to calm him down and he left to get fresh air. Callie then went looking for Mariana at the party. She found Mariana drunk, ran into Tayla who explained Brandon liked Callie, and was confronted by Liam. Brandon at his second chance audition impressed the teacher. Unfortunately, he couldn't offer him the scholarship, but offered to be his teacher. He offered to be his teacher but that it would cost 150 dollars and a lot of time. Brandon was hesitant because of the money, but Mike stepped in and said he would pay. Liam grabbed Callie and threatened Callie to stay away from Sarah, his foster sister, and not to open her mouth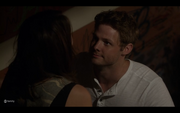 about him. Wyatt stepped in and separated them, and Liam left the party. Callie told Wyatt she was leaving with Mariana and even offered Tayla a ride home. Tayla said she would stay at the party. After the dinner, Stef escorted her father out and he apologized for sending her to church and ministers when she was a child trying to change her sexuality. Callie and Mariana came into the house, and Callie tried to help Mariana up to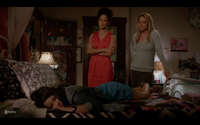 bed but her parents told them to join the dinner. Mariana clearly drunk stumbled in, and Stef noticing tried to wrap up the dinner. Even Lexi took note of her conditions and chimed in saying she was tired. But before Mariana could be hushed off, Lexi's mom told Mariana Jesus was going to bible camp with Lexi. Mariana blurted out that was ridiculous letting them go to sleep away camp when they are having sex. The dinner guests and her own family were speechless.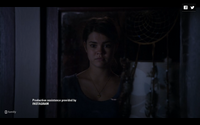 Stef and Lena rebuked Mariana for being drunk, lying and ruining Jesus's relationship while she laid in bed. Stef and Lena told Callie to call them next time. Callie wished Mariana a good night. Callie checked her phone before bed, and saw an Instagram comment alert. It was from Liam, he commented on her photo of the tree in the yard, saying that it was the one right outside her bedroom window. Callie looked outside the window at the tree and was terrified.
Cast
Main Cast

Absent

Guest Starring

Co-Starring
Title Reference
The title is a reference to the fact that the episode only takes place on a Saturday.
Featured Music
Main article: Music Guide
Black Eye Boogie by The Centerfolds (This song is heard when Callie and Mariana arrive at Wyatt's party.)
Lipstick Traces by F-Units (This song is heard downstairs at Wyatt's party. Callie follows Wyatt ti his room.) 
Skullface by Step-Panther (This song is heard in Wyatt's room. They walk downstairs, Callie talks to Tayla.)
Son of an American by The So So Gloss (This song is heard when Callie talks to Liam.)
Trireme by Snowday (This song is heard at the sports bar with Brandon and Mike.)
Long, Hard Day by Toby Lightman (This song is heard when Callie, Lena, and Steph finish talking. Callie goes to bed and gets a text.)
Gallery
Promos/Sneak Peeks