Raj Patil is a software engineer and coder who works for Speckulate. He is a member of Team Blue and a former member of Team Green.
Biography
Raj was born to an Indian family in or around 1998. In high school, he enjoyed skateboarding and had an innate desire to fit in with his fellow skater friends - who were primarily white men. Because of this, Raj dyed the tips of his dark brown hair platinum blonde, but later regretted it and reverted to his natural coloring. After high school, he attended college and received his software engineering degree. He was soon hired to work at Speckulate, and became a member of Team Blue under Alex Wood's supervision.
Personality
Initially, Raj comes across as just another sexist man at Speckulate. However, his attentive nature sets him apart, and he cares about how Mariana feels at their workplace and apologizes for the behavior of his colleagues. His desperate desire to fit in is his biggest flaw. He is extremely intelligent and bright-minded, able to create complex code when his bosses tell him too. At the end of the day, Raj ended up standing up for Mariana and reporting Alex's sexist and discriminatory behavior to HR. He also agreed to take part in the byte club's spreadsheet to close the pay gap.
Physical Appearance
Raj is an attractive man in his mid-twenties with thick brown hair, light brown eyes, and a casual clothing style.
Throughout Series
He welcomed Mariana to Speckulate and observes her interactions with Alex and the rest of the team. Unlike Alex, he doesn't seem to negate her abilities or question her intentions. He also doesn't chime in when the assets folder is begin discussed.
Appearances
Relationships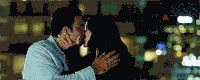 Their relationship originally began as co-workers when Mariana thought he was just like the other sexist employees at Speckulate, however, they grew closer as they learned more about one another. They grew closer through their work and eventually allowed themselves to cross the line between co-workers and lovers. Mariana was initially hesitant as she didn't want people to measure her success by her relationship with Raj. She has since overcome that hesitation and he's helped her and the byte club in their efforts to make Speckulate an equal environment. They have since dated, had sex, and proclaimed their love for one another.
Notes and Trivia
Raj enjoyed skateboarding as a teen.
He is an ally for Mariana and believes that what Alex and Sam are doing is wrong but initially refused to stand up to them.
Raj reported Alex's discriminatory behavior to HR, which got him in hot water with Alex and Sam.
He once tried to kiss Mariana after misreading a situation, which led to a temporary falling out between the pair.
Raj loves spicy foods and eats phall curry for breakfast. He also loves cream cheese and eats it with almost everything.
As a child, he had an imaginary friend named Ami, who was a magician.
Gallery
Community content is available under
CC-BY-SA
unless otherwise noted.