Quinceañera is the fourth episode in Season 1 of The Fosters. It aired on ABC Family on June 24, 2013. This episode was written by Joanna Johnson, and directed by Joanna Kerns.
Summary
Lena wants to throw Mariana the perfect Quinces party, while Stef balks at the cost of the event. Prompted by her moms, Mariana invites Callie to be in her court and Callie awkwardly accepts. Meanwhile, Lexi tells Jesus she doesn't want to sneak around behind Mariana's back anymore, but they're finding it hard to keep their hands off one another. Stef notices tension between Brandon and Talya over Callie and reminds Brandon that it's against the rules for foster siblings to have romantic relationships. Brandon brushes her off, but when Talya drops her friendly act and warns Callie against getting too close to her boyfriend, it might be the last straw for him. Lena's mother Dana (played by Lorraine Toussaint) arrives in town for the Quinceañera and the friction between mother and daughter is palpable. Mariana stumbles upon some news that could completely ruin her special day. 
Synopsis
Mariana was planning her Quinceañera with Lexi, but during the planning, Mariana revealed to everyone that Kelsey ,whom was supposed to be in her court, was in rehab, so there was an opening. She offered the opening to Callie and explained that she was going to dance a waltz with Brandon, to Tayla's dismay. Callie confronted Mariana about allowing her in the court. Meanwhile, Lexi had snuck off to the bathroom to have a make-out session with Jesus.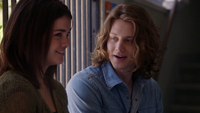 The next day at school Callie was hit on by her literature class peer, Wyatt. This encounter offered a potentially new relationship to the show. After school, Callie attended her waltz class with Brandon, of course Tayla intend to interlope. Later Callie and the family were getting dressed for the party. Callie came down the steps and Brandon saw her in her pink dress, he was stunned. She was so lovely and he was almost speechless, but the moment was ruined when Tayla showed up and mentioned Liam to Callie. Liam, still a character shrouded in mystery, but it can be assumed that he has some connection to Callie in a dark way.
At Mariana's Quinceañera Stef asked Mike to dance with Mariana during the father/daughter dance. Mariana caught Jesus and Lexi kissing and Callie switched her male escort during processions to someone other than Brandon, out of fear of Tayla's retaliation. Mariana did dance with Mike and it was beautiful. Afterward Brandon grabbed Callie by the arm and pulled her onto the dance floor to be his waltz partner. Meanwhile, Mariana danced with Jesus and he confronted him about his relationship with Lexi.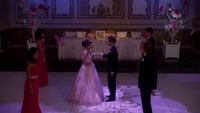 After the waltz Mariana rebuked Lexi by saying, "I have nothing to say to you." Brandon was approached by Tayla. Brandon reprimanded Tayla and found out she read Callie's journal. Brandon told her they were over, and Tayla's last request was he ask her about Liam.
While all the teenage conflicts were unfolding Lena had an argument with her mother at the table about her authentic black female experience. Her mother felt she didn't know what it meant to be a black woman, whereas Lena felt her mother was wrong. She stormed off after her mother's words were too much to bear. Jesus tried to cheer up Lexi and Jude told Callie to tread lighter with Brandon, as she is prone to doing stupid things.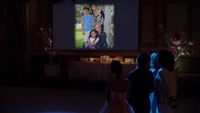 Stef went outside to console Lena and bring her a glass of wine. Stef told Lena it was okay to be upset but to be happy and celebrate with Mariana. Lena and Stef then went inside to be the emcees of the sideshow that contained pictures of Mariana and Jesus' life leading up to 15 years of age. During the slide show Mariana cried and Mike looked over his son Brandon lovely. Afterward Stef and Lena gave Jesus a skateboard, and invited Callie and Jude up for family photos. Stef even invited Mike, but he generously declined so they could have their own moment.
After the pictures, Brandon approached Callie outside. He explained he broke up with Tayla and told her, "I already know everything I need to know about you." Callie stormed off from Brandon. As Brandon chased Callie, his father Mike grabbed him and expressed his love. Brandon told his dad that he was drunk and needed a ride home, Mike laughed and agreed. While Brandon helped out his father, Mariana apologized to Stef and Lena for being selfish. She also apologized especially to Stef for not dancing with her.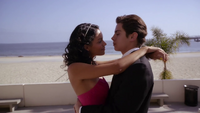 In the end, Jesus and Lexi danced outside of the ballroom, and Brandon, before driving his father went toward the beach to find Callie, but he only found her shoes. Callie had wandered off toward Wyatt's beach party. Mariana inside offered a dance with both her mothers and was more than thrilled to do so.
Cast
Main Cast

Guest Starring

Co-Starring
Title Reference
The title is a reference to Mariana's quinceañera.
Featured Music
Main Article: Music Guide
Rule the World by Anabel Englund (This song is heard when everyone is getting ready for the Quinceanera.)
You Are My Girl by Jack Miz (This song is heard when Jesus consoles Lexi; Jude fills Callie in; and Stef consoles Lena.)
Ready To Go by Toby Lightman (This song is heard when the couples walk into the party when announced.)
Simply Beautiful by Pilothill (This song is heard when Dana upsets Lena.)
Golden by Dena (This song is heard when guests arrive and Stef asks Mike for a favor.)
Believe by Nicholas Ruth (This song is heard when the couples dance the waltz and discuss the night's drama.)
Shooting Star by Kari Kimmel (This song is heard when Mariana dances the waltz with Mike.)
Live It Up (feat. Pitbull) by Jennifer Lopez (This song is heard when Mike asks Dana to dance.)
You Remind Me by Andy Shauf (This song is heard when the slideshow begins.)
Trivia
Jesus and Mariana turned 15.
We found out that Mike Foster has a drinking problem.
Kelsey is mentioned in this episode, and it is said that she is in rehab for using drugs.
When this episode aired, Cierra Ramirez was in a live chat on Twitter.
Gallery

 
Promos/Sneak Peeks