Pilot is the first episode in Season 1 of The Fosters. It premiered on June 3, 2013 on ABC Family. The episode was written by Bradley Bredeweg and Peter Paige and directed by Timothy Busfield.
Summary
Stef Foster and Lena Adams' family of adopted twins (Mariana and Jesus) and biological child grows when a hardened teen who has spent her life in and out of foster homes joins the mix.
Synopsis
Callie is shown to be a troubled teen in jail. She is sent to live with The Fosters after being physically attacked by a group of girls in juvenile. The Fosters include a lesbian bi-racial couple, Stef, who is a police officer, and Lena, who is a vice principal, Brandon, who is Stef's biological son from a previous marriage, and adopted twins - Mariana and Jesus. Lena takes Callie in, much to Stef's disdain, who doesn't think she's a good influence in their home, but she tries to accept her into the house. When Callie's there to stay, she borrows Brandon's cellphone to call someone named Jude, and tells him that she will come to get him.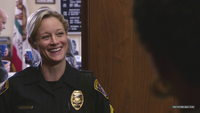 Meanwhile, Stef has to collaborate with her ex-husband, 
Mike
, who is a cop himself, due to her partner transfers. Callie is anxious to get to Jude, and Mariana tries to suggest a different way for her to find somewhere to go (a back exit to the school and a bus stop that is three blocks away). When Callie decides to ditch school, Brandon tries to follow her and stop her or it would cause her to go to jail once again. Jude keeps calling Brandon's phone to talk to Callie, who is desperate to see if he's okay, but he is taken off of the phone by someone Callie is against. Brandon is curious about what is going on. Jude is revealed to be Callie's younger brother and she is attempting to get him out of his foster home. Brandon decides to go with her and refuses to let her leave alone. Callie explains to Brandon that her foster father abused her after he discovered Jude wearing a dress, and he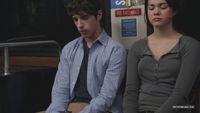 attacked him also. He kicked her in the stomach when Callie tried to retaliate, and she tried to take a baseball bat to his car, and the cops came and believed that she was crazy and he had been defending himself and decided to take her to juvie. Lena finds something suspicious about Mariana as she claims to be sick, and suspects that Jesus is not telling her about it at all. Jesus is angered at Mariana as he finds out that she took pills from him to sell and give the money to their birth mother, Ana. He tries to tell her how much of a bad mother she is to the both of them. The Fosters are trying to prepare for Brandon's music composition; however, they realize that he nor Callie are nowhere to be found. Brandon and Callie are at the foster father's home, where Brandon tries to distract him as Callie tries to take Jude away,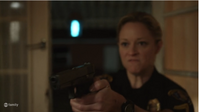 but she is caught in the act and the foster father harshly demands her to leave, in which she refuses to leave without Jude, he shoves her and Brandon tries to tell him to stop.
To the rescue, Stef and Mike arrive at the home and they arrest the foster father, and Callie and Jude are both reunited. Lena is disappointed in Brandon, and Stef decides to allow Jude and Callie to stay with the Fosters as they refuse to send the two back in the system yet. Meanwhile, Mariana meets her mother, but she realizes that she is using her just for the money.
Cast
Main Cast

Guest Starring

Co-Starring
Featured Music
Main Article: Music Guide
Before It Breaks by Brandi Carlile (This song is heard when the family is together.)
Fire and Dynamite by Drew Holcomb and The Neighbors (This song is heard when Callie is sneaking around.)
Secret by Missy Higgins (This song is heard when Callie asks for a ride to San Ysidro.)
Find a Way by Tyler Blackburn (This song is heard when Brandon chases Callie.)
Two Steps Away by The Co (This song is heard during the bus ride.)
Gallery
Community content is available under
CC-BY-SA
unless otherwise noted.