"
But high-key I know what you're doing, bitch - so stay the hell away from my man or I will beat you down, thot!
"

Olivia Newland is Logan Bayfield's ex-girlfriend, and enemies with Mariana Adams Foster. She had a fight with Logan but forgave him when Mariana helped him apologize to her. She then visits Logan and they attend the school prom together. She makes her first appearance in Prom.
Olivia is portrayed by Joi Liaye.
Biography
Physical Appearance
Olivia has curly black hair and brown eyes.
Personality
Series
Appearances (2/101)
Season 5 (2/22)
Relationships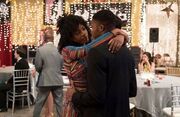 Trivia
Gallery