We're Getting Mutants in the MCU - The Loop
Play Sound
Nicolette Baptiste is a recurring character in the Freeform original series, Good Trouble. She is portrayed by Catherine Haena Kim.
Nicolette is a beautiful, kind, but fierce when she needs to be, attorney in the D.A.'s office who is ready to go head-to-head with Callie on a new case.
Biography
Personality
Physical Appearance
Throughout Series
Season 3
In "Help", Callie is out for drinks with a co-worker when she uses the bathroom. She notices a stain on her collar and a girl at the sink gives her a stain remover stick, telling her to keep it. They leave the bathroom to find Jamie in the hallway. He introduces the woman, Nicolette, to Callie, just as the hostess tells them that their table is ready. Callie returns to the bar and accepts the drink from her coworker after all. Jamie watches her from his table, where he's sitting with Nicolette.
Kathleen and Callie meet DA Marc Rothman and his associate Nicolette Baptiste, with Nicolette acknowledging their former meeting. The deputies are outside for them to interview, with Callie wanting to speak with Deputy Ross first. Marc leaves to get the Deputy, so Nicolette asks Callie if she got the stain out. Callie claims she did but also didn't realize Nicolette is in the DA office, with Nicolette clarifying that she is Jamie's supervisor. Kathleen inquires about who Jamie is but Callie downplays him as just being the DA in her case. DA Rothman enters Deputy Ross, and Kathleen hands the file over to Callie to take charge.
In "Trust", Kathleen, Callie, Tony, and Rowan wait for DA Marc Rothman to arrive but he is accompanied by Jamie and Nicolette. Callie lags in handing the notice to Kathleen so Tony helps her sort the files as she slides it over to Nicolette. Kathleen tries to get a continuance but the last attorney delayed it eight months. DA Rothman isn't open to negotiating so the defense left. Marc asks Jamie to be the third chair on the case. In the hall, Kathleen asks Callie what happened between Callie and Jamie.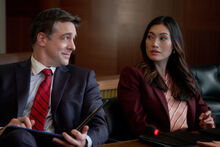 In "She's Back", Kathleen, Callie, Tony, and Rowan arrive at the courthouse. Jamie, Nicolette, and DA Rothman are already seated. The defense takes a seat and the judge is ready for them to present. FBI agents arrive to arrest Kathleen Gael. Kathleen tells Callie to make the argument and convinces her she can do it. Kathleen waves her rights and leaves with the agents. The judge asks how the defense would like to proceed, with Callie standing to present the argument for the fence. Rothman tells Jamie to take the counter for this one, and Jamie stands to respond for the prosecution. Nicolette is present for all of the preceding's for the day.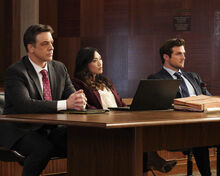 In "Picks and Strikes", Nicolette is present for more of the court appearances. The judge declares a short recess before the defense delivers their statement. Callie assures Tommy that he'll be okay, and is watched by Jamie and Nicolette. During the recess, Callie talks to Jamie about changing his timeline, but they are interrupted by an approaching Nicolette. Callie snips to Jamie that Nicolette keeps him on a short leash, then walks away before Nicolette can hear.
Court begins again, with Nicolette calling Zack's friends to the stand to testify over having seen the fight. They all saw it and agreed that Tommy started it. Kathleen cross-examines by asking if they had been drunk and high, which they were. She presses that their judgment over a fight or "just goofing around" could have been impaired. They both had seen them fighting before, and it was common for the rest of the guys to do the same. They claim it was just guys blowing off steam. Kathleen asks if this continued after Zack replaced Tommy, though both witnesses state that Tommy handled the situation surprisingly well. Jamie asks Rothman if they should redirect. Rothman tells them to let Kathleen hang herself as he has some tricks up his sleeves.
In "Anticipation", Kathleen empties her theory to the judge; the DA's office brokered a deal for Christian to keep the video a secret until the defense learned of it on the stand, in exchange for them getting rid of the drug dealing charge. The pair begin to argue and the judge reminds them of the severity of the charges. Kathleen needs proof but Kathleen notes that the information was anonymous. Jamie wants to address the court and Nicolette questions what he's doing. She watches Jamie gives his speech and shakes her head in disapproval when he sits down.
In "Blindside", Nicolette asks Katie about the party in Griffith Park when Zack was murdered. Kathleen objects as she's assuming facts that aren't in evidence. Judge Martinez sustains it and Nicolette rewards the question. She asks if Katie flirted with Zack that night and reminds Katie she's under oath. Katie admits that she did flirt with Zack to make Tommy jealous as they were in a fight. Nicolette states that Tommy was jealous, flew into a jealous rage, and caused the fight that night which led to Zack's death. Kathleen objects as Nicolette is testifying. Nicolette replies to ask if the fight was over Katie flirting with Zack. Katie admits that it was and says she's sorry to Zack.
In "Closing Arguments", the defense shows the simulated video of a body falling down a hill on its back, striking the back of its head on a rock, and continuing to slide down. Nicolette asks Dr. Mickelson about the paper he wrote last year where his scientific process and use of data were discredited by his peers. He claims that was a different situation but is forced to say yes.
Season 4
In "Turn and Face the Strange", Nicolette is present in the courtroom when the jury reaches its verdict of not guilty. She is disappointed and looks at the defense, who are celebrating their win.
Relationships
Notes and Trivia
Gallery
Appearances
References