Jurassic World: Dominion Dominates Fandom Wikis - The Loop
Play Sound
"
Well, you may be able to play that game that game, but... they want to know what it's like to work here, I'm gonna tell them. And if I get fired... then at least someone had the guts to speak up.
"

— Mariana

Mariana Adams Foster (born Mariana Gutierrez) is a major character in the Freeform series the The Fosters and its spin-off, Good Trouble. She is portrayed by Cierra Ramirez.
Mariana is the biological daughter of Ana Gutierrez and Gabriel Duncroft, and the adoptive daughter of Stef and Lena Adams Foster. She is also the fraternal twin sister of Jesus, as well as the adoptive sister of Callie, Brandon, and Jude Adams Foster.
Mariana is a brilliant coder who discovered her skills in high school after joining the STEAM team. After graduating high school, Mariana attended and graduated from MIT, before being hired to work at the tech up-start Speckulate as a software engineer. Mariana has since witnessed first-hand the blatant sexism and racism in her workplace and is fighting for equality. Upon leaving Speckulate, she pursued her objective of creating an app alongside a team of women. When this failed due to Mariana's secrets surrounding her love life, she was removed from the team and left to find a new career. As she searched for the "new Mariana" she accepted a job at the Law Office of Kathleen Gale, where she worked alongside Callie until she quit, to pursue her beauty app Bulk Beauty with her former team of women.
Biography
Mariana was born May 17, 1998,[3] and is the fraternal twin sister of Jesus. She is the biological daughter of Ana Gutierrez and Gabriel Duncroft, although Gabriel was originally unaware of the twins' birth. Ana and Gabe and a consensual relationship when she was 15 and he was 18, which resulted in Ana's parents having him arrested for having sex with a minor despite her objections. Infuriated with her parents, Ana left home and began drinking and doing drugs more heavily, which was around the time she discovered that she was pregnant.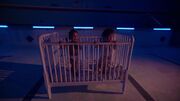 After the twins were born, Ana was still a drug addict and for this reason, Mariana and Jesus grew up in a tumultuous and unstable environment. Mariana vividly remembers a Christmas when she and Jesus were five years old and left alone at home for what felt like days while Ana was away getting drugs. Mariana described the experience as "terrifying", but, Jesus soothed her despite being scared as well. Following this incident, it became apparent that Ana couldn't care for her children due to her addiction. The siblings were placed into the foster care system soon after.
While the time they were in the foster system is unknown, Mariana was likely only in the system a year or so. Mariana lamented to Callie how she remembered frequently moving around as a foster child, and the various girls she had to room with, and sometimes being put in some "messed up" homes.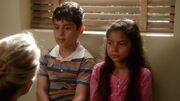 One day, Mariana and Jesus' foster parents decided that they couldn't deal with the kids anymore and dropped them off at the police station for CPS to handle. At this time, Stef Foster was a police officer and noticed the children. She approached them and learned their names before giving them each a lollipop. Mariana was quiet and didn't speak to Stef, nor did she accept the candy until Jesus handed it to her. After this, Stef and her partner Lena Adams decided to foster the twins. They brought them into their home, where they became foster siblings with Stef's biological son, Brandon. The twins were later adopted by the couple when they were 11. Mariana once said that she didn't feel true love and safety until Stef and Lena took her and Jesus in.
Personality
Mariana is very smart and girly and cares about appearances, in the least hers, very much. She's shown to be popular and is always organizing social events. Frequently, Mariana has shown strong leadership among her peers and is very proactive during a variety of situations, even organizing a protest against Mr. Timothy's firing at Anchor Beach. Not unlike the rest of her siblings, Mariana is extremely loyal and protective over her family and friends.
While she is usually kind, she can be naïve when it comes to certain topics. However, she usually learns from her mistakes. Mariana also loves to gossip and speaks Spanish fluently. Despite her confident exterior, underneath it all, she can be very insecure and sometimes caves into peer pressure to be accepted. This is shown multiple times throughout the series. For example, when seeing old friend Garret had a new edgier scene and friends, she pierced her nose herself at home to fit in. When making it onto the dance team, she had overheard fellow dance teammates claiming she only made it because she's Latina. This led her to dye her hair blonde so she could fit in while distancing herself from her Latin heritage. However, she has learned not to give in to how others make her feel and to be herself.
Physical Appearance
Mariana is a young, beautiful girl with a pale complexion, dark brown eyes. She has medium length deep brown hair which she wears in a variety of styles: curly, straight, or naturally waved. She has a slim, yet toned and athletic figure. Mariana's clothing sense is very girly; she often wears bright colors, such as pinks, yellows, and blues. She is often seen wearing a mixture of floral dresses and skirts with colorful cardigans and heels, and dark jeans and jackets over bright colored shirts.
While working at Speckulate, her fashion sense was forced to change due to the misogyny at the office. She began wearing jeans, simple t-shirts, and her hair pulled back in a ponytail.
Season 1
Season 2
Season 3
|-|
Season 4
Season 5
Season 1
Mariana Adams Foster moves to Los Angeles with her adoptive sister, Callie, to pursue their respective job endeavors. When they arrive, they realize the reality of LA differs from the version they created. A string of bad luck follows them as their moving truck is vandalized, their belongings stolen, their new communal living space less-than-perfect, and the guy Mariana moved to The Coterie to pursue takes a liking to Callie. Mariana's job at Speckulate also shows a cause for concern as she witnesses firsthand the sexism running rampid in the workplace.
Season 2
Season 3
Season 4
In "Turn and Face the Strange", Gael, Davia, and Mariana are trying to fan the remains of a burnt bagel when Sumi uses the fire extinguisher. Kelly is bitter she didn't get chosen for interim manager, complaining to Mariana about it. Mariana confirms a meeting with Evan via text.
Callie comes into her loft to find Kathleen in Mariana's slippers waiting for her. She asks if Kathleen got the proof she needed from Ken, but things are more complicated now. She took money from the retainer to give to Denise and help her get away. The FBI now have her books. To keep her out of jail, they need Denise to give the FBI something they can use to put her husband away. She needs Callie to convince Ken to do that. Kathleen apologizes for withholding information. She didn't want Callie to loose respect for her, admitting she's scared and needs her help.
Mariana meets Evan at the restaurant. The make small talk and he adopted a pet turtle. Mariana and Evan talk over drinks. She remembers talking to the Byte Clubs about him wanting to meet. They agree she should see him to see if he has information about Revitalize. Now, Evan admits that Jackie wants him to find out if she can be trusted. He isn't here to do his bidding, he's curious as to why he's betraying her friends. She tells him Jackie ripping off Bulk Beauty which he didn't know, or approve. She doesn't either, but lies that the BB girls pushed her out, stole her ideas, and now she's taking them elsewhere. Since neither of them have anything else to discuss, she tells him to tell Jackie she has nothing to worry about and leaves.
Back at The Coterie, Mariana opens champagne to toast Callie for her not guilty verdict. She notices something is wrong but Callie can't tell her as it's privileged information. She admits it's not just that, she looks in the mirror and doesn't know who she is. She's not where she thought she'd be. Mariana asks where she thought she would be, so Callie admits she didn't think she'd be here. Mariana brushes it up to being tired and offers a foot rub to Callie, who is confused by the gesture. Mariana tells her to not be so suspicious of her intentions.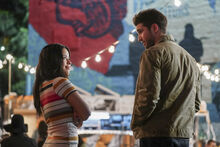 Mariana is with Callie when she sees a new guy in the lot and asks Sumi, who admits he's Joaquin and is a new tenant for The Coterie. He's an independent investigative journalist who just did a five-piece expose on deputy gangs in the Sheriff's Department. He also has a good credit score. Mariana praises Sumi then decides to introduce herself, to Callie's amusement. She does and introduces herself as a Coterie resident. He thanks her for the welcome and deflects all her questions back to questions about her work. She realizes he likes to play games but he counters that he doesn't like sharing what he does for work with perfect strangers so he's politely redirecting the conversation. They engage in witty banter as he calls her out for coming over to flirt with him, as he's with someone, and she insults that he's full of himself. He decides to go get more toast. Callie walks over and asks what she thinks, and Mariana admits he's a dick. She tells Sumi she did a bad job then sits down. Callie texts Jamie until Mariana pulls her into the dancing.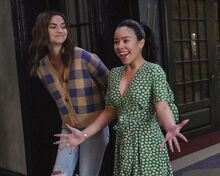 In "Kiss Me and Smile For Me", Mariana and Callie give Ka'maya food and try to navigate her likes and dislikes. Joaquin walks in and helps Mariana check the expiration date for sunflower butter, much to her disliking. Mariana introduces her moms and foster sister to the new Coterie resident. He begins to ask the moms questions about their visit. Stef explains that they just popped over for a visit as they didn't have plans, with Ka'maya correcting that they were supposed to go to Disney Land. Stef assures her they can go whenever they want but Lena had a free weekend. Lena excuses herself to answer a call. Mariana tells Callie that they had other plans too. Flashing back, the sisters aren't thrilled with the surprise visit. The moms arrive and they say hello.
Now, Joaquin asks when the last time they visited was, with Callie saying it was about eleven months ago. Dennis and Isabella arrive, with Stef greeting Dennis happily with a hug. Callie introduces Isabella to the moms, as they explain she's moved back in and is pregnant. Stef thinks Dennis is the father, but they correct that an arriving Gael is the father. Gael greets the moms as Callie asks where they want to go to dinner. They propose a kids friendly pizza place, but Stef wants to have a grown-up dinner. Isabella offers to watch Ka'amaya as she used to have princess parties. Lena isn't thrilled with leaving Ka'maya, though Stef interjects that Lena leaves her all the time when she goes to Sacramento. Lena counters that it's different as she leaves her with Stef, who wanted to have a grown-up conversation tonight. Dennis was going to cook dinner and Davia hears as she enters. Davia is thrilled to see the moms and so is Malika. Malika greets Ka'maya happily and they all agree to attend dinner. Callie will text Jude that they're staying in.
The Coterie preps for dinner but Jude is buried in his phone. He admits that Carter and he might be in a fight. He's having trouble translating Carter's texts, remarking that long-distance sucks. Mariana asks what the conversation is about, and the moms look to Callie. Kathleen Gale arrives so Callie talks to her in private. In the meantime, Alice arrives at The Coterie for a surprise visit so Mariana happily greets her. Mariana tells Callie that she knows why the moms are here, and thinks it's because they're adopting Ka'maya. Callie thinks that might be it but isn't sure.
The Coterie crew sit for dinner and compliment Isabella and Dennis on dinner. Stef asks Alice about touring and she says it's a dream come true. Lena asks Malika about her job transition but she isn't sure yet, and asks Lena about her job. Lena admits that being in the majority doesn't change the uphill battle. The governor has approved Lena's idea, though. Joaquin asks where she stands on defunding the police and she admits it's up to each city, but he calls her out for dodging the question. Mariana explains he's a journalist which is why everything is an interrogation. Joaquin doesn't think there are any good cops, with Mariana admitting that Stef used to be a cop. The conversation keeps going and they talk about trouble with texting, as Jude is still having communication issues with Carter. Steff tells Jude to get off his phone. Jude admits they're having trouble with sexting. When the moms discuss their sext life, the kids are mortified while the rest of the table cheers. Callie tells Jude to stop playing games and reading into things. Jude asks why she can't be honest with Mariana. Mariana is confused and asks what's going on and why the moms are there. They aren't there because of Ka'maya, and Mariana confronts Callie. Callie admits she got a job with the ACLU in Washington D.C. so she's moving there in two days. Mariana leaves the table rather emotionally.
Callie goes to see Mariana in Malika's loft, with Mariana upset about the short notice. Callie apologizes to Mariana as everything spiraled, so she wanted her moms and Jude to be there when she broke the news. Mariana is upset - but not because she got her job or is moving, but because Callie thought she was so fragile and can't throw a going away party. Callie admits there's not time like the present. The family dinner turns into a party with shots, as Mariana toasts to her sister, who is changing the world.
Later in the night, Stef and Lena ask Mariana how she feels, with Mariana reminding them that she went away to college and has lived without them before. The moms aren't just worried about Mariana, but also Callie as she's always lived with or near one of them. Maybe she was afraid to tell her because it would become real. The sisters look at one another from across the room.
Callie clinks her glass to call everyone together. She is going to try to talk without crying. She thanks them for the going away party. Callie had no idea that she was moving into a communal living space. After sharing a bathroom with four siblings, the thought of sharing one other with a dozen strangers was a nightmare. But she had no idea how lucky she was that her sister tricked her into moving here. When you leave the family that you were born into or adopted into, you go out in the world and make a chosen family of friends. She will never find a better chosen family than them. Callie loves them all so much and thanks them for letting her be part of The Coterie. They clap for her and then Malika turns the music back on and they all dance together happily. Callie and Mariana embrace as they dance, then Callie hugs Malika and Alice. She smiles happily.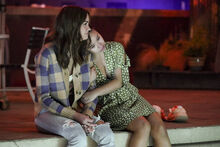 Callie dips her feet in the pool when Mariana walks over and joins her. Mariana asks how she feels about leaving, and Callie admits that she's scared. She's never been on her own since Jude and her became Adams Fosters, but she needs to find herself and her purpose. She cries as she wishes it didn't mean moving away from her. Mariana puts her head on Callie's shoulder as Callie fears that she'll come back with her tail between her legs. Mariana will welcome her with open arms. Callie's the most exceptional person that Mariana knows, and once she finds her purpose, there will be no stopping her. She's ready to leave home and will never be on her own completely because her family - the Adams Fosters and the Coterie - will be there for her. After all, geography doesn't make a family, love does. Mariana made it up off of something the moms once told her. The moms arrive with Jude to give the girls a mom sandwich. Jude joins in on the hug as he reminds Callie of when she stole a sandwich. He brings up Mariana piercing her own nose, with Callie laughing over Mariana having dyed her hair blonde. Mariana rebuttals that this is coming from a girl who got in a car with a pimp. They all laugh over their shared memories and tribulations together.
Callie loads the car with her bags as she and Mariana remember their U-Haul horror story from theor first night in LA. Callie tells Mariana about the story as she finishes packing everything up. Mariana gives her a bag to open on the plane, and they hug one another. Callie promises to call her from the airport and when she lands. She gets into the car and, from the window, tells Mariana she loves her. Mariana remarks that she loves her more. The car drives off as Mariana watches. She returns to find The Coterie Crew waiting for her and they have a group hug.
Callie boards the plane and takes a window seat. She opens the bag from Mariana to find a small porcelain doll. She remembers their first day in LA when they found two dolls in the thrift store, with one that looks like Mariana. Mariana calls the doll precious and then finds another that looks like Callie. Now, Callie looks down at the Mariana doll and reads the note. Mariana is keeping the Callie doll so they both have a piece of each other. Callie cries as she looks at the doll. Meanwhile, back at The Coterie, Mariana takes the Callie doll from the mantle and sits in her bed as she cries while looking at it. She holds it close to her chest then falls back on the bed, sobbing as she holds it. Callie's side of the room is now completely bare.
In "Meet the New Boss", the fight club girls worry about Mariana going undercover at Revitalize, but Mariana believes it's the only way to prove they stole their idea. She just needs a photo of their source code to prove it. Rachel asks how she is with Callie gone, offering to move back in, but Mariana loves having the loft to herself. She gets a little emotional reminiscing about Callie being gone and how quiet it is - she can even hear the mice at night. Claire wonders if Jackie shared her suspicions with them but Mariana doesn't think so - they seemed clueless.
Mariana arrives at Revitalize Beauty for her first day of work. The girls welcome her to the team with first day doughnuts. Liza introduces herself to Mariana, as she's the new project supervisor. She's heard about her from Jackie and gives her a standard contract to sign which says she can't work at another beauty start-up for two years. Liza gives her until the end of day to sign it. She calls brands until the team decides on a coffee break. Mariana passes on the coffee and decides to push through it. The girls love her work ethic. Now alone, Mariana attempts to access the admin login when Liza suddenly arrives looking for the contract. Mariana notes she doesn't have access to the app, which is standard until she signs her contract.
Unable to bypass the login, Mariana asks one of the women about the ordering algorithm to see the coding but learns Liza handles that. She sets up a pitch meeting but lies about a glitch in the merge but the women aren't sure where the potential client would have heard that from. Later, Mariana finds the password for the app in a drawer. She video chats with the FCGs to tell them about the identical code file. There are blocks of code that are missing or have been replaced with different variables. Revitalized changed the code just enough so that Bulk Beauty doesn't have any legal copyright claim. Revitalize also has the Hallis Group behind them, so BB can't compete.
She returns to The Coterie that night, but stares at Callie's empty side of the room. Joaquin is looking at photos of Jenna in the kitchen when Mariana arrives. He remarks that she isn't used to sleeping alone now that her sister is gone, as she must miss Callie. Mariana tries to brush it off but he sees through her act, knowing she's more upset than what she's letting on. He asks about her app but she refuses to tell him, as he's answering the questions tonight. He claims to be an open book. He's from Oklahoma, where his parents still live and are retired. His mom was a teacher and his father worked in the fields. He has a sister back in Oklahoma, who is married and has two kids. She asks if that's true and he admits most of it is. There's a crash that she blames on raccoons. Turns out, the shelf collapsed in the other room, and books fell. She thinks it's a ghost but he deals in facts, not imagination. He steals a book then says goodnight. Mariana finds one of Callie's old legal books that she left behind. She goes back to her loft and makes Callie's bed and puts her clothes in Callie's closet. She then pulls everything off Callie's bed and moves the mattress into the hallway. Once back in her room, she looks at the Callie doll then puts it away in a drawer.
The following morning, Mariana gives Liza the signed contract. That morning, she told the BB girls that she would spy on the Revitalize Beauty group for them as they stole their code and won't get away with it. She doesn't care if she has to sign the non-compete, as this is her mess to fix. She wants to save Bulk Beauty and won't just move across the country as her actions might affect other people. Claire notes that she can't come back to BB, but Mariana thinks they can knock Revitalize off the map and void the contract. Now, Liza welcomes Mariana to the team. She leaves Liza's office when she bumps into Evan. After a few awkward moments, he reveals that he has a few apps in development with the Hallis Group. They will be running into each from time to time but hopes it won't be literal next time.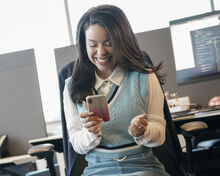 In "It's Lonely Out in Space", the Revitalize Beauty girls discuss their next brand target, Riot Face, so Mariana texts the FCG's telling them who to speak with from the company. The FCG's pitch their app, with this routine continuing onto Veganique and Glow Fille, with Bulk Beauty landing all three brands. The BB girls celebrate with drinks and send Mariana a photo of them celebrating while she's alone at a quiet office.
Once at The Coterie, Mariana knocks on each roommates door but doesn't get an answer from anyone. She eats alone in the kitchen while she scrolls through Instagram. Callie calls, but Mariana declines the call. Joaquin arrives and she invites him to eat with her if he wants, ignoring a voicemail notification from Callie. The room in awkward for a moment until Mariana asks about his sister, with him admitting that they used to be close until they grew apart. She admits that people do grow apart. She asks if he's ever had to go undercover for a job, with him stating he's a reporter not a spy. He asks if there's a reason for her asking, but she was just thinking it might be isolating to have to pretend you're someone you're not. Being undercover is probably very lonely. He agrees that it probably would be, and she adds that it's easy to get sucked in and forget why you're there. He puts the food away and recommends she call her sister back if she doesn't want to grow apart. After he leaves, Mariana dismisses the voicemail notification.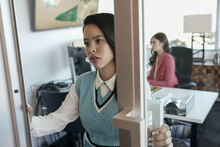 The next morning, Revitalize Beauty tries to pitch their app to a potential buyer. Mariana recalls a conversation with Liza, in which Liza informs Mariana that Bulk Beauty landed Glow Fille. Liza finds it odd that Mariana's old partners are signing the same deals they're scouting. Mariana doesn't find it weird since their companies are identical. Liza asks what she thinks they're doing wrong, with Mariana recommending she talk to the project manager - who is Liza. Liza accepts that responsibility but calls Mariana's performance disappointing. She hasn't set any pitches or contributed much in the pitches they do set. She threatens to fire Mariana if she doesn't see improvement soon. Now, in the pitch, Mariana chimes in to correctly pitch the idea to Marcienne. One of the RB girls even claps, with the representative agreeing to sign with them.
Liza opens another bottle of champagne while the team toasts to their "MVP", Mariana. Liza is pleased with Mariana and expects her to keep up the good work. Mariana makes a toast to more days like today. Ava and Raisa are happy to have Mariana join the team. By evening, the Revitalize Beauty girls are drunk in the office. They discuss the difficulties of being women in tech, and how happy they are that Jackie liked their pitch. In fact, they originally pitched an idea for sustainable household cleaning products, until Jackie mentioned beauty products. Jackie already had the code as she was developing something similar anyway. The girls made some tweaks but are thankful to Jackie for getting them out of the male-dominated tech world. They sympathize with Mariana's time at Speckulate. Liza adds that Jackie gave her a chance too, and that's why she's hard on the girls. Everything is riding on them succeeding, and she thinks Mariana can be their secret weapon.
Mariana tells the BB girls that Liza is getting suspicious, and they suggest letting Revitalize land one out of four brands. Their constant questions prove overwhelming for Mariana. Now, Mariana declines Liza's offer for refill. The girls commend Mariana for great work and want to hang out more. Mariana leaves the office and leans against the elevator sleepily. When the doors open, Evan is inside the elevator. They share a ride with small talk, their hands nearly touching as she reminisces about their "meetings" in the Speckulate elevator. She asks if he has a problem working for a company that steals ideas, with him pointing out that she doesn't have a problem with it either. He notices her getting emotional but she claims to be fine. He stops her from leaving to ensure she's okay, holding her hand as he does. He reminds her that she can talk to him, but she doesn't need too as she's fine. She pulls her hand away and leaves the lobby.
Mariana meets the RB girls and Jackie, who congratulates her on closing Marcienne. Jackie is glad to see her 100% onboard. They have a mentorship group where the mentor can help the team fill in any gaps the project manager might not be seeing. Their new mentor is Evan Speck, and the encounter is awkward. Jackie interrupts his speech as they want the team to use Evan thoroughly. Mariana asks to have a word with Evan by herself. She asks why he agreed tot his, and he admits that Jackie asked him. He has other business with the Hollis Group and it doesn't behoove him to say no. She tells him to go for it as he always does. She hopes he isn't nursing any false hopes about them, and he walks away.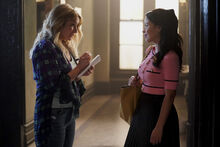 In "So This is What the Truth Feels Like", Davia asks Mariana what her personality trait, animal, food, and language would be. Later that morning, the Revitalize Beauty girls face-off with the Bulk Beauty girls for the Archambeau Cosmetics pitch. Claire thinks they should win the pitch with the other girls agreeing. Claire worries about running into one another, but Mariana finds it unlikely. Now, Mariana texts the BB girls and Liza picks up on the BB girls responses, prompting them to try and hide their reactions. When they came in, Liza explains who Bulk Beauty are to Ava and Raisa, lying tat they pushed her out over money. Liza waves to Evan who has just arrived. Marina warned the girls about Evan's potential involvement. Liza explains that Jackie thought his presence would help them land the brand. Liza notices Mariana texting and asks if she's texting her old friends. Mariana lies that she's texting her gynecologist as something showed up on her latest pap but it turned out normal. A man calls Bulk Beauty back first.
Mariana enters her loft to the angry faces of the Bulk Beauty girls. Earlier, Liza told them that Revitalize won the Archambeau Cosmetics pitch - which they attribute to Mariana's excellent pitching skills. Now, the BB girls are angry over Mariana not blowing the pitch for them, despite Evan being present for the pitch. They can't keep alternating wins with Rachel noting that Mariana can't keep doing it. Gina suggests making their app better by coming up with a big, new idea for the app. They miss Mariana and want her back, with Mariana noting that Ava and Raisa are nice girls who she doesn't like deceiving. Claire tells her to remember whose side she's really on. They brainstorm ow to make BB better.
Mariana gets to work and sees Ava and Raisa meeting with Evan over a new feature that is called Counter Pro. User can scan their faces and the app will suggest products and show a mock-up of how those products will look on the users faces. As they talk, Mariana takes a slow eat as she recalls her meeting with the BB girls. Now, Mariana commends them for the great idea but thinks they should work out the kinks before pitching it to anyone else. They should be prepared for questions, and Evan thinks troubleshooting now would make sense. Mariana then excuses herself as the RB girls celebrate.
Mariana is in an office crying when Evan finds her. He asks her what's going on with her and why she wants to delay the pitch. She thought he agreed with her reasonings but he didn't, he just backed her up. She questions his motives. He didn't become her mentor just because of Jackie, he did it to be closer to her. Not to get back together but because he knows something isn't right and that she isn't okay. He was considered she wouldn't be safe with another mentor. He assures her that she can trust him. She admits that she's not okay. She took the job to prove Jackie stole BB's code, but she changed it just enough they can't prove it. She tells him everything and how shitty she feels because Ava and Raisa are nice people, and she just wanted to make things right with the BB girls. Evan takes the responsibility for the entire mess as he set her up with Jackie who turned out to be a thief. She asks Evan what she's going to do.
In "Something Unpredictable, But in the End It's Right", Mariana attends Dennis's 40th birthday party which is '90s themed. She talks to Joaquin about their respective costume. She's Ginger Spice while he's Forrest Gump. She didn't realize he had a sense of humor. He didn't know she worked for Evan Speck, remarking on seeing him leave the other morning. Evan and Joaquin exchange hellos as he leaves the Coterie. Kelly greets him too and tells Joaquin about Mariana and Evan's history. Now, Mariana excuses herself for a refill.
She sings karaoke for The Coterie. She flashes back to Evan visiting her early looking to talk with her. She invites him into her loft and he compliments her pig slippers. He assures her he won't tell Jackie about her spying and offers to buy Revitalize and merge it with BB. She can't let him do that and he reveals that the FCG's already said yes to his offer as they want her back. Now, Mariana fishes the song.
The Coterie crew sits for dinner. Dennis thanks the girls for the party and everyone for celebrating with him. The girls ask about Callie, and Mariana admits they've been busy and haven't had the chance to talk. Dennis asks that she tell Callie they miss her. Malika wants to cherish these moments since they'll all move out eventually. Isabella admits that she and Gael are thinking of moving out for a year since The Coterie isn't baby-proof. Everyone offers to do their part to make The Coterie safer, with Mariana offering to move lofts so they can live downstairs. Dennis tells them that the first nine months when their baby isn't walking and having extra hands around a newborn is good. Isabella remarks that's a good hand and she loves the idea of aunties and uncles being around. As a future auntie, Alice toasts Dennis for his birthday. Kelly gives Dennis a bottle of champagne that came for him and reads the card, which congratulates him on the new baby. The card is from Jennifer. He emotionally admits that they ran into Jennifer who has a new baby and how she mistook Isabella for being with Dennis. Gael thinks it's a good assumption since Dennis is so involved and tells them to just tell him when the baby is coming so he can show up. He storms away from the dinner.
Mariana is on the roof when Joaquin joins her. He asks if the party is over but she doubts it as there's always a blow-up that they move on from. She apologizes but he's used to his share of drama. She corrects that everyone is like family to her but he knows that they aren't her sister. This is Mariana's first party with Callie and he wishes he could call his sister again. He admits that Jenna isn't in Oklahoma but she left home eight years ago and he doesn't know where she is. He learned not to take some things for granted.
That evening, after the party, she takes the Callie doll out of the drawer and video chats with Callie, surprised when she answers. Mariana needed to talk with her. Callie wonders why Mariana hasn't called her back. Mariana admits she's angry that Callie left with no notice and she feels abandoned. She questions why she didn't get a job with the LA ACLU or if it was because she didn't want to live with Mariana anymore. Callie assures her that isn't true. She took the job in DC because it's the one she was offered. She apologizes for springing it on her. She misses her and is very homesick which is why she keeps calling to talk with her. Mariana notices that Callie dyed her blonde and that it looks nice. Callie asks what she needs to talk about and Mariana tells her about the RB drama and the non-compete agreement. Callie tells her that she doesn't have to go back to Evan as non-compete agreements aren't enforceable in California. Companies just have their employees sign them because most people aren't aware of their rights. Callie reveals this means that she's free. They both need each other, and Callie admits that her boss is a dick. The two sisters gush to one another.
In "Take These Chances", Joaquin pours coffee when Mariana thanks him for the advice as the call was what she needed. She knows it must be hard not to talk with his sister, and it is. She asks why she left home but Joaquin doesn't want to talk about it which she understands.
The Revitalize girls show Mariana CounterPro which they have developed. Mariana tells the BB girls about the non-compete being void so she can come back to the BB. They hug happily, but Mariana has one more problem to address. Ava and Raisa have a big idea that might crush them. She can't tell them anything as they don't steal. She does have an idea to bring Ava and Raisa into BB. She hopes to explain everything to them. Ava and Raisa are angry at Mariana for sabotaging them. Mariana explains that they didn't rip off any ideas but Jackie did. She asks them how odd it was hat he code was already there. She's asking them to join Bulk Beauty where they value women in tech. She asks if they want to be part of a stolen idea. The girls are unsure as it's a lot to digest and they need to think.
Mariana looks to Raisa and Ava who are working, just as Jackie arrives asking why Bulk Beauty is getting more brands. She gave them the code, the idea, and handled it all over to them but they haven't done anything for her in return. The BB girls are working when Mariana arrives in her loft. Jackie had ridiculed the girls and Raisa questions who wrote the code. Jackie doesn't see how that's relevant as their concern is what they're bringing to the table. Ava and Raisa will brainstorm fresh and new ideas. Mariana tells the BB girls that Ava and Raisa are coming to BB tomorrow.
Mariana packs up her things alongside Ava and Raisa, who thank Mariana for the fresh, new idea. Mariana sees Liza crying in the office and enters to see if she's okay. Liza admits that Jackie came down pretty hard on her so she'll be fired soon. Mariana assures her that she's a great project manager. Jackie wants to motivate by fear which wont' bring out the best in anyone. Liza is scared of losing this job and not being hirable. Mariana tells Liza about going back to Bulk Beauty and is taking the girls with her. She wants Liza to come with them. They're all talented and competent women and deserve to be their own bosses, not to work under toxic people like Jackie. Liza agrees to come with her and thanks her for believing in her.
Joaquin visits Mariana and asks to talk with her. She lets him into the loft and they sit on the couch. Jenna left because they grew up very religious and their dad was strict, mean, and violent. When she said she was leaving he said she wasn't his daughter or part of their family. Joaquin left a few years later and went to LA looking for Jenna. His mom thinks she's dead and he thought his mom was being crazy, but he's worried something horrible happened and his mom is right. As he becomes emotional, Mariana apologizes to him.
In "I Don't Belong Here", Mariana suggests Joaquin call the police but he needs something concrete to get them to take him seriously. She offers her help diving into Chris's social media accounts and friends. Joaquin doesn't find any pictures of Jen on his socials. Mariana wrote a program at MIT that tracks any mention or image of another user across media platforms. She will run it but suggests reaching out to Chris's friends to see if they've heard from Jenna. Joaquin is surprised she went to MIT, and they go back and forth completing one another's sentences. He asks if she's going to finish all his sentences. He apologizes for being an ass when they met, as there's more to her than he gave her credit for. Mariana assures him that Jenna is out there, but just really good at hiding. He hopes she isn't a shallow grave and she puts a hand on his knee, telling him not to go there. They're going to find her alive and well.
Mariana asks the group if they've noticed Davia's lost a lot of weight lately. Gael thinks it's been gradual, but is worried when she points out the last post was about her eating disorder. They question what they should do, if anything, and Kelly has noticed her sneaking out with a bag. Davia arrives and notices the tension but they brush it off. She calls them weird then retreats to her room.
Mariana and Joaquin aren't sure if the text is real. He wants to go to Chris and beat him up but Mariana files it under terrible ideas. She suggests texting back and asking something personal, like her favorite childhood lip gloss scent. Joaquin, confused, leaves Mariana to answer that hers was Butterfly Boo. He texts back asking how he knows it's her. He asks what song made them laugh, which is a dumb church song. Mariana hopes she answers.
Bulk Beauty prepares for the arrival of Raisa and Ava with their app ideas. The RB girls arrive to the welcome wagon but appear solemn as they have bad news - they can't join BB. Rasia told Liza the app idea and Liza isn't joining BB. Liza told Jackie everything and since their ideas are legally Revitalize Beauty's, they can't take their idea with them. Ava knows what Jackie did was horrible but the love and believe in the idea. They can't leave it behind. Claire asks them to leave despite their apologies so they do. Mariana tears down the welcome banner. Rachel tells her it's okay but Mariana exclaims that it's not. She's tried so hard to win back their trust but failed repeatedly. She keeps screwing everything up. The girls do trust her and she doesn't have anything to win back. Claire admits to overreacting and apologizes. Gina admits it isn't on her to save them - they love her and they're in this together. Claire suggests going to Evan about buying Revitalize.
In "That's Me in the Spotlight", Evan meets with the BB girls to explain the merger. He'll buy both Bulk Beauty and Revitalize Beauty to merge them, with the BB four remaining as the board of directors and sole partners. His participation will be hands-off. Mariana thanks him but they want an option to buy him out just in case. He agrees and tells them he's shut down ACT=visim. He should have done it sooner and apologizes for his involvement in the toxic work space. They all thank him, though the BB girls notice the sultry look between Mariana and Evan. He plans to make Jackie "an offer she can't refuse" imitating Godfather, a references that goes over their heads. When he leaves, Claire states that it's obvious they still have feelings for one another. Gina and Rachel chime in with catcalls. Claire tells Mariana that they won't stand in the way of their love if they want to be together.
Mariana texts Evan asking if they can talk about them. She gets an unknown text saying that they have information about Jenna. Mariana tells Joaquin that Jenna used to work at a stand called Fruit Flint Farm and always talked about getting off the grid and actually moving there. There's another farmers market in two days so they should check it out for themselves. He's hesitant as it's probably a dead end as Jenna might not even want to see her. Mariana understands his lack of inspiration but believes he can't give up looking for his sister. He kisses her but she pushes him back. He apologizes as she's been helpful and kind. She understands but can't imagine what he's going through. He'll never have peace unless he knows what happened to Jenna.
Joaquin and Mariana attend Davia's burlesque show that evening, both enjoying it. They mainly spend their time together laughing, smiling, and talking.
Mariana waits for Evan to text her back so she texts him again about her last text. Evan is in a car when he reads her newest text. He remembers being in the Coterie elevator and visiting Mariana. He sees Joaquin kiss Mariana, so he leaves immediately after. She sees that he reads her text.
Mariana and Joaquin go to the farmer's market to ask about Flint Farm's booth, learning they haven't had a booth in a year. The vendor hasn't seen Jenna either. Joaquin is giving up hope but Mariana wants him to continue. He appreciates her helpfulness but thinks they should go to the police. He looks up to see Jenna across the market. He runs to her but the woman isn't her. He looks around wildly for her and spots her walking away. He hurries after her and sees her get in a van. She tells the man to drive and he speeds off. Joaquin watches just as Mariana joins him. He knows that was Jenna.
Relationships
Familial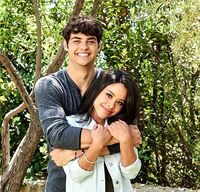 Jesus Adams Foster - (see Jariana) Jesus and Mariana are fraternal twins. They were born to Ana and Gabe, and were raised in a rough and unbalanced environment. Their biological mother was addicted to drugs and their father was in prison. They were placed into foster care for a few years and moved around frequently. They were eventually adopted by Stef and Lena Adams Foster when they were around five-years-old after their former foster parents could no longer take care of them. The siblings were extremely close growing up, as they only had one another when they were moving around foster homes. Even as teens they remained close, even though they did argue frequently and have a few falling outs. In the end, they are each other's best friends and always have one another's back.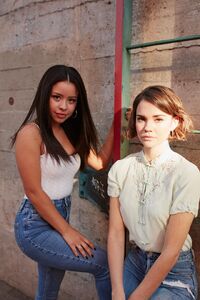 Callie Adams Foster - (see Callie and Mariana) Callie is Mariana's adoptive sister and one of her best friends following Jesus. Mariana was originally off-put by Callie's rough and abrasive attitude. The two had such strong, differing, personalities that they got into many arguments. When Stef and Lena decided to fully foster Callie and her younger brother, Jude, Callie was moved into Mariana's room. This led to them fighting more and simultaneously developing a deeper bond. Their biggest falling outs concerned Callie's relationship with Brandon, as well as Mariana's inability to keep a secret combined with both girls' lies. As the years passed, the girls only grew closer and referred to one another as sisters, especially after Callie was finally adopted into the family. After graduating college, the girls moved to Los Angeles and became roommates, where they currently are embarking on the next chapter of their lives. Their relationship in LA was initially similar to that of what they had in San Diego - close, bickering, yet always supporting one another. This began to change as they drifted apart, with Mariana growing closer to the clique of girls in The Coterie, while Callie yearned for a different lifestyle. They had a large falling out when old resentments came back to haunt them, including Callie's relationship with Gael Martinez despite Mariana's feelings for him. Their lies to one another reached a breaking point, especially when Callie learned that Mariana was part of a group chat called the "Coterie Bitches" that dedicated most of their time to hating on Callie. This being the metaphorical straw, Callie moved out of their apartment leaving only a letter to Mariana explaining that she will uphold her end of the lease until Mariana finds a new roommate. This strain lasted for months, as they seemed to agree that they are "sisters but not best friends." It took their personal lives crumbling for them to reconnect, and Callie to move back into the Coterie.
Friendships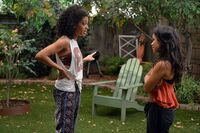 Tia Stephens - Mariana and Tia met through the dance team at Anchor Beach Community Charter School, where they bonded and became close friends. They practiced together in the backyard of the Adams Foster House. They formed their dance team together after Mariana and Tia left Hayley's, which brought their relationship even closer. After their team competed and won their competition, the pair drifted apart and eventually stopped being friends.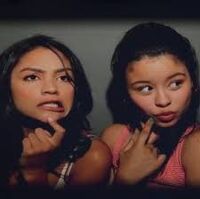 Romantic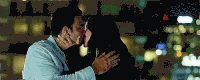 Raj Patil - (see Mariana and Raj) Their relationship originally began as co-workers when Mariana thought he was just like the other sexist employees at Speckulate, however, they grew closer as they learned more about one another. They grew closer through their work and eventually allowed themselves to cross the line between co-workers and lovers. Mariana was initially hesitant as she didn't want people to measure her success by her relationship with Raj. She has since overcome that hesitation and he's helped her and the byte club in their efforts to make Speckulate an equal environment. They have since dated, had sex, and proclaimed their love for one another. Raj is Mariana's first serious relationship since high school.
Evan Speck - (see Mariana and Evan) They first met when Mariana was hired at Evan's company, Speckulate. He took an interest in her from a professional point of view, though they shared a mutual interest in one another. Things progressed into a friendship with her helping him to understand dating and modern day slang. He confided in her about his personal struggles with being autistic and how it effects his daily life. Their attraction to one another grew until they had sex, which Mariana instigated. However, her relationship with Raj Patil left her feeling conflicted over who to choose. She ultimately decided to be with Evan, though they agreed on a secret relationship for the betterment of the company and their careers.
Zac Rogers - (see Mariana and Zac) Zac was a classmate Mariana met while on the set of a school play. It is hinted that he had a crush on her. Although, she didn't initially feel the same way. Despite originally not having any feelings for him, Mariana grew close to Zac and eventually returned his feelings. They had a short-lived relationship, with his mother suffering from Alzheimer's disease and requiring proper care. This resulted in Zac moving away to live with his father. Zac was Mariana's first boyfriend.
Mat Tan - (Mariana and Mat) Matt is a member of Brandon's band. This is how Mariana originally got to know him. The two initially bantered often, and as the two grew close, Matt, after asking for Brandon's permission, asked her out, to which she accepted. The two connected over having biological parents abandoning them and the uncomfortableness of letting someone know. Mat and Mariana then say "I love you" for the first time in Light of Day. They break up for the first time a few episodes later. They finally tell each other they still love one another in The Show. After Nick comes to school and then her house with a gun, Mariana's relationship with him effectively ends, and she and Mat get back together in Trust. The two have sex for the first time together in Dream a Little Dream. They break up again for the final time in Cruel and Unusual.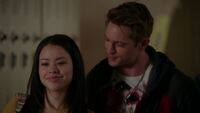 Nick Stratos - (Mariana and Nick) Nick is the first guy Mariana started a relationship after dating Mat. At first, she thought he is immature, after witnessing his behavior with Jesus in her house and after he participated in a car race while she was in the car. However, after he increased his EQ and apologized, they reconciled and began to date. During their relationship, Nick repeatedly pulls out the big stops for her. Their relationship was always complicated due to Mariana's feelings for Mat, and this escalated until one day, he brought a gun to school. Mariana and Nick talk at school and she explains that she was only saying goodbye to Mat, but Nick doesn't believe her. Nick, on the loose with a gun, breaks into Mariana's house and sneaks up on Mariana with the gun. Nick is ultimately arrested. Under the belief that they are still together, Nick reaches out to Mariana by calling and texting her while he's in a mental facility. Mariana allows him to continue believing this, even though she has begun dating Mat again. Nick had insisted that Mariana was the only thing keeping him alive. Mariana was afraid of what he'd do if she ended things with him. In Collateral Damage, Nick says he understands they aren't together anymore and apologizes for how he's made her feel.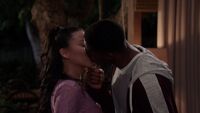 Logan Bayfield - Mariana became interested in Logan when he moved next door to her and instantly tried to win him over by acting as if she had the same interests as him. They became friends, but Mariana always wanted to be more than that. When she learned that Logan has a girlfriend she backed off and started helping him to win over his girlfriend when they were fighting. Mariana's relationship with Logan became increasingly awkward, especially after his girlfriend claimed that she liked him which forced Mariana to pretend she was in a relationship. Logan's mother, Tess, even threatened Mariana to keep her away from her son. They eventually dated for a while, however, Mariana decided that she wasn't ready to be in a committed relationship, and wanted to date other people as well as Logan.
Notes and Trivia
Mariana pierced her nose herself in The Morning After. However, she takes her stud piercing off before Stef and Lena's wedding in I Do and hasn't been seen wearing it since.
Mariana meets Ana, her birth mother, for the first time in 10 years in Pilot. She had been secretly talking to Ana online for some time before this, deeply wanting to know her birth mother. Their relationship was strained for a long time due to Ana's drug addiction, but improved following Ana's rehabilitation.
She dyes her hair blonde in Things Unknown, but returns to her natural hair color in Someone's Little Sister.
In The Honeymoon, Lena states that everyone now has the same last name. In Things Unknown, Mariana's name is shown as "Mariana Adams Foster" on the school dance team roster.
Mariana was on Anchor Beach's original dance team before creating her separate team due to differences with the dance team captain, Kaitlyn.
Mariana can be very sensitive to peer pressure or a lack of social acceptance. Such examples are when she pierced her nose to fit in with Garrett's crowd and dyed her hair blonde to fit in with her dance team.
She wears glasses occasionally while at home, but contacts while in public and work.
It is implied that Mariana has abandonment issues, most likely due to her biological mother Ana leaving her and Jesus when they were kids. She was shown to react to the idea of Jesus or Callie leaving the Fosters house very badly.
Mariana is, at least for a majority of the series, a vegetarian due to knowing about the abuse animals endure while becoming an edible food. She temporarily breaks this diet by eating fish in Mother Nature, though she says it is strictly because she is in "survival mode".
Mariana loses her virginity to Wyatt in the season three premiere Wreckage.

She originally intended to lose her virginity to her then-boyfriend, Mat, so that he would "remember" her while on his three-week band tour. However, he turned her down and she ran into Wyatt, who she began drinking with before initiating a hookup. This is a choice Mariana deeply regretted since Wyatt was Callie's ex-boyfriend.

Her biological grandmother Elena has stated that Mariana looks a lot like how Ana did as a teenager before the latter started using drugs.
Characters have twice expressed fear of Mariana, both times to Brandon, and both times in response to a suggestion of Brandon's. Mat expresses having a healthy fear of her in If You Only Knew when discussing the idea of prohibiting her from attending the "pharm" party. When Brandon asks Callie to wake up a sleeping Mariana in The Show, Callie refers to the act as "unleashing the beast," and that they should be afraid.
In Not That Kind of Girl, it's revealed that Mariana had to take her written driver's test twice. She claims the answers seemed too obvious, so she thought they were trying to trick her.
Mariana created a "fight club" at Speckulate to help her fellow female co-workers deal with the sexism in their workplace.
She had her first, and only, threesome in "Swipe Right" with Eli and his girlfriend.
Gallery
Appearances
References