A girl who leaves behind a trail of glitter will never be forgotten.

— Mariana
Mariana Adams Foster (born Mariana Gutierrez) is a main character on the The Fosters and Good Trouble.
Mariana is the biological daughter of Ana Gutierrez and Gabriel Duncroft, and the adoptive daughter of Stef and Lena Adams Foster. She is also the fraternal twin sister of Jesus, as well as the adoptive sister of Callie, Brandon, and Jude Adams Foster.
Mariana is a brilliant coder who discovered her skills in high school after joining the STEAM team. After graduating high school, Mariana attended and graduated from MIT, before being hired to work at the tech up-start Speckulate as a software engineer. Mariana has since witnessed first-hand the blatant sexism and racism in her workplace and is fighting for equality.
Mariana is portrayed by actress and singer, Cierra Ramirez.
Biography
Mariana was born May 17, 1998,[3] and is the fraternal twin sister of Jesus. She is the biological daughter of Ana Gutierrez and Gabriel Duncroft, although Gabriel was originally unaware of the twins' birth. Ana and Gabe and a consensual relationship when she was 15 and he was 18, which resulted in Ana's parents having him arrested for having sex with a minor despite her objections. Infuriated with her parents, Ana left home and began drinking and doing drugs more heavily, which was around the time she discovered that she was pregnant.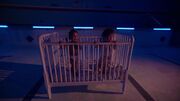 After the twins were born, Ana was still a drug addict and for this reason, Mariana and Jesus grew up in a tumultuous and unstable environment. Mariana vividly remembers a Christmas when she and Jesus were five years old and left alone at home for what felt like days while Ana was away getting drugs. Mariana described the experience as "terrifying", but, Jesus soothed her despite being scared as well. Following this incident, it became apparent that Ana couldn't care for her children due to her addiction. The siblings were placed into the foster care system soon after.
While the time they were in the foster system is unknown, Mariana was likely only in the system a year or so. Mariana lamented to Callie how she remembered frequently moving around as a foster child, and the various girls she had to room with, and sometimes being put in some "messed up" homes.
One day, Mariana and Jesus' foster parents decided that they couldn't deal with the kids anymore and dropped them off at the police station for CPS to handle. At this time, Stef Foster was a police officer and noticed the children. She approached them and learned their names before giving them each a lollipop. Mariana was quiet and didn't speak to Stef, nor did she accept the candy until Jesus handed it to her. After this, Stef and her partner Lena Adams decided to foster the twins. They brought them into their home, where they became foster siblings with Stef's biological son, Brandon. The twins were later adopted by the couple when they were 11. Mariana once said that she didn't feel true love and safety until Stef and Lena took her and Jesus in.
Personality
Mariana is very smart and girly and cares about appearances, in the least hers, very much. She's shown to be popular and is always organizing social events. Frequently, Mariana has shown strong leadership among her peers and is very proactive during a variety of situations, even organizing a protest against Mr. Timothy's firing at Anchor Beach. Not unlike the rest of her siblings, Mariana is extremely loyal and protective over her family and friends.
While she is usually kind, she can be naive when it comes to certain topics. However, she usually learns from her mistakes. Mariana also loves to gossip and speaks Spanish fluently. Despite her confident exterior, underneath it all, she can be very insecure and sometimes caves into peer pressure to be accepted. This is shown multiple times throughout the series. For example, when seeing old friend Garret had a new edgier scene and friends, she pierced her nose herself at home to fit in. When making it onto the dance team, she had overheard fellow dance teammates claiming she only made it because she's Latina. This led her to dye her hair blonde so she could fit in while distancing herself from her Latin heritage. However, she has learned not to give in to how others make her feel and to be herself.
Physical Appearance
Mariana is a young, beautiful girl with a pale complexion, dark brown eyes. She has medium length deep brown hair which she wears in a variety of styles: curly, straight, or naturally waved. She has a slim, yet toned and athletic figure. Mariana's clothing sense is very girly; she often wears bright colors, such as pinks, yellows, and blues. She is often seen wearing a mixture of floral dresses and skirts with colorful cardigans and heels, and dark jeans and jackets over bright colored shirts.
While working at Speckulate, her fashion sense was forced to change due to the misogyny at the office. She began wearing jeans, simple t-shirts, and her hair pulled back in a ponytail.
Throughout Series
Appearances
Relationships
Notes and Trivia
Mariana pierced her nose herself in The Morning After. However, she takes her stud piercing off before Stef and Lena's wedding in I Do and hasn't been seen wearing it since.
Mariana meets Ana, her birth mother, for the first time in 10 years in Pilot. She had been secretly talking to Ana online for some time before this, deeply wanting to know her birth mother. Their relationship was strained for a long time due to Ana's drug addiction, but improved following Ana's rehabilitation.
She dyes her hair blonde in Things Unknown, but soon returns to her natural hair color in Someone's Little Sister.
In The Honeymoon, Lena states that everyone now has the same last name. In Things Unknown, Mariana's name is shown as "Mariana Adams Foster" on the school dance team roster.
Mariana was on Anchor Beach's original dance team before creating her separate team due to differences with the dance team captain, Kaitlyn.
Mariana can be very sensitive to peer pressure or a lack of social acceptance. Such examples are when she pierced her nose to fit in with Garrett's crowd and dyed her hair blonde to fit in with her dance team.
She wears glasses occasionally while at home, but contacts while in public and work.
It is implied that Mariana has abandonment issues, most likely due to her biological mother Ana leaving her and Jesus when they were kids. She was shown to react to the idea of Jesus or Callie leaving the Fosters house very badly.
Mariana is, at least for a majority of the series, a vegetarian due to knowing about the abuse animals endure while becoming an edible food. She temporarily breaks this diet by eating fish in Mother Nature, though she says it is strictly because she is in "survival mode".
Mariana loses her virginity to Wyatt in the season three premiere Wreckage.

She originally intended to lose her virginity to her then-boyfriend, Mat, so that he would "remember" her while on his three-week band tour. However, he turned her down and she ran into Wyatt, who she began drinking with before initiating a hookup. This is a choice Mariana deeply regretted since Wyatt was Callie's ex-boyfriend.

Her biological grandmother Elena has stated that Mariana looks a lot like how Ana did as a teenager before the latter started using drugs.
Characters have twice expressed fear of Mariana, both times to Brandon, and both times in response to a suggestion of Brandon's. Mat expresses having a healthy fear of her in If You Only Knew when discussing the idea of prohibiting her from attending the "pharm" party. When Brandon asks Callie to wake up a sleeping Mariana in The Show, Callie refers to the act as "unleashing the beast," and that they should be afraid.
In Not That Kind of Girl, it's revealed that Mariana had to take her written driver's test twice. She claims the answers seemed too obvious, so she thought they were trying to trick her.
Mariana created a "fight club" at Speckulate to help her fellow female co-workers deal with the sexism in their workplace.
She had her first threesome in "Swipe Right" with Eli and his girlfriend.
Gallery
Quotes
Click here to see Mariana's quotations.
References
Community content is available under
CC-BY-SA
unless otherwise noted.