We've all been so busy with our lives, following our own storylines, we haven't had our usual family dinners or salons. So as your present to me, I'd love you to share your talents with all of us. Please turn this card over and take this... Inspiration to prepare some sort of creative expression. The idea is to express yourselves. Because that is what sets us free.

— Malika Williams
Malika Williams is a resident at The Coterie. She is a former foster child with a penchant for social justice.
Malika is portrayed by Zuri Adele.
Biography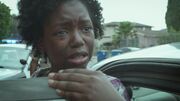 Malika and her older brother, Dom, were born to a neglectful mother. They were often hungry, to the point where they dug into couch cushions to try and find change to buy chips at the corner store. At the age of ten, neglect and hunger led to Malika calling social services for help. Malika and Dom were subsequently placed into the foster care system and eventually separated.
Malika was never adopted into a family. Instead, she aged out of the system and became an independent woman. Malika is currently estranged from her mother. Originally living in her car and working a low-paying job, Malika was found by Alice Kwan, who invited her to live at The Coterie as it was safe. However, Malika could only live there under the conditions that she finds a better-paying job in three months and leave if she failed to. Malika did just that and has remained at The Coterie ever since. She also became best friends with Alice.
Personality
She is described as, "whip-smart with a penchant for social justice".[2]
Physical Appearance
Malika is a beautiful young woman in her mid-twenties who embraces her natural beauty. She has black hair, dark brown eyes, and prominent features. She wears loose multiple print clothing and has a tall and athletic physique. She wears heels or boots with minimum accessories.
Throughout Series
Malika is seen DJing at The Coterie's party and socializing with a small group of her friends. She mainly stays to herself, especially staying away from Callie, due to the argument that had that morning about Judge Wilson. Later, her older brother arrives and they make small talk before he tells her that their mom is sick. Malika doesn't believe him due to their mothers' history, and this leads to an argument. Dom believes that they were fine before Malika called social services. He explained that the system didn't treat either of them any better then their mother did. After an argument, Dom tells Malika that she should see their mom before its too late. She asks him to come over again sometime but he simply says that he doesn't know and leaves.
Appearances
Relationships
Main article: Malika and Isaac
"Isaac: I'm gonna call you about that date.
Malika: What date? You lost the bet.
Isaac: That wasn't a bet. That was a gesture."
—"Swipe Right"
Malika first saw Isaac on the dating app Shipper and thought he was physically attractive. She swiped right on him to go on a date, though he didn't match with her meaning that he didn't find her attractive. She didn't give it much thought until he walked into her bar later that night with his friends.
Quotes
Malika: Trouble makes change. And we are seriously in need of some change right now.
Malika (to Callie): Yeah, I'm always mad. And I'm always disappointed, and tired, and frustrated, and I wish that I didn't have to organize a protest for someone who couldn't see the beauty in his own people. I have to. I have to be there for everyone because we all should be there for each other.
Notes and Trivia
Zuri Adele described Malika as "extremely passionate about social justice and equality. She is very proud to be a woman of African descent." Zuri also stated that Malika "has a shell around her because she is so independent, she is so fierce."[3]
Malika is a Black Lives Matter activist, often protesting against police brutality. She helps to investigate questionable African-American deaths at the hands of police officers.
Her twitter handle is @Malika4Change.
Her favorite female rappers are Cardi B and Princess Nokia since they are bringing feminism to the female rapper world.
Malika kissed Davia in "Re-Birthday" during a challenge that won her team 25 points.
Gallery
References
Community content is available under
CC-BY-SA
unless otherwise noted.