Jurassic World: Dominion Dominates Fandom Wikis - The Loop
Play Sound
Liam Olmstead was a recurring antagonist of The Fosters. He is portrayed by Brandon W. Jones. He had been spoken about in previous episodes, but appeared for the first time in Saturday.
Biography
Liam was the former foster brother of Callie and Jude Jacob, whom his family took in for two years. Liam was initially nice to Callie, doing small gestures for her and sometimes flirting. When Callie turned fifteen, Liam got her to start a relationship with him despite their age gap and being foster siblings. However, late one night, Liam snuck into Callie's room to have sex with her. Despite Callie's pleas that she wasn't ready, he went on to rape her. Shortly after this, Liam falsely claimed Callie came onto him, therefore getting her and Jude thrown out of the house.
Over a year later, Liam's family fostered another girl, Sarah Lewis. He quickly began grooming Sarah in the same fashion he did with Callie in an attempt to repeat his actions. Once Callie discovered this, Liam repeatedly stalked and harassed her in an attempt to threaten her into keeping quiet. However, wanting to protect Sarah, Callie ultimately reported to Lena and Stef Adams Foster about what happened between her and Liam. Sarah was then removed from the Olmsteads' home after a police report was filed. Liam was subsequently taken to court but acquitted due to lack of evidence.
Afterwards, Liam continued to date Sarah in secret. He soon began using her to steal Callie's identity, both as revenge and to make money, intending to pin the blame on Sarah if he was caught. However, Stef and Callie discovered that Liam and another girl were reaping in the profits of ruining not only Callie's but Sarah's credit as well. Upon realizing this, Sarah testified against Liam and revealed their sexual relationship. Liam was sent to prison, finally getting justice for Callie.
Physical Appearance
Liam has a tall, athletic body with blue eyes and short dirty blonde hair.
Series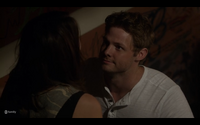 Liam comes across Callie during
Wyatt
's house party. Having learned she was in contact with
Sarah
, Liam firmly warns Callie to stay away from her and stop going through his personal business. Wyatt interrupts them, concerned with how Liam is handling Callie. Liam bemusedly claims he was just "catching up with an old friend", proceeding to leave.
Later that night, Liam messages Callie and sends her a picture of a tree in her backyard and with the caption, "That is the tree behind your window isn't it?". Callie gets out of her bed to look out the window in horror and concern, realizing that Liam knows where she lives.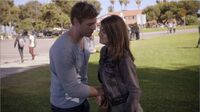 Liam shows up at
Anchor Beach
and angrily confronts Callie over Wyatt sending him a threat online. Liam grabs Callie by the arm and threatens her, demanding once more that she stay away from him and Sarah, as well as to tell Wyatt to shut up. Just as Callie tries to tell him to leave, Wyatt comes and attacks Liam. The two fight as Callie tries to break it up.
Brandon
quickly arrives on the scene, calming things down. Liam eventually leaves after the fight, driving off in a fury. 
While trying to figure out why she backed out of having sex with Wyatt, Callie has a hallucination of Liam at her job. She confides in Jude about it, who holds her hand in comfort as she starts to cry. Following this, Callie and Wyatt take a break, with Callie going to counseling to deal with her trauma regarding Liam's assault.
In therapy, Callie is trying to figure out why she has been suffering from panic attacks and can't let herself be sexually intimate with Wyatt. Her therapist suggests that while Callie trusts Wyatt completely, she also thought she could trust Liam but he ended up betraying her; thus, Callie is unable to trust her own judgment due to Liam's actions. Her problems with Wyatt further stem from her experience with Liam, which Callie realizes she is still reeling from emotionally.
Later, Liam attends a Mexican street festival with a friend. Wyatt ends up seeing Liam while at the festival while with Callie and tries to force him to leave so she won't have to. When Wyatt confronts Liam over how he ruined Callie's life, Liam turns it around and claims she ruined his life. Liam accuses Callie of lying about being raped and that her dragging him to court ruined him. Liam then cockily states that he simply had sex with Callie because "she wanted it". This aggravates Wyatt into punching Liam and starting a fight, which Brandon gets dragged into trying to break up. After the fight is broken up, Callie silently watches the event and makes eye contact with Liam before leaving. Liam, nursing a bloody nose, rushes off well.
While preparing for her emancipation, Callie finds out that someone has stolen her identity and taken out four credit cards under the name "Callie Jacob". Stef investigates the situation and discovers the perpetrator has been buying designer handbags, so she sets up a meeting with one of the potential thieves through Craigslist.
Meanwhile, Callie encounters Sarah at the foster child care drop-in center. One day, she notices that Sarah's handbag resembles the handbags which Stef showed her. After managing to steal and look through the bag, Callie discovers a bunch of credit cards in her name.
Meanwhile, as Stef goes to buy a designer handbag, she quickly notices that Liam is the seller. Stef and
Mike
then bust Liam for fencing stolen goods. At the police station, Sarah still refuses to admit that Liam was involved in the identity theft scheme to protect him, which the latter is counting on. However, Callie suggests that Stef check Sarah's credit history. Sure enough, it turns out that Liam was using another girl to ruin Sarah's credit as well. This made Sarah confess to everything, as well as her sexual relationship with Liam. When Callie personally reveals this to him in the interrogation room, his smug expression visibly falls. Liam is then sent to prison as Callie finally gets her justice after everything he had done to her.
Appearances (6/101)
Relationships
Main article: Calliam
Liam and Callie were foster siblings around 2-3 years prior to "Pilot". Liam worked his way into convincing Callie that he cared for her through small gestures, eventually starting a relationship when she was fifteen. Later one night though, Liam raped Callie despite her pleas that she wasn't ready for sex. She dragged him to court over a year later in "I Do", but loses the case due to insufficient evidence against him. However, Callie soon gets her justice against Liam when his financial crimes are exposed after he steals her identity and puts on significant debt in her name. 
Liam and Sarah were foster siblings. He had been grooming her for some time, just like with Callie. After Callie revealed that Liam raped her, Sarah was removed from the Olmsteads' home. Sarah, however, continued to have a relationship with Liam and eventually helped him in stealing Callie's identity to buy and resell expensive handbags. Liam was very successful in manipulating Sarah for his own ends (e.g. convincing her that Callie was lying about the rape, getting her to take all the blame for the credit card scheme since she is a minor). However, Liam secretly stole Sarah's identity and was buying handbags under her name as well, having another girl somewhere else sell them for him. Sarah came clean to the police about Liam upon learning the truth.
Trivia
Liam raped Callie and had some sort of romantic relationship with Sarah.
The whole family knows about Callie's rape. Jesus is the only one who, though, has not mentioned Liam.

As of "The Fallout", Brandon also knows about Callie being raped when she describes the night it happened to her. He later helped Callie tell Stef and Lena as well to prevent Liam from hurting another girl.
Sarah also knows, but she refused to believe that from Callie. 

It's more than likely that Liam stalked Callie to Wyatt's party after hearing that she would attend since he graduated high school and is presumably a college student (he is 20 years of age) and the party was mainly for the high schoolers in the area.
Liam has been arrested for stealing Callie and Sarah's identities and buying expensive handbags to resell while racking up credit card debt for both of them. He was also presumably charged with statutory rape due to his relationship with Sarah.
Liam and his father were "obsessed" with golf, with Liam once breaking his club in half in frustration after missing a putt. (Saturday)
Gallery
Quotes
"I had sex with her. Trust me, she wanted it."
—Liam
"Hey Cal, what's up?"
—Liam to Callie