Jurassic World: Dominion Dominates Fandom Wikis - The Loop
Play Sound
Lexi Rivera is a recurring character on the Freeform series, The Fosters. She is Mariana's best friend and the love interest of Jesus, Mariana's brother. She appears for the first time in Consequently, the second episode of the first season.
She is portrayed by Bianca A. Santos.
Biography
Lexi is Mariana's childhood best friend and, eventually, Jesus' girlfriend despite initial negative response from Mariana, who was against her best friend and brother being together. Her parents and herself are illegal immigrants of United States of America, something that Lexi is initially unaware of.
Jesus and Lexi, shortly after entering a relationship, soon have sex for the first time, which is unprotected as well as her first time. Due to not using protection, Lexi begins to fear the possibility of pregnancy. Lexi takes the emergency control pill, preventing pregnancy from happening. After Mariana tells Lexi's deeply religious parents about her becoming sexually active with Jesus, they soon become more strict with her, which results in her running away. Her parents soon decide to return to their hometown Honduras because of her increasingly rebellious behavior. However, they do not tell her this, with the cover story being they are visiting a sick relative.
Series
Lexi is at school walking with Mariana when Jesus comes and grabs her bag. She then chases him and calling him an idiot. Later on, she is seen talking with her ex-boyfriend. He calls her a bitch, leading Jesus to step in and fight with him. When Lexi comes to the Fosters' house to hang out with Mariana, she thanks Jesus for defending her and they kiss. Following this, Jesus is seen texting her.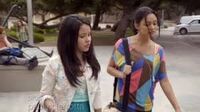 Lexi tells Mariana how sad she is that Jesus has to be in detention for a week, which annoys Mariana. Later, at volleyball practice, Jesus asks her if she wants to hang out at the beach, and she says yes. When Lexi gets to the beach, Jesus doesn't show up, because he thinks that what they're doing is wrong, upsetting Lexi. Later, in the girls' bathroom, Lexi is applying lipstick and Jesus walks in and kisses her.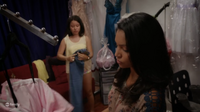 Lexi, Mariana, and
Lena
are shopping for Mariana's quinceañera dress. Lexi and Mariana try to convince Lena to bejewel the top of the dress, to which she agrees. When they arrive home, Mariana asks if Lexi can stay for dinner, and Lexi smiles at Jesus. After dinner, Lexi joins Callie and Mariana in their room to put gifts in the gift bags. Lexi goes to the bathroom to see Jesus, where they kiss. Lexi is increasingly uncomfortable with lying to Mariana about their relationship, suggesting that they tell her. Jesus agrees to, but wants to wait until after the party.
At the quinceañera, Mariana overhears Lexi and Jesus talking and finds out that they're dating. She is upset with Lexi and argues with her. Lexi contemplates leaving after her fight with Mariana, but Jesus convinces her to stay. During the slideshow portion of the party, Lexi and Mariana are reminded of their friendship, and smile at each other, making up. Jesus takes Lexi outside, where they dance.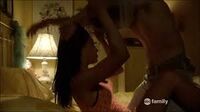 Lexi and Jesus are in Lexi's bedroom, kissing. They decide to have sex because her parents weren't home, but they didn't use protection. The next morning, Lexi is afraid that she'll get pregnant. She asks Kelsey at school for the Morning After pill, but neither her or Jesus are able to get the pill. Eventually, Stef gives Lexi the pill without telling Lena. The next day at school, Lexi apologizes to Lena and thanks her for the pill. After school, she meets Jesus at the beach and they decide to abstain from sex for now.
Saturday
Lexi and her parents have dinner at the Fosters' to discuss a church camp they're planning to send Jesus and Lexi to. However, when a drunk and angry Mariana comes home after finding out that Lexi and Jesus had sex, she tells Lexi's previously unaware parents, ruining any chance of Jesus going to the camp and causing a rift between the two families.
The Fallout
After finding out what Lexi and Jesus did, her parents decide to send her to boarding school in Texas. Lexi is upset and runs away from home. She texts Mariana, who brings her to Wyatt's old house, where they quickly make up. Mariana finds Jesus and brings him to Wyatt's house to see Lexi, where they both reveal to her that her whole family is undocumented. Lexi agrees to go back but threatens to call immigration and get her parents arrested if they send her to boarding school. They comply and let her stay.
Clean
Lexi is upset and overwhelmed that she isn't a legal citizen, and Jesus tries to comfort her. She later texts Mariana because she can't find Jesus and he won't answer her calls.
I Do
Jesus and Lexi are in his room making out. Lexi suggests that they have sex, but Jesus declines the offer, upsetting Lexi. Later, she tells Mariana that she's visiting a sick relative in Honduras for two weeks, but makes her promise not to tell Jesus. She attends the wedding, and dances with Jesus.
The Honeymoon
Mariana and Lexi decide to spend their last day before Lexi's trip finishing their English project. Jesus intervenes and asks for some alone-time with his girlfriend. Lexi agrees and leaves, upsetting Mariana. After school, Lexi and Jesus are surprised by a picnic made by Mariana. She explains that Mr. Timothy told her that Lexi was moving permanently, not just for two weeks. Lexi's father had lost his job because he was an illegal immigrant. While Lexi is upset, she spends her last moments in San Diego with Mariana and Jesus. Despite her protests, Jesus tells her that he will wait for her. They kiss goodbye.
Family Day
Lexi flirts with Jesus over text, and they send each other pictures in their underwear.
Padre
Lexi video chats Jesus while he is with Emma.
Zac
talk and suggests that they like each other. Lexi attends Jesus's first wrestling match, and cheers him on when he wins. After he wins, Lexi tries to take a picture of Jesus to send to him, but her storage is full. After checking her e-mail to delete some from her inbox, she ends up finding Jesus's e-mail about breaking up. She watches him with Emma and sees that they have feelings for each other. Overwhelmed and upset, she meets with him and tells him that she kissed a boy in Honduras and that they should break up. She later confides in Mariana that there was no boy in Honduras, but "there will be".
Hayley
about Lexi, telling her that he'd only had one girlfriend before and that he had never had sex before.
First Impressions Lexi surprises Mariana by coming back to San Diego permanently. She and Emma disagree over the image Mariana should advertise as for the Junior Class President elections. Lexi is upset when Mariana chooses Emma's suggestion over her own.
Mixed Messages Lexi decides to run for Junior Class President to get back at Mariana, with Hayley as her campaign manager. The two debate in front of the student body and Emma repeatedly asks Lexi questions about birth control and pregnancy to spite her. Mariana and Lexi argue heavily during the debate and end up both leaving their podiums. When they run into each other later, Lexi apologizes and admits that she only ran for class president because she was jealous of Emma. Mariana assures her that they are still best friends even though she wanted to work with Emma. Mariana suggests that Lexi drop out, but Lexi decides to stay in the running.
If and When Mariana receives the news that Lexi won Junior Class President.
Minor Offenses Lexi and Jesus go on a double date with Mariana and Nick. After Nick and Jesus start to drag race, she and Mariana leave the car, angry.
Appearances (15/101)
Relationships
Main article: Lexus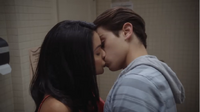 Jesus and Lexi have known each other since grade school since she was Mariana's best friend. They started their relationship in Consequently suffering many patches throughout their continuing relationship. Lexi is due to leave to Honduras which Jesus has no knowledge of it. A picnic has been arranged for Jesus and Lexi. Mariana and Lexi were discussing Lexi leaving which saddened of both of them.
Lexi tells Jesus that her family, including herself, aren't coming back from Honduras. Jesus is shocked by this. Lexi's father was fired from his job after it was revealed that he was an illegal immigrant. She tells him that she doesn't want him waiting for her. He tells her that he will wait for her and that he loves her. They kiss after his confession. They break up in
Escapes and Reversals
 when Lexi finds out about Jesus wanting to break up with her through a deleted email.
Trivia
Lexi and Mariana are childhood best friends. However, when Mariana discovered Lexi and Jesus' relationship in Quinceanera after overhearing them discussing it, this nearly broke their friendship due to her not being comfortable with it.
Lexi lost her virginity to Jesus in The Morning After.
She and her parents are illegal immigrants. Lexi has been unaware of this for all of her childhood until learning about it following her running away.
Lexi returned to Honduras with her parents, so they wouldn't get deported. In Season 3 however, Lexi is able to return to the United States once she and her family receive their visas.
She became junior class president of Anchor Beach over Mariana.
Gallery
Click here to Lexi's gallery.
Quotes
Click here to see Lexi's quotations.
Trivia
Lexi and her family are the first illegal immigrants to be seen in the series, they would be followed by the Sinfuego's.