I've made a lot of mistakes in my life but... There's one thing I got absolutely positively exactly right. My family is my world. And they have made this ride so joyful and so beautiful and so crazy and messy and perfect. So, thank you all, thank you so much for taking this journey with us all. And remember... It's not where you come from. It's where you belong.
Lena Elizabeth Adams Foster (née Adams) is the wife of Stef Adams Foster. She is the stepmother of Brandon Foster, and the adoptive mother of Mariana Adams Foster, Jesus Adams Foster, Jude Adams Foster and Callie Adams Foster. She is portrayed by Sherri Saum.
Biography
Lena is an altruistic activist who would love to save all the unloved kids in the world and give them the support every kid deserves. With Stef already having a son, Brandon, from a previous marriage, she and Stef took in the foster twins, Mariana and Jesus. After their adoption, the couple decided to no longer accept any more children in the system because raising three kids is a handful.
However, she violated her agreement with Stef and brought the needy Callie home for a "temporary" stay. She decided this after David requested the couple her in since having a male authority figure seemed to be damaging for Callie. Lena defended her decision to Stef. But when Callie disappears with their Brandon in tow, both Lena and Stef fear that Lena's soft-heartedness may have given rise to big problems.
Physical Appearance
Lena has beautiful caramel skin, a slender body with full lips and big brown eyes. Lena also has notable thick dark brown hair that is very curly most of the time.
Personality
Lena is very open-minded and reasonable though she can be assertive and firm when she needs to be. Lena is fiercely protective of her wife and children and will do anything for them. Lena had a strong maternal instinct which allows her to accept and love compassionately and completely. Lena as a general rule is normally soft-spoken but isn't afraid to voice her opinions, view and beliefs. Lena likes to resolve problems and issues by talking through them in a calm and controlled manner.
Series
Appearances
Relationships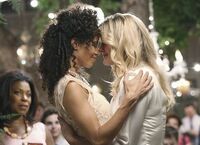 Main Article: AdamsFoster
Stef and Lena have been together for over ten years. Stef proposed to Lena in Vigil while in the hospital. In I Do, they get married happily.
Gretchen and Lena dated prior to "Pilot ". They dated for 18 months but broke up due to Lena's desire to get married, something Gretchen didn't want. A contributing fact to the break-up was that Gretchen cheated on Lena with her best friend during the time.
Trivia
Lena is shown to have progressive social values.
She gets artificially inseminated and becomes pregnant in Adoption Day after wanting to have a biological child of her own - a desire that she sometimes feels guilty about. However, she loses the baby due to preeclampsia, a dangerous pregnancy complication often caused by stress, in Mother. Devastated by the loss, she struggles to move past the event. However in Faith, Hope, Love, she admits to Stef that she's fallen into a depression over it and can't fully move on knowing she lost her baby. The devastation of this loss made it difficult for her and Stef to decide whether to adopt Ana's baby in season 2B.
Lena comes from a mixed family with an African American mother and a Caucasian father. As a result of being half white and half black, her mother often judges her because she doesn't believe Lena is a "real" African American woman.
She is the vice principal at Anchor Beach Community Charter School. She briefly quit the job in Someone's Little Sister due to a dissidence with the new principal, Monte Porter, but soon shortly takes it back since her family needed the salary.
Lena was bullied at school due to being biracial, earning her the school nick name 'Oreo'. Once the kids at school learned that she was also a lesbian, they switched to calling her a 'Klondyke Bar'.
Gallery
Click here to see Lena's gallery.
Quotes
Click here to see Lena's quotations.
References
Community content is available under
CC-BY-SA
unless otherwise noted.