Jurassic World: Dominion Dominates Fandom Wikis - The Loop
Play Sound
"
Oh, better get to class before you get someone else pregnant.
"

— Kelsey to Jesus, The Fallout

Kelsey is a recurring character of the ABC Family  series, The Fosters. She makes her first appearance in Consequently, and reappears at Wyatt's party in Saturday, apparently out of rehab treatment. She is one of the main antagonists of the second part of the first season.
Biography
Kelsey is one of Mariana's previous friends who bought Jesus' pills from her and used them to get high. She stereotypes Callie based on her past in juvie and, when Lena catches her with Jesus' pills, lies that Callie has sold them to her. She was briefly taken to rehab, but came back soon after.
Physical Appearance
Kelsey has light, brown hair and blue eyes. She is a bit shorter then Mariana. Kelsey dresses alike to Mariana.
Season 1
Kelsey is seen at the beginning of the episode asking Mariana for more drugs. One of the teachers shows Lena a tossed out note regarding pills being sold around school. This causes the police to arrive to investigate the kids lockers to try to find the dealer, scaring the two girls of getting caught. After Lena catches Kelsey using drugs in the restroom, she tells her that it was Callie who gave her the pills. 
Kelsey is mentioned by Mariana when she asks Callie if she wants to replace Kelsey in her quinceañera court. She also reveals that Kelsey went to rehab for consuming drugs.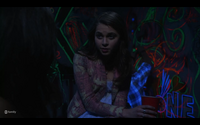 Kelsey makes a return appearance while at Wyatt's party, meeting back up with Mariana, revealing she has left rehab. She makes small talk to Mariana, believing her parents overreated to her pill sitation and also reveals Lexi's relationship with Jesus, telling her about how she took the morning-after pill after she had sex with Jesus. This statement shocks Mariana, who had been unaware of the two's relationship.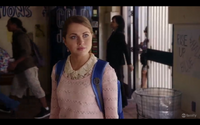 Kelsey is seen in the hallways when Jesus comes up and tries to ask her about Lexi's whereabouts. She replies with a snarky comment about him getting Lexi pregnant. Jesus tries to answer that Lexi never actually got pregnant, but chooses not to bother with her and continues looking for Lexi.
Kelsey joins to the school's play crew with Mariana as a costume designer. Kelsey likes the same guy that Mariana likes, Chase, a senior student. When buying clothes for the play in a store, she puts a hat in Mariana's schoolbag.
Kelsey gets mad with Mariana because she has a play date with Chase, and Mariana cancels it just to make her feel better. Kelsey replace her in the date. After Kelsey can't go to the play date with Chase because she has detention, Mariana goes with him instead. Their date results in them sharing a kiss, which Kelsey witnesses. As revenge, she confesses that Mariana sold her the drugs, therefore getting Mariana suspended.
Kelsey and Chase are together at the cast party.
Appearances (6/101)
Season 1 (6/21)
Trivia
Gallery
Click here to see Kelsey's gallery.
Quotes
Click here to see Kelsey's quotations.