Jurassic World: Dominion Dominates Fandom Wikis - The Loop
Play Sound
Justina Machado (born September 6, 1972) is an American actress. She is known for her role as Vanessa Diaz in the HBO drama series Six Feet Under.
She portrays Sofia Rivera in the ABC Family  series, The Fosters.
Personal Life

Machado was born in Chicago, Illinois, where her family moved to from Puerto Rico. There her parents met and were married. The couple had two children and subsequently divorced. Her mother remarried and had three children. Machado was very active in drama, always participating in her school plays. In 1986, she attended Lane Technical College Prep High School ("Lane Tech") and during her spare time performed with the Latino Chicago Theater Company.[1][2][3]
In 1990, she graduated from Lane Tech and moved to New York City. The experience which she had gained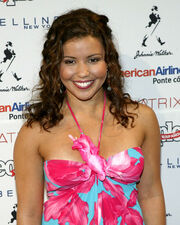 as a performer with the Latino Chicago Theater Company helped open the doors for her in that city. Soon, she was offered a job as a professional actress in Los Angeles, California. She moved to Los Angeles and in 1996, Machado landed her first two acting roles. She was cast as "Elsa" in the TV series NYPD Blue episode #311, and she was also cast as "Val Cho" in the movie made for television No One Would Tell.[2][3][4]
Career
Six Feet Underedit
Main article: Six Feet Under (TV series)
On June 10, 2001, Machado auditioned for the TV series Six Feet Under and was cast as "Vanessa Diaz", a supporting role character which evolved into a "regular" character in the series. Machado and her castmates were honored with a Screen Actors Guild Award for "Outstanding Performance by an Ensemble in a Drama Series". The series entered its fifth and final season in 2005. Machado has also appeared in the Canadian television series 1-800-Missing as "Sunny Estrada".[5]>[2][3]
Machado has participated in over 15 films. Amongst her most notable roles so far have been Carmen Rodriguez in She's So Lovely starring John Travolta and Sean Penn, a supporting role in Full Frontal, Isabella Hudson in Final Destination 2 with director David R. Ellis, Agent Herderson in Torque starring Ice Cube, Natalia in Little Fugitive, Teresa in Man Maid starring Sara Rue, Sofia in The Accidental Husband starring Jeffrey Dean Morgan, and FBI Agent Rosie Gomez in In the Electric Mist.[3][4]
She has also made appearances on stage, including Neil LaBute's Some Girl(s) at the Geffen Playhouse in Los Angeles. She participated in the productions of Blade to the Heat and Black Butterfly at the Mark Taper Forum in Los Angeles. She was the first replacement for Andrea Burns in Broadway's In the Heights. In 2010 she appeared in the Los Angeles run of Love, Loss and What I Wore.
Other workedit
In 2003, she appeared in the music video for TLC's song "Damaged", the third single from their final studio album 3D, as a young woman trapped in an abusive relationship and unsure of what to do with her life.[2][3]
In 2009, she appeared in 9 episodes as Claudia Diaz, Archie Morris's Girlfriend and police officer in ER[2][3]
Filmography
TV appearances[edit]
NYPD Blue as Elsa (1 episode, 1996)
Second Noah as Roxanna (1 episode, 1996)
No One Would Tell (1996) (TV) as Val Cho
Moloney (1 episode, 1997)
Arsenio as Anna Montez (1 episode, 1997)
Goode Behavior as Raquel DeLaRosa (5 episodes, 1997)
ER as Ms. Cruz (1 episode, 1997)
The Gregory Hines Show as Maria (1 episode, 1998)
The Week That Girl Died (1998) as Marita
Any Day Now as Olivia (1 episode, 1998)
Touched by an Angel as Marisol (1 episode, 1998)
Malcolm & Eddie as Laura Morales (2 episodes, 1998–1999)
Promised Land as Roxie Kahle (1 episode, 1999)
Early Edition as Laura Swallows (1 episode, 1999)
Oh Baby as Mona (1 episode, 1999)
Angel as Jo (1 episode, 2000)
Following Paula (2000) as Paula Ormida
Sticks (2001) as Maria
The Johnny Chronicles (2002) (TV) as Marisol
Strong Medicine (1 episode, 2002)
1-800-Missing as Sunny Estrada (1st season, 2003–2004)
Six Feet Under as Vanessa Diaz (39 episodes, 2001–2005)
Ghost Whisperer as Suzanne Alpha Mom (1 episode, 2006)
Fatal Contact: Bird Flu in America (2006) (TV) as Alma Ansen
Grey's Anatomy as Anna Nyles (1 episode, 2006)
Ugly Betty as Cousin Clara (in the episode A Tree Grows in Guadalajara, 2007)
Kath & Kim as Angel (2 episodes, 2008)
ER as Claudia Diaz (regular guest star, 2009)
Three Rivers as Pam Acosta (2009)
Burn Notice as Lauren (2010)
Bones as Lupe Rojas (in the episode "The Couple in the Cave", 2010)
Body of Proof as Emily Burrows (in the episode "Lazarus man", 2011)
Desperate Housewives as Claudia Sanchez (2 episodes, 2012)
Private Practice as Nurse Stephanie (2012)
Switched at Birth The Nurse (2011) 
Jane the Virgin as Darci Factor
Trivia
Gallery
Click here to see Justina's gallery.