"
Why do we have to put ourselves in boxes when it comes to who we want to be with? Shouldn't it just be about the person?
"

— Jude

Jude Adams Foster (born Jude Jacob) is a main character in the Freeform series, The Fosters, and a minor guest character in its spin-off Good Trouble. He is portrayed by Hayden Byerly.
Jude is the son of Donald Jacob and his now-deceased wife, Colleen Jacob, as well as the adoptive son of Stef Adams Foster, and Lena Adams Foster. He is the half-brother of Callie and the adopted brother of Brandon, Jesus and Mariana Adams Foster.
Jude has suffered through hard times - having lost his mother to a drunk driving accident and his father to prison before being sent, alongside his elder sister Callie, into the foster system where he would be bounced through various foster homes. Despite his rough upbringing, he always managed to have a good conscience and a bright outlook on life. It wasn't until he met the Fosters that he finally found his "forever home".
Biography
Jude Jacob was born on November 17, 2000, to Colleen and Donald Jacob. He is the younger brother of Callie.
When Callie was ten and Jude was six, their mother passed away in a car accident that their father's drunk driving was responsible for. Consequently, their father went to prison for manslaughter since he had also killed other people. As a result of having no relatives to care for them, Callie and Jude were placed into the foster care system for six years. Their time in the system is implied to be rough and abusive. After they entered the foster care system, Callie took Jude under her wing and became completely focused on protecting him, becoming somewhat of a parental figure to him.
Despite often moving house to house while in foster care, which proved to be hard on him and his sister, Jude is a rather quiet and often peaceful child. While usually not being in a particular foster home for long, even becoming accustomed to this pattern, he always enjoyed the good homes he sometimes did get to live in. Callie, however, would often encourage him not to get too attached to the good homes.
While it has been stated that Jude has been abused by at least one foster parent, which Callie described as "getting the crap beaten out of him", he hasn't let such treatment hinder him and is always a pleasant person. Whether he was abused by other foster parents and the extent of his abuse in the system is left unknown and mostly unmentioned.
After being taken in by the Adams-Foster family, Jude finally finds his "forever home", and is eventually adopted even though Callie had trouble getting adopted herself.
Personality
Physical Appearance
Jude was a young boy with short dark brown hair and brown eyes. Jude's appearance changed over the course of the series as he developed into adolescents. In season 1, he is a somewhat short young boy who has yet to really physically develop. However, from season 2 to season 3, he has considerably grown to where he is at least a foot taller - almost taller than Callie - and his voice has deepened significantly. Also, his cheeks have become more slender.
The clothing Jude wears is usually casual, mostly regular jeans and T-shirts that consist of a similar design. However, when it comes to formal events (such as dances and events like his adoption or Father's Day brunch), he always dresses in a suit or in a more proper manner.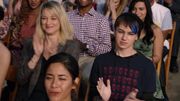 During a flash-forward sequence, it was shown that Jude went through an emo-phase in his later teen years. He dyed a portion of his hair blue and cut it to appear shaggier so it would hang further down his forehead. On the back half of his head, he wore a black wool beanie. He also started applying eyeliner, specifically on his upper-lids that created a shadow-like effect. In addition, he pierced his lowered lip on the right side and started wearing rings and black studded bracelets. His clothing was also significantly darker and heavier, wearing long sleeves and a hoodie with red skulls on it.
In "Good Trouble", Jude is out of his emo stage and wears relaxed jeans paired with modern tops.
Season 1
Season 2
Season 3
Season 4
Season 5
Season 1
Season 2
Season 4
Relationships
Familial
Romantic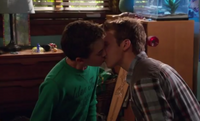 Friendly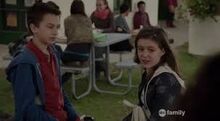 Trivia
Gallery
Appearances
References