Jurassic World: Dominion Dominates Fandom Wikis - The Loop
Play Sound
I Do is the tenth episode in The Fosters and is the summer finale of Season 1. The episode premiered on August 5th, 2013.
Summary
Stef and Lena try to maintain calm when their parents descend on the Foster house for a very special celebration. Lena's dad, Stewart (played by Stephen Collins), has agreed to officiate the ceremony while her mother Dana (Lorraine Toussaint) and Stef's colorful, talkative mom Sharon (Annie Potts), attempt to keep things civil while disagreeing on floral arrangements. Sharon tries to strong-arm Frank (Sam McMurray) into attending. Stef avoids telling Lena she plans to return to work as soon as she is cleared. Meanwhile, when Callie's case against Liam (BranDon Jones) boils down to her word against his, she must decide whether or not to lie in order to get some justice out of the situation. Callie and Jude get some news they've been hoping for, but Callie makes an emotional slip that could destroy any chance they finally have at happiness.
Synopsis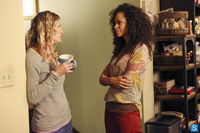 The episode starts off with Lena, Stef, Sharon, and Jesus getting things ready for the wedding party. Stef and Lena told Callie they needed to talk to her.  At school, Callie and Wyatt were walking in the halls talking.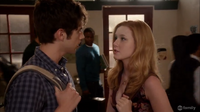 Wyatt told Callie that he is moving to Indiana since his mom lost their house. Callie said goodbye, and that she would really miss him. Talya and Brandon were walking in the hallway talking about the wedding, when Callie saw them across the courtyard. Brandon saw Callie sitting alone and went to talk to her. She said she had to decide today if she was going to go through with the pre-trial with Liam. Brandon was supporting her, telling her she deserved to see justice brought to the situation.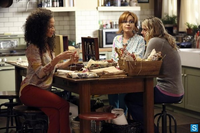 Stef and Lena were in their bedroom getting ready for bed, when Stef was staring at her scar from the shooting. Lena said it was a constant reminder. Stef's parents were talking in her Frank's house. They were talking about Lena's father being the officiant of the wedding. Stef's mother, Sharon, was making sure that Stef's father was going to be going to the wedding. The scene cuts to Lexi and Jesus hanging out in Jesus's room talking about sex, but Lexi quickly left when Jesus didn't want todo it. The family's lawyer was over talking to Callie, Stef, and Lena, about the court date. He was telling them that given Callie's track record, they wouldn't hold up in court. He said that if she changed her story and said it was consensual, instead of him forcing himself on her, he could go to jail. Stef and Mike were setting up tables for the wedding, when Mike said Ana told the police that her boyfriend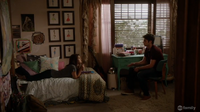 dropdropped the gun and was then shot. Stef told Mike that she said she was unconscious, but that she actually saw what happened. Mike told Stef that she couldn't change her statement because she would definitely lose her jobs and she had the family to think about. Callie and Brandon were talking, and Callie told him that the jury wouldn't believe her, so she has to change her story. She started yelling at him, telling him it isn't fair that she has to lie to get the jury to believe her. Lena's parents, her father played by 7th Heaven actor Stephen Collins, came to the house, as well as Sharon. They all discussed the wedding vows, with Stef saying she didn't want to do vows, but Lena gave a look that she really wanted to. Sharon and Lena's mom said they wanted to take some of the work of planning the wedding, like flowers and decorations. Mariana and Callie were lying in their room, and Mariana tried to comfort Callie, saying that one lie turns into another, but whatever she decides to do, the family is there for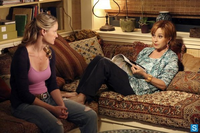 . In the courthouse, Callie was on the witness stand, telling the jury she was just 15 and Liam was 19. Callie said she wouldn't lie, even though it was the easy way out and a guarantee that Liam would go to jail. She said no, it was not consensual. After the court hearing, Stef and Lena were back home, talking about Callie doing the right thing. Mariana saw Lexi after class and Lexi was looking upset, but she said that she might have to go back to Honduras because her family member is sick. She told Mariana not to tell Jesus because he would worry about her going and getting back into the U.S. Sharon and Lena's mother were looking at decorations for the wedding, and began arguing about a "sophisticated" look for the wedding. Lena told her mother to not be judgmental, but Lena's mother just began badgering her. Sharon was badgering Stef about wearing pants and not a dress. Lena came into the room and started talking to Stef, who said she can't wait for this "stupid wedding" to be over. Lena yelled, saying why are they even getting married if she doesn't want to walk down the aisle, wear a dress, or do vows, and everything is "stupid."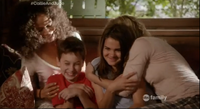 Stef went to visit her father, and confided in him that she is embarrassed by having a wedding even though she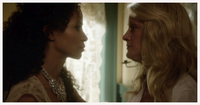 loves Lena more than anything. She realized that it isn't her voice having the doubt, but her father's, and said she does not want him at the wedding if he cannot be 100 percent behind their wedding. Stef returned home and her mother was waiting for her. She apologized to Stef, saying she is not the daughter she dreamed of; she is better. Stef went upstairs to apologize to Lena, saying of course she wants to marry her. Lena immediately forgave her.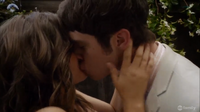 The The next morning, Stef and Lena had all the kids gather in the living room, and told Callie and Jude that they want to officially adopt them. Callie asked if the other kids thought it was okay, so they all said yes. Jesus brought Lexi upstairs and said he knew she had to go back to Honduras. Callie pulled Brandon aside and thanked him for believing in her when she couldn't do it herself and tells him that she knows what she deserves now. Brandon tells her that she deserves everything she wants and deserves to be happy. He compliments her by calling her amazing, kind, smart, and beautiful. When Brandon asks for her opinion, she interrupts him by kissing him. They eventually make out. They then pull apart once they are interupted by Jude. After Jude runs away, Callie follows and then Tayla walked in, not realizing what happened. Jude asked Callie why she had to ruin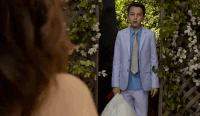 everything - the only thing she knows how to do is ruin everything. He said she only cares about herself, and doesn't care about him at all. The Captain was talking to Lena and let it slip that Stef was coming back to work next week. Stef was waiting to tell Lena until after the wedding. Lena charged upstairs and unbuttoned Stef's shirt, touching her bullet wound, saying she is getting over it.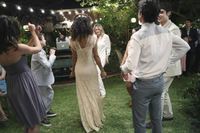 Lena's dad started the ceremony, saying he is so proud to welcome everyone to the wedding. Stef and Lena exchanged vows, and Jude brought up the rings, pretending to lose them. As they kissed, everyone seemed happy, but Callie had a sad look. Lexi and Jesus were dancing, and her parents were watching them, saying she is going to be devastated when Lexi finds out they are not coming back from Honduras. Callie told Jude that she has been selfish, but it isn't going to be like that anymore. Mariana dedicated a song to her moms.
All All the kids began dancing with Stef and Lena, but Callie and Brandon kept avoiding each other. The final scene was with Callie packing her bags and leaving the house. She went to Wyatt's and asked for a ride, but he said she should just go home. Wyatt changed his mind and let her drive with him. The episode ended with Callie and Wyatt driving into the highway.
Cast
Main Cast

Guest Starring

Co-Starring
Title Reference
The title was a reference to the wedding vows. In the wedding vows Lena and Stef had to say I Do to each other.
Source Reference
TBA
Featured Music
Main Article: Music Guide
Breaking Your Own Heart by The Boxer Rebellion (Wyatt tells Callie he's leaving.)
You Take It Slowly by Telekenesis (Jesus won't have sex with Lexi.)
Where You Came From by Scattered Trees (Callie can't sleep; Mariana wants her to tell the truth.)
Tiger Child by The Young Romans (They want to keep Callie & Jude. Guests arrive, Callie needs to talk to Brandon.)
Let's Go by Aaron Espe (Callie talks to Brandon and kisses him. Tayla asks for Brandon. Jude sees Callie & Brandon.)
You Belong To Me by The Boxer Rebellion (Stef & Lena get married.)
Just Play The Music by LaurynVyce (Lexi will be devastated; Callie apologizes to Jude.)
Same Love (feat. Mary Lambert) by Macklemore & Ryan Lewis (The family celebrates the wedding.)
Re-Arrange Again by Erin McCarley (Callie leaves, drives off with Wyatt.)
Gallery
To view the gallery for I Do click here .
Trivia
This episode started shooting the day after the supreme court legalized gay marriage.
Peter Paige cried multiple times making the episode.
Once they got married, Lena and Stef finally legally cement their 10 year relationship.
The Fosters "I Do" episode has the second highest viewership in the series with 2.07 views.
Stephen Collins , who plays Stewart Adams, is jokingly called "Reverend" in this episode due to his online ordainment and the fact that he is presiding over the wedding. Collins is best known for playing Reverend Eric Camden on the popular TV drama 7th Heaven .
Promos/Sneak Peeks