House and Home is the twelfth episode in Season 1 of The Fosters. It aired on January 20, 2014. 
Summary
Callie meets Rita Hendricks (O'Donnell), a woman who works in the foster care system, and it's clear it will take Callie some time to adjust to Rita's no-nonsense guidance. Brandon comes clean about the reason Callie ran away and, unbeknownst to Stef and Lena, he sets out to track her down. Meanwhile, Mariana volunteers to help with the school play in order to impress a cute boy (Clayton), but when she gets paired up with an old "friend," it could spell trouble. Jesus' meds are having concerning side effects, and he's desperate to find an alternative to taking the pills. Mike suggests he participate in contact sports to help relieve his aggression, and Jesus tries out for the wrestling team.
Synopsis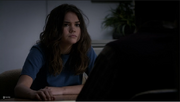 The episode starts where we were left off. Callie is in juvie where she is prepared to meet her new probation officer. She tells him that she can't go back to the Fosters and wants to let her brother get adopted. Back at home, the Fosters are having dinner. To avoid awkward silence, Stef announces that she will be going back to work.
Then Jude asks out of the blue what will happen to Callie. Stef tells him that she will stand before a judge, and they will decide whether or not she is qualified to stay with them. Brandon asks if they could go with them. Stef replies saying that Callie doesn't want them with her. Brandon, feeling confused, begins to question his moms. Jude shook his head before Brandon revealed to his family that he kissed Callie. He is taken outside where his moms bombard him with questions specifically Stef who is in shock and anger. Brandon defends his actions saying that he didn't see the kiss coming and never expected it. He sent back inside the house where he is confronted by Jesus and Mariana. Mariana, especially angry, begins to diss Brandon. This goes on throughout the conversation. When Mariana leaves, Brandon tells Jesus that she should know how it feels when you can't help yourself because he had sex with Lexi but,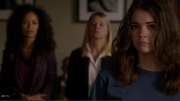 Jesus tells him that they didn't plan to adopt Lexi. In the morning, Callie stands before a judge. Stef and Lena are present in the court, and Stef tells the judge about how Callie has affected them, but she tells the judge they aren't ready to have Callie back. 
Mariana sits at a table to eat when Chase, a senior, approaches her. He suggests her to join the school play. Mariana is immediately smitten. Brandon and Talya are reading the script for the school play. Before Brandon says another line, he tells Talya that they have to break up. Brandon tells her that he does care about her, but he doesn't love her. She asks him if it's because of Callie and Talya says that she just wants to hear him admit it so she knows that she was right. Brandon says that this break up is because of Callie. She tells him that Callie will just hurt him and walks away. Mariana goes to the school's backstage auditorium where she meets Zac. Mariana volunteers to do costume design along with Kelsey. Kelsey follows Mariana who ignores her. Mariana tells her that she lied. Kelsey defends her actions as she said that she didn't tell that Mariana was her drug dealer because she's her friend. Brandon runs home who asks about his moms.
When Brandon refuses to help Mike with the car, Jesus volunteers only if he wins a match of basketball.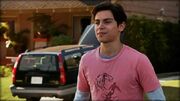 Brandon walks in the kitchen bombarding Stef and Lena with questions about Callie. They tell him that she will be staying at a group home until the current situation is resolved. Brandon becomes angry and tells them that he and Callie are in love and keeping them apart won't change that. Callie is introduced to Girls United where she meets Rita and Daphne, the girl that beat her up in juvie in Pilot before she was released. The girls have a meeting where they introduce themselves whenever a new girl joins the group home. We meet Kiarah, Callie's roommate, who has been in juvie for drugs, involvement in gangs, and throwing bricks at a building. We meet Becca, 16, who was in juvie for drugs as she was drug addict and for assaulting a police officer. We also meet Carmine, 17, who was in juvie also for drugs, involvement in gangs and kidnapping. We meet Cole, 15, who hates Girls United and is in this place for theft and prostitution. We meet Daphne, 17, who was in juvie for drugs, involvement in gangs, armed robbery and assault. We meet Gabi, 15, who is in Girls United for home invasion, robbery and cyber bullying. Callie then shares her story and says that she doesn't belong at a group home.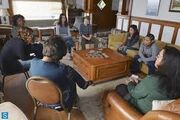 Back at home, Brandon walks to Jesus and Jude's room. He tries to apologize to Jude about Callie not being able to come back but Jude resents him and slams the door in front of his face. Brandon goes back to his room and does some research on Callie's current residency. Mariana goes outside and reveals to Stef that she joined as costume designer for the play. While Mike and Jesus are playing, Jesus slightly faints and falls to the ground. Mariana gets Lena as demanded by Stef. It is revealed that it was just a side effect from Jesus' medication which makes his heart rate race faster. Back at the group home, Callie is doing chores along with other girls. Her, Becca, and Cole don't get along. Daphne shows her where the garbage is thrown out. She apologizes to Callie for assaulting her in juvie. Callie doesn't forgive her. Callie gets ready for bed, and she questions about visitations and reveals why she needs her privileges.
Back at home, Jude makes an excuse to enter Mariana and Callie's bedroom. She asks him if he could sleep with her for the night knowing that he misses his sister. Mariana is at a store shopping with Kelsey for the play. While Mariana is in the dressing room, Kelsey stuffs a hat for Chase in Mariana's bag. They are almost caught stealing. At the group home, Callie is at a group meeting where they reveal their feelings. It is revealed that Becca's mother's boyfriend abused her, and she got the drug habit from her mother who didn't care about her daughter. Callie shares that she kissed her foster brother. At home, Mariana is doing her homework while Jude is sitting on Callie's bed. Stef steps in and reveals to Jude, while Brandon overhears the conversation, that they will have visitations shortly and reveals her group home. Mariana discovers the fedora that was stolen.
At the group home, Becca steps in Kariah and Callie's room. She expresses her opinion and doesn't buy her tears. She calls her a selfish bitch. Callie backfires by saying that she doesn't care opinions from a drug addict. Callie goes to the bathroom and walks in on Cole who is removing or apply on his chest to mask his breasts. He shoves her out of the bathroom to get out, but she retaliates and shoves her against the shower's glass. They have an emergency meeting. Both Callie and Cole lie about the incident and move in together. In the morning, Stef and Lena enter Jude's room who is wearing a suit. They tell him that Callie lost her visiting privileges. They decide to stay home, and Jude is saddened by this. Back at school, Mariana confronts Kelsey about the hat. Chase notices it and tries it out. Mariana takes credit for it. At the school's gym, Mike and Jesus are sitting on the bench viewing wrestling. Jesus gives it a try, but gets beat up by a girl. Callie and Cole are in the same room when visitation hours start. Callie looks out the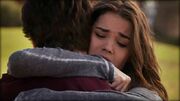 window. When Rita and Cole leave, Callie looks back out the window and notices Brandon across the street. She runs outside and into his arms. Meanwhile, the group were caught up on the situation that he is the foster brother when they watch them embrace.
Cast
Main Cast

Guest Starring

Cyrus Farmer as Probation Officer

Co-Starring

Michael Patrick McGill as Coach Spears
Rolando A. Boyce as Security Guard
Elayn J. Taylor as Judge
Angela E. Gibbs as Michelle
Michael Sun Lee as Bailiff
Coryn Mabalot as Girl
Title Reference
The title was a reference to how Callie moved to a group home in this episode.
Source Reference
TBA
Website
http://cis.hfcc.edu/~scotton/The%20Fosters/.
Featured Music
Main Article: Music Guide
In the Arms by Lucy Schwartz (Callie learns how she can see Jude by getting privileges & goes to bed; Mariana asks Jude if he wants to sleep in Callie's bed.)
Casualty by Kopecky Family Band (Callie is walking the hall in Juvie for her interview.)
Turning the Tide by Stigma (Mike talks to Brandon about Callie running away.)
Too Many Lies by The Futures League (Jesus and Mike play basketball.)
We Are Broken by This, the Silent War (Rita tells Callie that she runs away from her problems; Callie reunites with Brandon as the other girls watch.)
Trivia
This episode's title and information were revealed by Jules Kovisars, a production manager working for The Fosters. She posted a video of the script via her Vine account.
The first official still was revealed on December 11, 2013 by TV Guide.
More stills were revealed on December 16, 2013 by SpoilerTV.
This episode has the highest viewership in the series with 2.14 million viewers.
This is the second time that Maia Mitchell and Garrett Clayton starred in a production together, the first being Teen Beach Movie. They appear again in the sequel to the movie in 2015.
Gallery
Promos/Sneak Peeks