"
I barely remember a time when I wasn't the sick girl. And you never looked at me like that. Which is one of my favorite things about us. I didn't want to change what we had.
"
Grace Mullen was a recurring character on the Freeform series, The Fosters. Grace was a volunteer at the hospital who helps kids with autism by communicating with them through music. Recently, Grace's leukemia returned, but her treatment failed. She made her first appearance in Doors and Windows.
Grace was portrayed by Meg DeLacy.
Biography
When Grace was nine years old, she became sick and had to be admitted to the hospital. The doctors diagnosed her with leukemia and, as a result, she had to begin chemotherapy. Grace was put later into remission and declared cancer-free. When she was thirteen, her cancer seemingly returned, and she restarted chemo. Grace also was able to participate in clinical trials and went into remission for the second time.
Personality
Grace was an old and beautiful soul, who wanted to help people with autism get better. She was originally closed hearted due to not wanting to open up to anyone because of her illness, but she later fell in love with Brandon. She was adventurous, daring, and worked every day to face her fears no matter how crazy they may have been. Grace was also exceptionally kind and fun-loving, adjusting to any situation she was put in and making the best out of it. She was also good with children. Despite having a life-threatening illness, Grace remained vibrant and seemingly happy toward the end of her young life.
Series
Appearances (20/101)
Relationships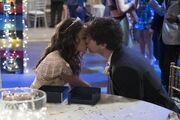 Main article: Brace
In Prom, Brandon finds out from Grace's mother, Susan, that Grace's leukemia had returned. Knowing this, Brandon wanted Grace to have her best night at prom. Afterward, Grace is in the hospital and started her chemotherapy. In Mother's Day, she makes Brandon her proxy instead of her mom because Grace knows her mom might make the wrong decision.
Trivia
In Prom, it is revealed that Grace has leukemia and has to go back home with her mother to undergo chemotherapy.
Grace reveals to Brandon in Sanctuary that she found out she had leukemia when she was nine.

Since then, Grace has been homeschooled. 

Her first real boyfriend and love was Brandon.
Grace assumed that she could never have children because of the chemotherapy that she endured twice at such a young age.
Grace has always wanted to play at the Coachella Valley Music and Arts Festival.
Gallery
Quotes
"I try to do one scary thing a day."
—Grace's promise to herself
"I need you to let me go."
—Grace to Brandon
"Grace: If for some reason I can't go, promise me you'll go.
Brandon: We'll go together."
—Grace and Brandon discuss Coachella