Speak Up. Speak Out.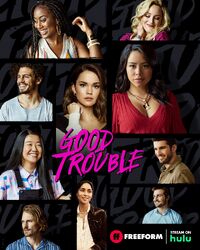 Good Trouble follows the residents of Downtown Los Angeles' The Coterie as they juggle career, love, and friendship and learn that standing up for what you believe in requires making a little noise and getting into trouble. Season 3 picks up as Callie moves back into the Coterie, Mariana feels torn between Raj and Evan, Malika prepares for her hearing after breaking Judge Wilson's restraining order, Davia and Dennis explore the future of their relationship, Gael looks to get back to his true passion, Alice takes her comedy to the next level, and Jamie wonders if he can ever forgive Callie for betraying him.
Good Trouble Seasons 1, 2, and 3 are now streaming on Hulu. Season 4 is now airing, on Freeform and is available to stream the next-day on Hulu.
Seasons
Characters
Video
"The Fosters" is a compelling, one-hour drama about a multi-ethnic family made up of two mothers and their adopted and biological children. While living in sunny Southern California, the Foster family must deal with the complexities of foster care, racism, sexuality, and immigration. Though the problems they face are tough, this family knows that if they stick together, they can get through anything.
Characters
Seasons
About the wiki
Good Trouble Official Wiki is an encyclopedia run and maintained by fans, for fans, and we're dedicated to building a comprehensive and informative resource about all things related to The Fosters and Good Trouble.
Wanna share your knowledge?
Sign up
for a free account and start
editing
today!
Twitter