It's about taking your passion, whatever it is you believe in, to its fullest. And I won't be judged for making a mess.

— Gael
Gael Martinez[1] is a socially conscious and politically active graphic designer, who lives at The Coterie.
Biography
Gael Martinez is the youngest child of Hugo and Mrs. Martinez, and the younger brother of Jazmin Martinez. Gael was raised in an old-fashioned and strict Latin family and community, where being different wasn't accepted or encouraged. From a young age, Gael was aware of his feeling towards both men and women. He repressed his feelings towards men because of his family and the community's strict beliefs. Gael had a passion for art from the time he was a young child.
He was also close to his older sister, Jazmin. Gael may have been the first family member Jazmin told she was transgender. He was accepting of her identity and came out as bisexual to her. When Jazmin was turned away by their family, Gael maintained a close relationship with his sister. The siblings eventually drifted apart physically but remained in touch over the phone.
About a year before "DTLA", Gael rekindled his relationship with Jazmin after seeing her at the Pride March. He was later hired as a graphic designer for Speckulate and moved into The Coterie.
Personality
A passionate and flirtatious artist, Gael is known for his easygoing yet playboy antics. He loves art and design.
Physical Appearance
Gael is an attractive young man in his early twenties, with curly brown hair and almond-shaped brown eyes. He has the shadow of a neatly trimmed beard and thick eyebrows. He has a tall yet athletic physique standing just over six-feet.
Throughout Series
He is introduced as the attractive friend of Mariana who recommended The Coterie to her as a place to live. He hits it off with Callie on her first night at the apartment, and they talk about art and life for a while. He shows her his art and they flirt back and forth before having sex. Gael is later seen sitting on the opposite end of the table then Mariana when they go to work the day after she moves in.
When Callie learned that Gael is the guy that Mariana works with and has a crush on, she visits Gael to call off their hookup. This results in them having sex again, but this time, Callie is certain that the affair has to end. That night while at the pool, Mariana and Callie witness Gael making out with a man in his loft. The pair seems to be about to have sex.
Appearances
Relationships
Jazmin is Gael's younger sister, who he has looked out for since they were kids. They are very close but often don't see eye-to-eye due to their differing personalities. Gael is more of a lover than a fighter, while Jazmin is the opposite and speaks up when things seemed unfair. She borrowed money from him after she lost her initial job. He lent her money to help her get back on her feet. He also helped get her in touch with Jamie Hunter, a lawyer friend of Callie's, after she was unfairly fired for being transgender. At the end of the day, no matter their disagreements, he is fiercely protective of her, as seen in "Imposter" when he went toe-to-toe with a bigoted caterer to protect her honor. Jazmin also only speaks positively about her brother, though she admits that he can be naive at times.
Main article: Callie and Gael
"So when we... I didn't know you worked with my sister or I never would have... So I think it's better if we don't – again and it's definitely better if Mariana doesn't find out we did. Because I never want a guy to come between us."
—Callie to Gael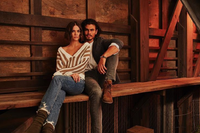 Callie moved into the apartment complex that Gael was residing in, and they instantly had a connection. They met on her first night at the apartment and bonded over their mutual love for art, political activism, and a basic connection. Gael showed her his art and they had sex in his loft. The next morning, Gael was getting ready to go on a bike ride when Callie and Mariana interrupt him. Mariana introduced the pair, and both played along with it. Gael then left, and Mariana quickly restated her interest in Gael to Callie before leaving for work. When Callie went back to Gael that night to break things off with them, they ended up having sex again, which Callie regretted because she lied to Mariana.
That night at the roof of the pool, Callie told Mariana the truth and they witnessed Gael making out and then beginning to have sex with another male. Both girls were shocked and Callie downed her wine as Mariana quickly stated that she forgave her and could have Gael. Callie avoided him until she talked with Jude and faced her reservations about dating a bisexual man, which Gael instantly thought would have been an issue due to his past. Callie, much to his surprise, stated that it wasn't an issue.
Main article: Gael and Bryan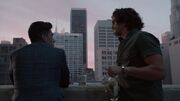 Bryan and Gael were originally non-exclusive boyfriends. It is unknown how they met, but neither one of them were ready to partake in an exclusive relationship when they met. When Gael met Callie, the new resident at The Coterie, things began to change. Bryan became competitive and vyed for Gael's attention, hoping to beat out Callie for Gael's affections. In "Swipe Right", Bryan admits that he wants a committed relationship with Gael and doesn't want to share him with anyone. Bryan leaves The Coterie to give Gael time to think about what he wants.
Main article: Gael and Elijah
Notes and Trivia
Gael is a graphic designer and a freelancer.
He worked at Speckulate alongside Mariana Adams Foster, and was the person who recommended The Coterie to her.
He is bisexual and has had romantic and physical relationships with both men and women.

Gael was closeted from his old-fashioned parents who struggled to accept his transgender sister, Jazmin.

He is a talented artist that can paint, sculpt, draw, and mold.
Gallery
References
↑

"Gael's rooftop loft" promo video
Community content is available under
CC-BY-SA
unless otherwise noted.