Jurassic World: Dominion Dominates Fandom Wikis - The Loop
Play Sound
"
Nothing. I just don't want to be perceived that way. I have more to offer than just my ass, you know.
"

Emma Kurtzman is a recurring character, and Jesus Adams Foster's fiancée in The Fosters and Good Trouble. She was first introduced in House and Home. She is on the wrestling team, a position she fought for, and had joined Mariana Adams Foster's dance team until she quit because of her wrestling team. She is known to be independent, a feminist, and feisty. 
Emma is portrayed by Amanda Leighton. 
Biography
Physical Appearance
Emma has medium-length, light brown hair, and light brown eyes. She rarely wears makeup, unless attending a formal event. In terms of clothing, she usually wears casual clothes although sometimes wears dresses when the occasion calls for one. She is physically attractive and beautiful.
Series
Emma is on the wrestling team at Anchor beach and she was paired up with Jesus for a tryout wrestling match. She is the only girl on the wrestling team and doesn't like to be referred to as a girl while in wrestling practice.
Emma is seen giving Jesus a gluten-free cookie before his match against Vico. She seems worried about Jesus when he gets hurt.
Things start to heat up between Jesus and Emma. When Lexi sends him a selfie of herself, he responds but accidentally sends them to Emma. Jude gets really frustrated when Jesus continually locks him out of their room for some "Jesus time".
Emma arrives and with food! Mariana watches with suspicion from the sidelines. Jesus and Emma are getting along really well, just as a video call from Lexi pops up. Jesus wants to ignore it, but in a surge of impulse, Emma accepts the call. She's all smiles and Lexi is obviously intimidated by the fact that Emma doesn't look like a beast.
Jesus and Emma have grown closer. Some might even say that they are each other's best friends. But all of that can easily get ruined with one little wrestling match. It's hard for a girl to be on the wrestling team and it gets harder when she has to overpower a friend. They both weighed in around the same so their coach asked them to duel it out on the mat to see who would be representing their high school come competition day. Jesus was winning and then he abruptly threw the game. He allowed Emma to win and that only made her mad. She didn't want to be handed anything and out of frustration or possible hidden feelings – she kissed him! There goes the chance of him not seeing her as a girl. Jesus met up with Emma and they both stated they have feelings for one other but, Emma said she doesn't do cheating and Jesus agreed and he said he will break up with Lexi.
Jesus thought it would be easier to send his girlfriend, Lexi, an email rather than break up with her face to face. But he hadn't known that Lexi was planning to surprise him in person literally minutes after he sent out that email. The whole family kept Lexi's visit a secret thinking Jesus would be happy to have his long-distance girl suddenly within distance. And it's not their fault that they didn't know about Emma. To them, Emma has only ever been Jesus's friend and teammate – nothing more. She was actually on her way to becoming more than just his friend though. So Lexi's visit turned out to be a surprise for her as well. Jesus only had seconds to warn her that his girlfriend had returned before Lexi introduced herself to Emma at school.
Emma was caught off guard and accidentally injured her finger with the simplest task of trying to close her locker. Now not only does he have to deal with the pressure of his soon to be ex's visit but he has to take Emma's place in their upcoming match. At Jesus's first game, his whole family plus Zach showed up to support him. This made him even more nervous. Once he started to get nervous he thought began to lose focus. So much so that he went back to his reliable medication without talking it over with his parents.
Jesus had nearly gotten himself worked up into an anxiety attack. He was wigging out when it was his turn. Thankfully his coach stepped in and talked to him. That got him to focus more than the medication did. Jesus won the match for his team but he realized what was important to him too little too late. He came off of the mat surer than ever that he only likes Emma and loves Lexi. Emma saw when his light bulb went off and didn't need him to tell her even though he did say sorry.
Jesus tells Emma that he and Lexi broke up due to the fact that she kissed another guy. Emma looks sad at the fact that Lexi broke up with Jesus instead of the other way around. Jesus then asks Emma can she help him study Algebra, but rejects him because she is still hurt by the events that took place in Kids in the Hall.
Jesus is in class asking Emma to go to the Winter Ball with him. She tells him she has a date already. Jesus reassures her and says he's fine and that he needs more time to test out this lifestyle without his meds. Jesus sees Emma's date drunk and picks a fight with him. This leaves Emma furious and she tells him to stay away from her.
Appearances
Relationships
Main article: Jesus and Emma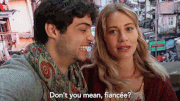 Jesus and Emma met whilst on the wrestling team together. While Jesus was still in a relationship with Lexi Rivera, he and Emma kissed. Emma refused to be the other girl and told him to break up with Lexi if they were going to be together. However, when Lexi came back from Honduras, Jesus changed his mind about liking Emma believing that he loved Lexi. However, when Lexi told Jesus that she kissed a boy in The Honduras (which was a lie) and went back to Honduras, Jesus sparked an interest in Emma once again. However, their relationship does not last. In Highs & Lows, Jesus and Emma get back together after Emma decides to give Jesus another chance.
Notes and Trivia
Emma is the most frequently appearing recurring character on the show. She is only a guest character in Season 3 but also the most frequently appearing recurring character in Season 4, appearing in the same number of episodes as Jude, and in more episodes than Mike, two main characters. This is repeated in Season 5 although recurring characters Grace and Ximena both appear in more episodes than her.
She apparently fought to be on the Anchor Beach wrestling team. She later explains how she didn't want to be restricted to typical 'girl' teams and clubs, but be seen as equally qualified to do male sports. 
Her family is Jewish.
She excels in math. This is shown in Emma being both a member of a STEM club, where only exceptionally high scoring students can join and proving to be an effective algebra tutor for Jesus.
Emma's last name is Kurtzman. It was revealed in the episode "Too Fast, Too Furious" (5x04).
Gallery
References