Jurassic World: Dominion Dominates Fandom Wikis - The Loop
Play Sound
Eliza Foster (née Hunter) is the only daughter of Jim and Diane, the older sister of Carter, and the sister of Jamie. Eliza is a talented cellist and a member of the Los Angeles Philharmonic. After a short engagement, Eliza married Brandon Foster in a small ceremony on the Turks and Caicos island.
Eliza is portrayed by Megan West in Good Trouble and Abigail Cowen in The Fosters.
Biography
Eliza Hunter was born on April 14, 1996, to Jim and Diane Hunter. She is the older sister of Carter, and presumably, the younger sister of Jamie. As a child, Eliza loved animals and wanted to adopt every stray that she found, desiring to care for and help them. When she was young, Eliza soon developed a passion for music and fell in love with the cello. She attended to college at USC, where she was picked up by the L.A. Philharmonic.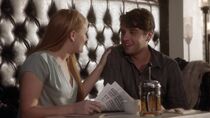 Eliza first met Brandon Foster in his scoring program within USC. They each admired the other's work but believed the other wasn't romantically interested due to their mutual work ethic. However, after one finally asked the other out for coffee, they connected instantly and talked for hours on end. During their long talk, Brandon opened up to Eliza about losing his girlfriend, Grace, to which Eliza expressed her sympathies. After they walked out of the coffee shop together, Eliza and Brandon shared their first kiss, quickly becoming a couple.
According to Brandon, Eliza was extremely shy, which was why she didn't spend a lot of time around his family. When Brandon went to Boston to see Mariana, he told her of his intentions to propose to Eliza, and his sister helped him pick out an engagement ring. Brandon then proposed to her and she happily accepted. Eliza and Brandon returned to San Diego for Jude's graduation party and announced their engagement.
Personality
Eliza is an intelligent, sophisticated individual with a love for music. She is sweet and kind but has a shy demeanor. She also has a way of presenting herself that can make her appear distant when she isn't. Eliza cares deeply for Brandon and wants to be happy with him no matter what. Unlike her parents, Eliza is progressive in her thinking and open-minded about people as well as different ways of life. For example, she was supportive of the Adams Foster family's lifestyle and didn't agree with her parents making Brandon feel pressured to be the provider of their family.
Physical Appearance
Eliza is a beautiful young woman in her early twenties, with an oval face, pale complexion, round eyes, and long straight red hair. She has many freckles on her face and a slim, petite build. Eliza is often seen in fashionable, yet relaxed clothing with minimal makeup.
The Fosters
In Many Roads, Mariana's urging, because the family was rarely all together, Eliza and Brandon announced their engagement and their hopes of having a destination wedding, possibly at the beach, next summer.
In Meet the Fosters, Eliza and her parents, Diane and Jim, are present at an Adams Foster dinner party. Eliza is also joined by her brothers, Carter and Jamie. Eliza is visibly uncomfortable in front of her parents, and it is revealed that they are pushing her to make certain decisions about the wedding that she nor Brandon intended. It is discovered that her mother selected the bridesmaid's dresses and that both her parents are insisting that she get married by a reverend, instead of by Stef and Lena. Eliza finds herself in a struggle she since has formed a connection with her future mothers-in-law's and doesn't want to hurt their feelings, but also wishes to appease her parents.
She is also angered when her mother brings up how she took in stray animals as a child, and she bitingly tells Brandon that her mother was comparing Stef and Lena's fostering to her selfless habits as a young girl. In a flashback, Eliza is shown helping Callie and Mariana who are both her bridesmaids, into the austere long dresses that her mother picked out for the ceremony. Brandon later tells his sisters that Diane picked out the dresses which meant that they have to lie about liking them. After the dinner that night, Callie and Mariana reminisce about Callie's love affair with Brandon, which Eliza hears from the attaching bathroom.
InTurks & Caicos, Eliza is told by Brandon that her father him Brandon about a prenup which Jim drawn up himself. Eliza is thrown when Brandon asks Callie for legal advice but doesn't let him know that she knows that they were a couple just yet. Eliza finds out from Brandon that her husband-to-be got a job opportunity for composing a short film for The Venice Film Festival. Brandon assures Eliza that it won't take away from the final wedding preparations or the honeymoon. Later, during a welcome lunch for the families and the wedding party, Eliza and Brandon discuss the prenup further, and Brandon tells her that he is reluctant to sign is, as Callie mentioned that the document seemed unfair to him. Eliza later sees Brandon watching the short film that he is contracted to compose for, and tells him that she wants him to be "present" for the upcoming events.
At the rehearsal dinner, Stef and Lena put together a slideshow presentation of baby photos and other events in Brandon and Eliza's lives. Eliza's parents surprise Brandon and Eliza with a condo in Los Angeles, which makes Stef and Lena feel inferior. However, her parents further upstage the event by hiring performers for the night, further alienating Stef and Lena. Later that night, Eliza has her bachelorette party with her bridesmaids, Callie, and Mariana in tow, and they play an advice game for her upcoming marriage. When there is a piece of advice about couples having each other's backs, Eliza assumes it is from Callie, and Callie tells her it is not. Later, Callie goes to talk to Eliza at the bar of the nightclub they are in, and Eliza confronts Callie about knowing that she and Brandon were once in a relationship. Callie is speechless, and Brandon soon arrives, forcing her to pretend that everything is all right.
Eliza tells Brandon that she knows about their relationship after Callie leaves, and the pair fight, whereupon Eliza tells Brandon to go to his room and to work on his piece. Brandon angrily replies that she's only telling him to do that so that she can accuse him of not being present, and takes off.
In Where the Heart Is', later that night, Eliza walks in on Callie and Brandon hugging, which neither of them sees. When Callie leaves, Eliza tearfully asks Brandon why he did not tell her that he and Callie were once together. Brandon replies that they were, but it was before Callie's adoption, and Eliza asks if he still loves Callie.
Brandon says that their fighting and disagreements have nothing to do with Callie, and Eliza asks him if they are still getting married. Brandon hesitates, which makes Eliza devastated. The following morning, a sleepless Brandon -- after a talk with Mike -- goes to wake up Eliza. Having signed the prenup, they confront Eliza's parents together, whereupon he slams it down on their breakfast table, informing them that he loves Eliza and that he wouldn't do anything to hurt her financially or otherwise. Eliza then steps up and says that Stef and Lena will marry them and that the bridesmaids can wear anything they want. Eliza then rips up the prenup, informing her parents that she trusts Brandon, and if they don't, then they must take her out of the will.
At the wedding ceremony, Stef and Lena marry Brandon and Eliza, reciting a beautiful poem for the two of them on the sunny beach. The pair is later seen dancing happily at the reception. In the final scenes, Brandon, while attending dinner at Stef and Lena's, mentions that Eliza wanted to be there but her rehearsals have been so grueling lately that she had to skip it. When Mariana asks Brandon about the honeymoon and how it was, he replies, "None of your business."
Good Trouble
Season 1
In Re-Birthday, Brandon ran into Callie and Mariana along his route as a Coche driver, Callie asked about Eliza, to which Brandon responded that she was fine. Throughout the night, Brandon hinted to Callie and Mariana that things weren't going well in his marriage to Eliza. He even asked her not to tell her brother, Jamie, that he was driving for Coche.
During a conversation with Dennis, Brandon admitted that Eliza had been given a full-time seat with the PhilHarmonics. But her recent work required her to frequently travel which was hard on Brandon and their marriage. He had begun driving as a way to cope with her being gone, however, she was unaware of his recent employment as he feared she wouldn't understand. Her work also paid extensively more than Brandon's, who struggled to find work. He admitted that he wanted to take a course that would elevate his education level, however, she felt uncomfortable using Eliza's money. Dennis called him out on being sexist and a bit of a jerk, since he wouldn't expect Eliza to feel uncomfortable with spending the money if he made it. Brandon eventually accepted this fact and said that the reason he was driving was that he often gets lonely and talking to people helped. Dennis advised him to just tell Eliza that, and she would understand.
In Less Than, Callie asked Jamie about Eliza and if he heard from her recently. He said that he had and that she was doing well, and things between her and Brandon had improved.
Season 2
In Nochebuena and A Very Coterie Christmas,
Season 3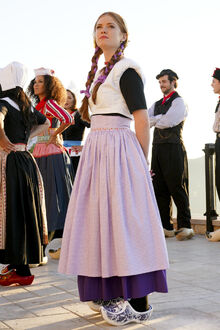 In Klompendansen, to honor Brandon and Eliza's Amsterdam adventure, Diane throws a Dutch-themed party where everyone is dressing up. At the Hunter's mansion, Brandon nervously asks Eliza when they are planning to drop their bomb to which she hopes they can do at the very last minute. When Callie and Mariana arrive, Eliza hugs the sisters. When Diane and Jim are gone, Callie asks if Jim and Diane know about her and Jamie broke up which Eliza says that they do, but not why they broke up. Brandon also reveals that he didn't warn Stef and Lena about the costumes, which Eliza gives him a supporting smile. Eliza later greets Jamie when he arrives late, but is annoyed when Diane doesn't force Jamie to dress-up like the rest of them.
They have assigned seats at the table, with Stef on one end and Jim on the other. Jim asks Jamie how his law firm partners feel about his facial hair, to which Jamie reveals he quit. He didn't like the track he was on and isn't sure what he's doing yet, which upsets Jim. Jim excuses the band so they can talk freely. Eliza chimes in that Jamie might just not know what he wants to do yet, but Jim is convinced that he should have waited to quit until he knew to quit. She stays quiet the rest of the meal but is surprised to learn that Callie was living with Jamie, and that their apartment was broken into.
Jim asks about the housing bill and the children begin to text one another; Eliza tells Jamie to make their dad stop talking about politics to which he asks Eliza if she has a muzzle. The texting continues between everyone, with Eliza asking if Jamie still loves Callie but Jamie gives her a look so she doesn't push the issue.
After the food is finished, Diane introduces everyone to Fleur, who will be teaching them traditional dances. Everyone lines up outside as Fleur explains everyone's role in the dance, including Eliza who stands with Brandon. Their attempts are humorous as the group begins to have fun with the dances, eventually getting the hang of everything. Jamie and Callie dance awkwardly together until the song ends.
The families sit down at the table again as more food is served. Jude tells his moms they should talk to Corey since his little sister is going into foster care. The moms tell Corey to join them for dessert, as the boy has isolated himself. Diane tells Fleur that Eliza is going to be the first chair, prompting Eliza and Brandon to exchange a look. Eliza nervously tells her parents that the first chair position fell through, as the exchange isn't happening anymore so the company rescinded the offer. Diane is mortified and asks Jim if that's even legal, but he doesn't know. Eliza claims she's relieved but Diane asks when she was planning on telling everyone they weren't going to Amsterdam. Eliza tells her that they're still going to Amsterdam since Brandon got a job with a composer there. She's taking a year off from the LA Phil, as she needs a break from the cello which she's played since the age of eight. She and Brandon want to explore Europe and focus on Brandon's career. She encourages her parents to still visit them in Amsterdam. Jim coolly states the only reason they were visiting was to see Eliza play in the concert, which is news to Diane. She snips about saving their marriage and leaves the table.
When the party is over the group gathers together to say goodbye, with Eliza hoping they didn't ruin the party. Jim reveals they will still visit them in Amsterdam, which makes Diane happy. Everyone hugs goodbye as Jude and Carter emerge openly holding hands for the first time which everyone notices but doesn't comment upon. Brandon and Eliza hug Stef and Lena goodbye before they leave, Eliza hugging her parents while Brandon opts for a handshake.
Appearances
Trivia
Eliza loves animals and children.
Eliza is a talented cellist and musician. She was a temporary member for the Philharmonics while in college, which was very impressive for both her age and not having graduated college yet.
Eliza is the first girl who Brandon really dated, and fell in love with, after the death of Grace Mullen.
Eliza graduated from the University of South Carolina.
She is currently traveling all around the country, according to Jamie and Brandon in "Re-Birthday".
Gallery