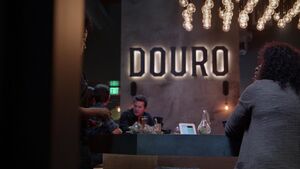 Douro is an upscale bar located in downtown Los Angeles. It is a common meeting place for law clerks and twenty-something-year-olds.
Series
Alice, Malika, Davia, and Mariana planned to have their Shipper dates at Douro. When the dates went south, the women convened in the bathrooms to talk. Malika met and bantered with Isaac at the bar. The duo later played basketball in the parking lot before returning to the bar to have sex on the countertop. Mariana, on the other hand, was saved from a narcissistic date by Eli, whom she hung out with at the bar throughout the night. Davia and Alice both kept their dates isolated to the booths.
Employees
Notes and Trivia
Gallery
Community content is available under
CC-BY-SA
unless otherwise noted.