Jurassic World: Dominion Dominates Fandom Wikis - The Loop
Play Sound
Danny Nucci is a former Italian, but now American, actor and singer who is best known for playing characters during three different 1990s blockbuster action films: Eraser, The Rock, and Titanic.
He portrays Mike Foster in the Freeform series, The Fosters.
Early life
Nucci was born the second child to Sephardic Jewish parents from Italy and Morroco. He was raised just outside of Venice, Italy until the age of seven, when his family relocated to the United States. After temporarily living in Queens, New York, the family settled in California's San Fernando Valley, where Nucci graduated from Grant High School.
Prior to becoming an actor, he worked as a valet parking attendant for celebrity affairs, including Elizabeth Taylor.
Career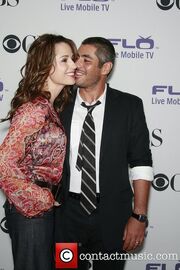 At age 14, two years after the Nuccis headed west to California's San Fernando Valley, he began his acting career with a role on ABC's long-running daytime drama "General Hospital". By 1985, Nucci had landed guest roles on series like "Hell Town" and "Mr. Belvedere" and had made his film debut with a bit part in the River Phoenix and Ethan Hawke starrer "Explorers". Generally portraying a stereotypical bully or a street tough with a soft heart, he racked up a good deal of guest credits on television while steadily raising his profile in film.
The 80s saw the actor focusing on TV work, appearing quite frequently in guest roles on series, making his face a familiar one in many American homes. A turn in a memorable 1986 episode of the CBS remake "The Twilight Zone" saw the young actor portray one of three boys who kidnaps a leprechaun only to have him grant their wishes with most unpleasant results. Also that year, he amassed several TV-movie credits, playing a street kid in ABC's "The Children of Times Square", and taking a featured role in the high school vigilante drama "Brotherhood of Justice" (also ABC) before lightening things up with a turn in the NBC comedy "Combat High".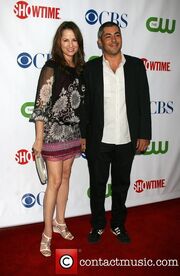 While he had a starring role in the pilot of the 1986 NBC sitcom "Dads", his part was reassigned to another actor for the rest of the series' short run. Fans of the ABC sitcom "Growing Pains" may remember Nucci's guest turn that same year as the harsh, squeaky-voiced manager who runs World of Burgers and rules over employees including rascally Mike Seaver (Kirk Cameron) with an iron fist. In 1987 Nucci starred in the CBS TV-movie drama "An Enemy Among Us", a production initially meant to be a "CBS Schoolbreak Special", but aired instead in primetime. He played a high school student exposed to the AIDS virus who finds that the pain of discrimination comes along with his stigmatized condition. He joined the regular cast of "Falcon Crest" for the 1988-1989 season, again portraying a discriminated against character as Gabriel Ortega, a young Latino in the blue-blooded world of Napa Valley. He followed this stint with guest roles on the series "Tour of Duty" (CBS), "Equal Justice" (ABC), "Quantum Leap" and "Ferris Bueller" (both NBC) in 1990.
After missing out on what would likely have been his big break when he narrowly lost a starring role in Rob Reiner's modern classic "Stand By Me" (1986), Nucci returned to the big screen in 1990 with a supporting turn in "Book of Love".
Similar to "Stand By Me" as it was a coming of age story set in the 1950s and named after a popular song from the era, "Book of Love" distinguished itself from Reiner's effort by being quite uninspired and forgettable, and did little to further the actor's career. He managed to emerge virtually unscathed and appeared in the equally unremarkable high school comedy "Rescue Me" (1991) before reteaming with Ethan Hawke in the gripping survival drama "Alive" (1993), a fact-based look at a South American soccer team stranded in the Andes following a plane crash. More film work followed, with featured roles in the independents "Rooster" (1993) and "Homage" (1995). 1995 saw the actor take the first in a series of supporting turns in big budget action films, playing a military sonar officer in the cold war thriller "Crimson Tide" before portraying both a Navy SEAL in Michael Bay's "The Rock" and a US Marshal in the Arnold Schwarzenegger vehicle "Eraser" the following year. Also in 1996. Nucci proved himself in the noirish independent "The Big Squeeze", heating up the screen as a gardener in love with an unhappily married woman (Lara Flynn Boyle). He was less sympathetic as a paparazzo stalking an actress (Bette Midler) who reunites with her long estranged ex-husband (Dennis Farina) at their daughter's wedding in Carl Reiner's "That Old Feeling" (1997).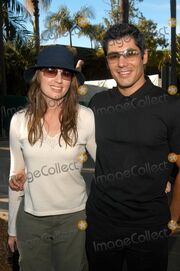 Later that year, virtually every moviegoer would witness Nucci's engaging performance as Fabrizio in the multi-Oscar-winner "Titanic". He followed up with a more challenging role in the independent "The Unknown Cyclist" (1998) playing a sexually ambivalent alcoholic who, as per his best friend's dying wish, takes part in the grueling West Coast Cycle for AIDS along with the deceased's ex-wife, lover and brother. Nucci was next featured alongside Stephen Baldwin, Claudia Schiffer and Robert Downey Jr. in the ensemble of 1999's little seen "Friends and Lovers". Rarely short of work, he consistently appeared in small independents, including "The Outfitters", starring as a New Mexican cowboy in this 1999 Sundance screened feature.
Nucci returned to the small screen in 1999 with a starring regular role on the ABC detective series "Snoops". From the pen of celebrated TV creator David E Kelley, and boasting a cast featuring hot Hollywood actress Gina Gershon, the highly stylized "Snoops" stood apart from other genre shows, and was marketed as a high tech, high attitude "Charlie's Angels" for the new millennium. Nucci portrayed Manny Lott, the team's snarky resident technical wizard. While the series only lasted for 13 episodes, Nucci did gain from it; he and co-star Paula Marshall fell in love.
Personal life
Danny married to Terre Nucci in 1995 and have one daughter named Savannah Pauline Nucci (born on October 25, 1996), but later divorced. He and Paula Marshall married on October 12, 2003.
Trivia
Brother of Natalie Nucci.

One of his first jobs was as a valet parking attendant for celebrity affairs, including Elizabeth Taylor.

Has two daughters, Savannah, born in October 1996. and Maya, born in March 2005.

Went to high school at Ulysses S. Grant High School in Van Nuys, California.

Born in Austria, but mostly raised in Italy and moved to the United States in 1976.

Gallery
Click here to see Danny's gallery.
External Links