Connor Stevens is a recurring character in the Freeform series, The Fosters. Connor is Jude's best friend, later becoming his love interest and boyfriend. He makes his first appearance in The Morning After.
Connor is portrayed by Gavin MacIntosh.
Biography
Connor is Jude's best friend at school, being the only person to really talk to him. In The Fallout, Connor asks Jude to be his class partner during a school project and joins him at his house to work on it.
While working on the project, he learns a bit about Jude's life as a foster kid. While there, Connor also remarks to Jude how he is never rude, even to people who mistreat and bully him. As the two become close, he gets threatened by his homophobic father to end his friendship with Jude. Despite wanting to maintain a friendship with his best friend, he isn't able to stand up to his father, with whom he has a shaky and, most likely, an abusive relationship with.
In the episode Not That Kind of Girl, he gets sick of his father ragging on him and comes out to him as gay. This results in his dad briefly banning Jude from his life, believing Jude is responsible for Connor sneaking out and identifying himself as gay. Afterwards, Lena forces Connor's dad to see that keeping the boys apart isn't going to change Connor's sexuality and that he can only learn to accept his son. In the season 2 finale, The End of the Beginning, Connor finally gets to see Jude. Subsequently, they officially begin dating. 
In season 3, he begins to adapt to identifying as gay. He is shown to be open about his sexuality and easily accepting of himself since coming out to his father. His relationship with his father is shown to still be struggling, often hurt by his dad's negative opinion about him being gay. Despite this, he understands that he means well. His relationship with Jude is strained when Jude makes the request to keep their relationship private and hesitates to label himself gay. This confuses Connor and makes him doubt his relationship with Jude. However, Jude eventually comes to accept his sexuality and labels himself gay, making Connor more comfortable with the relationship.
Despite his father's best efforts, Connor is unable to cope with his father still being not accepting of him being gay following his bad reaction when walking in on him making out with Jude. Following this, Connor considers moving in with his mother in Los Angeles instead, asking his dad to simply let him go. Jude ultimately supports Connor's choice and he and Connor profess their love for each other, promising they can make a long-distance relationship work as LA isn't that far away.
Physical Appearance
Connor is a tall, handsome young boy with hazel eyes, slightly sun-kissed skin, and short dark blonde hair. During the first season, he had a lean body. However, throughout the second season and beyond, his body is more defined and becomes more muscular as he develops and grows. 
Series
Appearances (27/101)
| | | | |
| --- | --- | --- | --- |
| Season 1 (6/21) | Season 2 (11/21) | Season 3 (8/20) | Season 4 (2/20) |
Relationships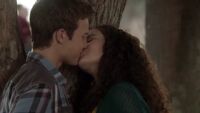 Main article: Caria
It is unknown how the two met, although presumably through school, and sometime before Light of Day in season 2. Daria's best friend, Taylor, remarks how the two started dating "like five minutes ago", but "are OTP" according to Daria. Daria is shown to be very much into the relationship, always being affectionate to Connor, while he appears to seemingly reciprocate it.
However, Connor later implies that he is only using the relationship as a cover to keep hanging out with Jude, since his father was no longer opposed him hanging out with Jude after beginning a relationship with Daria. This is somewhat confirmed in Not That Kind of Girl when Connor is confronted by his dad about sneaking out to supposedly meet Daria, only for Connor to admit that he had snuck out in order to spend time with Jude, not her. 
After finally coming out to his father and fully accepting his feelings for Jude, he soon breaks up with her in order to officially start a relationship with him, much to Daria's heartbreak, although he initially declines to tell her why. When she finds out about him and Jude, she is supportive of the relationship - only relieved to know she wasn't the problem in the end of her and Connor's brief relationship.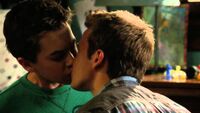 Main article: Jonnor
Connor and Jude are classmates and best friends. In The Morning After, Connor is first seen on screen when he and Jude exit the classroom while talking about a large fish Connor caught with his dad. When Connor forgets his textbook in class and goes back to the classroom to go get it, fellow classmates pick on Jude for wearing blue nail polish. When Connor comes back, he stands stunned at the doorway, simply watching the event. At the end of the episode, Connor joins Jude at lunch wearing blue nail polish to support him. The two smile at each other and eat in comfortable silence. Ever since then, the two maintain a strong and steady friendship.
However, throughout season 2, Connor's homophobic dad proves to be a significant "roadblock" in their relationship, due to his dislike of Jude after speculating that he may be gay. Despite the two wanting to be friends, Connor is unable to stand up to his dad, but still continues to spend time with Jude regardless. In season 2b, Connor and Jude's relationship evolves from friendship to romance when it is revealed that the two did something "wrong" while in their tent on a school camping trip - which is later revealed to have been a kiss initiated by Connor.  
Connor later gets a girlfriend named Daria in order to please his father, but this decision ends up straining his relationship with Jude. Despite this, Connor begins to flirt with Jude before Jude finally demands to know where their relationship stands, resulting in Connor kissing him again. Following Connor finally coming out to his dad and Connor being banned from seeing Jude after coming out, Connor and Jude are reunited. After this, they begin to officially date. In season 3, they begin to face the obstacles of being in a same-gender relationship at their age. Specifically, they face trouble in deciding how public they wish for their relationship to be - with Connor wanting to go public and Jude private. This nearly led to a break up at their LGBTQ prom when a gay youth named Jonah told Connor that Jude refusing to label himself as gay meant he likely was only experimenting and would break his heart. However, Cole made Jude see the power of labels and he officially came out to Connor, telling him that he is "super gay" for him. This mended their relationship problems.
In Lucky, Connor considers moving to Los Angeles to live with his mother after his father still proves to be unaccepting of his homosexuality, after walking in on him making out with Jude in his room and reacting badly to it. He tells Jude this, who is initially upset with the news. However, Jude tells him he should move in with her if it means he can find the happiness and support he needs, also promising to keep up their relationship up as he loves Connor. Connor tells Jude that he loves him too and they hug, clutching to each other.
In Sixteen, Jesus intercepts a text message on Jude's phone, and notices that Connor has sexted Jude. Jude decides against going to Connor's homecoming, as he is unsure of the picture's meaning. Later, Jude and Connor talk online, and Connor tells Jude that they won their game, but that he wished Jude was there to share it with him. Jude says that he didn't go because he didn't understand what the picture meant, after originally denying that his (Connor's) sending the picture prevented him from going. Jude then says that they were the only guys in their grade who were gay, and vocalizes that he believes this is the reason for them getting together. Connor quickly says that they were friends first, and Jude tells him that he doesn't feel like Connor is his friend anymore, because of his signing up for football and other things, which prevent him from coming to see him on weekends due to games. Connor then sadly asks Jude if he wants to break up, but Jude doesn't answer.
Quotes
Click here to see Connor's quotations.
Trivia
Connor enjoys fishing. He also enjoys playing baseball despite his father's pressure for him to excell in it. In The Fallout, Connor mentions to Lena that he won his soccer game, implying he also plays or played soccer.
It is implied in the episode Play that Connor's parents are divorced. His mother is rarely, if ever, mentioned after this. The show hints that Connor's father has primary custody over him since he is always seen to be living with him. This is confirmed in Lucky when Connor considers moving to Los Angeles to live with his mom. It's also implied that she's more supportive of him than his father, at least in regards to his sexual orientation. Connor's main reason for living with her was so he could live in an environment that is potentially more supportive of him being gay.
It is suspected following Someone's Little Sister that he may be/have been physically abused by his father. However, this has not been officially confirmed.

 

It is implied that he is an only child. In Now Hear This, Connor remarks how it is just "him and his dad" and has never been seen with or mentioned having any siblings.
In Déjà Vu, it is shown that Connor is struggling with psychological trauma following his shooting in Justify the Means. He admits to Stef how, like her, he sometimes dreams and has flashbacks to the event.
His mom is said to live in LA despite him mentioning the reason Jude couldn't come to his house for their project was because people being around gave her headaches.
Gallery
Click here to see Connor's gallery.
Community content is available under
CC-BY-SA
unless otherwise noted.