Jurassic World: Dominion Dominates Fandom Wikis - The Loop
Play Sound
Cole is a recurring character on The Fosters. He is first introduced in House and Home, when Callie Jacob first joined Girls United in season 1. After he and Callie get into a fight, Cole is assigned to become her new roommate. For most of his time on the show, Cole has struggled with his transgender status and trying to be seen as a boy, both emotionally and physically speaking, and being accepted as such.
Cole is portrayed by Tom Phelan.
Biography
Cole is a transgender male and was kicked out of the house by his parents upon identifying himself. He was placed in juvie for stealing and prostitution. Three weeks prior to House and Home, Cole was forced to reside at Girls United due to being assigned female at birth despite his gender being male. Cole's transgender identity proves to be a source of tension between him and the girls, who continually treat and see him as a girl. Despite Rita's constant admonitions, many of the girls refer to Cole with "she"-pronouns and indicate that they don't take his gender identity seriously. Cole is also mistreated for being transgender while in public (such as when he is beat up while trying to enter the men's restroom).
When Callie arrived at Girls United, she accidentally walked in on Cole one night as he was wrapping his chest after taking a shower, causing him to react angrily and shove her. This brought Callie, who was already over-stressed, to shove Cole into the shower door, which shattered as he collapsed into it. Due to Girls United's policy of putting residents who don't get along in a room together to enforce good behavior, the two were forced to room together. This proved to be a good thing as Callie and Cole learned to bond and respect one another.
After catching Callie texting Brandon Foster with a secret cell phone in in Things Unsaid, Cole took it away from her and says that he'll keep Callie's communication with Brandon a secret as long as he gets to use it as well. Cole later reveals that he had been using the phone to buy illicit hormones for his transition. This caused him to suffer a seizure, though he recovered.
Cole has since finally been transferred to an LGBTQ home and received top surgery to remove his breast tissue. He has now openly embraced his identity and works to help other LGBTQ youth with their own.
Physical Appearance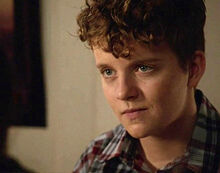 Cole is fair skinned with curly blonde hair and gray eyes.
Series
Cole begins to have a relationship with Devonee, a girl who was at Girls United. They carried on a secret affair, before being caught by Callie. Cole and Devonee plan on running away from the house, but Callie convinces him to stay since Rita said he got a spot in an LGBT home. Devonee reveals she has a real boyfriend waiting for her and runs away on her own. Becka later starts a fire at Girls United, causing everyone to run outside and being sent back to Juvie.
He invites Callie, Jude, and Connor to an LGBT Prom.
It's My Party
Aaron Baker
, one of Cole's friends, mentions to Callie that they are friends.
Appearances (12/101)
Season 1 (6/21)

Season 2 (2/21)

Season 3 (2/20)

Season 5 (2/22)
Trivia
Cole is a trans male, meaning he was assigned female at birth.
Cole organized an LGBTQ prom for all the kids who were denied a school prom due to identifying in the LGBTQ community. It is here that he inspired Jude to accept his label as gay, by relating how he also hated "checking the box" for a label, but that labels also have power. Cole gave credit to his label as the only thing that got him through being bullied at Girls United and everywhere else in life.
Cole had a crush on Callie and even tried to kiss her, only to be rejected. This causes him to assume that she didn't return his feelings on account of his being transgender, but she tells him it is because she sees him as a friend and on a platonic level. She most definitely means what she says, since she starts dating another transgender boy in Season 5.
Aaron mentions he is friends with Cole in Justify. Elliot Fletcher and Tom Phelan, their respective actors, are actually friends in real life source.
Gallery
Click here to see Cole's gallery.