Jurassic World: Dominion Dominates Fandom Wikis - The Loop
Play Sound
Chase Dillon is a minor character on The Fosters. He attends Anchor Beach Community Charter School. He was first introduced in House and Home.
He is portrayed by Garrett Clayton.
Biography
Chase was a senior at Anchor Beach Community Charter School and is also interested in acting. Not much is known about Chase. In Kids in the Hall, a horrible review of his performance is released in the school newspaper that says quote on quote "In his role as the gentleman caller, Chase Dillon has all the charm and skill of a hat rack, though perhaps that is a insult to hat racks who at very least have purpose. His performance is a insult to the whole concept of live theater itself. Also, he abuses kittens." This was written by Zac Rogers as revenge for being a jerk to Mariana.
Physical Appearance
Chase has a well built body, hazel eyes, and blonde hair and is described to be "hot" by Kelsey.
Season 1
Mariana is recruited by a cute senior named Chase to audition for the school play. Marianna shows up to audition for the school play. Chase pairs Mariana and Kelsey together to work on costumes. Mariana and Kelsey argue over working with each other. Mariana and Kelsey shop for costumes for the play, but Mariana is nervous that Kelsey will shoplift. While Mariana is trying on a dress, Kelsey shares that she thinks Chase is "hot." When the girls leave the store, they are stopped by a security guard who wants to check their bags. Kelsey looks nervous. Mariana confronts Kelsey about the hat when Chase appears and spots the hat. He is impressed and says it defines his character. He thanks Mariana for the hat and walks off. Kelsey smiles and tells Mariana she can thank her later.
Mariana takes a liking to Chase and agrees to help him run lines after school. This angers Kelsey, so Mariana decides that neither of them should be with Chase if it means ruining their friendship, so she cancels reading lines with him, but to her surprise Kelsey offers to read lines with him instead. When Kelsey gets detention, Mariana goes to read lines with Chase, and they end up kissing.
At school, Mariana approaches Chase. She apologizes for the stolen fedora. Chase slightly flirts with her. He asks her if she will be joining the party that night, and she says she would. Mariana approaches Chase and slips her panties in his front pocket for sex. Upstairs, Mariana is waiting for Chase. Zac comes in instead, but shortly Chase comes along. Zac ends up leaving. Talya, angered by what Brandon said, tells Callie off. Chase and Mariana are making out before he takes his pants off. Mariana becomes wary of his actions and immediately defends her actions saying that she was only flirting. It gave Chase the wrong impression. Chase becomes angered by this.
Mariana, aware of the relationship, reminds Jesus that he has a girlfriend. After Jesus leaves, Mariana is being laughed at by Chase and his friends.confronted by two male students whom have panties in their back pocket to make fun of Mariana which makes her question. She confronts Chase about this whom denies any involvement. She tells him off that she knows he is lying because he is a bad actor.
Season 3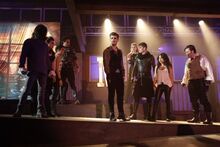 Chase participates in Mat and Brandon's senior project, Romeo and Juliet, a musical. Chase plays Paris. At the beginning of the episode, he says he wished he thought of something like The Show for his own senior project.
Appearances (5/101)
| | |
| --- | --- |
| Season 1 (4/21) | Season 3 (1/20) |
Gallery
Click here to see Chase's gallery.