"
We can't quit. We're Adams Fosters. We don't give up. We don't give in. We fight. And we have each other, we're not alone.
"

— Callie

Callie Quinn Adams Foster is a major character in the Freeform series The Fosters and its spin-off, Good Trouble. She was a recurring character in Girls United. She is portrayed by Maia Mitchell.
Callie is the adoptive daughter of Stef and Lena Adams Foster, the oldest biological daughter of Colleen Jacob, who passed away, and the oldest biological daughter of Robert Quinn. She is also the oldest step-daughter of Donald Jacob. She is Jude's maternal half-sister, and Sophia Quinn's paternal half-sister. She's also the adoptive sister of Brandon, Mariana, Jesus.
Her rough upbringing and tumultuous past caused her to witness and be a victim of many injustices. After being adopted by the Adams Foster family, Callie became a social justice fighter with strong beliefs about equality. After high school, she graduated from UCSD after excelling in their law program. Shortly thereafter, she received and accepted a job offer to work with a federal judge. She has witnessed inequality and is familiar with the system that she is fighting to change through policies. After leaving her clerkship with Judge Wilson, Callie pursued her desire to help others through law, eventually passing her bar exam. In her personal life, she maintained a close relationship with her adoptive sister Mariana, and a complicated love life.
Biography
Callie Jacob was born on July 11, 1996, to Colleen Jacob. Callie's biological father, Robert Quinn, was a wealthy upperclassman who was in love with Colleen. Robert's family disapproved of their relationship and they decided to elope. However, after pressure from the Quinn's, Robert divorced Colleen. During this time, Colleen learned she was pregnant with their child, but chose not to tell him. When Callie was six-months-old, Colleen married Donald Jacob, and Callie grew up believing Donald to be her biological father. Donald adopted Callie and her name was legally Callie Jacob. Donald and Colleen then had their first child together, Callie's younger half-brother, Jude.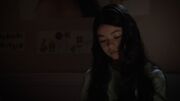 When Callie was ten, her mother and step-father, went out to dinner. Donald drove under the influence of alcohol and his recklessness caused a car accident that proved fatal for Colleen. Callie struggled with deep regret on how her last conversation with her mother went, having been mad at her and refusing to kiss her goodbye before she left. After hearing about her mother's death, Callie lashed out and destroyed her bedroom. She was so upset that she blocked the incident from her memory and thought that Jude, who witnessed the event, destroyed her room.
After Colleen's death, Donald was arrested and later convicted of manslaughter. Callie and Jude were placed in the foster care system. Callie felt as though she had to take care of Jude and protect him from the many homes they moved through, several of which proved to be abusive. She shielded him from any harm even at the cost of her own safety. After many years in the system, the siblings were placed with the Olmstead family. The parents already had a son, Liam, who was four-years-older than Callie. Callie bonded with Liam, as he was nice to her and would flirt with her, a gesture that was new to Callie. A romantic relationship was forbidden among foster siblings, so Callie refused the relationship for many months. However, Liam was persistent. Callie eventually gave in and began a secret relationship with him. However, late one night, he snuck into her room so they could make out, though things escalated quickly and Callie was sexually assaulted. She didn't know what to do, as the home had been the best one they'd ever been in - until now. Shortly after the rape, he claimed that she was the one who came onto him and wanted a relationship, not him. Callie and Jude were quickly thrown out of the house, with the family claiming that Callie ruined things by pursuing a relationship. This created a rift between Callie and Jude, with him thinking she always ruined their positive homes. It wouldn't be until years later that Callie told the truth, and was able to get justice by having him incarcerated.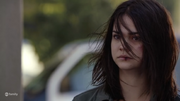 In another home a year later, Jude tried on a dress owned by their foster father's ex-wife. The man walked in on Jude wearing it and was infuriated to the point where he began violently beating him. Callie attempted to intervene, but was kicked in the stomach and tossed aside. Refusing to watch her brother be assaulted, she took a baseball bat to their foster father's car to avert his attention from Jude to her. He called the police and she was arrested for destruction of property and placed in juvie. On the day of her release, she was attacked by a few girls who were jealous of her release. Soon after, a social worker from child protective services, Bill, contacted Lena Adams and requested she come meet the teen. He explained that he wanted to send her to Lena and her partner, Stef, as there aren't any male authority figures there, which he thought would be beneficial to Callie.
Callie moved in with the Adams Foster family and was later reunited with her younger brother, Jude. Stef and Lena decided to foster the siblings so that they would be in a safe environment until they could find a permanent home. In "Consequently", Bill told Lena and Stef that Callie and Jude never stayed at a foster home for more than six months, something which initially alarmed them. However, he insisted that it wasn't something the kids did, but rather bad things seemed to happen to them.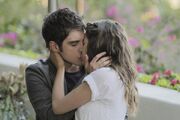 She developed a romance with Brandon, Stef's biological son, shortly after moving in with the Adams Foster family. Callie knew that being in a relationship with a foster sibling wasn't allowed and that she could get kicked out of the house along with Jude. She told Brandon this, and they decided not to act on their feelings. However, in "I Do", they kissed and began a relationship. They then secretly dated for a brief time. However, they broke up after they realized Callie needed a family more than a boyfriend. While it was difficult for them to move on and accept each other as siblings, they gradually learned how to do so. During this time, Jude was adopted by Stef and Lena.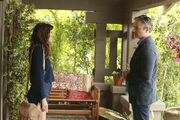 Callie then met her biological father, Robert Quinn, and the two began to form a relationship. She also met her half-sister, Sophia, and the two girls seemed to form a relationship. Robert loved Callie and wanted to adopt her, something Callie fought against as she wanted to be part of the Foster family. She agreed to try and form a relationship with him and did want him in her life. However, she informed Robert that her "forever home" is with the Fosters and that they are her real family. He finally allowed the Fosters to adopt Callie in, "The End of the Beginning". He withdrew his custody suite and officially signed away his legal parental rights.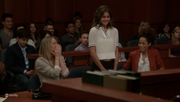 After a battle with the legal system, being placed into a group home, an investigation by the court officials, and founding Fost and Found, Callie went before an adoption judge one last time. She delivered a moving speech about foster kids' inability to make their own decisions, which moved the judge greatly. He granted her adoption and she was officially adopted by the Adams Foster family. She then legally became Callie Adams Foster.[3]
A year or so later, Callie graduated from Anchor Beach Community Charter School and decided to pursue her dream of being a lawyer and helping other foster children. She was accepted into UCSD and graduated with her BA in four years. She planned to move to Los Angeles to be a clerk for Federal Judge, Curtis Wilson. She decided to share an apartment with Mariana.
Callie, now a recent college graduate from the UCSD law program, joined her adoptive sister Mariana in a new adventure in Los Angeles. The sisters, now roommates, moved into a communal housing project, which Callie rebuked at first. She felt betrayed by her sister who lied about the type of apartment building they would be living in. Callie also struggled to balance her life as a progressive clerk for conservative Judge Curtis Wilson and a passionate twenty-something-year-old.
She was soon faced with both moral and ethical dilemmas in the workplace. Especially so after Judge Wilson appointed her first major docket case as a judicial clerk: the Jamal Thompson case. The case itself sparked debate and conflict in both her professional and personal life, especially with her fellow housemate and activist, Malika Williams. Callie soon found herself bonding with her fellow Coterie housemates, especially her temporarily non-exclusive partner, Gael Martinez. Callie and Gael embarked on a passionate yet fleeting romance, however, their relationship was forced to take a backseat to their respective careers. In the meantime, she rekindled her old friendship with a fellow lawyer, Jamie Hunter, and increased her sisterly bond with Mariana.
Personality
Callie is independent, intelligent, artsy and very loyal as well as protective over her loved ones. Throughout her youth, she is shown to always put the needs of others ahead of herself, even if it costs her trouble. As a result of living and growing up in the foster system for the majority of her life, Callie is tough and has built up walls to protect herself from pain - both physically and emotionally. However, she is also compassionate and kind. She loves her younger brother Jude very much, always putting him ahead of herself and has even risked her life for him. It is also shown that she doesn't care what happens to her, as long as she knows that he is safe. As a result of taking care of Jude for most of her life, she has a strong tendency to sometimes act like his mother instead of his sister, much to Jude's frustration. Despite her maternal instincts, Callie has a tendency to get herself into dangerous situations by choosing not to trust the adult figures in her life. She often felt as though by confiding in her moms, they would want to get rid of her - believing herself to be disposable. It took Callie many years to trust that her home with Adams Fosters was permanent, and that despite her mounting mistakes, they would always love her as their own.
As a young adult, Callie is remarkably intelligent and free-thinking, fighting for equality and a better world through politics. She is brave, fearless, wildly independent, and stubborn. Despite her open-mind towards sexuality, gender, race, and other social issues, she is quick to judge others with a differing opinion. She struggles to accept others when they exhibit traits or thoughts that rival hers. She demands honesty from Mariana, though Callie herself keep secrets and harbored some resentment toward Mariana for their living situation. She found herself unhappy with her life and job, hating having to work for a judge who failed to recognize the injustices surrounding his cases. She desired a change and quit her job to secure a better one, even though she risked her career in the process. When Callie allows herself to vulnerable with those around her, she can be quite fun, loose, and free-spirited. She has the capability to confide in her romantic partners about her troubled past, but has difficulty letting her walls down around them.
Physical Appearance
Callie is a beautiful girl with an oval-shaped face, light olive complexion, almond-shaped brown eyes, and shoulder-length brown hair. Her hair was normally straightened in the beginning of Season 1, but in later episodes, it was normally curled and grew past her shoulders. Callie initially wore plain, dark clothing. Later though, she began dressing in more colorful and comfortable tops, usually paired with jeans and casual shoes. As she progressed through high school, Callie gradually transitioned into more striking clothing with shades of girliness. Callie normally doesn't wear a lot of makeup unless attending a formal event.
After graduating college, Callie cut her hair to a chin-length bob, which she wears straightened. Her sense of fashion is more chic and modern as well, with an upper-class style to it. She dresses professionally when working.
Season 1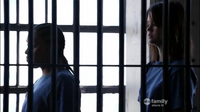 Callie faces mistreatment from many of her inmates at the Chula Vista Juvenile Detention Facility. Before Callie's release from juvie, some of her inmates (Daphne Keene amongst them) physically assaulted her because they were jealous that she was leaving.
When
Lena
comes to pick her up, she learns that Callie has trouble with male figures and is in juvie because she damaged her foster father's car. Lena is reluctant to take Callie in because she doesn't want someone violent to be in the house with her children. As Callie gets out, she is flustered and confused why Bill, the usual social worker, isn't there, and tells David, his substitute, that she needs to speak to Jude.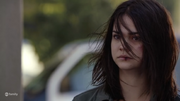 Lena has a change of heart when she sees Callie's bruised appearance and hopeless expression, and agrees to takes her in for a few weeks. Callie is then fostered.
At Foster's home, Callie meets the twins,
Mariana
and
Jesus
who Stef and Lena adopted five years earlier and
Brandon
,
Stef
's biological son from her previous marriage. Callie's harsh exterior creates an uncomfortable setting for the Foster family when she makes several provocative comments.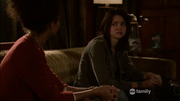 After dinner, Lena tries to help Callie get settled in and tries to get more information about who Jude is. Callie starts telling Lena, until Stef disrupts them, Callie mistrustful of cops, shuts down again. Throughout the night, Callie sneaks around trying to find a phone and ends up taking Brandon's to call
Jude
to whom she refers to as "baby". She also catches Mariana stealing Jesus' pills.
The following day, Callie goes to school with the other kids and is amazed by their school, Anchor Beach Charter School, but she feels out of place. She goes with Brandon to the music room and listens to him practice for his music competition. She likes the piece that he is playing and learns that it is an original competition about the night that his moms asked him if they could adopt Jesus and Mariana. They get interrupted by his girlfriend
Talya
who who shows Callie to her class. In class, Callie finds a student with car keys and thinks that he might drive her to see Jude. After class, she tries to get the student to take her to see her brother, but thinking that she is trouble, he refuses. Mariana sees Callie trying to get off of campus and tells her how to get out and where the metro is.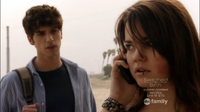 Brandon sees Callie leaving school and follows her, abandoning his jealous looking girlfriend. Callie tells him to leave her alone and mind his own business. After her foster father disrupts her call with Jude, she reveals to Brandon that she's trying to get her brother back. Brandon suggests that they involve Stef since she is a cop, but Callie refuses because she thinks that she will be sent back to juvie.
On the bus, Callie tells Brandon how abusive her foster father is and how she ended up in juvie. She reminds him that he has a music competition, but he tells her that there will be others, giving up a huge scholarship.
Callie and Brandon set up a plan to distract her foster father so that she can see Jude. However, it fails when her foster father catches her and threatens her to leave. When she refuses, he shakes her to leave prompting Brandon to come in. Callie's foster father, Jim Pearson, pulls out his gun creating a really tense environment, but it ends quickly when Stef and Mike bust in and arrest him. Callie rushes to Jude, trying to comfort him, and the two share a loving, relieved sibling embrace. Outside, Stef tells Callie that she isn't disposable and makes the decision to keep Callie and Jude, refusing to send them back into the foster system just yet. Sitting inside the car, Callie apologizes to Brandon and tells him that he didn't have to come, to which he replies "Yes I did". A long look passes between them, hinting chemistry and a possible future relationship. Callie and Jude are both now staying at the Adams-Foster's home.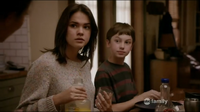 At the breakfast table,
Lena
tells Callie that
Jude
will go to school at a later time than the rest of them which kind of worries her. But Lena reassures her that she is not going to let anyone split the two of them apart.
Callie sees Jude in his classroom and signals to him to come out. When he's outside, she asks him how well he is doing and tells him to go learn something.
Hostile Acts Mariana thinks that Callie might want to wear something different to school and tells Callie that she can borrow something, but Callie doesn't mind wearing the same clothes. Mariana thinks that Callie might steal her jewelry so she slyly tries to hide it in a drawer. However, Callie catches her doing it and tells her that she is not going to steal anything. They get into an argument about Mariana's drug trafficking secret.
At school, Callie seems uncomfortable while she peeks at Talya and Brandon kiss. During Timothy's class, Callie is assigned to write about guilt in her journal so that she can get in the habit of writing regularly.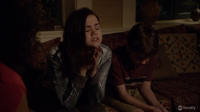 Lena
tells Callie and
Jude
that Jude needs to pass an exam to remain a student at Anchor Beach. Callie thinks that it is unfair, but Lena tells them that she will work with him to pass the exam.
In bed, Mariana tells Callie that she is selling her brother's pills to help her birth mom, Ana. Callie continues to listen and understand Mariana. The following day, Timothy checks if his students completed the assignment and finds out that Callie and Wyatt did not do it. He asks them to come after school so that he can help them write. Later in the day, Talya tells Callie about Brandon's decision to move in with his dad. When Callie finds Brandon, she asks him if it was because of her and Jude to which he replies "no." She questions him about his decision because he seems happy to be living with his moms. The conversation with Callie conflicts Brandon.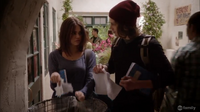 >Back in Timothy's classroom, Callie and Wyatt are still having trouble finding the inspiration to write. Timothy gives them a small meaningful lecture which incites Callie to write about the mysterious
Liam
. She continues her thoughts about Liam at home. She places the journal in a specific place after she is done writing.
When Brandon comes home, he finds his family playing a board game and reveals to them that his final decision is to move in with his dad which upsets some of them. Afterwards, Callie finds Brandon and tries to give him back his guitar, but he refuses and tells her to keep playing it.
Mariana and Callie get into a huge row because Callie thinks that Mariana read her private journal. Callie suddenly stops the argument when she spots Jude because she doesn't want them to get kicked out of the Foster's house. She takes Jude outside and shows him why she got so angry at Mariana. Jude understands her actions when he finds out that she wrote about Liam.
At school, Callie tears out the pages about Liam from her journal and throws them in the trash. Wyatt sees her and joins her in the act: tearing out and throwing away his own writing. Later, Mariana tells Callie that she never read Callie's journal. Mariana also understands why Callie is distrustful because Mariana also experienced the foster system.
The Fosters have a family movie night and invite Lexi and Talya over. Before the film starts, Lena asks Jude if he needs help with his homework and he says that he needs a name for the villain in his story. Some of them suggest names but when Talya says the name Liam, it dawns on Callie that Talya was the one who read her journal.
Mariana asks Callie to take
Kelsey
's place in her court since Kelsey is in rehab. Callie agrees but seems uneasy when she finds out that she has to wear a gown. Talya is jealous at Callie for being Brandon's waltz partner, and even though Brandon tries to ease Talya, Stef picks up on the tension between Callie and Talya.
In Mariana's room, Callie tells Mariana that she knows that Stef and Lena made Mariana invite Callie into the court. Callie suggests to Mariana that she doesn't have to join the court if Mariana doesn't want her to. However, Mariana lets her decide and she says yes.
The following day, Wyatt steals a seat next to Callie while she is eating lunch by herself. He comments on how sad her lunch is and asks her about her rap sheet. Callie demands his motives and he reveals that he wants to be in a stimulating conversation and sex. He also invites her to hang out with him and his friends at the beach on Saturday, but Callie declines due to the Quinceanera.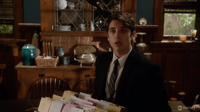 Callie appears to be slightly uncomfortable while she practices with Brandon for the waltz. Talya glowers at Callie and Brandon intently when the dance instructor tells the two of them to connect and be closer to one another. Later that night, Callie and Jude meet Lena's mom Dana who welcomes them with open arms. The following morning, everyone in the house prepares for the big Quinceanera. Brandon gets distracted from carrying gift bags to the car when sees Callie. He is mesmerized by her beauty and stammers when he compliments her. Talya threatens Callie to stay away from Brandon and Callie seems to follow her wishes because she doesn't want to lose the Fosters.
Before the court enters into the hall, Callie decides to switch partners to make Talya happy. While Mariana is dancing with Mike, Brandon asks Callie if he did something wrong to make her choose Sam as her partner. She tells him to let Talya know that there is no competition for his affections. Brandon seems dismayed by Talya's actions so he takes Callie back as his dance partner.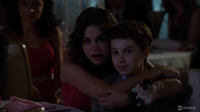 After the court's waltz, all the guests are invited on the floor to get their groove on. Talya goes over to Callie and Brandon dancing which prompts Callie to leave. Jude tells her that Lena and Stef are probably not going to keep them [Callie and Jude] because of Callie's hidden feelings for Brandon. He also tells his sister that although she is not stupid, she does many stupid things.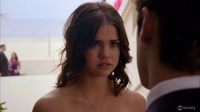 Callie caresses Jude while the video of the twins is playing; they feel the love that family has for one another. While the camera flashes for a family photo, Callie asks Brandon if he is alright but he is not.
Brandon takes Callie outside and tells her that he broke up with Talya. She becomes worried that it was her fault and that Brandon knew what happened with Liam. Brandon didn't want to know because he answered: "I already know everything I need to know about you." Callie runs off after seeing where her relationship with Brandon was going and goes to Wyatt's beach party.
Callie invites Wyatt over to Stef and Lena's party which troubles and upsets Brandon. When the family talks about going to a slam poetry reading, Callie declines the offer. Callie tells Brandon that Wyatt has been the only person who has accepted her at school when he asks her why she has been hanging out with him. Brandon tells Callie to be cautious because "he is not a good guy".
>Before school, Callie comes into Mariana's room and sees Mariana paint nail polish on Jude's finger nails. She tells her brother to not wear nail polish at school. At school, Callie confronts Wyatt about what happened with him and Talya. She finds out that Wyatt dumped Talya because she became controlling after they had sex. Callie apologizes for giving him the third degree and he says that she can only make it up him by going out with him.
Lena tells Callie that a few kids gave Jude a rough time at school for wearing nail polish and Callie goes tell Jude to take it off. Callie tells Lena that she appreciates being in a safe home, but she doesn't want Jude to get comfortable with this type of lifestyle since the real world is much harsher. The doorbell rings and Callie goes on her date with Wyatt but not before Lena gives her a cellphone.
For their date, Wyatt takes Callie to "his parent's beach house" to see the meteor shower. A dense layer of cloud blocks their view so Callie and Wyatt end up kissing. However, their moment gets interrupted when the owner of the house shows up. Wyatt tells Callie that it is not his house and they hurry out.
They hide behind a dumpster from the police. Callie is very distressed by the whole situation because she is on probation and would have been sent back to juvie if they were caught. She calls Brandon to come pick them up and he does.
Back at home, Callie senses Brandon's anger and asks him why he doesn't like Wyatt. Brandon tells her "I don't want you dating him… because I don't want you dating anyone". Callie tells him that she can't be in a relationship with him because she and her brother will be sent away. She tells him a story of a previous foster family, the best one before the Foster's house, that she and Jude were in and how it ended badly for her and her brother after she was caught hanging out with the family's son (later revealed to be Liam).The following day at school, Wyatt apologizes to Callie for putting her in a tough situation. They make up and kiss. However, she seems to long for Brandon when she sees him in the hallway.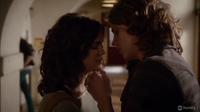 At home, Callie tells Jude to take off the nail polish so that no one mistreats him, but he refuses. He tells her that he likes having this family even though it might not be forever and that he is already hurting inside. At the slam poet reading, Callie is captivated and moved by Garret's performance.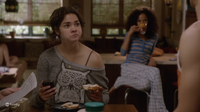 Lena is impressed by Callie's photography skills and compliments her while Callie is eating breakfast. Callie goes over to Wyatt's house which is under foreclosure but she is skeptical that it is his house. He proves her wrong when he shows her the drawings he made when he was younger in the inside of his closet. He asks her if they are in a relationship but she is reluctant to agree. Afterwards, he invites her to his foreclosure house party but she declines him again.
Callie preoccupies herself during her foster therapy session but begins to listen in when a girl named
Sarah
talks about how caring her current foster family is. After the session, Callie takes Sarah to go get some coffee. Callie and Sarah talk about each other's foster homes and foster siblings. Callie knew that Sarah was staying with Liam and his family so she tries to get Sarah to talk more about her and her brother. Sarah mentioned that her foster brother and father love golf and they were playing golf and he got so mad he broke his golf club in half and Callie asks who Liam or his dad. Sarah says she never said his name was Liam and Callie claims she did but Sarah just got scared and said "I have to go" and took off.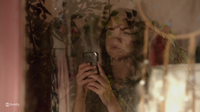 At home, Mariana gushes over the fact that Callie has a boyfriend, but Callie is still reluctant to accept herself as Wyatt's girlfriend. Mariana learns that Wyatt is having a party and tells Callie she doesn't want to be there when Lexi and her parents get here, and then she said you know you don't want to be sitting here on a Saturday night. Mariana tells Lena and Stef that they are going over to Wyatt's house to watch a movie when the truth is they are going to Wyatt's party.When Callie goes inside of the house, she immediately wants to go home. However, she is forced to stay and look after Mariana who embraces the partying mood. She sees Wyatt and tells him that she doesn't understand why he is letting people ruin his house. He tells her that he is remodeling it for the bank which is due to his anger at the bank for taking his house away from him.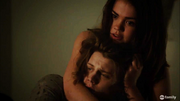 While Callie is at the party, she encounters a drunk Talya who tells Callie that she is a cool girl and says the she is the shiny new toy and everyone Talya likes Callie. Callie follows Wyatt to his room where he goes on a rage and destroys everything he can. After he settles down, Callie comforts him and tells him that it is just a house and that the bank can't take away who he is.
After Wyatt and Callie kiss, Wyatt removes a section of a wall that contains his drawing and they decide to leave the party. Callie finds Mariana drunk and tries to get her out of the party but fails at first. While Callie goes down the stairs, she encounters Liam. She tries to get away from him, but he holds on to her and threatens her to stop asking questions and to stay away from Sarah. Wyatt comes in and asks what going on when Liam replies nothing Mariana comes down to the scene and Liam leaves. When they are about to leave, Callie sees Talya dance drunk with two guys and asks her if she wants to leave with them to save her but Talya just stays. They eventually leave.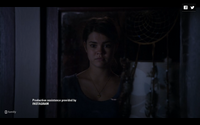 At home, Callie gives Mariana gum and tells her to contain herself and they try to sneak upstairs but Stef notices that they were there and tells them to greet Lexi's family. Stef notices Mariana is drunk and she calls the dinner over. However, before the Riveras leave, Mariana hears that Jesus is going to camp with Lexi. Mariana answers drunkenly "Wait, your going to let them spend the night together when you know they are having sex" creating tension in the house. Stef and Lena don't punish Callie because they learn that going to the party and lying to their moms was all Mariana's idea and Callie was told that if it ever happed again to let them know. In bed, Callie gets an Instagram comment because she took a picture of her tree in the front yard and learns that Liam has been stalking her.
Lena informs Callie that she needs to participate in group therapy. Callie wants to find another support group because of the hardship that Liam brought to her. Lena tells her that they will try, but Callie must continue going to the support group as part of her probation requirement.
Inside the house, Brandon munches on his breakfast while neglecting to talk to Callie who is preparing hers. When Callie confronts Brandon about the silent treatment, Brandon seems infuriated that Callie brought Mariana to Wyatt's party and got her drunk. Callie sets the record straight that it was all Mariana's doing and Brandon retracts.
At school, Wyatt asks Callie about Liam and if Liam is harassing her in any way. She tells Wyatt that he has nothing to worry about and that she only made her Instagram account private because she didn't want the world to see all her posts.
After school, Brandon asks Callie if she wanted to walk home with him, but she declined the offer because she was going to hang out with Wyatt. As Brandon leaves, Liam viciously approaches Callie and tells her to stay away from Sarah and for Wyatt to stop sending him threats. Liam grips Callie's wrist violently. Out of nowhere, Wyatt tackles Liam to the ground and a scuffle ensues. Hearing the confrontation, Brandon rushes back to end the fight. After Wyatt and Liam are disentangled, Callie tells Liam to go away and tells Wyatt to go home. On their walk home, Callie tells Brandon about her relationship with Liam. She also tells him that she fears for Sarah who is following in her footsteps as Liam's next victim.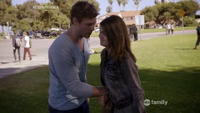 The following day, Brandon tells Callie that it might be a good idea to call Bill and tell him about Liam's nature with foster siblings. Callie explains to Brandon that if she tells Bill about her relationship with Liam, it's her word against his and that it goes on her record. She continues to stay that the system can label her as sexually volatile if they find any supporting evidence, in which case, she would be placed in a group home and never be fostered again. Realizing the difficulty of Callie's situation, Brandon switches subject and asks Callie what she is going to do with Sarah.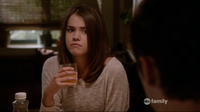 During group therapy, the psychiatrist asks Callie if she wanted to share and Callie finally opens up. She tells the group about her relationship with Liam, mentioning subtle moments in the hope of letting Sarah know that Liam's not the guy she thinks he is.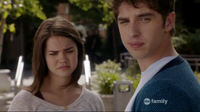 Sarah rushes off when she has finally had enough of Callie's story. Callie follows her out and tells her that even though Liam may seem caring and sensitive, he doesn't love her at all. Sarah refuses to believe Callie and goes home. Brandon tells Callie that she did all she could to help Sarah and now it's Sarah's choice. But Callie tells Brandon that it isn't Sarah's choice just like it wasn't her choice when Liam had sex with her. When Callie and Brandon arrive home, Callie tells Lena and Stef about her relationship with Liam.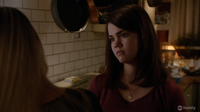 During dinner, Stef takes Callie aside and tells her that Bill removed Sarah from the Olmstead's home and that a DA is working with Stef to settle the situation with Liam. While the family is eating, Callie mentions that she likes the piano piece playing in the background.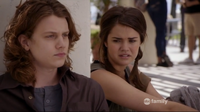 At school, Callie finds Wyatt and returns a book to him. Then she tells him that she understands what Mr. Timothy meant by writing is a hostile act and asks Wyatt if he is angry with her. He doesn't understand the livid attitude he received from her after he swooped in to save her from Liam. Callie tells him that her relationship with Liam is complicated. Wyatt gets up to leave after he tells her to go and talk to Brandon about her feelings, but she stops him and tells him that she's not with Brandon. Callie brings up her vague relationship with Liam again and Wyatt became upset that she didn't reveal anything meaningful and left.
During math class, the teacher leaves the room and a group of students starts laughing at a video. Talya asks them what is so funny and they show the video of her drunken state from Wyatt's party for the whole class to see. Talya rushes off feeling embarrassed and Callie follows her. Callie tries to comfort a teary-eyed Talya by saying that people will forget about this video by tomorrow and that she shouldn't care about what her peers might say.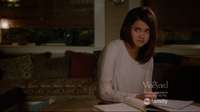 Brandon comes home and heats a slice of pizza while Callie starts up a conversation with him about what happened with Talya. She tells him that he should consider giving Talya a break but he doesn't understand why he should do that. Callie tells him that Talya's actions are in some ways accountable for because Talya was feeling stupid. Brandon tells Callie that Talya wouldn't have felt jealous if she believed that there wasn't anything happening between Callie and Brandon. He then asks her if there is something going on between the two of them and between her and Wyatt. But Callie doesn't divulge into the conversation any further.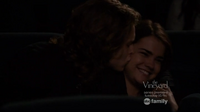 The following day at school, Callie finds Wyatt and asks him if he wants to go see a film with her for her photography class. Wyatt says that he has a "thing" and Callie replies that when his "thing" becomes boring he should join her. Callie waits for Wyatt outside of the theatre but after a while, she goes in. During the middle of the movie, Wyatt joins Callie on the condition that it is a date. She agrees and they kiss.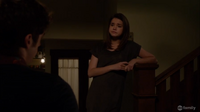 Callie comes down the stairs and tells Brandon that she found an empty house when she came home. They discuss both of their nights and Callie finds out that Talya and asks if she and Brandon have rekindled their relationship, but Brandon isn't sure. He opens a knock at the door and two policemen tell him that Stef has been shot. At the hospital, Callie tries to quiet Brandon's fury while he angrily reproves his adopted siblings. At the new waiting room, Mariana asks Callie where Jude is and Callie tells her that he is at Connor's house. She also tells her that it is probably better that Jude doesn't know about Stef.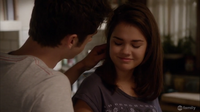 At home, Brandon tries to pick out some clothes for Stef when Callie comes in and selects for him. She tells him that he doesn't know what it is like to not have enough, to not have to wonder why his parents won't love him because they always have. She understands that it is alright to be mad, but it's not alright to be a jackass. There's a knock at the door and the kids are alert since it's the middle of the night. It turns out to be Jude and he tells them that he couldn't sleep because of Stef. Callie becomes mother-like and tells him that he should never do that again.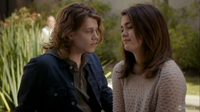 Everyone gets some sleep. During the middle of the night, Jude wakes Callie and tells her that Stef's situation reminds him of their mother. Callie agrees but believes Stef won't die because the Fosters are a lucky family unlike their own.
In the morning, Brandon finds Callie making biscuits and gravy and asks her how she and Jude ended up in the foster system. She tells him that her mother died in a crash that her father caused while he was intoxicated. Since her father was charged with manslaughter and she had no other relatives, she and Jude ended up in the system. Callie reveals that she used to write her father letters but he stopped answering them.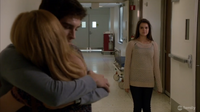 Brandon asks her if her father will take them back if he gets out of jail but she doubts it. Wyatt walks in on Callie's and Brandon's moment. Outside the hospital, Wyatt tells Callie that she is just using him and that the person who Callie really likes is Brandon. He understands why she won't let Brandon know how she feels about him because of the foster system rules. Wyatt also tells her that to be happy she needs to tell Brandon. Callie realizes that Wyatt is right, so she rushes back to find Brandon, but stops short when she finds him with Talya.
I Do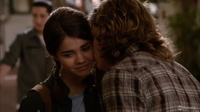 At school, Wyatt finds Callie and tells her that he and his mom are moving to Indiana to live with his grandparents. Callie is saddened by the news because Wyatt is one of the only people who showed her kindness. While Brandon is walking by, he spots a distressed Callie sitting by herself and goes over to join her. Callie informs Brandon that she has to decide whether to go through with the trial or not because it is going to boil down to Liam's word against her word. She is a bit reluctant to go through with it because she knows that she's at a disadvantage.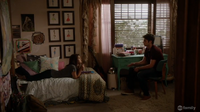 Callie speaks with her lawyer about her case against Liam. The lawyer tells her that she won't receive any kind of justice because the jury won't believe that Liam raped her and her track record won't help her either. However, the lawyer informs her that if it was consensual sex, Liam would be charged with statutory rape and go to jail for a year. Brandon finds Callie in her room and asks her how it went with the ADA. She tells him that it went poorly because a jury won't believe that Liam raped her. An optimistic Brandon tries to cheer Callie up by saying that it will all work out in the end, but his comment only enrages her because nothing has ever gone her way. Callie even says that the system is so messed up that the only way she will attain justice is to lie and say that the sex was consensual.
That night, Callie rustles around in her bed unable to fall asleep. Hearing Callie, Mariana cautions her about the dangerous effects lies can bring on an individual by recounting her own experience with them. But even though Mariana doesn't want Callie to lie, she wants Liam punished. At the court hearing, Callie sits at the stand questioned by her ADA. When the ADA asks her if the sex was consensual, Callie tells the court that it wasn't. She also tells them that although she wants Liam to be imprisoned, she doesn't want him to be confined to the wrong crime because she doesn't want to lose the truth of the situation. Back home, Callie plays the guitar to drown out the injustice that she experienced.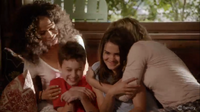 In the morning, Stef and Lena surprise Callie and Jude by telling them that they would like to adopt both of them. Callie asks the twins and Brandon if it is alright and Brandon responds with "there's enough to go around". Callie and Jude are both really thrilled.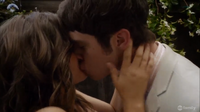 Before the wedding festivities, Callie takes Brandon aside and thanks him for always believing in her and she realizes that she deserves to have a good life. Brandon tells her that she deserves to be happy because she's an amazing person. Callie and Brandon finally reciprocate their feelings for another. However, their intimate moment takes a turn for the worse when Jude catches them kissing. Callie rushes off to follow an angry Jude.
Jude reprimands his sister by saying that the Fosters are not going to keep them if she has a relationship with Brandon. Callie feels Jude's wrath when he tells her that she's being selfish because a loving family is much harder to get a hold of. Callie promises to Jude that she won't be selfish anymore.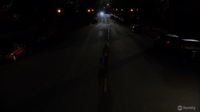 Callie witnesses the moving wedding ceremony. During the party, the family has their dance. Callie tries to enjoy dancing with her new family but veers away from Brandon. That night, Callie packs her things and leaves the family behind; but not before she sneaks a peek at Brandon and Jude and makes her silent goodbyes. In the morning, she goes over to Wyatt's place and tries to a hitch a ride to Indiana (or wherever he can take her). At first, he refuses but then they drive off.
The Honeymoon Wyatt and Callie are at a gas station filling up his car. Wyatt refuses to let her in until he tells her what happened, and she tells him that she was going to be sent to another foster home and couldn't handle that as she wanted to take charge of her life. They drive off and leave the state of California. Wyatt and Callie are visiting an area where aliens have supposedly landed. They order ice flavored ice cream, and they discuss their future. She says that Jude is better off without her. They arrive at a motel room settling for the night. While Callie takes her shower, Wyatt receives a call from Lena. She leaves a voicemail for him after he rejects her call. She asks him about Callie, making him realize that Callie ran away and she lied to him.
Wyatt and Callie are having dinner in their motel room. He asks her if she was going to call the Fosters. Callie disagrees. She says that she ruined things for Jude and either way she violated her probation. Wyatt asks her what is her plan, and she possibly makes the decision of going to Indiana with Wyatt. She suggests that if she went to Indiana with him, she could find a job as well as finding a place to live. Wyatt asks if she could stay with her father to which he is in prison. Callie says that her father doesn't want her and Jude. Wyatt takes another wind with advice as he tells her that he doesn't understand why her father suddenly abandoned her, and he tells her that Callie always automatically assumes that somebody gives up on her. He suggests that maybe her father is looking for her. Wyatt goes to bed when he doesn't receive a response. Wyatt and Callie end up sleeping together in the same bed. During the night, Callie approaches Wyatt in her sleep and wraps her arms around him to which they cuddle until Wyatt gets too uncomfortable. Callie is looking out the window when she says Stef and Lena in talking with Wyatt. She bolts again. Callie jumps in a truck and leaves.
Callie is dropped off somewhere, and she walks around. She walks towards a diner who is needed help. Callie is in her interview with a waiter who questions everything about Callie who doesn't have a residence or a phone number. She is then rejected of her application, and she leaves.
Callie is walking down a street and takes the bus where she falls asleep and is forced to get out. She goes to a corner's store where she meets a prostitute. The hooker tries to help Callie to which she rejects. She tells her that if she ever needs a place to stay for a little while, she could join her and her girls. Callie asks to borrow her phone. She calls Lompoc Federal Prison where her father supposedly lives temporarily. She finds out that her father has been released over a year ago. The hooker tells her that if she needs anything, she knows where to find her. Callie enters the corner's store. She heads for the fridge where she takes a sandwich and eats it in front of the cashier present. He tells her that she has to pay for her food. She grabs a can of soda and starts to drink it. The man threatens her to call the police if she continues. She grabs a chocolate bar, and the man tells her that if she eats one bite, he will call the police. She ignores the cashier and takes the bite. The cashier calls the police to report a burglary. Callie is filled with emotion as she deliberately turns herself in.
House and Home The episode begins with Callie's meeting with her social worker. He questions why she is getting in trouble again when things were going well. She tells him she doesn't care what happens to her, as long as her little brother stays with the Fosters. At the house, Stef, Lena, and the kids talk about what's going to happen with Callie. Brandon asks if they can go to court, Stef says Callie doesn't want them there. Brandon finally shares that Callie ran away because he kissed her. Stef and Lena talk to Brandon privately about the incident. They tell him that CPS could take Callie and Jude away if they find out what happened. The next day, Callie goes to court.
Stef and Lena tell the judge that while Callie progressed well in their home, they don't feel they can have her back in their home at this time. Callie arrives at her new group home, run by Rosie O'Donnell, I mean Rita. Rita shows Callie to her room. Callie is surprised there are no bars or locks on the doors to keep the girls from running away. Rita tells her that they trust the girls won't do anything to violate the group home's trust because they will go back to juvie if they do.
Callie attends her first group session at the home. The girls introduce themselves one by one to Callie. Rita informs Callie of their no-tolerance policy for violence. Then Callie has to introduce herself. At the group home, Callie has her first cleaning duty with the other girls. The other girls exchange barbs at one another while Callie keeps quiet. Callie is uncomfortable with a girl she met in juvey who beat her up. The girl tries to make peace with Callie, but Callie isn't having it. Callie asks her what her job is, Rita says that basically, she's the referee for the girls in the home. Callie's roommate gives her advice on how to get the girls to agree to give her the privilege to see her little brother.
At the Adams Foster house, Jude comes to Mariana's room to ask if he can have Callie's pillow. She asks Jude if he wants to sleep in Callie's bed tonight. He does, making them both happy. Rita invites Callie and her new roommate, Cole, down for snacks. Cole goes downstairs, leaving Rita alone with Callie. Rita tells Callie she's sorry that Callie couldn't see her brother. Then, Callie spots Brandon standing outside across the street from the home. She runs outside and jumps in his arms as Rita and the group home girls look on from the porch.
Things Unsaid At the group home, Daphne tells Callie to hurry with her chore, the van will be picking them up soon. Daphne walks away, so Callie retrieves a phone she's been hiding under the house. Later, Stef asks if there's any word about the investigation, and when Mike can come back to work. Meanwhile, the group home girls go on their field trip, Callie wanders off for a secret rendezvous with Brandon. It doesn't take long for Rita to realize that Callie's missing. She goes back to find Callie, who is still with Brandon in the art room.
Callie tells Brandon she wants out of the house, then asks about Jude. She thinks Jude hates her, but Brandon says he just misses her. Daphne finds Callie just before Rita and saves Callie from getting caught with Brandon. Daphne tells Callie things are even between them now. Callie for what she said in the group meeting. Kiara tells Callie that she's getting out in two weeks thanks to the Independent Living Program.
Daphne informs Callie that she has to do well at the group home for a while before she can apply for the program. Then, Daphne surprises Callie by sharing that she has a two-year-old daughter that she hopes to get back from foster care one day. At the group home, Callie sneaks off to call Brandon but is caught by Cole, who demands that Callie give up the phone, but Cole's not doing it to be mean, he's trying to help Callie. Brandon texts Callie then receives a text back telling him things are over between them. He has no idea that Cole sent the message.
Family Day Callie and her housemates have been taking various cooking classes. So there was an arrangement of Asian cuisine and soul food waiting for the families. That was until she returns to the home. Cole had overdosed on his hormones injections. After apologizing for the text to Brandon, Callie allowed him to continue to use her phone. Cole explained that she needed those injections because she couldn't live with her body slowing turning back into a girl. Then this happened. As Cole's roommate, she had a responsibility towards him. The rest of the group doesn't want her halfhearted apology. They're at the house because it was the last place for them but no one has sympathy for Callie. They saw her family.
Everyone knows she has a place to go to while the rest of them have to fend for themselves. Rita catches Callie alone. She tried to get through to her that she couldn't keep evading everything and everyone. Eventually, Callie had to stop running from her problems. Rita didn't think her advice sunk in but it must have. When Cole returned, Callie finally figured out she should try listening for once instead of thinking she could solve all of her own problems. She gave Rita her cell phone. The first step into making a second chance was to admit what she was doing was wrong.
Padre The funeral is hard on Callie. It brings back old memories of her mother and how she lost her. While at the same time it appears to have the opposite effect on Jude. He called Lena "Mom" for the first time and he hardly noticed. Callie caught it though. She saw how easy Jude is fitting and in and that's leading her to push Brandon away. For some unknown reason, Brandon though announcing his relationship with Callie at his grandfather's funeral was a good idea. Callie advised him against it. Callie is also feeling guilty about leaving the family the way she did. Being back home has reminded her how much she misses Mariana. Callie freaks out when she was helping everyone in the kitchen.
It was because she had lost her necklace. The same one she wore everyday seeing as it used to belong to her mother. Jude told her after she began to hyperventilate that she was acting the same way she did when they learned their mom had died. Callie had destroyed her room and completely blacked it out of her memory. Jude was worried she was close to doing the same thing when Stef intervened. Stef managed to calm her. She told Callie that she didn't need a necklace to remember. Her mother was always going to be with her and it was time Callie stopped trying to deal with these things on her own. It was good advice that extended towards the both of them. Luckily Brandon found the necklace and safely returned it to Callie. Nevertheless, it was a bittersweet moment for them. Callie does love him and she is grateful that he found her necklace but she couldn't continue with their relationship. And to be fair Brandon saw it coming.
He realized she would have to give up their family once he saw her with his mother. It made he accept that Callie is going to need more than just him. Jude knows that he's going to stay with the Fosters and now so does Callie. She wants to come back home.
Us Against The World Callie is returning home. She chose to go home to the Fosters and get adopted alongside Jude. Yet as her new found friends at group point out her return won't be easy as she thinks. Mainly because Callie has to deal with Brandon on a regular basis. It's easy to say she's over him right now with the distance between them but living together will be a whole different story. And unlike how it would have been when she first arrived, Callie is finally able to listen to their legitimate concerns. She understands her return is going to be difficult and knows it's still the best option for herself. She gets to go home to a family that loves and not everyone gets that chance. Daphne is also leaving the group home.
Only she's going to live on her own and while that sounds like a nice fantasy; Callie knows she can't pick it. Luckily her living situation improved without her even knowing. Brandon and the rest of their family held the truth from Callie up to the last minute. It seems Brandon thought it would best to live with his dad for a while. Just until Callie gets readjusted back home. He assured her that he needed the move for him and that it wasn't her fault.
But a lot of things is starting to look like her fault. Although Callie went back with the knowledge she had to earn everyone's respect; she didn't count on Jude being part of that group. Jude is distant with her. She hurt him when she left him the way she did. And it's going to take more than simply checking in like she has to do with Stef and Lena to reassure him that she's not going to up and run away again. Callie figured out the best way to get Jude's trust back is to celebrate his real birthday as they used.
Their mom had Jude at home and when she got around to registering him; he was given the wrong birthday. The foster system never found out and ever since he and Callie have been celebrating his birthday privately. At first, Jude was stumped over why he was getting mysterious gifts. Then he realized it was a puzzle. Apparently, Callie knows him so well that he's on his way to forgiving without even realizing it.
Kids in the Hall Callie, on the other hand, is still proving to be a model citizen since returning. She even helps out Mariana. Last week Mariana had foolishly ditched her friend, Zach, just to spend time with the boy she had a crush on. Too bad he was a jerk then and is a jerk now. He told everyone at school about her putting her underwear in his pocket. And in his version of events, they hooked up. That's not the truth but who's going to believe her. Callie is keeping her friendships with Kiara and Daphne. They got close during their time together at the outreach house. And now they've helped her see what she couldn't before – Callie has a talent with photography. She took a picture of Kiara and it helped her friend find a decent foster family. So Callie wants to pursue taking more pictures to help out foster children and while Lena is pleased by this; Stef is hoping she'll make better friends from the venture.
She wasn't feeling too comfortable finding two juvenile delinquents in her kitchen. Callie can't make any new friends because Talya has already poisoned the water. The very same night Callie is taking pictures for the foster kids, a couple of e-readers were stolen. Callie thought Daphne had done it seeing as her friend has been struggling with independent living. And that's why she lied to Lena by saying she didn't give the keys to anyone. Yet she still confronted Daphne and got yelled at. Daphne swears she didn't steal anything and if someone committed a crime then it was probably Brandon.
Escapes and Reversals Then there's Callie and the secret she's been sitting on. She knows that Brandon lied to her about being at the school during the e-readers heist and she's mad at him. Callie risked a friendship over him and he shook it off like it didn't even matter. So Callie started to look into why Brandon was a part of the theft. She saw his interactions with Vico which was unusual enough. Vico isn't really the type of Brandon would normally be friends with but she later spied Vico making one of his transactions and decided to act. She pretended like she wanted to buy a fake ID and Vico obliged her by taking her picture. When Brandon had heard about it through Vico, he confronted Callie. She tried to tell her to stay away from that scene and she called him out on hypocrisy. She did all of this as a test to draw him out which he obviously failed. Callie knows that he's helping Vico sell fake IDs and that they were the ones that stole the e-readers.
She tried to get the reason behind why he would do something like that and he refused to tell her the truth. But Callie doesn't have the time to grill him about it. She got called in for a family meeting with Stef, Lena, and Jude. Her foster parents wanted to inform that they were filing the adoption forms but first, they had to get the kids' father's to sign off on his rights. Callie was upset to learn he still had any. Stef informed them that technically going to prison doesn't terminate parental rights. That's why they need his signature. Jude didn't mind that they were going to contact his dad. That's because he thought his father was still in jail. He's not and Callie admitted as much. She told them how she tried to contact him after she ran away only to find out that he's been out for over a year now. Jude is angry that she kept such a secret from him. And he's starting to get tired of her excuse about how she wanted to protect him.
Don't Let Go The episode begins with Callie paying a visit to her dad to figure out what he is going to say to Jude when he stops by to visit him. Her dad says that he is going to say that he wanted to wait to see and communicate with everyone when he was stable and was prepared to get them back. Callie is frightened by this and when she gets back to her house she asks Jude how he would feel if dad asked if he could get back custody of them. Jude responded by saying, "I don't know, he is our dad". This makes Callie nervous that one of them or even both of them could get hurt by having contact with their dad. At the breakfast table the next day, Jude says that he doesn't want to see his father after all, but everyone convinces him that he might regret it later. He said he would go if Callie goes too, and she agrees. The episode ends with Callie and Jude's dad showing up and telling them that he loves them but that he is signing away his rights. When asked why he says because it was the truthful thing to do and that he could never provide for them the way that Stef and Lena have. And this is where the episode ends with Callie and Jude being able to be officially adopted by Stef and Lena.
Metropolis The episode starts with Callie and Brandon at school in the music room. They talk about everything that has happened. With his parent's adopting all of these children and his love for music coming back. After she leaves the music room, Callie receives a call from an old friend. Shen then turns around and there he is. Callie shows up to talk to Wyatt whom she got a job filling drinks so he could get money to get his car back. Lena then goes to Brandon and tells him to ask Callie to dance so the principal will see she is participating. The episode then swings back to Brandon and Callie who says she is tired of being judged by everyone. He agrees but it is because he is mad that she did not meet up with him the other day. They talk about being together, but she really wants a family; and, when she is adopted by Lena and Stef, technically Callie and Brandon would be brother and sister. She does not want to mess up the family dynamic by dating her foster brother.
He then tells her to tell him something to make him get over her. She tells him that when she and Wyatt ran away together, that they slept together. The nominees for Winter King and Queen are then announced. Callie wins the Winter Queen title and is forced to dance with another guy. Meanwhile, Marianna and Zac leave to go look for his mom. The principal then goes into the bathroom to find kids drinking alcohol. She asks where they got this from and everyone says that Callie gave it to them so they would vote for her. The principal then goes and accuses Callie of buying alcohol with a fake id. Back on the dance floor, Jesus gets into a fight with his tutor's boyfriend because he thinks he is going to drink and drive. It turns out she was driving and she tells Jesus to get lost. Zach and Maria find his mom. She is outside looking at the water, but when they get to her, she doesn't recognize either of them.
Adoption Day While Brandon is practicing his piano at Mike's, he gets interrupted by someone knocking at the door. It's Callie. She wants the final verdict on where they both stand; if Brandon is really and truly okay with Callie being adopted into this family. Brandon simply says he's fine with it and that she isn't hurting him by getting adopted. Wyatt surprises Callie with not only his surprise appearance, but with Rita and everyone else from Girls United! While much excitement is happening all throughout the lobby, lawyers pull Stef and Lena aside to have a chat with them. It is then that Stef and Lena pull Callie and Jude aside. They explain to her that there seems to be a mix-up with her original birth certificate. A different person is listed as her father, not Donald Jacob like she always thought. So unfortunately, at this time she can't get adopted. Tears are shed between both Jude and Callie. Stef and Lena reassure Callie that just because this little hiccup occurred does not change their mind; she will be adopted by them one day. Jude cries and says he doesn't want to get adopted with Callie. That's when Callie takes him by the shoulder and ever so sweetly and sisterly calms him and says that he should get adopted today and that everything is going to be okay. He eventually agrees with his big sister. Getting some fresh air away from everybody, Callie bursts into tears herself. Rita later joins her to where Callie states the entire universe must be against her. That everything can go wrong always does for her. Rita immediately shoos that idea away and says that things happen, but you can't let that stop you. Feeling a bit better, Callie goes inside to witness the adoption. Jude, Stef and Lena sign the papers and the entire Adams-Foster family (including Callie) takes a picture with a judge. They finally did it! Jude is adopted; he has a family again! Everyone goes back to the house for celebrations. While everyone is munching on cake, Callie heads outside to the patio to which Brandon joins her. She asks about the audition and Brandon replies he got it. He leaves to go and get the last of his things from Mike's and Wyatt takes his place. He is curious because of this recent error with the adoption, will things change between Callie and Brandon. She says no and the two kiss.
Season 2
Things Unknown Callie gives Jude a hug after he receives his updated birth certificate in the mail. Stef assures her that she will get adopted too. Callie goes to court with Stef and Lena hoping that she can get adopted without her birth father's permission, but the judge says that since he may not even know she exists, they need the signature from him.
Callie hears Brandon playing the piano. they talk to each other about Callie not getting adopted and Brandon not being able to play piano.
Callie has started working at 'Not A Burger Stand' with Daphne. While at work, she is telling Daphne and Wyatt about how she can't get adopted because Donald is not her birth father. During dinner, a social worker comes to collect Callie, as Lena and Stef's foster license has expired, and since Callie isn't officially adopted she can't live with the Adams Fosters for the time being.
At her new foster home, Callie is being looked after by an elderly lady. When finding out that Callie has been in six foster homes, the lady gets the idea that Callie will try to escape at night. That night, she locks the door to Callie's room to prevent her from leaving. The next day as Callie is about to do chores, Stef and Lena appear at the door to collect Callie. Back at the house, she receives hugs from everybody. Callie decides to find Robert Quinn to prevent this from happening again.
At her work Callie tells Daphne about her search for Robert Quinn. A man comes and leaves Callie a huge tip for two milkshakes.
Take Me Out A man gives Callie another $100 tip at her work, believing Daphne to think he likes her. Later on, Callie learns that Robert Quinn won't sign the adoption papers until Callie gets a DNA test to prove she is his daughter. At the DNA test, Robert doesn't show up.
Callie and Mariana are talking about their absentee parents. Mariana says "At least when my mom bails I can say it's because she's a drug addict.' To which Callie replies, "Jealous."
Callie decides to Google Robert Quinn, and finds out that he is the man giving her $100 tips. She decides to talk with him, and he says that he never knew Callie existed. He gives her a letter from his other daughter.
Season 3
Callie meets AJ on her way to the foster center. He later came by the center and they chatted about their lives.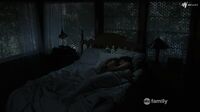 Callie and Brandon are in absolute bliss after their night of passion. Brandon asks if Stef and Lena know about Callie's adoption failing yet because of her choice to save Rita from incarceration exposing their indiscretions to the social worker. Callie responds they will know soon. If not from Robyn her social worker, then from Rita, herself. Callie laments that they'll be so mad and disappointed that they can't adopt her. Brandon asks her is she OK. Callie responds that while she'll never be part of the family now, she has him. In the morning, the twosome, along with Mariana, return to the house. Letting Mariana go inside first, Callie waits outside with Brandon, bracing for the expected storm inside. Brandon holds hands with her. The two of them walk inside. They see Stef, Lena, Jude and Rita at the table. Callie stands tall expecting their disappointment. Stef says she spoke with Robyn, the social worker who spoke to the girls at GU. Stef then tells them Robyn's recommending Callie's adoption. Cheers and hugs erupt from the four of them, while Callie is shocked and in complete disbelief, but manages to hold it together and act happy for herself.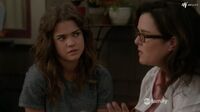 Rita calls Callie outside to talk to her. Rita tells Callie Brooke and Carmen are being sent back to juvie for pressing false charges against her. Callie, confused, asks Rita did she listen to the recording she sent her. Rita says she listened to all of it. Though disappointed about some of it, she talked to Carmen about everything. She told the other girl she was above ruining someone else's life. Rita tells Callie she saved her, she saves Callie, telling her the Adam Foster's is her home. Rita heads off, leaving Callie guilty and humiliated.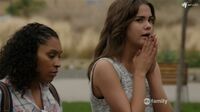 Callie hurriedly heads to Brandon's room. Brandon is equally stressed. Callie tells him Rita made Carmen's threat go away. Callie freaks out that he's going to be her brother after all and they had sex! Callie was totally sure, she'd believed Carmen, that the adoption was botched and both of them admit they'd have never slept together otherwise. The next day, Callie talks to Daphne about the whole situation. Daphne calls her out and asks her what is she going to do. Callie says she can't call off the adoption and betray Stef and Lena after everything they've done for her. But she can't be in love with Brandon now when Daphne asks her. Callie panics saying she can't deal with everything. Daphne calms her down and tells her not to get any ideas about taking off, advising her to figure it out and find out what she wants.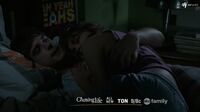 Late at night, Callie slips into Brandon's room. She wakes him up. She tells him she loves him and she should have said so back at the cabin. Brandon tells her he loves her too, and she lies on top of him in his arms. The two decide to put aside their dilemma momentarily. Callie starts to talk about what they could do, but they both hear a noise. Brandon tells her she should get back to her room, she does, but it's clear they both don't want her to. The following morning Callie helps the family get ready for Stewart and Dana's anniversary party setting up the decorations and Brandon going to play piano for the party, and Mariana will sing.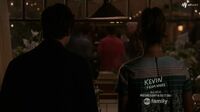 Callie sits in the crowd as Stewart gives his anniversary speech, moving people and making them laugh, and thanks his family and friends for being there, to her joy. During Brandon and Mariana's song, Callie shares a quiet look with Brandon. During the party, she and Brandon slip away to the garage, looking at their family while the party is in full swing. The both of them reminded of the value and importance of family once again, Callie sees and talks about what they could have ruined. The two take what must be done in stride. Brandon tells her they are her family and everything will be OK. She tells him nobody can know they had sex. Still watching the party, he agrees with her. Callie now truly knows what she wants.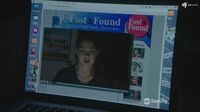 Late at night, Callie is recording a video for her app, Fost and Found. She mentions getting tons of followers for her contributions, and lets her fellow foster kids know she is practically overwhelmed, but is honored nonetheless. She lets them know she is getting adopted by her family the next day. She lets her followers know they wouldn't believe what a journey it's been for her. She says while, she is being adopted, she's not leaving the foster system behind and that "(she)'ll always be a foster kid", and posts the video. The next day at the courthouse, Callie enters dressed formally with Stef and Lena by her side. Rita has come to support her, as well as Mike and AJ. The social worker, Robyn, pulls the moms and Callie aside. She's talking about Callie's app. Callie was rude to Judge Ringer about delaying her adoption. Robyn says Callie must take back her comments on Fost and Found, apologize to Ringer entirely. Callie refuses to apologize for what she believes in. Lena tries to have Callie see what she could lose. Callie responds she loves Stef and Lena, she wants to be part of the family more than anything, but bracing herself, she declares she has followers on Fost and Found and she cannot betray them and the trust she has with them. Upon entering the courtroom, Callie is surrounded by applause by foster kids who've come to support her.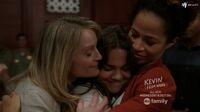 During the adoption hearing, Callie apologizes to Judge Ringer for the rude comments she made towards him on Fost and Found. She tells him offending him was never her intention, but defends her point of view on the foster system being broken, lot of kids being failed, and that she's one of the lucky ones in being adopted by the Adams-Fosters. She says someone has to stand up to be the voice of those who aren't lucky. Callie's impassioned speech reaches the judge who, after checking that there is no longer a relationship between her and Brandon, allows the Adams-Fosters to officially adopt her. Callie is ecstatic and truly happy, shedding tears of joy. Her friends and family embrace her, she shares a sibling-like hug with Brandon and shares a special embrace between Stef and Lena. Back home, she is later stunned to see Jesus at home, with Jesus telling the family that he wanted to surprise them and come back for the adoption. Mariana puts on some music and the family celebrate Callie officially joining the family.
Season 4
Season 5
Season 1
Callie and her adoptive sister, Mariana, are on the highway heading for Los Angeles. They are recapping the last few years of their lives, with Callie having graduated from law school and now clerking for a federal judge. The sisters are singing and dancing in their seats, laughing as the head to their new apartment. The sisters park and begin to realize that things aren't how they expected them to be. Callie recognized The Coterie as a different kind of living arrangement, and is shocked to learn that it is a communal living apartment and that her sister lied to her - again. Once outside, their U-Haul has been towed and they have to pay a large sum of money to get it back. When they find it, they are appalled to learn that they had been robbed, and the only things left in the U-Haul were their mattresses.
From there, they head to a little thrift store to get clothes for the morning and have fun in the shop. They befriend the owner and dance with her, play with the clothes, dress-up in silly outfits, and even find some dolls that resemble them. Ultimately, they find the clothing that they need for the next day and head back to The Coterie. Back at The Coterie, Mariana falls asleep almost instantly, while Callie has more difficulty. She gets up and takes a glass of wine to the roof, where there are a pool and a nice view. She is enjoying the view when Gael Martinez exits his loft, strips down, and goes for a nighttime swim. She admires the new view and they eventually begin discussing how Callie is new to The Coterie.
They bond over art and their upbringings before Gael takes her to his loft and shows her his art. They flirt heavily and tease one another while in the loft, before eventually making out and having sex. The next morning, both sisters oversleep and have to hurry out the door to be on time. While leaving, Mariana calls out to her friend and co-worker that recommended the apartment, and Callie is shocked to see Gael. Callie plays along with Mariana introducing them and Gael rolls with it. When Gael leaves, Mariana once again expresses interest in being physical with him before they go their separate ways to work.
Once at work, Callie is introduced to her fellow clerks Rebecca and Benjamin, who seem to be friendly enough. They begin working on a case in which Callie views it as a political activist and progressive argument, while Judge Wilson does not and rules the opposite as what Callie suggested. Rebecca and Benjamin warn her about crossing him, and Rebecca observes that Callie is just making things harder on herself by clerking for a conservative judge while she is a progressive activist. Callie only nods saying that it's kind of her thing, and proceeds to write her paper from a passionate and progressive viewpoint.
Back at The Coterie, her and Mariana talk about their days and both lie about how amazing their jobs are. They then attend communal dinner with the rest of the residents and learn more about their new roommates and Callie learns about the Jamal Thompson case from Malika. At some point in the night, Callie confronts Gael and tells him that she wants to keep what happened to them a secret because Mariana likes him. They have sex again that night, and Callie immediately expresses guilt and says that it can't happen again. That night, Callie admits to Mariana that she slept with Gael which causes a fight between them and Callie expresses that she doesn't want to live at The Coterie. Mariana states that she does and leaves the room.
While working on her summary for the latest case seemingly the next day, Callie receives a call from Mariana who is sobbing at Speckulate and says that she needs her sister. While Callie originally shoots her down and says that she is busy, Mariana continues to sob over the phone. Much to the chagrin and disapproval of her fellow clerks, Callie heads over to her sisters work to comfort her. The girls go to the roof of the building and talk about how rough things have been, and Mariana expresses that she feels alone. Callie encourages her not to give up and reminds her that they are Adams Fosters, they don't give up, they fight. She reminds her that she isn't alone and that they have each other.
Back at the courthouse, Judge Wilson informs everyone that the previous judge assigned to the Jamal Thompson case had a heart attack and that he was now taking over the case. He then calls Callie into his office to go over her report and scolds her for viewing the argument from a passionate side and not a logical one. He seemingly is angry at her, however, when she exits she regretfully informs her fellow clerks that Judge Wilson had chosen her to clerk the Jamal Thompson case. Rebecca and Benjamin congratulate her and head back to work as if nothing happened, but Callie seems rather uneasy.
At The Coterie, Mariana and Callie are having wine while dipping their feet in the water. They apologize for their actions toward one another, and Callie admits that she slept with Gael again. They look over at Gael's loft where he is beginning to undress and are shocked to see that Gael has another man over. Gael and the man begin to kiss and seem to be hooking up, and Callie guzzles the rest of her wine, while Mariana gives up her claim to him saying that her sister can have him.
Season 2
Callie struggles to recover from finding the, "Coterie Bitches" group chat on Mariana's laptop. She remembers vividly the messages mocking her and shaming her, especially for being protective over her property. She is then confronted by Gael who yells at her for not telling him that Jamie bought his painting, and not telling Jamie that she helped Gael make it. Despite her objections, Gael angrily admits that he wishes he never met her and that she didn't live at The Coterie so he didn't have to look at her every day. Hurt by his words, she leaves without saying a word to him.
Callie blows off Mariana in the days to come and even throws out her tea mug so it won't be a problem again. She stops into her apartment and gets clothes for Jamie's, despite Mariana's objections that it isn't a "Raj night". Callie begins staying at Jamie's more often.
She is reminded of how huge of a sacrifice it is to take on a class-action suit by Teresa. After getting much-needed advice from Jamie, Callie tells Marcus that she can't handle the class-action suit along with her regular duties. However, when Sariya from the ACLU wants to assist with the case, even if it may set back Callie studying for the bar, Marcus has presented an opportunity Callie can't pass up.
At the end of the day, Mariana returns and finds a letter from Callie explaining that she's decided to move out of the apartment and in with Jamie. She would be back for the rest of her things later that week, and would continue to pay the rent until the end of the lease, or until Mariana found a new roommate.
Season 3
In "Capoeira", Gael and Callie pour wine with her apologizing for not telling him that Jamie bought his art piece. He accepts her apology. Gael apologizes for the things he said, as being with her wasn't a mistake. He asks her if things between her and Jamie are over. She explains things are complicated.
At Legal Aid, Callie meets Kathleen Gale, the new tenant who has issues with the drab interior. Callie learns that they are moving into the new Legal Aid building downtown for a budget issue. Kathleen is a defense attorney who split from her firm and is now opening a small non-profit defense job at the former Legal Aid building, along with a few of her junior associates. Callie tells Marcus that she thinks she did well on her bar exam, with Marcus knowing that Callie sent the anonymous tip to the tenants who are planning to fight to stay in their homes. He wants her back on the case as co-council as long as there isn't a conflict of interest with Jamie, to which Callie promises to get back to him on that.
She checks messages from Jamie but he hasn't responded. She gets a call from the ADA office as someone else is pressing charges for the break-in at the apartment building and wants her as a witness. She confronts Jamie outside the building. He is pressing charges but not as revenge for her actions, but due to Jerod returning and causing problems again. Callie doesn't think he'll be safer in jail, but Jamie disagrees and leaves for work.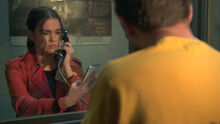 Callie visits Jerod in prison where she learns about the aggressive tactics the guards have been using. He remembers her as the nice lady who buys her coffee. They refused to give him medication so he refused to leave his cell, so the guards sprayed him in the face and began hitting him. Jared tried to get the guards off him which led the guards to claim Jared hit him first. Callie takes photos of Jared's bruises though she can't be his lawyer as she hasn't passed the bar yet. He apologizes for breaking into her apartment which she appreciates, though she pities the man.
Callie brings her case to Kathleen Gale, who asks if she wants to smoke weed or drink with her but Callie refuses. Kathleen warns her that not winding down at the end of the day will catch up with her. The case is a loser as the jury will believe the guards over an inmate, and excessive use would be denied. Callie continues to convince Kathleen to help Jared, though she's apprehensive. Kathleen is impressed by her idealism yet willing to fight, so she agrees to help but on one condition.
At the Coterie, Mariana tells Callie that Isabella moved out, though Raj claims he didn't sleep with her. She tells Callie about sleeping with Evan with Callie understanding her motives, but Mariana asks her for advice. Callie suggests working it out unless she doesn't want to, with Mariana admitting she's conflicted over things. She asks about Jamie to which Callie admits emotionally that things might be over. She remembers earlier that afternoon that she stopped Jamie from leaving, but he is hurt as his firm lost the Anwei account so he might lose his job. His employers will piece together that Callie is the reason the activists were tipped off, placing the blame on Jamie for her having access to the documents. He tells her that she ruined him whether she meant to or not. In the present, Callie cries on Mariana's shoulder.
The next night, Callie arrives at the Coterie and Mariana gives her a letter that came for her, promising that she didn't open it. Callie gives it back and asks her to open it. The letter tells Callie that she passed the bar and the Coterie residents come out of their hiding spots to celebrate. Callie reveals that Kathleen asked her to quit Legal Aid and work for her, which Callie has accepted. The group toasts with Gael and Callie exchanging a look that Mariana asks about, though Callie claims that nothing happened. Alice asks if Davia is okay and she lies that she is, telling her that Dennis is just out of town. Mariana toasts to Callie moving in, and the group agrees to have a family dinner.
In Arraignment Day, Callie enters a prison where she is bumped out of the way by a male lawyer who accidentally pours coffee on her shoulder. At the Coterie, Callie dresses in her new pantsuit while Mariana encourages her. She is only observing for now. At the prison, she is let in to see her client, Shai Haraz. While visiting she sees Malika on the other side of the bars.
Callie goes to her new clinic where she is nicknamed an impulse buy. The paralegals judge Kathleen for her impulsive choice to open the clinic but Callie reminds them that they did the same thing. Kathleen enters and announces they are all picking up cases at the arraignment court from PD overflow. Kathleen is still working on Jerod's case, but pro-bono cases don't keep the lights on. At the jail, Callie sees Malika, but Shai Haraz, Callie's client intercepts their meeting. Callie asks her client to wait while she speaks to Malika. She asks if Malika needs anything, to which she points out a woman in a jean jacket.
Callie fills Kathleen in on her meeting with Shai, who was busted for indecent exposure while with her girlfriend in a car. They can't call Shai's parents as they don't know she's queer. Kathleen tells Callie to convince Shai she's wrong as a plea deal is a wrong direction to take, though Callie refuses. Kathleen takes the case instead. She crosses paths with Tony in the stairwell and learns that he has Yvonne Buyers' case, the woman that Malika pointed out to her earlier. Malika explains to Callie that Yvonne's hearing date kept changing at the last minute making her unable to appear. She also has three kids and a job that she needs to attend tonight or she risks losing custody of her children. Callie promises to do what she can to help and takes the case from Tony.
She sits in on Kathleen presenting Shai's case to Judge Patton. After the hearing, Callie confronts Kathleen about not telling Judge Patton that Shai's father was in the court. Kathleen reminds her that the courtroom is a theater and she has to manipulate the judge and jury. She tells Callie to read the jury and the judge to put on a show.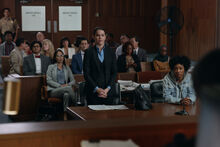 Callie struggles in her first court appearance though Judge Patton reminds Callie that Yvonne has four bench warrants and the prosecutor is within her rights to remand Yvonne onto custody. Callie tries to explain as she remembers Tony convincing Judge Patton for OR, though Patton isn't impressed by Tony's confidence or attitude. Callie has an idea but asks her client to trust her. In the present, Patton asks Callie to take a breath and relax. She apologizes as it's her first time in a courtroom. Callie argues that the crime is unpaid parking tickets so no one suffered, but Yvonne's family will if they are put in the system. The judge isn't entirely convinced but sets the bail at $500 which Kathleen is impressed by. Yvonne appreciates Callie but she can't raise $500. The bailiff tells Yvonne that her bail is taken care of so she can be processed now.
Callie and Mariana return to the Coterie with Callie apologizing for what happened to her app. Callie's nice suit smells as it's become her cheap arraignment suit. Mariana wonders if Malika will be okay which Callie hopes for. Gael interrupts to tell them that Malika is back with her charges dropped.
In Whoosh, Pow, Bang, Davia, Gael, and Alice sing happy birthday to Mariana, who sees Callie walking in, looking very confused. Mariana hugs Callie tightly, saying it's her birthday, though Callie whispers back that it isn't.
Callie waits with Yvonne for their appointment with DA Matthews, only to be informed by the receptionist that the DA was called into an emergency meeting. Callie stops DA Matthews and confronts him on rescheduling twice now and she can't keep bringing her client down. Hanson offers to cut her fines in half in exchange for fifty additional community service hours, which Callie tries to refute as Yvonne works two jobs and has three kids. He refuses to go any lower with his offer and walks away. Kathleen strolls by on her way into a meeting with DA Matthews for Jerod's case. In a private room, Calle tells Kathleen that Yvonne wants to take the deal which Kathleen isn't surprised by but doesn't want Callie to settle. The DA on Jerod's case enters.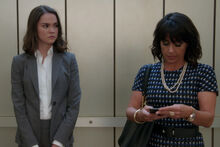 The DA offers one year in prison though Jerod will only serve six with good behavior. When they leave, Callie is upset that Kathleen isn't doing more for Jerod as she doesn't want to go to trial. She doesn't want to drag Jerod through prison for longer than a year which he will be if they pursue trial. She tells Callie that Jerod should take the deal. Callie meets with Jerod to get more information about Deputy Gaffney, with Jerod claiming the deputy took the medicine for himself. He doesn't give much information as he just wants to go home. She claims they're still working on it but he needs to be patient.
Alice, Davia, and Gael sing happy birthday to Mariana as Callie walks in. The girls go to their room where Callie is amused by the situation Mariana has managed to get herself in. She also thinks Mariana should tell Evan to stop giving her gifts, though she already talked to Evan. She explains that Evan technically isn't her boss anymore so she just has to keep her personal and professional lives separate. She plans to tell the fight team girls about her relationship if she and Evan are still dating by the time they get their seed money. A humored Callie reminds Mariana that she can't celebrate her birthday this year, taking a bite of chocolate cake.
Kathleen and Callie meet with the DA where Kathleen refuses his deal due to Jerod's claims that Deputy Gaffney took his medication. They think Deputy Gaffney planned to sell the anti-psychotics to addicts. When mixed with cocaine or meth the euphoria experienced is heightened. They have a potential pattern since Deputy Gaffney was fired from a corrections job in New Mexico for suspicion of stealing inmates' medication. Kathleen remarks how great Callie is despite having just passed the bar. The DA notes that suspicion isn't proof, but is willing to give a deal for six months jail time for Jerod. Kathleen asks for his real best offer, his bottom line, which is three months plus time served, which gets him released in 30 days. She thanks him for going out on a limb for her, but decides to take the case to trial.
Once they leave the meeting room and are in the hallway, Callie confronts Kathleen about going to trial since it means Jerod will be in prison even longer. Kathleen explains that they could get the city to settle for millions with a lawsuit, and can use the money to expand their caseload and help even more people. Callie thinks they should at least take the DA's offer to Jerod, but Kathleen refuses as she knows that when he gets out he'll have money for a home and follow-up care as opposed to what he'll have if he takes the deal. She warns Callie against talking to Jerod any further.
In Klompendansen, Callie and Mariana get ready to leave for Jim and Diane's party, with Callie feeling weird about going after her relationship with Jamie fell apart. At the Coterie, Callie admits that she doesn't regret what she did and brings up Jerod's case, which Mariana isn't sure he knows about. At the house, Mariana convinces Callie to go in but tells her not to tell anyone she's dating Evan. They ring the bell and Diane answers happily while wearing Dutch wear.
Diane explains that in honor of Brandon and Eliza's Amsterdam adventure, she's throwing a Dutch-themed party where everyone is dressing up. She tells the surprised sisters to go get changed.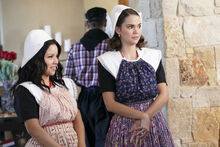 Calle and Mariana emerge and hug everyone as they say hello. Callie whispers in Brandon's ear that he should have warned them about the outfits, and Brandon whispers back that he didn't think they wouldn't come if they knew. The moms ring the bell and Diane leaves to get the door, making a snide comment about them being almost on time. When Diane and Jim are gone, Callie learns that Jim and Diane do know about her and Jamie breaking up but not why they broke up. Brandon also reveals that he didn't warn their moms either.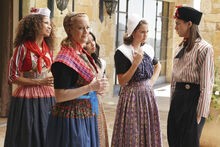 The Adams Foster and Hunters emerge and Jamie makes his rounds with hugs, remembering Corey from Brandon and Eliza's engagement party. He hugs everyone until he reaches Callie, who gives him a brisk nod. They take a seat at the table with Diane excusing Jamie from costumes for now. The Hunters and Brandon leave for the table while Stef, Lena, Mariana, Callie, and Jude talk about Connor.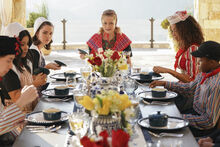 They have assigned seats at the table, with Stef on one end and Jim on the other. Jim asks Jamie how his law firm partners feel about his facial hair, to which Jamie reveals he quit. He didn't like the track he was on and isn't sure what he's doing yet, which upsets Jim. Jim excuses the band so they can talk freely. Eliza chimes in that Jamie might just not know what he wants to do yet, but Jim is convinced that he should have waited to quit until he knew to quit. Mariana adds that she and Callie just quit their jobs which is news to the moms, who thought Callie was still at the clerkship. Callie and Jamie exchange a look from across the table. Mariana tries to cover that she meant Callie's other job, making Jim question how many jobs she has. Callie explains she left her clerkship early to work at Legal Aid, but now she's working for a highly regarded defense attorney. Lena asks when this happened. Callie promises she was planning to tell them today. Jim asks Mariana about quitting her job so soon after her app was released, to which Mariana explains it was overrun by white supremacists so she quit. He pointedly asks if he knows any of them. He covers it as a joke but Callie snips back that it isn't funny. She tells everyone about the verbal attack on Mariana, a revelation that horrifies Stef. Mariana brushes it off as nothing. Diane asks if everyone is ready for their first dish.
The dinner conversations change throughout the course of dinner, though Calle and Jamie exchange looks throughout the meal. Jim asks about the housing bill and the children begin to text one another; Mariana asking Callie if she thinks Jamie really quit but she doesn't know, Carter confronting Jude if he wants Carter to go to UCLA, to which Jude just wants to be sure Carter isn't coming for him, and Eliza telling Jamie to make their dad stop talking about politics. Jamie asks Eliza if she has a muzzle, Mariana asks if the party can get any more awkward, and Brandon chiming in that it can as he and Brandon have news. The texting continues between everyone, with Eliza asking if Jamie still loves Callie which Mariana points out to Callie that he does.
Diane promptly asks everyone to put their phones down and the subject changes to why Callie went into criminal law. Jude thinks it's because of the homeless man who went into her apartment, which is news to the moms. Callie nervously tells Stef that it wasn't her apartment Jamie's, which surprises everyone. Callie explains Jerod's break-in wasn't criminal, as he was suffering from a mental episode. She explains Jerod's situation to everyone, including Kathleen's involvement, much of which is new to Jamie. Diane admires the Adams Fosters family's need to serve and brings up hearing the homeless people's lack of shoes.
After the first course, Callie finds the moms and Mariana hiding in a bathroom as they were "taking a break". Lena asks Callie how it is seeing Jamie to which Callie covers that it's fine. Stef asks why they broke up. She explains why she and Jamie ended things and the situation behind her reasons for telling the tenants the truth. She asks if what she did was wrong and Mariana chimes in that it isn't. Lena asks Callie if she thinks it was wrong. Callie isn't sure which Mariana claims isn't true. Stef tells Mariana, who she affectionately calls "Miss Thing", to let her sister speak for herself. Callie thought what she was doing was right but didn't know it would end their relationship. Lena thinks it was the right thing to do with Stef knowing how hard it can be to be in a relationship with someone so different. She tells Callie to decide what she's willing to compromise, prompting Mariana to remark how she knows about that. Lena asks if things are hard with Raj, and Mariana reveals they broke up, which surprises the moms. Mariana quickly reveals that Brandon and Eliza have news, just as he emerges in the bathroom. He chuckles when everyone says they're taking a break. He tells about the guest house in the back that he usually hides out in. Stef asks what his news is.
The Adams Fosters emerge from the bathroom as a group and run into Diane. Diane asks why they were all in the bathroom, to which they cover that they were washing their hands. Diane introduces them to Fleur, who will be teaching them traditional dances. Everyone lines up outside as Fleur explains Stef's role in the dance, which includes an instrument. Their attempts are humorous as the group begins to have fun with the dances, eventually getting the hang of everything. Jamie and Callie dance awkwardly together until the song ends.
The families sit down at the table again as more food is served. After dinner ends and the party dwindles to an end, Callie walks to the table to get her phone when she is confronted by Jamie who wants to talk. They go inside where they stand in silence before she kisses him passionately.
Jamie stands at the sink and apologizes to Callie about Jerod. She accepts the apology but notes that it would help if he dropped the trespassing charges. He promises to do it and she asks if he really quit his job, which is a yes and no answer. After they lost the Anwei account he was forced to negotiate his exit. She apologizes to him as she never meant to hurt him personally, prompting him to ask if she meant to hurt him professionally. He asks what she thought would happen to their relationship after that. She thought they could work past it, but he brings up that she was waiting with her bags packed already. He thinks she knew it would end their relationship and made the choice to do it anyway. They began to argue over the tenants and she thought the only choice was to tell the tenants the truth. He wants someone who will choose him first, but she doesn't think choosing him should mean compromising what she believes in. She doesn't think that's love. He thinks she always felt as though she were compromising herself in their relationship. He coolly states that she's right about it not being love. He picks up his shoes, calling their sex a mistake that never should have happened, and leaves.
Callie joins Mariana, her moms, Brandon, Eliza, and the rest of the Hunters at the door where they say goodbye. Stef, Lena, Callie, Mariana, and Corey leave first. Callie is excited to meet Ka'maya, Corey's half-sister that Stef and Lena have decided to foster, while Mariana knew the nest wouldn't stay empty long. Lena asks Callie if she got the answer she needed when it came to Jamie. Callie feels that she did get an answer - what she did was the only choice she could have made. Lena is proud of the girls for taking such strong stands, and Mariana blurts out that she's dating Evan. She presses that she isn't like Callie and can't ignore her feelings for principals, especially since Evan is doing the best he can which she's okay with. Stef and Lena are okay with that since she's being true to herself which is all they can ask. The sisters hug Stef and Lena, then Corey. As they leave, Stef tells them to text when they get home. Stef whispers to Lena that she's looking forward to dealing with four-year-old problems and kisses her cheek. Corey waves goodbye to the car as Callie and Mariana leave.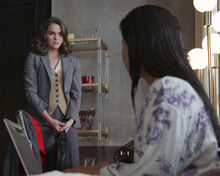 In
Because, Men
, Callie tries to track down a family member of Jerod's but doesn't have much luck as his sister won't answer. Mariana inquires about the phone call so Callie explains the DA's offer and Kathleen suddenly wants to take the case to trial, putting Jerod in jail for even longer. Mariana asks if that's legal, which it is, though it is ethically gray. Kathleen thinks that Jerod can't decide for himself right now, which is why Callie is trying to track down his sister though Kathleen isn't apprised of the situation. Mariana points out that Callie doesn't trust Kathleen, though Callie remembers how Marcus told her about Kathleen leaving her old firm under shady circumstances. She worries she made a mistake.
At work, Tony compliments Callie on going to trial with the possibility of a settlement, so she asks Tony why Kathleen left the firm she built. The other attorney, Rowan, thinks Kathleen got tired of representing rich clients. Callie wonders why they followed blindly so Rowan admits that a friend of his was fired from his job after he transitioned and no one at the firm would take his case, but Kathleen did pro-bono and won. Callie notes that he owes Kathleen but he corrects that he's here because he wants to be like her. Tony is here merely to be taught by the best.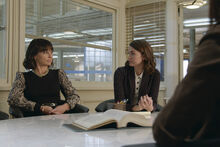 Callie arrives at work and Kathleen calls her out on contacting Jerod's sister, Zoe, who called Kathleen. She invites Callie into the meeting so they can see if she's here to derail their case. Zoe explains her and Jerod's history and what happened to him over the years. Kathleen thinks a trial will give Jerod a better chance at starting over with enough money to get proper medical treatment and housing. Callie interrupts that it could also mean he's in jail for over a year awaiting trial. Zoe asks for another option which forces Kathleen to tell her about the DA's plea deal of three months plus time served but he'll have to plead guilty and have a record. The next time he's arrested they'll treat him worse as he's already a felon, and if he gets two more serious felonies he'll face 25-years to life. Zoe thinks a trial is the best option but wants to consult Jerod about his options since the decision is his. Kathleen isn't sure if he can make those decisions. Zoe thinks they should be careful about assuming mentally ill people aren't capable of making decisions and taking away their right to advocate on their behalf. Kathleen and Callie exchange a look.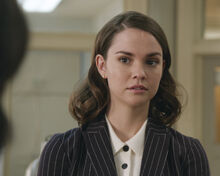 Callie meets with Kathleen as she and Zoe went to see Jerod and he decides to go to trial. She drafted questions for Deputy Gaffney for their interviews, but Kathleen disregards them as she doesn't plan to give them a preview of their strategy. She then tells Callie to stop questioning her and when Callie tries to intervene, Kathleen snaps at her to stop talking. She points out that this is Callie's third job since law school, she quit her clerkship with a federal appeals judge, and quit legal aid. She warns that if Callie continues this behavior she'll be looking for her fourth job and no firm will take her based on that record. Callie apologizes but Kathleen tells her that she convinced the judge to move Jerod to an IMD - institute for mental disease, while he awaits trial. She had no intention of letting Jerod sit in jail, and she also got her a new DA on the Yvonne Byers case so they'll stop giving her the run-around. Callie thanks Kathleen and stresses that she does appreciate the opportunity to learn for her. Kathleen remarks that for this to work, she has to trust her and asks if she can do that. Callie claims that she can so Kathleen instructs her to do a deep-dive on social media for Deputy Gaffney.
Callie and Yvonne meet with the DA who takes their meeting. Jamie enters a few seconds later, as he's the DDA working on Yvonne's case.
In Help, Callie and Mariana have trouble sleeping with Rachel's abrasive snoring. Mariana throws a pillow at her but she sleeps through it. Callie begs Mariana to do something as she has to be up in two hours. Mariana whisper-yells Rachel's name until the girl jolts awake. The sister quickly lay down pretending to sleep. That morning, Kelly complains to Mariana about someone using all the hot water, making Mariana admit that it's Rachel who is staying with her for a few nights. Callie gives Mariana an amused look. Once alone, Callie asks Mariana how long Rachel is planning to stay since app funding could take a while. She remarks that she's sorry to be a downer but she needs her sleep.
At the office, Kathleen arrives and is presented with coffee and a bag of treats from Tony and Rowan, the other paralegal in the office. She asks Callie how the meeting with the DA went, prompting Callie to remember the awkwardness of seeing Jamie again. To avoid talking in front of Yvonne, Callie asks Jamie into the hall where she confronts him about being the deputy district attorney. She's confused as he's a criminal attorney, but he rebuttals that the job offers weren't pouring in after he lost the Anwei account at Hoff, Braverman, and Tensley. He was handed Yvonne's file five minutes ago and didn't know that Callie was the lawyer on the case. He offers to reschedule until they can get someone else, but Callie doesn't want to put her client through this again. Jamie is fine with that and has been authorized to reduce the fines by 30% and community service to 50 hours, but Callie argues that Yvonne is a single mother who doesn't have the time to pick up track for fifty hours. He argues that Yvonne broke the law just as the DA Rothman walks over to ask what is going on. Jamie introduces himself as Callie argues her case, prompting him to take the file from Jamie. He sides with Callie and offers 20 hours, which she finds reasonable. He warns her that they aren't dropping Jerod Murphy's charges but if Kathleen thinks she's going to get a cash settlement she's wrong, as only Jerod will get hurt in the end. Once he leaves, an annoyed Jamie asks Callie if she plans to get him fired from this job too.
Callie tells Kathleen about the DA lowering Yvonne's fines and community service hours, and she also researched Deputy Gaffney. Tony congratulates Callie on her success as Rowan answers a call though the caller hangs up. Tony brings up there being an empty office up for grabs. Callie offers drawing straws but Tony offers to throw darts at a bar while getting drinks, though she worries about being hustled. He swears he's a novice as Rowan thinks that drinking together will be a good bonding opportunity. Callie agrees and leaves to talk with Kathleen.
Kathleen and Callie meet to discuss their findings of Deputy Gaffney, which includes photos of him with large assault rifles, hanging out in large groups, and more. She sees a photo and that sparks her to agree with Callie on interviewing the other deputies.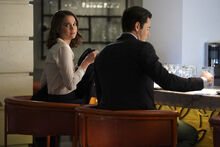 Callie and Tony have drinks as he attempts to make small talk by asking if she still doesn't trust Kathleen. He thinks skepticism is a good trait in a lawyer but she suddenly asks if Rowan is coming, just as Rowan texts that he has a migraine coming on. She finishes her wine glass so he asks to buy her another glass, but she excuses herself to use the bathroom. He jokes about a blind date doing that one though she never came back. In the bathroom, Callie notices a stain on her collar and a girl at the sinks gives her a stain remover stick, telling her to keep it. They leave the bathroom to find Jamie in the hallway. He introduces the woman, Nicolette, to Callie, just as the hostess tells them that their table is ready. Callie returns to the bar and accepts the drink after all. Jamie watches her from his table.
Callie is beating Tony at darts but she thinks it's just beginners' luck. She proposes that the winner of their darts game takes Rowan on for the officer, wanting to go over the rules though he jokes she doesn't seem like much of a rule follower. Their playful banter continues until Jamie walks over, introducing himself to Tony. Jamie then turns to Callie to apologize for the other day but she tells him not to worry about it. He tells Tony not to underestimate Callie before leaving. Tony asks who Jamie is but she lies he's just a DDA. He offers to drive or walk her home but she refuses and leaves.
Kathleen and Callie meet DA Marc Rothman and his associate Nicolette Baptiste, with Nicolette acknowledging their former meeting. The deputies are outside for them to interview, with Callie wanting to speak with Deputy Ross first. Marc leaves to get the Deputy, so Nicolette asks Callie if she got the stain out. Callie claims she did but also didn't realize Nicolette is in the DA office, with Nicolette clarifying that she is Jamie's supervisor. Kathleen inquires about who Jamie is but Callie downplays him as just being the DA in her case. DA Rothman enters Deputy Ross, and Kathleen hands the file over to Callie to take charge.
They had agreed previously for Callie to ask the questions since the Deputies won't take her seriously so they will let their guard down. Kathleen assures Callie that at the right moment she'll swoop in. Callie asks Deputy Ross how long he's worked with Deputy Gaffney, slipping up purposely by saying "for the record" despite it being an interview, prompting Deputy Ross to say he has no idea. Callie pushes for an answer and gets a year and a half. She asks if they socialize and he admits to it, with the men in the photo she presents also being deputies. Deputy Gaffney's interview is next, so Callie asks him to recap what happened between him and Jerod Murphy. Gaffney claims they tried to get the inmate out of his cell but he started swinging, causing Gaffney to be hit in the temple. The guards then pepper-sprayed Murphy and restrained him. Callie asks when they beat him, but the guards claim they didn't beat him and only restrained him. She shows them photos of his facial bruises, but Ross claims they were inflicted while Gaffney says it was due to Murphy resisting. A third guard claims he arrived later and only saw Gaffney and Ross cuffing Murphy. Gaffney claims he didn't kick them, but Ross and Gaffney both claim they were self-inflicted.
Callie asks Ross if he has any tattoos so Kathleen interrupts to ask if the tattoo he has is reflected in the photo she slides across, which is of a skull with a military helmet on. He denies having the tattoo until Kathleen shows him a full-body image of Ross having the tattoo on his calf. A matching one is on Gaffney's calf, though he is more hesitant to answer. The third guard isn't sure if he's seen his co-workers with the tattoo. She asks Gaffney how many of the deputies have the same tattoo, but he claims it's just a brotherhood symbol. She asks if it's similar to the Aryan Brotherhood but Rothman and Gaffney's attorney cut her off. They ask her to either ask more questions about the incident or drop the questioning altogether. Kathleen asks if Gaffney and his deputy friends are members of the Headsman in which the beating of Jerod Murphy was an initiation. They end the interview and leave, with Marc asking her what that was about. She confronts him on handing out settlements to people instead of confronting the gangs inside the Sheriff's department which has led to the gangs beating inmates and intimidating other deputies like Fernandez - who she plans to flip. She also plans to confront Gaffney in court about the beating of Jerod Murphy being his initiation for a tattoo, drag in all his other deputy friends, and show their tattoos in court. Kathleen and Callie leave triumphantly.
Callie and Kathleen arrive with Rowan forwarding a message to Kathleen's office. Tony asks what Callie thinks but she isn't sure. Rowan asks about how last night went, with Callie claiming it was fine. Tony admits they didn't determine a winner and they agree to pull straws. Tony sits by Callie and asks if Jamie is just a deputy DA, so she admits that Jamie is her brother's brother-in-law and her ex. Tony realizes that was why she was flirting but she claims she wasn't. He isn't offended but thinks the way he marched over is her succeeding. Kathleen emerges to tell Callie they're dropping the charges and after the debate, they're offering a cash settlement for signing an NDA. Since it's a pro-bono case, Jerod will get all the money. Kathleen then proposes turning the office into a copy room. Callie sits down as Jamie texts asking if they can talk.
Callie meets Jamie at a bar. He doesn't want to be angry with her anymore and she apologizes again for hurting him. He doesn't understand how they got to where they am and neither does he. He thinks they are destined to run into one another and which is why he wants this to be over and amicable so they can each move on with their lives. He doesn't see them being friends but thinks they can be professional, which she agrees that she can be professional. She asks if that is all but he tells her that her boss Kathleen Gale is being investigated by the FBI as he wants her to be aware of what she might be getting into. Callie counters that he's trying to justify working at the DA's office by discrediting her boss so she'll doubt her judgment. He isn't trying to do that but she tells him that if he wants this to be over and amicable he needs to stop patronizing her as she is a big girl and doesn't need advice from him of all people. She leaves the bar while he watches in disbelief.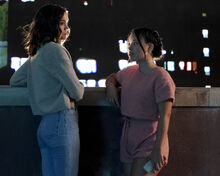 In
New Moon
, the group sits around a circle of candles and crystals as they take part in a cleansing ritual. Callie remembers Mariana asking if she still has feelings for Gael. In the present, Alice, Callie, Davia, Gael, and Mariana emerge on the roof and compliment the beautiful roof. From the balcony, Mariana and Callie discuss the ceremony since Mariana isn't thrilled with the idea. Claire texts Mariana to talk about Raj. She remembers collecting Raj's things to leave in a box on the kitchen table. She opens up to Callie about feeling sad about moving on from Raj, but even though she's happy with Evan she still loves Raj. Calle understands it's hard to let go. In the present, Mariana tells Callie about the text from Claire but Callie thinks it can wait. Malika collects everyone's phones which sparks Mariana to run out with her phone.
Davia asks Alice why she's staring at Callie, sparking Alice to remember her latest hook-up with Ruby still wanting to keep things casual. She remarks that it's fun, kisses Alice, and leaves. Callie enters a few moments later and asks if she's okay and wants to talk about what's bothering her. In the present, Alice confides in Davia that she's in love with Callie.
Malika lights sage to begin the ceremony by smudging themselves of negative energy. Mariana can't reach any of her Coterie members and panics over what it could be. Malika has everyone join hands so Callie whispers to Alice that she hopes she didn't make things awkward between them, but Alice assures her that isn't the case. As Malika explains the ceremony, Callie remembers kissing Gael and Mariana telling her that Gael might be the right guy all along. Malika tells everyone to write down their intentions, but Callie leaves to check on Mariana. She assures Alice she's fine on her own.
Callie searches for her sister and sees Raj's knocked-over box. The shadow of a creature flicks across the window and begins to make news, prompting her to investigate. She hears sniffing and eating from under the bed. Malika plans to burn the notes in a metal pot so Gael excuses himself to find a pan. Davia notes that they are both writing a lot of intentions and that's another thing Matt and Gael have in common. Callie looks under the bed and sees glowing eyes, causing her to scream and hide in a closet. She screams for help and he rushes to her aid worriedly. The creature makes noise so she pulls him into the closet and worries that it might get someone else, or that it already got Mariana.
Callie and Gael erupt from the closet covered in coats, hats, and scarves which surprises Davia and Matt. Gael instructs them to hide in their loft until they can trap the creature, which surprises Callie as she thought they were going to kill it. Davia reminds them they are in downtown LA not the wilderness so it might be a fat squirrel. They see a raccoon and everyone runs off. Callie walks around with a hanger in search of the raccoon and calls it a trash panda. She picks up a baseball bat instead. She hears rustling from Alice's room and bursts in which scares Alice and seconds later a raccoon makes noise behind them.
Alice emerges with softball gear and proposes trapping it in a laundry basket. Alice refuses to let Callie go alone as she can protect her too. Gael, Alice, and Callie leap into the dining room to capture the raccoon. The trio stalks the halls and finds the creature drinking a beer bottle. It retreats into the trash can so Gael flips it upside down to trap it, but it begins to move the can so Alice puts a pile of books on it. Kelly emerges to ask what is going on and scares everyone.
Animal control arrives but Callie, Alice, and Gael turn them away. Kelly emerges with a raccoon and thanks to them, but she needs to find Lucy. Malika, Dyonte, and Isaac dart through the Coterie screaming about the raccoon in the pool until they see Kelly holding the raccoon. Kelly is looking after the creatures for a traveling animal show and gives Ethel to Gael and Callie compliments that Ethel and Gael have the same eyes. Callie and Gael laugh over him using Mariana's heels to scare the raccoon. He compliments their teamwork skills which she agrees with. He remarks that it's fun having fun with her, which she agrees with. He then goes to bed while she stays up by the pool.
Alice sweeps up the remnants of the raccoon and Davia confronts her about loving Callie. Alice remembers Callie asking if she's okay and refusing. Callie is short on rent since there was a problem with her check but Alice assures her that it's okay she knows Callie is good for it. Alice lays back down when Callie leaves. Alice dreams about Callie kissing her. Davia analyzes the dream which could mean that Alice is tired of not being in the passenger seat but Alice is a bit skeptical that she might be in love with Callie, who overhears the conversation and confronts Davia when Alice goes to bed.
In Trust, Callie calls Ben to ask if he's still clerking for the federal appeals judge. He brings up her needing a favor and she asks him to use his connections with the judge to see if the FBI is investigating Kathleen. He agrees to see what he can do.
At the office, Kathleen signs for a stack of boxes and tells everyone that they have a new case; Tommy Sung, a 19-year-old high school star quarterback who had a pick of college scholarships until he is replaced by the backup quarterback and his best friend. A few days later, the friend is found at the bottom of a ravine, though the prosecutor's office believes the boy was hit over the head first. They go to trial in a week if she can't get a continuance. She instructs them to read the files in the boxes. Rowan remarks on how awesome their first case is, ready to get a photo of them with the boxes. He tells them to have fun with it even though Callie and Tony aren't thrilled.
Kathleen, Callie, Tony, and Rowan wait for DA Marc Rothman to arrive but he is accompanied by Jamie and Nicolette. Callie lags in handing the notice to Kathleen so Tony helps her sort the files as she slides it over to Nicolette. Kathleen tries to get a continuance but the last attorney delayed it eight months. DA Rothman isn't open to negotiating so the defense leaves.
Kathleen works late and Callie brings a draft of the continuance to her. She asks about Callie and Jamie's relationship to which Callie notes that they were too different. She warns Callie not to be rattled when Rothman puts Jamie on the case as he wants to rattle Callie and weaken Kathleen's flanks. Callie confronts her about being investigated by the FBI which doesn't surprise Kathleen as she's challenged many of their cases. She isn't surprised and hasn't been since her mother died. She remarks that today is her mother's birthday so she's having a pity party. She didn't pass recently but was only around Callie's age at the time her mom had a heart attack. Kathleen expects the worst and is only surprised when it doesn't happen. Callie sympathizes as she lost her mother in a car accident when she was ten. Kathleen notes that it explains her determination, grit, and lack of trust. They share that they were each too young to lose their mothers. Kathleen tells her to remember to rattle them right back.
Callie goes to her desk where she sees that Jamie follows her on Instagram. She posts a photo of her and Tony, cropping Rowan out of the photo. The next day, Kathleen wants to look at the witnesses and anything that could discredit them. Callie takes a phone call from Ben who has confirmed Kathleen is being investigated. He offers to look into it more but she feigned disinterest. After hanging up, she goes back into the room with Kathleen, Tony, and Rowan.
In Driver's Seat, The Coterie group plays a game that Kelly invented, with nearly everyone being confused. Gael compliments her on the game being specific, with help from Callie. Mariana tells Callie that she got their mom a candle of the month subscription, remembering Callie turning down all her ideas so Mariana lies that there was a pop-up sale. Tony arrives to check out the Coterie as he is picking up Callie for a real-life outing, which earns boos from Alice and Kelly.
In the car, Rowan, Tony, and Rowan all have different opinions on whether Tommy is guilty. Earlier in the day, the trio and Kathleen had met with Tommy and his parents to discuss the case. His father is adamant about not taking a plea deal as he is convinced his son is innocent, that he didn't hurt Zack. He admits to feeling angry about Zack taking his spot but was angry at himself, not Zack. Callie claims three people saw them arguing, with Tony saying they were "horsing around". Tommy claims he left the part around 11 for beer as he was with Katie. He wasn't there when Zack died. Callie pulls security footage that shows him at the party around 11:19, with a ten-minute drive to the liquor store. Rowan notes that the medical examiner puts the time of death at 11:25, which is when the monitor on Zack's wrist saw him flatlining. Tony notes that there are six minutes to spare, which is plenty of time to kill Zack. Kathleen reminds them that they don't have to prove innocence, just reasonable doubt. She tasks them with driving the route and timing it. It took ten minutes to drive to the store, a minute twenty to shop. Tony makes the cashier card them while Callie takes photos of the cameras and footage. Rowan buys a tic-tac box. The round-trip from the store to the place of death was nineteen minutes and 56 seconds plus two minutes in the story, for a total of roughly 22 minutes. Tony notes that is what the prosecution said which means they don't have a novel defense. They examine the party area and find the area where Zack died, with Rowan and Tony agreeing that there are plenty of rocks Tommy could have hit Zack with. Callie still isn't convinced. She remembers talking to Tommy in the office kitchen where she gets him water. He becomes emotional. In the present, she tells Tony that her intuition says he's innocent.
She attends Yuri's art gallery showing the next day, and Gael takes Callie a drink when he remembers bumping into Davia as they leave the Coterie. Callie is getting ready when Mariana enters and compliments her appearance. Davia wonders why Gael is playing coy but he just doesn't want to get hurt again nor does he know what she wants. Callie doesn't think he's interested anymore and if she's wrong, as Mariana points out, she'll keep a different shade in her purse. At the gallery, Callie and Gael complement each other as he admits there are a ton of important people there. Callie tells him to go introduce himself as Yuri walks over. He calls one of the influencers to meet Gael.
Callie reapplies her lipstick as Gael brings her a bottle of wine to celebrate by the pool. He is excited about all the artists he met that night. He's surprised Yuri was so effusive after the meltdown, so Gael is planning to get Yuri to see his work so he can get a letter of recommendation and have a show. He apologizes for abandoning Callie all night but she assures him that it's fine. He remembers seeing Callie and Yuri together at the showcase. Yuri approaches Gael later and compliments Callie, and after ensuring that Gael isn't interested in her, Yuri asks permission to get Callie's number. Gael tells Callie that Yuri wanted his number and she asks if he would be okay with her dating his boss, to which he claims that if that's what she wants he wouldn't want to stand in the way. She tells him that she's not interested in dating with the hectic nature of work. She then leaves to finish some work. They hug goodnight as she goes back to her apartment.
She is working when Mariana arrives guessing that things didn't go well with Callie and Gael. Mariana suggests that Gael is playing it cool but Callie isn't sure, but she has to get work done or Tommy will go to prison. Callie asks about her date with Alice, which Mariana remarks were fun. She remembers telling Alice that if she wants to be in the driver's seat, she has to stand up for herself and not play games. Alice knows she's right and remarks on how great Mariana is at this, to which Mariana admits that she isn't always that way and there is a relationship she feels like the passenger in.
Mariana tells Callie she lied about the candle of the month present being on sale because Callie is always in the driver's seat and shoots down her ideas. Callie notes that mom wouldn't have liked any of them, but Mariana is annoyed by this. Their fight escalates to Callie pointing out that Mariana chose LA, The Coterie, their furniture, without consulting. Mariana thinks that lying is the only way she can get what she wants because Callie makes her feel like her opinion isn't valid. Callie quips back that when Mariana lies she feels like she can't trust her. Mariana wants them to be a team that compromises, and they promise to try and work on their ideas. Mariana states that the candles are amazing and mom will love them. Callie laughs at this, but when Mariana asks her the time Callie realizes the final piece of their novel defense.
Callie shows the timestamps to Kathleen, pointing out that the security footage in the store is five minutes slow, meaning that Tommy was in the liquor store longer than they thought and wouldn't have gotten back to the party in time to kill Zack. Kathleen congrats on being amazing.
She is working late when Tony arrives with liquor and glasses to celebrate her saving the day. He's impressed by her work today. Gael paces his loft. Tony asks Callie if something is going on between her and Jamie, to which she notes that it's over as she doesn't want to think about him or anyone else. He's okay with that. Gael texts a "you up?" message to Callie, who is kissing Tony in the office.
In She's Back, Mariana admits she didn't think through the situation which Callie thinks is very on-brand for her. Mariana doesn't think that she should tell the Byte Club girls about her and Evan even if they do sell the pitch, as she doesn't think they'll be accepting; they resent, dislike, and distrust him. Callie reminds her that she can't keep her relationship a secret forever. Mariana asks about the court case and learns that Kathleen is presenting Callie's novel defense argument in the hopes of getting a continuance. They wish one another luck as Callie leaves. She boards the elevator as Gael arrives and she opens it for him.
In the elevator, Callie tells Gael that she texted him back, to which he lies that he fell asleep and figured out what he wanted to talk about. She asks what his plans are today to which he remarks that he's quitting his internship.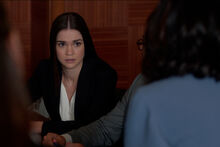 Kathleen, Callie, Tony, and Rowan arrive at the courthouse. Jamie, Nicolette, and DA Rothman are already seated. The defense takes a seat and the judge is ready for them to present. FBI agents arrive to arrest Kathleen Gael. Kathleen tells Callie to make the argument and convinces her she can do it. Kathleen waves her rights and leaves with the agents. The judge asks how the defense would like to proceed, with Callie standing to present the argument for the defense. Rothman tells Jamie to take the counter for this one, and Jamie stands to respond for the prosecution.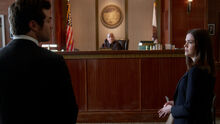 Callie presents her case about the time stamp on the security footage being five minutes slow, and Jamie objects as the equipment might have changed or someone tampered with it. Callie presents a signed affidavit saying it's the same as it was the night of the murder. Jamie argues that their case doesn't depend solely on the timeline as they have a motive, eyewitnesses, and Callie attempts to plead her case in defense of her client though Jamie cuts her off. She abruptly tells him that she's speaking, a statement that silences the courtroom. Callie continues to present her case. Jamie asks if she's finished and she mutters that's she's probably not. He points out that it's another stall tactic while Callie rebuttals that her client deserves a fair trial. The judge grants a two-week continuance.
Callie, Rowan, and Tony leave the court with her plan to wait for Kathleen's instructions. Jamie calls Callie over and she excuses Tony and Rowan to meet with him. Jamie assures her that Rothman assigned him to the rebuttal but Callie is fine with it as she knows Rothman is just trying to get under her skin. He doesn't believe that Rothman knows that Callie is his ex, but she tells him to think about it as he just started at the DA's office and wouldn't normally be working a murder case. As she walks away, Jamie calls her back to tell her that Kathleen is in serious trouble. She isn't interested and leaves.
She arrives at work to find things ransacked since the FBI was there. They haven't heard from Kathleen yet. Callie gets a text from Gael about wanting to talk about them. Tony asks if everything is okay, reminding her of them making out and her cutting it off before anything happens. In the present, she tells him that everything is fine. She goes to Gael's loft and Isabella is there too. He tells her that they should talk later, so Callie leaves. She gets a call from Kathleen that she answers. She meets Kathleen at the office as Kathleen wants her to be her lawyer.
Callie met with Jamie before seeing Kathleen, as she wants to know the truth about why the FBI is investigating Kathleen. He remarks that the official report is for witness tampering, but unofficially, she was representing a major player in the Chinese mob, Albert Chen. Jamie explains that Albert was wanted for money laundering and racketeering and it looked like Kathleen was going to get him off until she learned Albert's wife was going to testify against him. The wife disappeared and the case fell apart. Callie is confused about what that has to do with Kathleen, to which he explains the FBI thinks she was complicit in the disappearance. Callie presses what that means so Jamie admits that they believe the wife was murdered and that Kathleen knows where the body is buried. He doesn't want to see Callie get hurt.
Callie tells Kathleen that she knows what the FBI is charging her with and asks if she had something to do with it. Kathleen asks if she's her lawyer, so Callie takes a seat. Kathleen admits that she did have something to do with it.
She returns to The Coterie where Gael apologizes to Callie about Isabella being in his loft as he wasn't expecting her. Callie asks why she was there and he admits that Isabella told him that she's pregnant with his baby. She's keeping it and he can't let her do this alone. They exchange a very emotional look.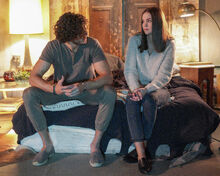 In
Knocked Down
, Callie and Gael discuss Isabella being pregnant. He doesn't want her to do this alone. She didn't know they were together but he explains that it was just a one-night stand. She understands, as he's doing the right thing, which is what she loves about him. She's there for him if he needs her as a friend or babysitter. He admits that he doesn't want to be just friends. He knows things are complicated but she kisses him before he can finish. She's used to things being complicated.
Callie arrives at work the next morning to a cold greeting by Tony and Rowan, who are in the dark about Kathleen's situation with the FBI. They question Callie about it but she lies that she doesn't know anything. The other night, she questioned Kathleen about the disappearance of the witness. Her client, Albert Chen, had a source within the FBI that informed him that his wife Denise planned to testify against him. He wasn't going to let that happen. Knowing the company he kept, Kathleen was worried for Denise's safety and tipped her off, so Denise ran. She couldn't tell anyone without breaking attorney-client privilege as he didn't explicitly say he intended to harm her. She couldn't trust the FBI as there was a bad apple on the inside which would have put her life in danger. She hasn't been charged as the FBI doesn't have proof. They are trying to scare Kathleen into giving them something on Chen. Callie questions why Kathleen hired her, but it's because she trusts her.
Rowan worries that Kathleen will close the shop but Callie knows they can still try the murder case if she has been. Kathleen waltzes in and delivers a speech on getting their client off of the murder case by saying it's an accident instead of a murder. She asks about her scone and latte.
Kathleen details that the prosecution is saying that Tommy hit Zack on the back of the head with a rock. Tony calls out that the rock didn't have prints, with Callie asking if that's even possible. Rowan counters that they can as there is a new technology that might be able to do it. Kathleen reminds Rowan to only ask questions he knows the answer to. She's worried that the new tech could link the rock to Tommy. The FBI agents arrive with questions for Kathleen.
The previous night, Callie wonders what she and Kathleen should tell Tony and Rowan about the lawsuit, as well as Callie representing her. Kathleen doesn't think they have anything to worry about. The boys don't even have to know.
Kathleen declares that she needs her lawyer present and calls for Callie. She exchanges a nervous look with the guys before leaving to join Kathleen.
Callie talks to the FBI agents and counters everything they throw at her. They ask if she had anything to do with the disappearance of Denise Chen. Callie advises her client not to answer any more questions, and if they show up unannounced again, she will file a complaint. As they leave, the agent asks why Kathleen is representing Chen's nephew in the murder trial. When the agents leave, Callie questions Kathleen about the relationship.
Kathleen closes her office door to tell the full story to Callie. Tommy is Denise's niece, so Kathleen asked Ken, Tommy's father, and Denise's brother if he knew where Denise was. If she could offer proof of life the FBI case would go away. But he refused unless she took his son's case. Callie asks why she didn't tell her, but Kathleen didn't want it to affect her view of Tommy's case. She isn't thrilled about the coercion but Tommy does deserve the best defense. Plus, she doesn't think he did that. Callie reminds Kathleen that she took the case out of trust and asks if there's anything else she hasn't told her. Kathleen promises Scout's honor that she's told Callie everything. Callie asks what she should tell the boys about representing the FBI case. Kathleen and Callie leave the office to tell them she chose Callie for reasons that are none of their business. She tells them not to worry as she loves them all the same. Dr. Mikkelsen, the accident expert, calls and Kathleen offers to take it in her office. Tony questions Callie on knowing everything. He applauds her poker face and they ask about the case but she can't tell them as it's privileged. The boys mention that Kathleen does have a favorite.
Callie and Mariana talk on the phone with her knowing that if Mariana does this she might lose Evan. Mariana knows but tells Callie that she's decided to choose her friends instead of Evan. Callie thinks she's doing the right thing and is proud.
That night, Callie tries to pose sexily on Gael's bed, but Isabella walks in with Gael as she does. Callie sits up hurriedly and covers herself with the blanket. Once alone, Gael tells Callie that Isabella doesn't have anyone so he invited her to live in his pool loft. He explains that whether or not the baby is his, Isabella needs someone. She understands and calls him a good guy. Gael reveals that Isabella brought up the paternity test which she thinks is good. He apologies for it being complicated but she doesn't mind it with the right person. She kisses him happily.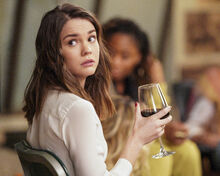 In
Shame
, Gael gathers the Coterie group to tell them Isabella is back. He lies that she's just looking for a job until she can get on her feet. He will stay with Dennis and pay the roommate fees. He asks them to refrain from the usual gossip and treat Isabella nicely. When he's gone, Kelly remarks that this will be hard for the tea spillers. Mariana asks Callie if she knew already and she did. Davia isn't okay with it and learns that Dennis already knew.
Mariana prepares for her job hunt which Callie thinks is exciting. Mariana is mad that the Fight Club Girls kicked her out after she helped them. Callie offers to cover her rent for the month, but Mariana assures her it's fine. Callie is texting Gael to meet up for lunch, and Mariana offers to make herself scarce that afternoon which Callie appreciates. She's okay with the situation because he's a nice guy. Mariana doesn't trust Isabella and knows that won't change.
Callie, Tony, Kathleen, and Rowan trek to the crime scene to meet their specialist. Dr. Mickelson watches the mock-up of what might have happened. Kathleen argues that the victim, Tony in the pretend scenario, lost his balance and fell off the cliff. She explains what she thinks happened. As the victim fell over backward he hit his head hard on the rock, dislodged it, which is why it rolled down the hill. Dr. Mickelson asks about the prosecution arguing that the perpetrator hit the victim from behind, the victim turned around and was pushed down the hill with the rock being thrown after him. Dr. Mickelson thinks Kathleen's theory is unlikely but anything is possible. Tony and Rowan try to get a dummy to get the rock to dislodge it while Callie holds the camera. She breaks her heel trying to get out of the way, making the boys laugh.
Tony and Rowan throw the dummy down the hill several times while Callie asks Mariana to drop off a change of shoes. The men throw the dummy down on his front and he hits the rock, but Callie wasn't recording as the men didn't say ready.
Callie and the group return to the office when Callie finds Mariana answering messages. When Mariana came to the office no one was there and the phone was ringing. She answered it and took messages as they flooded in. When Kathleen entered, Mariana gave her the messages and handed over the messages. Kathleen offers her a job on the spot. Mariana tells Callie about the job.
The sisters talk in the office as Mariana explains that she can't be her old self anymore. She can't handle it anymore and knows she's to blame for the Fight Club and needs to change. But she needs a break from the tech world. She thinks it'll be fun to work together. Callie introduces Mariana to Tony and Rowan. The boys make more passive-aggressive remarks which make Callie snap. She didn't ask to be Kathleen's lawyer and think she was asked because the boys only care about kissing her ass with lattes and scones instead of doing the work. Tony thinks that's fair enough but tells her not to pretend she doesn't like being the teacher's pet or the center of attention. Mariana remarks that Callie does as she was always the center of attention growing up. Callie gives her a pointed look so Mariana stops talking. Kathleen enters with a discovery from the prosecution that says a beer bottle near the drop point has Tommy's prints on it. They claim it was forgotten from the evidence list. Callie is called aside by Kathleen while Mariana delightfully remarks that this is fun.
That night, Gael calls another Coterie meeting to tell them the truth about the pregnancy. Callie assures Isabella that she's always welcomed there. Mariana whispers to Callie that she knew about Isabella's pregnancy, and knew that Callie knew, but didn't say anything because she's the new Mariana now. The meeting ends in a massive group hug.
In "Making a Metamour", Callie and Gael are having shower sex when Isabella runs into the bathroom to vomit. Callie tells Gael to check on Isabella, and he does. Isabella has morning sickness, so Gael offers her ginger tea which she accepts. Isabella asks if Gael is going to turn off the water in the shower. Callie does, and Isabella awkwardly realizes what she interrupted. She tells Gael to finish his shower, but he shrugs it off and leaves. Once Gael is gone, Isabella whispers an apology through the shower curtain. Callie, mortified, puts her head in her hands.
At work, Kathleen plans to have Dr. Mickelson prepare a computer simulation of the fall since Callie, Tony, and Rowan failed to get the fall recorded on camera. They have to prove reasonable doubt. Mariana interrupts since DA Adler is on the line, so Kathleen tells her to take a message. Kathleen refocuses as they have to figure out the beer bottle near the crime scene that had Tommy's fingerprints on it. Mariana interrupts again, so Kathleen tells her to keep taking messages. She invites Mariana into the room to answers the phones. The lawyers are interviewing teenagers who need to reissue their statements to the police since they saw Tommy and Zack fighting at the party.
The trio begins their interviews as they try to dissuade one of the teens from saying that Tommy and Zack were fighting. Mariana tells Callie to ask the kid if he was high that night as she believes the kid is a stoner. When Callie asks the teen if he was intoxicated that night, he claims he didn't smoke or drink. Callie asks if Zack was a big drinker since it wouldn't be a surprise to anyone if Zack had fallen if Zack was a big drinker. Another teen confirms that Zack was a heavy drinker but he wasn't sloppy. Mariana texts Callie again as she thinks the teen uses steroids. Callie asks if anyone had a problem with Zack, but another teen notes that Tommy was devastated when their coach replaced him with Zack as starting quarterback. They were gearing up for starting the season so anyone would have been upset. Kathleen is trying to prove the police made a rushed arrest, but everyone says that Zack was well-liked. The trio interviews Tommy's girlfriend, Katie, who is Tommy's alibi. They need her to confirm he couldn't hurt anyone. She didn't see the fight between Tommy and Zack as they were always doing things like that but it wasn't serious. Tony asks if anyone else had a problem with Zack, but she avoids the question. Callie asks if anything unusual happened but Katie is sure it was an accident. Mariana texts again, telling Callie that Kate's tears are fake.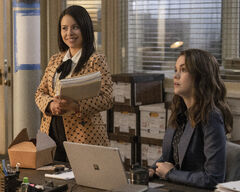 Mariana is sure that Katie is sketchy, but Tony asks about the fake tears. Mariana begins to swell up and cries fake tears. Callie notes that Mariana is proving a point. Mariana asks if Tommy will go to jail or juvie, with Tony answering that he would go to juvie. Mariana blurts out that Callie can attest to how scary juvie is. Callie tries to make her leave by asking about the phones, but Mariana programmed a boarding system for the calls. Callie gives Mariana a pile of files to file for her. Rowan and Tony ask about Callie being in juvie. Mariana once again says that Callie was in juvie twice and is a badass as she took a baseball bat to her foster father's car. The men want to nickname her Criminal Callie, but Callie notes there were extenuating circumstances. A man named Charles arrives to meet with Kathleen, and Tony explains that Charles Sokolov is one of the name partners at the old firm. Rowan adds that an unsubstantiated rumor was that Kathleen and Charles dated.
Kathleen asks the lawyers what happened with the interviews, but everyone stuck to their original story. Kathleen tells them to apologize to Tommy, who is about to spend the rest of his life in prison. She chews them out for not getting the kids to change their stories. She wants them to exploit something or find something else. Callie visits Kathleen, who knows her outburst was in poor taste. She admits that Tommy's fate is tied to the firms as Ken Sung refuses to tell Kathleen where his sister is if Tommy's charges aren't dropped. Kathleen cant tell the FBI as she would still get in trouble or disbarred since she tampered with a witness. Callie asks if this is why Charles stopped by. Kathleen lies to Callie that Charles' visit had nothing to do with the FBI. Callie doesn't believe her, but Kathleen keeps to her story. Kathleen likes how much she's rubbing off on Callie.
The sisters work together to scroll through the teenager's profiles. Callie thinks she and Mariana are old as they have to pay taxes now. She is incredulous over when she got this old. Mariana doesn't think they are old, even if Callie acts old sometimes. They find a comment with a hashtag that Callie's not familiar with, and their interest is piqued when Mariana finds the hashtag on Katie's photo too. She searches it and discovers that the associated account is private. Izzy follows the Instagram account, but not Kate. Mariana thinks it could be Katie's alternative Instagram account. Mariana suggests asking Izzy about the Instagram account to see what she knows.
The next morning, Callie and Mariana interview Izzy, but she wasn't at the party that night. They wanted to ask her about Tommy and Zack's friendship. Rowan and Tony wonder what the "Sleuthing Sisters are up to. Callie asks Izzy how Katie felt about Zack and Tommy spending so much time together. Mariana asks Callie if she remembers her ex-boyfriend Brad, joking that he was always hanging around with the guys and should have put down the Red Bull and Axe body spray. Izzy laughs and begins to relax.
Callie and Mariana walk up the Coterie steps as Callie frets over being late for work. Mariana notes she has an appointment with the love doctor. Mariana takes Callie to the roof, where Isabella has planned a breakfast for Callie and Gael to spend time together. Once alone, Callie and Gael kiss, but Callie wants to talk first over breakfast. Gael talks about going back to work with Yuri to pain but is annoyed Gael is on invite duty. Callie tells him to be confident. Gael thinks they should talk more as it's nice. Instead, they go into his loft, where they kiss and have sex.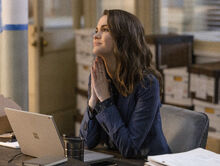 Kathleen asks the associates to tell her something she doesn't know. Callie notes that after scouring the student's Instagram. They all discovered that Katie and Zack didn't follow each other, so they brought in a friend of Katie's who admitted that Katie was over the relationship. Izzy admits this to Callie and Mariana, but also that Katie wanted to go to a movie and not the party. But Tommy always did what Zack wanted. Katie wasn't Zack's biggest fan but she didn't hate him. Izzy claims she didn't talk to Katie since graduation. Mariana asks about the hashtag in the recent photo tagging - #2LDRZAS. Izzy lies that she doesn't know what it means. She doesn't get how this helps Tommy and asks to leave.
Callie tells Kathleen that they can get Izzy to follow Mariana on Insta; Mariana created a fake account called @CaturdayNightLive since Izzy loves cats. The boys chuckle and compliment the cleverness of the accounts handle. Mariana is waiting for her to accept her request. She hopes the account has photos from the party. Kathleen tells them they did great work. Tony is curious if they are going to blame Katie. Kathleen notes that they will if she has means and opportunity. Tony thanks the sisters for having his and Tony's backs. Mariana notices that Katie accepted the following request on her Finsta. They find a photo of Katie not being happy on the night of September 3rd, but Katie deletes her Finsta before they can see anything else. Izzie must have tipped her off, so now they don't have anything. Tony asks who's going to tell Kathleen.
In "Picks and Strikes",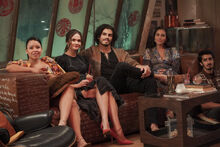 In "
Lunar New Year
", The Coterie Group gathers for drinks while Gael monitors Isabella's water intake. She has 48 more ounces to go, which Mariana notes are a lot of water. Kelly notes that their baby will be born in the year of the Ox; they'll be earnest and honest like this crowd. Earlier, Callie asked Gael about the parenting class as they cleaned the bathrooms. Gael answers a call from Jazmin and asks to call her back. Callie asks if everything is okay and he excuses himself to leave. Now, Callie asks Gael to elaborate on the pregnant women needing more water. He offers a refill which Callie says yes to but he takes Isabella's instead. Callie then takes Mariana's drink and downs it.
In her room with Mariana, Callie vents to Mariana about Isabella being capable enough to track her hydration without Gael's help. She doesn't get why Gael is acting weird and that he might be rethinking their relationship. Mariana wonders if he worries she's overwhelmed, but Callie hasn't said anything about it. Mariana admits to Callie that she told Gael to dial back the baby talk. Callie is horrified and asks why she did that. The other night, Callie talked about Gael and Isabella taking parenting classes. Mariana can't believe they're doing it together. Callie thinks it's the right thing to do even if it is going quickly. Mariana notes that it must be hard and Callie admits that it is, but if Gael told her less it might be easier. Now, Mariana admits that's why she told Gael because Callie told her. Callie vehemently states that she told Mariana that not Gael for a reason. Mariana wants her to be honest. She doesn't know what she wants to know. Callie takes another drink as she needs to unwind and not have Mariana monitor her either.
As the night passes, Callie vents to Kelly about things being hard between her and Gael as they can't find alone time. Kelly tells her the solution is obvious. Callie calls a group meeting to talk about their living situation problem. She has a proposition that will solve everything, though no one realized there was a problem. Callie happily says that Isabella will move in with Mariana, Gael will move back to his loft, and she will move in with him. The trio hesitantly agrees as Callie giggles to drink more. Later, Callie attends the Lunar New Year celebration and listens to Alice's father tell the stories behind the sacred holiday.
The next morning, Callie rushes into the bathroom to vomit. Isabella asks if she's okay and Callie states she had too much to drink. Isabella is just hiding from Gael as he's smothering her. Callie noticed that and they chuckled. Isabella asks if she wants to start the move today or tomorrow. Callie looks at her incredulously. She calls another meeting with Gael and Isabella to tell him that she isn't ready to move in together. But she doesn't want to spend more time together. Isabella wants less time with him as she's feelings mothered. She appreciates it but there is a time when she needs him to be that guy, but not now. He apologizes as he didn't mean to smother her. He hears them both. Isabella thinks she should stay with Mariana a few nights a week so Callie and Gael can hang in his loft together. She's craving a bacon and cheese sandwich anyway, and Gael starts to critique her choice but stops instead, telling her it's a good idea. With Isabella gone, Callie tells Gael that she knows Mariana told her about the baby talk. She admits it's hard to hear about it but it's worse when he holds back. She asked if the call with Jazmin was about the baby and it was. He was trying to protect her feelings. She asks what's going on.
Callie lays in bed with Mariana to tell her she isn't moving out and did take her advice to talk with Gael. Flashing sideways, Gael and Jazmin were talking about how to tell their parents about the baby. He knew they would want to meet Isabella and it felt weird for them to meet her before meeting Callie. He doesn't know how to introduce them both. She understands and doesn't think there's a rush for them to meet her. They should meet Isabella first. He wants her to be honest. She admits it hurts a little but she's sure.
Now, Mariana thinks it's good she was honest. She warns that they won't have a happy ending in every problem in their relationship. Callie wonders when her sister got so wise, to which Mariana retorts this is the new Mariana. The one Callie should have listened to when she told Callie to drink water and not whiskey. Callie admits he was right which thrills Mariana, who makes her say it again. She wants to record it and send it to their moms as video proof. Callie obliges and records the saying. Mariana is thrilled.
In "Opening Statements", Callie and Mariana walk downtown as Mariana complains that there's nothing for her to do at the office. She wants to be in court but Callie tells her to just supervise the painter. Mariana is a little paranoid about the murder case. They bump into Raj and Claire who are holding hands. Claire says things are going great. However, at Bulk Beauty, Claire and the team are falling apart. They can't find product partners and focus on writing code. Now, Claire lies that they have more brands signing up than they can handle. Mariana states she's working at Callie's law firm doing a lot, even though she lays around most of the time. She stacks office supplies and plays in the copy room. The groups say goodbye with Callie questioning Mariana, who spirals that all she's capable of is answering phone calls.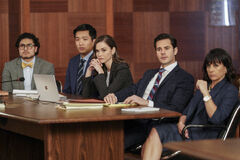 Before the case, Kathleen explains the purpose of opening statements to Tony, Callie, and Rowan. It's when jurors often make up their minds about a case. They pick the side that paints the best story, which is why the prosecution will start with an emotional one-sentence theme to grab their attention. Sure enough in court, Rotham states the case is about competition, jealousy, and the loss of a college scholarship that ended in a grisly murder. Flashing sideways, Kathleen lays out what happens next; a riveting story about the case that makes the jury sit on the edge of their seats. They want the jury to feel like they were. Rothman does just that as he paints the picture that the victim, Zack, yanked away Tommy's hopes and dreams of being a star quarterback. Rothman paints a picture and then the horror of the crime. He paints Tommy as an apathetic criminal. He plans to have his witnesses prove his version of events alongside the fingerprinted beer bottle that was found near the crime scene. He tells them to make sure Tommy Sung pays for the death of his friend. He states that while Zack was bleeding to death, Tommy went on a beer run. Tony realizes that Rothman just changed their timeline, and Callie confirms his suspicions. She remembers telling Kathleen about the video store's timestamps being five minutes slow. In the present, Tommy asks Kathleen what their defense is now that the prosecution has changed the timeline. Kathleen assures him that it's the same as it always was. The judge declares a short recess before the defense delivers their statement. Callie assures Tommy that he'll be okay, and is watched by Jamie and Nicolette.
When court dismisses, Callie talks to Jamie about changing his timeline. Jamie clarifies that the medical examiner never said Zack died instantly, so Tommy had time to make a beer run after the murder while Zack died a minute after Tommy returned. Callie calls Rothman out on selling the landscaping of that night, with Jamie chuckling over the line. He states that the jury seemed pretty engaged to him. Callie retorts that Rothman isn't nearly as good as Kathleen when it comes to putting on a show. In a patronizing and sympathetic tone, Jamie realizes Callie is still under Kathleen's spell. He asks if she's heard from the FBI lately, but she hasn't, which means the FBI doesn't have a case. She sees Nicolette approaching and snips that she keeps Jamie on a tight leash. Callie leaves and Nicolette arrives.
Mariana vents to the painter over changing her occupation just as Callie texts her asking her to bring the team coffees. Mariana is enthusiastic about leaving. She stops at the coffee shop and gets the coffees, but notices the names on the cups are those of the Byte Club girls. She turns around and is shocked to see the girls behind her. Flashing backward, Callie got a text from Raj after she and Mariana ran into Raj and Claire. Raj tells Callie that BB is not working without Mariana. Callie admits that Mariana is miserable too. Now, Mariana realizes they've been set up.
At The Coterie, Callie comes in to find Mariana eating hazelnut spread out of the jar. Her meeting with the Fight Club went terribly. In the present, Callie apologizes as Raj said they needed her. Mariana thinks this was Callie's way of telling her she didn't want to work with Mariana either. Callie can see that Mariana is miserable. Mariana knows the girls are done with her and didn't offer her the job. Callie thinks she should ask for the job, though Mariana doesn't want to be demoted from partner to employee. Callie thinks it is the only way to prove she's changed or get friends back. Mariana wants that so Callie tells her to humble herself, as being a coder at BB is better than not being at BB at all.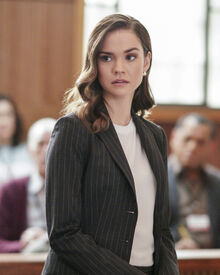 In court the next day, the judge tells the prosecution to call their next witness. They call Christian Matthews to the stand. The teenager walks in and gives Callie a smile as he takes a seat. Rothman tells Jamie to take this one. Jamie asks Christian if he was drinking or smoking that night. Christian was sober that night and saw the fight. They weren't just horsing around. Kathleen tells Callie to take this one as she thinks Christian likes Callie. The two lawyers pass on another as they leave the floor. Callie asks Christian how close he was with Tommy and Zack. They weren't friends and she asks if she's sure it was a serious fight. Christian chuckles that he's seen the video a bunch of times and it looks pretty serious to him. This gets the entire courtroom's attention as the idea of a video was never mentioned previously. Callie asks him what video he's talking about and it's the one Christian took that night. Jamie didn't know about either, but Rothman just smiles triumphantly. Kathleen and Rothman approach the bench at her request. Kathleen accuses Rothman of withholding evidence. He denies it but notes that the defense opened the door for the video so now that jury has the right to see it. Kathleen wants to authenticate first and the judge agrees. He clears the court so they can see the video before the jury does.
The court watches the video between Tommy and Zack. Tommy shoves Zack and shouts that he trusted Zack. They tussle as Zack tells Tommy to go home. They continue to scuffle on the film while Rothman smiles. The video ends just as Tommy throws a punch at Zack. Kathleen states it is improperly admitted evidence. Rothman counters that it came from witness testimony. The judge will take it under consideration and rule tomorrow. But he's inclined to let it in. Tommy leaves the courtroom upset. Kathleen will lose all credibility and the case if this video gets in.
Callie confronts Jamie outside. He didn't know about the video but she snaps that him not knowing is his go-to line. She finds it hard to believe that he's so in the dark about what's happening on his team. He admits he's naïve but she knew the witnesses were going to testify and walked right into the trap. She points out that he admits it was a trap. She then snaps that considering his ethical fluidity, he's landed the right job. She then storms away from him.
In "Anticipation", at the Law Office of Kathleen Gale, Kathleen, Callie, Rowan, Tony, and Tommy, watch the video. Kathleen knows they're screwed if the jury gets to see the video - because he lied to them. Tommy was afraid to tell the truth. Kathleen can work with the truth but not the lies. Tommy admits the fight was about Katie as they were supposed to see a movie that night. When Zack texted about the party, Tommy wanted to go but Katie didn't. She flirted with Zack to piss off Tommy and it worked. Kathleen tells him to be completely honest with her. He promises there's nothing else but she doesn't know if she can keep the video out.
Callie texts Gael and learns that his parents want to meet Isabella. She wishes him good luck and takes the files to Callie. She couldn't find any precedent to dismiss the video since it's clear Tommy lied. Kathleen tells her that most of the people she represents as a defense lawyer will be guilty of something. Callie asks what happens if Tommy did kill Zack as the parents deserve justice. Kathleen doesn't think that's their concern as their job is to make sure the people they defend have due process. She finds it admirable that Callie wants to believe in the people she cares about but everyone will disappoint her at some point. Good people do bad things sometimes, but that doesn't make them irredeemable. Even if the video does get in they will hopefully make the jury see that just because Tommy lied about the fight he isn't a murderer.
That night at The Coterie, Mariana solemnly tells Callie that she got the girls their first brand today but they barely thanked her. She doesn't think they'll ever give her another chance. Callie tells her to be patient and redeem herself. Callie's day wasn't great either. She sees a letter on her bed and opens it. It's an arrest record for the witness who blindsided the defense with the video. It's for the sale of drugs and the record was expunged.
At court, Judge Martinez is ready to rule when Kathleen stands to interject as new information has come to life. She believes the prosecution cut a deal with Christian Matthews to keep the video a secret until he was on the stand. Rothman objects vehemently.
Last night, Callie and Mariana theorized over who sent the records since it had to be someone at the DA's office. They're the only ones who would have access to an expunged record. Mariana thinks it was Jamie, as anyone else could have sent it straight to the office instead.
Now, Kathleen empties her theory to the judge; the DA's office brokered a deal for Christian to keep the video a secret until the defense learned of it on the stand, in exchange for them getting rid of the drug dealing charge. The pair begin to argue and the judge reminds them of the severity of the charges. Kathleen needs proof but Kathleen notes that the information was anonymous. Jamie wants to address the court and Nicolette questions what he's doing. Jamie takes the front of the court while everyone watches. Jamie notes that the allegations are a desperate low blow as they would have found the video themselves if they did their due diligence. If Kathleen can offer any proof besides anonymous allegations, the judge should allow it into evidence. Kathleen wants to ask Cristian on the stand if he made a deal. Judge Martinez agrees to allow this. Rothman doesn't want to delay so in the interest of expediency he agrees to drop the video. The Judge accepts it but will not indulge any dirty tricks in these proceedings. The defense celebrates while Callie watches Jamie.
Callie talks to Jamie after the court is no longer in session, asking if he still thinks he's on the right side. He still thinks Tommy did it but she thought he was having a crisis of conscience. She remembers their talk. He has the same look on his face now but she lies that it was nothing. Kathleen asks Callie if she thinks he's the one who slipped the arrest record to her but she isn't sure. Kathleen notes that Callie still believes in Jamie which means she must still care about him.
That night in Gael's loft, he talks to Callie about how well the meeting went as they were a family again with Jazmin's acceptance. The baby is what they needed to bring everyone together. She's happy for him and they kiss, just as Mrs. Martinez enters unannounced. She came to give Isabella a gift and can see that Isabella isn't there. Gael introduced his mom to Callie - his girlfriend.
In "Blindside", The Coterie residents prepare for another day as they care for the children that stayed the night. Callie tells Malika she's going to the courthouse to get Yvonne's community service hours fixed since she was arrested due to a clerical error. Isabella teaches the youngest boy to tie his shoes while Gael helps. Callie watches and remembers meeting Gael's mom. She is polite to Mrs. Martinez and smiles. When Isabella arrives Mrs. Martinez is ecstatic and tells Isabella to call her Adriana. This is an offer she doesn't extend to Callie. Isabella offers to come back but Adriana came to see her as she had a gift for the baby. Now, Mariana asks Callie if she's okay but Callie brushes her off and leaves.
Rowan, Tony, and Callie gather as Kathleen announces that Rothman is calling Katie to the stand. They think the prosecution will add a jealous boyfriend to the motive since Katie and Zack flirted that night. They wonder which one of their witnesses talked and land on Izzie. Callie is instructed to call her in as they can't be blindsided again and have to know everything the prosecution knows.
Callie goes to the DA's office when she bumps into Jamie who asks why she's there. She notes that she has other clients but did hear he's planning to call Katie tomorrow. She asks for a preview but he doesn't want to give up any more spoilers. Callie thinks Tommy deserves a fair trial while his boss doesn't want that, which Jamie agrees. He admits that he's wondering if criminal law is the best fit for him. He doesn't miss the corporate crusades either and doesn't know where he fits in. She knows the feeling as she doesn't remember when she wanted to do this. He does and reminds her she wanted to challenge the systems that oppress people and work for the ACLU. She realizes she's lost sight of her dreams and he thinks they both have. She has to get to the office to prepare for his team's tricks.
In court, Kathleen talks to Katie about the night of the party. Flashing sideways, Kathleen and Callie talk to Izzie about what happened between Katie and Tommy. Now, Kathleen asks Katie if she hated Zack and asks if the Instagram account is hers. She asks what the hashtag 2LDRZAS stands for. Flashing sideways, Callie asks Izzie the same question and learns that it stands for "too long didn't read, Zack actually sucks". In court, Katie calls it a joke so Kathleen asks if a picture of Tommy, Zack, and Katie with Zack's face crossed out with the hashtag "Wish He Was Dead" is a a joke. Kathleen asks if Katie sent that to Izzie shortly before she sent Tommy on a beer run and Zack wandered over to the drop-off. Rothman objects as he needs to authenticate the image. Kathleen retorts that Katie already confirmed it came from her Instagram account. The judge allows it for that reason. Katie says she was joking because she was upset. Kathleen presses Katie and means and opportunity that night. The judge sustains but Katie blurts out that Tommy and Zack were hooking up but Zack broke up with him at the party and that's what they were fighting about. Zack's father has an outburst of anger that what Katie said is a lie as his son was killed by Tommy Sung because Zack replaced him on the football team. He shouts that his son wasn't gay. The judge calls for order as Callie looks at Tommy.
Gael is drinking wine at a restaurant when Callie arrives a little late due to the hell at the trial. She can't go into it without her head exploding. She doesn't want to reschedule and wants to focus on them. She asks how his day was and he tells her about Isabella's friend. He doesn't know how to feel about her being away while she's pregnant. Callie asks if this is a co-pregnancy but there are parenting classes and doctor appointments. She's surprised he's going to do six months of parenting classes when there's a friend who is offering her support so it doesn't have to all be on him unless he wants it that way. He asks if that's what she wants but she states it isn't about her or what she wants as it doesn't involve her. He retorts that it affects her and was wondering when her real feelings would come out. She snaps that her real feelings are that this is none of her business. She's had a stressful day and wants five minutes where they don't talk about Isabella, the baby, or his mother. He agrees but is visibly upset.
In "Closing Arguments", Following Isabella's health scare with her baby, Gael and Callie return to The Coterie. Gael talks with Callie outside his loft, apologizing for their dinner but she tells him to take care of Isabella. He thanks her and heads back into the loft to sit by Isabella's side. Callie watches from outside the loft. She answers a text from Tony about the Decision, admitting that she doesn't know yet.
Earlier, Tommy's family wants the lawyers to put Katie back on the stand to make her admit that she lied. Kathleen asks Tommy if it was a lie or not and his father answers for him. Julia interrupts to tell Ken to stop so that Tommy can answer. Kathleen repeats the question to Tommy who is emotional. Tommy admits that it's true. Ken tosses a chair backward so Tony stands up to intervene. Tommy emotionally states that he's tired of lying, breaking down in tears. Callie sits by Tommy and offers him a box of tissues while Julia consoles her son. Tommy apologizes for not telling the truth as he was scared. He didn't hurt Zack because he loved him. The only thing Katie lied about was Zack breaking up with him that night. Kathleen carefully says that their only option is to put Tommy on the stand so the jury can see what they're seeing - that Tommy loved Zack. Ken refuses as if there's even one homophobic juror they could lose the entire case. Kathleen snaps that it isn't up to Ken but Tommy. He asks Callie what she thinks so she looks to Tony, Rowan, and Kathleen before stating that he should do it. Tommy agrees but Ken asks to speak with Kathleen in private.
Callie walks in to ask Kathleen why her old law partner is there. Kathleen lies that he wants to sleep with her. Callie points out that she's keeping secrets and still isn't sure if she can trust her. She asks what they're going to do about putting Tommy on the stand.
Callie gets dressed when Mariana walks in and asks if Isabella is okay since she went to the hospital. Callie remarks that she is but her blood pressure was just elevated so she's on bed rest. Her date with Gael didn't really happen which is fine. Mariana asks if that's really okay since she knows Callie thrives on complications, telling her to look at history. She sought after every complicated situation she could find. She asks how Callie will feel when the baby is born and Gael has even less time. Unless Callie is hopelessly in love she needs to pump the breaks, as she might not even be over Jamie yet. Callie diverts to ask how Mariana's life with the Fight Club girls are going, calling her Miss Take-The-Easy-Path. Mariana admits it isn't great but now she has a new interview which will give her an easier path.
Meanwhile, at court, Judge Martinez asks Kathleen if she has any additional witnesses to call. Kathleen states that they don't have more. She looks to the jury and then back at Tommy before calling Tommy to the stand. Rothman tells his team that is a mistake. Kathleen wants Callie to question him as she will bring out the best in him.
Callie questions Tommy about the nature of his relationship with Zack. He admits they were involved romantically but wasn't jealous that Zack replaced him as a quarterback because he knew Zack was better than him. They did fight at the party but not over that, but because Katie was flirting with Zack. He wanted Tommy to break up with her and it upset them both. They made up after and Tommy denies any involvement with the death. Rothman tells Jamie to interview Tommy since he can rile Callie up. Jamie refuses and states that if he doesn't have a choice then Rothman should fire him. Rothman decides to cross-examine Tommy himself. Rothman confronts Tommy for lying but Tommy calmly states that everything he's said that day is true. Rothman calls him out for lying over the fight, the nature of their lying, and his lie to Katie about him secretly hooking up with Zack. Rothman presses that Zack wanted Tommy to break up with Katie because he was tired of them pretending. He presses that Tommy murdered Zack but Tommy shouts that he loved Zack. Rothman asks why Tommy wasn't at his funeral and accuses Tommy of not going because he killed the Smith family's son. Tommy lashes out at Rothman telling him to shut up. He then breaks down in tears. Rothman asks one final question about his explosive temper. Kathleen objects so Rothman withdraws and takes a seat. Kathleen crosses again and asks Tommy if he needs to take a break. He assures her that he's okay. Kathleen asks why he didn't go to Zack's family. Tommy didn't go out of respect for the family. They knew the police suspected him and he didn't want to make things harder for them. Kathleen asks what he did instead and instructs him to tell the jury what he did. Tommy drove around to the places they loved, listened to the playlist Zack made him and kept wishing he was alive. That they were in those places together and they would suddenly be together so it was all a bad dream. He breaks down that Zack is gone now. Kathleen thanks him for taking the stand and being courageous enough to do it. Kathleen emotionally states that the defense rests.
Callie tells Tony and Rowan the jury has been deliberating for five hours. Rowan knows a non-reactional jury after an emotional closing isn't a good sign. Rowan thinks they'll find him guilty. Callie isn't sure while Tony thinks it will be a not guilty verdict. For the first time, he saw Tommy as credible on the stand. Rowan and Callie remark that his instincts are usually terrible. Kathleen enters as the jury makes a decision and the verdict will be read tomorrow. They don't know if it's good or bad that it's only been five hours.
Callie goes to the roof to meet with Gael. She asks about Isabella who is sleeping after the traumatic scare. He asks about the trial and she's waiting on the verdict but isn't sure how it will go. She asks what he wanted to talk about and he looks at her tearfully. He says he's going to be a father and doesn't know how to do that part-time. He wants to be the partner she deserves but isn't capable of doing both. She knows that too and tells him that when he shines his light on someone it's the most wonderful feeling in the world because he gives everything he has. She knows the light needs to be on Isabella and the baby. They cry together as it's hard but they both know it's right. They share a hug.
The jurors fill the courtroom once again. The FBI agents wait in the back row for Kathleen, who exchanges a look with Callie. The jury has come to a verdict so the Judge reminds everyone to stay calm with the verdict's reading. The defense rises and faces the jury. The jury states their verdict while Jamie and Callie exchange a look. He gives her a small smile.
In Callie's courtroom dreamscape, she talks with Judge Curtis about her career choices and how she makes excuses for her derailments. Callie's always had to adapt to the situations she finds herself in. Curtis states that just because things happened in her young life that she had no control over doesn't mean she has to be stuck in that reaction as an adult. He wants to talk about her actions. She loved Jamie but thought the only way to do the right thing was to betray him. She's not the only one with convictions but with her, it's "see it my way or hit the highway". She doesn't agree but he states they wouldn't be having this conversation if she was looking for someone to agree with her. She's stuck in a loop; playing out the same scenes year after year, but it's time for her to leave her safe cocoon and bet on herself. It's time for her to believe she can be more than just the Callie Adams Foster they know and love. She doesn't know if she can and thinks this is the best she'll ever be. He doesn't believe anything is as good as it gets because she has the power to make everything better and let go of things holding her down. She deserves the moon and the stars - she just has to have the courage to reach for them. She asks if that's why she's leaving, which she didn't know yet. He asks what's keeping her there.
Relationships
Familial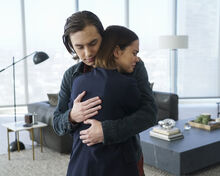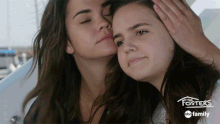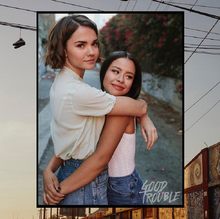 Romantic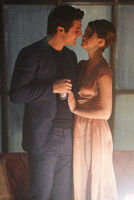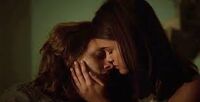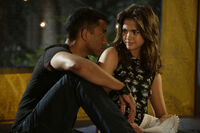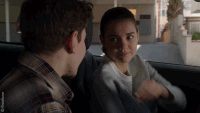 Friendships
Notes and Trivia
Gallery
Appearances
References
↑

(as stated by Maia during the FF Summit)