"
As some of you may know, I had no idea that I was moving into a communal living space. After sharing a bathroom with four siblings, the idea of sharing one with a dozen strangers just sounded like a nightmare. But I had no idea how lucky I was that my sister tricked me into moving in here. You know, when you leave the family that you were born into, or adopted into, you go out in the world, you get to make a chosen family...of friends. And I will never find a better-chosen family than you guys. I just - I love you all so much. Thank you for letting me be a part of The Coterie.
"

Callie Quinn Adams Foster is a major character in the Freeform series The Fosters, a recurring character in Girls United, and a former main character in, Good Trouble. She is portrayed by Maia Mitchell.
Callie is the adoptive daughter of Stef and Lena Adams Foster, the oldest biological daughter of Colleen Jacob, who passed away, and the oldest biological daughter of Robert Quinn. She is also the oldest step-daughter of Donald Jacob. She is Jude's maternal half-sister, and Sophia Quinn's paternal half-sister. She's also the adoptive sister of Brandon, Mariana, and Jesus.
Her rough upbringing and tumultuous past caused her to witness and be a victim of many injustices. After being adopted by the Adams Foster family, Callie became a social justice fighter with strong beliefs about equality. After high school, she graduated from UCSD after excelling in their law program. Shortly thereafter, she received and accepted a job offer to work with a federal judge. She has witnessed inequality and is familiar with the system that she is fighting to change through policies. After leaving her clerkship with Judge Wilson, Callie pursued her desire to help others through law, eventually passing her bar exam. In her personal life, she maintained a close relationship with her adoptive sister Mariana, and a complicated love life.
Biography
Callie Jacob was born on July 11, 1996, to Colleen Jacob. Callie's biological father, Robert Quinn, was a wealthy upperclassman who was in love with Colleen. Robert's family disapproved of their relationship and they decided to elope. However, after pressure from the Quinn's, Robert divorced Colleen. During this time, Colleen learned she was pregnant with their child, but chose not to tell him. When Callie was six-months-old, Colleen married Donald Jacob, and Callie grew up believing Donald to be her biological father. Donald adopted Callie and her name was legally Callie Jacob. Donald and Colleen then had their first child together, Callie's younger half-brother, Jude.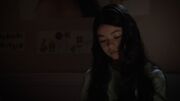 When Callie was ten, her mother and step-father, went out to dinner. Donald drove under the influence of alcohol and his recklessness caused a car accident that proved fatal for Colleen. Callie struggled with deep regret on how her last conversation with her mother went, having been mad at her and refusing to kiss her goodbye before she left. After hearing about her mother's death, Callie lashed out and destroyed her bedroom. She was so upset that she blocked the incident from her memory and thought that Jude, who witnessed the event, destroyed her room.
After Colleen's death, Donald was arrested and later convicted of manslaughter. Callie and Jude were placed in the foster care system. Callie felt as though she had to take care of Jude and protect him from the many homes they moved through, several of which proved to be abusive. She shielded him from any harm even at the cost of her own safety. After many years in the system, the siblings were placed with the Olmstead family. The parents already had a son, Liam, who was four-years-older than Callie. Callie bonded with Liam, as he was nice to her and would flirt with her, a gesture that was new to Callie. A romantic relationship was forbidden among foster siblings, so Callie refused the relationship for many months. However, Liam was persistent. Callie eventually gave in and began a secret relationship with him. However, late one night, he snuck into her room so they could make out, though things escalated quickly and Callie was sexually assaulted. She didn't know what to do, as the home had been the best one they'd ever been in - until now. Shortly after the rape, he claimed that she was the one who came onto him and wanted a relationship, not him. Callie and Jude were quickly thrown out of the house, with the family claiming that Callie ruined things by pursuing a relationship. This created a rift between Callie and Jude, with him thinking she always ruined their positive homes. It wouldn't be until years later that Callie told the truth, and was able to get justice by having him incarcerated.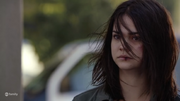 In another home a year later, Jude tried on a dress owned by their foster father's ex-wife. The man walked in on Jude wearing it and was infuriated to the point where he began violently beating him. Callie attempted to intervene, but was kicked in the stomach and tossed aside. Refusing to watch her brother be assaulted, she took a baseball bat to their foster father's car to avert his attention from Jude to her. He called the police and she was arrested for destruction of property and placed in juvie. On the day of her release, she was attacked by a few girls who were jealous of her release. Soon after, a social worker from child protective services, Bill, contacted Lena Adams and requested she come meet the teen. He explained that he wanted to send her to Lena and her partner, Stef, as there aren't any male authority figures there, which he thought would be beneficial to Callie.
Callie moved in with the Adams Foster family and was later reunited with her younger brother, Jude. Stef and Lena decided to foster the siblings so that they would be in a safe environment until they could find a permanent home. In "Consequently", Bill told Lena and Stef that Callie and Jude never stayed at a foster home for more than six months, something which initially alarmed them. However, he insisted that it wasn't something the kids did, but rather bad things seemed to happen to them.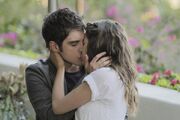 She developed a romance with Brandon, Stef's biological son, shortly after moving in with the Adams Foster family. Callie knew that being in a relationship with a foster sibling wasn't allowed and that she could get kicked out of the house along with Jude. She told Brandon this, and they decided not to act on their feelings. However, in "I Do", they kissed and began a relationship. They then secretly dated for a brief time. However, they broke up after they realized Callie needed a family more than a boyfriend. While it was difficult for them to move on and accept each other as siblings, they gradually learned how to do so. During this time, Jude was adopted by Stef and Lena.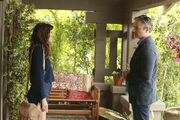 Callie then met her biological father, Robert Quinn, and the two began to form a relationship. She also met her half-sister, Sophia, and the two girls seemed to form a relationship. Robert loved Callie and wanted to adopt her, something Callie fought against as she wanted to be part of the Foster family. She agreed to try and form a relationship with him and did want him in her life. However, she informed Robert that her "forever home" is with the Fosters and that they are her real family. He finally allowed the Fosters to adopt Callie in, "The End of the Beginning". He withdrew his custody suite and officially signed away his legal parental rights.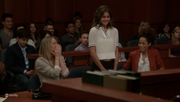 After a battle with the legal system, being placed into a group home, an investigation by the court officials, and founding Fost and Found, Callie went before an adoption judge one last time. She delivered a moving speech about foster kids' inability to make their own decisions, which moved the judge greatly. He granted her adoption and she was officially adopted by the Adams Foster family. She then legally became Callie Adams Foster.[3]
A year or so later, Callie graduated from Anchor Beach Community Charter School and decided to pursue her dream of being a lawyer and helping other foster children. She was accepted into UCSD and graduated with her BA in four years. She planned to move to Los Angeles to be a clerk for Federal Judge, Curtis Wilson. She decided to share an apartment with Mariana.
Callie, now a recent college graduate from the UCSD law program, joined her adoptive sister Mariana in a new adventure in Los Angeles. The sisters, now roommates, moved into a communal housing project, which Callie rebuked at first. She felt betrayed by her sister who lied about the type of apartment building they would be living in. Callie also struggled to balance her life as a progressive clerk for conservative Judge Curtis Wilson and a passionate twenty-something-year-old.
She was soon faced with both moral and ethical dilemmas in the workplace. Especially so after Judge Wilson appointed her first major docket case as a judicial clerk: the Jamal Thompson case. The case itself sparked debate and conflict in both her professional and personal life, especially with her fellow housemate and activist, Malika Williams. Callie soon found herself bonding with her fellow Coterie housemates, especially her temporarily non-exclusive partner, Gael Martinez. Callie and Gael embarked on a passionate yet fleeting romance, however, their relationship was forced to take a backseat to their respective careers. In the meantime, she rekindled her old friendship with a fellow lawyer, Jamie Hunter, and increased her sisterly bond with Mariana.
Personality
Callie is independent, intelligent, artsy and very loyal as well as protective over her loved ones. Throughout her youth, she is shown to always put the needs of others ahead of herself, even if it costs her trouble. As a result of living and growing up in the foster system for the majority of her life, Callie is tough and has built up walls to protect herself from pain - both physically and emotionally. However, she is also compassionate and kind. She loves her younger brother Jude very much, always putting him ahead of herself and has even risked her life for him. It is also shown that she doesn't care what happens to her, as long as she knows that he is safe. As a result of taking care of Jude for most of her life, she has a strong tendency to sometimes act like his mother instead of his sister, much to Jude's frustration. Despite her maternal instincts, Callie has a tendency to get herself into dangerous situations by choosing not to trust the adult figures in her life. She often felt as though by confiding in her moms, they would want to get rid of her - believing herself to be disposable. It took Callie many years to trust that her home with Adams Fosters was permanent, and that despite her mounting mistakes, they would always love her as their own.
As a young adult, Callie is remarkably intelligent and free-thinking, fighting for equality and a better world through politics. She is brave, fearless, wildly independent, and stubborn. Despite her open-mind towards sexuality, gender, race, and other social issues, she is quick to judge others with a differing opinion. She struggles to accept others when they exhibit traits or thoughts that rival hers. She demands honesty from Mariana, though Callie herself keep secrets and harbored some resentment toward Mariana for their living situation. She found herself unhappy with her life and job, hating having to work for a judge who failed to recognize the injustices surrounding his cases. She desired a change and quit her job to secure a better one, even though she risked her career in the process. When Callie allows herself to vulnerable with those around her, she can be quite fun, loose, and free-spirited. She has the capability to confide in her romantic partners about her troubled past, but has difficulty letting her walls down around them.
Physical Appearance
Callie is a beautiful girl with an oval-shaped face, light olive complexion, almond-shaped brown eyes, and shoulder-length brown hair. Her hair was normally straightened in the beginning of Season 1, but in later episodes, it was normally curled and grew past her shoulders. Callie initially wore plain, dark clothing. Later though, she began dressing in more colorful and comfortable tops, usually paired with jeans and casual shoes. As she progressed through high school, Callie gradually transitioned into more striking clothing with shades of girliness. Callie normally doesn't wear a lot of makeup unless attending a formal event.
After graduating college, Callie cut her hair to a chin-length bob, which she wears straightened. Her sense of fashion is more chic and modern as well, with an upper-class style to it. She dresses professionally when working.
Season 1
Season 2
Season 3
Season 4
Season 5
Season 1
Season 2
Season 3
Season 4
In "Turn and Face the Strange", the jury came to a verdict of not guilty. Outside, Jamie gets a coffee when he bumps into Callie. He congratulates her but believes there's more to the story. There was a moment when Tommy seemed coached on something, and he doesn't trust anyone who can cry on cue. The feds arrived looking for Kathleen. She has 24 hours before they issue an arrest warrant for both Kathleen and Callie.
Callie comes into her loft to find Kathleen in Mariana's slippers waiting for her. She asks if Kathleen got the proof she needed from Ken, but things are more complicated now. She took money from the retainer to give to Denise and help her get away. The FBI now have her books. To keep her out of jail, they need Denise to give the FBI something they can use to put her husband away. She needs Callie to convince Ken to do that. Kathleen apologizes for withholding information. She didn't want Callie to loose respect for her, admitting she's scared and needs her help.
Back at the law office, Callie and Ken talk about Denise, Kathleen, and the FBI. He worries Denise's husband will have her killed. He refuses to uphold his end of the bargain as he needs to protect his sister. Callie later talks to Tommy at the law firm, where he expresses his gratitude to her and Kathleen. They toast to the not guilty verdict. She knows it's hard as Zack is still gone from a terrible accident, despite Tommy still loving him. Tommy admits that she's the only person he trusts. He tried to get away from Zack after they fought, but Zack followed him. Tommy tried to walk away but Zack took it physical, so Tommy shoved him and he fell over the edge. He tried to grab him but it happened too fast. He left the party soon after, but couldn't believe Zack had died. He admits to killing Zack accidentally. Callie hugs a crying Tommy.
In her loft, Mariana opens champagne to toast Callie for her not guilty verdict. She notices something is wrong but Callie can't tell her as it's privileged information. She admits it's not just that, she looks in the mirror and doesn't know who she is. She's not where she thought she'd be. Mariana asks where she thought she would be, so Callie admits she didn't think she'd be here. Mariana brushes it up to being tired and offers a foot rub to Callie, who is confused by the gesture. Mariana tells her to not be so suspicious of her intentions.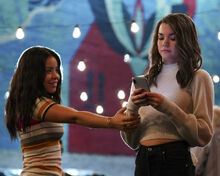 At the food truck opening, Mariana is with Callie when she sees a new guy in the lot and asks Sumi, who admits he's Joaquin and is a new tenant for The Coterie. He's an independent investigative journalist who just did a five-piece expose on deputy gangs in the Sheriff's Department. He also has a good credit score. Mariana praises Sumi then decides to introduce herself, to Callie's amusement. Once the conversation is over, Callie walks over and asks what she thinks, and Mariana admits he's a dick. She tells Sumi she did a bad job then sits down. Callie texts Jamie until Mariana pulls her into the dancing.
Jamie and Callie sit at the bar as they talk about ending up on opposite sides of the case. He thinks the universe keeps pushing them together. She's been thinking about how she can be a little "my way or the highway" and held everyone to a standard. She realizes they exist in the gray. Flashing back, Callie plays Tommy's confession to Ken as blackmail to get him to help Kathleen. She'll send it to Zack's family, who will sue for wrongful death, and Zack's life will be destroyed. Now, Callie tells Jamie that she's learned she has to do things she doesn't feel good about for a client. She apologizes for how she handled his situation with the Anwei account and betraying his trust. He's learned that betraying personal ethics isn't always justified. He still loves her and she still loves him, too. They hold hands and she admits she can't jump from one relationship to another, as she needs to figure out herself and what she's doing first. He understands and supports her, as he has his own soul searching to do. She's been thinking if this is as good as it will get for her, and it might not be. Maybe she can have the moon and the stars if she finds the courage to reach for them. She might need to make big life changes to do that. He asks her how big, and she admits they're big.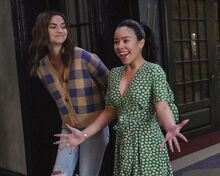 In "Kiss Me and Smile For Me", Mariana and Callie give Ka'maya food and try to navigate her likes and dislikes. Joaquin walks in and helps Mariana check the expiration date for sunflower butter, much to her disliking. Mariana introduces her moms and foster sister to the new Coterie resident. He begins to ask the moms questions about their visit.S tef assures her they can go whenever they want but Lena had a free weekend. Lena excuses herself to answer a call. Mariana tells Callie that they had other plans too. Flashing back, the sisters aren't thrilled with the surprise visit. The moms arrive and they say hello.
Now, Joaquin asks when the last time they visited was, with Callie saying it was about eleven months ago. Dennis and Isabella arrive, with Stef greeting Dennis happily with a hug. Callie introduces Isabella to the moms, as they explain she's moved back in and is pregnant. Stef thinks Dennis is the father, but they correct that an arriving Gael is the father. Gael greets the moms as Callie asks where they want to go to dinner. They propose a kids friendly pizza place, but Stef wants to have a grown-up dinner. Isabella offers to watch Ka'amaya as she used to have princess parties. Lena isn't thrilled with leaving Ka'maya, though Stef interjects that Lena leaves her all the time when she goes to Sacramento. Lena counters that it's different as she leaves her with Stef, who wanted to have a grown-up conversation tonight. Dennis was going to cook dinner and Davia hears as she enters. Davia is thrilled to see the moms and so is Malika. Malika greets Ka'maya happily and they all agree to attend dinner. Callie will text Jude that they're staying in.
The Coterie preps for dinner but Jude is buried in his phone. He admits that Carter and he might be in a fight. He's having trouble translating Carter's texts, remarking that long-distance sucks. Mariana asks what the conversation is about, and the moms look to Callie. Kathleen Gale arrives. Back at the law office, Kathleen tells Callie that the FBI agreed to drop all investigation into her old books now that they knw the Sung wife is alive. She wonders how Callie got Ken to change his mind, and she appealed to his conscious. Kathleen is excited to turn Callie into the new her. She starts talking about new cases, but Callie is pensive. Now, Callie greets Kathleen who jokes about bein there for dinner. Callie introduces her moms to Kathleen and gives Mariana back her newly washed slippers. Kathleen and Callie talk in Malika's room with her permission, and Kathleen tells the moms they did a great job with both their daughters. After Kathleen leaves, Alice arrives for a visit as she's on a break from her tour. Mariana tells Callie that she knows why the moms are here, and thinks it's because they're adopting Ka'maya. Callie thinks that might be it but isn't sure.
The Coterie crew sit for dinner and compliment Isabella and Dennis on dinner. Stef asks Alice about touring and she says it's a dream come true. Lena asks Malika about her job transition but she isn't sure yet, and asks Lena about her job. Lena admits that being in the majority doesn't change the uphill battle. The governor has approved Lena's idea, though. Joaquin asks where she stands on defunding the police and she admits it's up to each city, but he calls her out for dodging the question. Mariana explains he's a journalist which is why everything is an interrogation. Joaquin doesn't think there are any good cops, with Mariana admitting that Stef used to be a cop. The conversation keeps going and they talk about trouble with texting, as Jude is still having communication issues with Carter. Steff tells Jude to get off his phone. Jude admits they're having trouble with sexting. When the moms discuss their sext life, the kids are mortified while the rest of the table cheers. Callie tells Jude to stop playing games and reading into things. Jude asks why she can't be honest with Mariana. Mariana is confused and asks what's going on and why the moms are there. They aren't there because of Ka'maya, and Mariana confronts Callie. Callie admits she got a job with the ACLU in Washington D.C. so she's moving there in two days. Mariana leaves the table rather emotionally. Callie goes to see Mariana in Malika's loft, with Mariana upset about the short notice.
Back at the law office, Kathleen talks to Callie about their next case and Callie gives her an emotional look. Kathleen wonders if she gets a two-week notice. Callie apologizes as this isn't the right job for her, something Kathleen knows as she is a crusader. Callie really wants to work for the ACLU and Kathleen knows the executive director of the ACLU in DC if she's looking to move. She offers to make a call.
Callie apologizes to Mariana as everything spiraled, so she wanted her moms and Jude to be there when she broke the news. Mariana is upset - but not because she got her job or is moving, but because Callie thought she was so fragile and can't throw a going away party. Callie admits there's not time like the present. The family dinner turns into a party with shots, as Mariana toasts to her sister, who is changing the world.
Davia adds Callie to the Coterie Biatches group chat which is better late than never, with Davia admitting this means they can't talk about her anymore. She then admits they're going to miss her, and Callie returns the sentiment so they hug. Joaquin asks Dennis if the parties are all the time, but Dennis admit things have mellowed. The Coterie crew does another shot together. Callie heads to the bathroom where Kelly admits that while she never understood Callie, she's grown accustomed to her superior attitude and perfume. Callie doesn't wear perfume though and even though Kelly hates goodbyes, she's going to miss hearing Callie's voice. She then hugs her spontaneously. As everyone drinks, Malika and Callie remember a conversation together on the fire escape. Malika can't believe she stole Callie's badge to get into Judge Wilson's office, making them both laugh. Callie missed her reading him the riot act. Malika gives Callie a moonstone for new beginnings and becomes emotional, as she really admires Callie's commitment to making change, her courage to make a big personal one to make it happen. She's going to miss her a lot and thanks her for everything. Callie hugs Malika.
Dennis tells Callie that he told Stef about Jacob before anyone else knew, and he somehow knew he could trust her. It's an amazing thing to have a family you can trust. He tells her to carry that wherever she goes because that's how he knows she'll be okay. She becomes emotional as they hug.
Callie sits on the steps as Gael walks over to ask how she's doing. She has a lot of goodbyes to do, and Gael tells her that goodbyes are just a chance to say hello again. She remarks on their journey together, but he knows it isn't the end. He wants her in his life forever, and they hold hands. The girls toast with another shot.
Alice has an image of Sandra Bullock in her loft that always brings her luck. Now, she wants Callie to have it. Callie asks if she's sure she wants to part with it, but Alice is sure. She hopes that when Callie looks upon Sandra that she'll think of Alice and smile. She then hugs Callie tightly.
Callie finds Jude who apologizes for dropping the bomb at dinner. She laughs that he's a dick sometimes and he acknowledges it. He did take her advice to call Carter, not for sexting purposes as she thinks. She asks if he's okay with her leaving and he is. He now has two reasons to go back East to visit. They both love each other and share a hug.
Callie clinks her glass to call everyone together. She is going to try to talk without crying. She thanks them for the going away party. Callie had no idea that she was moving into a communal living space. After sharing a bathroom with four siblings, the thought of sharing one other with a dozen strangers was a nightmare. But she had no idea how lucky she was that her sister tricked her into moving here. When you leave the family that you were born into or adopted into, you go out in the world and make a chosen family of friends. She will never find a better chosen family than them. Callie loves them all so much and thanks them for letting her be part of The Coterie. They clap for her and then Malika turns the music back on and they all dance together happily. Callie and Mariana embrace as they dance, then Callie hugs Malika and Alice. She smiles happily.
Callie dips her feet in the pool when Mariana walks over and joins her. Mariana asks how she feels about leaving, and Callie admits that she's scared. She's never been on her own since Jude and her became Adams Fosters, but she needs to find herself and her purpose. She cries as she wishes it didn't mean moving away from her. Mariana puts her head on Callie's shoulder as Callie fears that she'll come back with her tail between her legs. Mariana will welcome her with open arms. Callie's the most exceptional person that Mariana knows, and once she finds her purpose, there will be no stopping her. She's ready to leave home and will never be on her own completely because her family - the Adams Fosters and the Coterie - will be there for her. After all, geography doesn't make a family, love does. Mariana made it up off of something the moms once told her. The moms arrive with Jude to give the girls a mom sandwich. Jude joins in on the hug as he reminds Callie of when she stole a sandwich. He brings up Mariana piercing her own nose, with Callie laughing over Mariana having dyed her hair blonde. Mariana rebuttals that this is coming from a girl who got in a car with a pimp. They all laugh over their shared memories and tribulations together.
The next morning, Callie loads the car with her bags as she and Mariana remember their U-Haul horror the first name.
Kathleen and Callie talk in Malika's loft. Kathleen gives her a beautiful briefcase that her mother gave her when she graduated law school. She always thought she'd give it to her daughter one day. Callie calls it beautiful and thanks her for the briefcase and for everything. Kathleen isn't a hugger and that's okay with Callie. Kathleen tells her to go get 'em.
Callie tells Mariana about the story as she finishes packing everything up. Mariana gives her a bag to open on the plane, and they hug one another. Callie promises to call her from the airport and when she lands. She gets into the car and, from the window, tells Mariana she loves her. Mariana remarks that she loves her more. The car drives off as Mariana watches. She returns to find The Coterie Crew waiting for her and they have a group hug.
Callie boards the plane and takes a window seat. She opens the bag from Mariana to find a small porcelain doll. She remembers their first day in LA when they found two dolls in the thrift store, with one that looks like Mariana. Mariana calls the doll precious and then finds another that looks like Callie. Now, Callie looks down at the Mariana doll and reads the note. Mariana is keeping the Callie doll so they both have a piece of each other. Callie cries as she looks at the doll. Jamie boards the plane to find Callie in a seat. They are surprised to see one another and she asks what he's doing there. Jamie has a job in DC that starts in a week and she's got the same, but she starts the same. Carter didn't tell him anything about her leaving, and assures her that he isn't a crazy stalker person. Callie remarks that the universe is conspiring again. The seat next to her is empty so they sit with only the middle seat between them.
In "Something Unpredictable, But in the End It's Right", Mariana unexpectedly video chats with Callie after dodging her calls since she left. Mariana admits needed to talk with her. Callie wonders why Mariana hasn't called her back. Mariana admits she's angry that Callie left with no notice and she feels abandoned. She questions why she didn't get a job with the LA ACLU or if it was because she didn't want to live with her anymore. Callie assures her that isn't true. She took the job in DC because it's the one she was offered. She apologizes for springing it on her. She misses her and is very homesick which is why she keeps calling to talk with her. Mariana notices that Callie dyed her blonde and that it looks nice. Callie asks what she needs to talk about and Mariana tells her about the RB drama and the non-compete agreement. Callie tells her that she doesn't have to go back to Evan as non-compete agreements aren't enforceable in California. Companies just have their employees sign them because most people aren't aware of their rights. Callie reveals this means that she's free. They both need each other, and Callie admits that her boss is a dick. The two sisters begin to gush together.
Relationships
Familial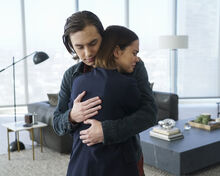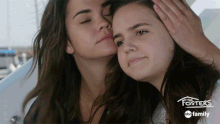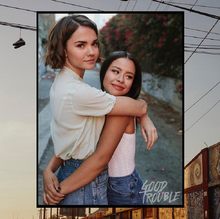 Romantic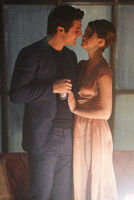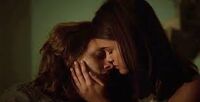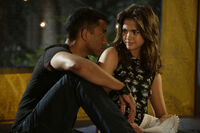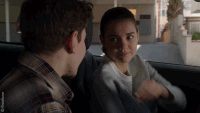 Friendships
Notes and Trivia
Gallery
Appearances
References