Jurassic World: Dominion Dominates Fandom Wikis - The Loop
Play Sound
This article is about the episode. You may be looking for the group.
"Jesus: Just tell me whose ass I'm kicking first.
Marina: You're not kicking anyone's ass, although, I would love to watch."
—Mariana and Jesus
Byte Club[1] is the eighth episode of Season 1 of Good Trouble.
Synopsis
Mariana forms a women-in-tech "fight club" with other women in her office to deal with sexism in their workplace. Meanwhile, despite bonding over past traumas, Callie and Rebecca don't see eye-to-eye on how to address a potential workplace harassment situation for a colleague. Guest-starring Noah Centineo.[2]
Cast
Main Cast
Recurring Cast
Guest Starring
Noah Centineo as Jesus Adams Foster (Special Guest Star)

Zachary Gorden

as Tate Wilson
Charlie Bodin as Josh Mandela
Denise Dowse as Secretary
Rachel Rosenbloom as Gina
Maisie Klompus as Rachel
Seri DeYoung as Claire
Dianne Doan as Kate Nguyen
Piah Shah as Elizabeth Rogers
Brandon Barash as Dennis' friend
Brandon Ruiter as Male Engineer #1
Notes and Trivia
Byte Club is the 100th episode in The Fosters universe, with The Fosters having ended at 92 episodes. The only two characters to appear in all 100 episodes are Callie and Mariana.
This marks the first appearance of Jesus Adams Foster in Good Trouble. He was previously one of the main characters on The Fosters.
Jesus forms a connection with Rebecca after they met at a bar and exchanged their best and worst pickup lines.
Callie and Rebecca clerk a sexual harassment case.
Mariana forms a fight club for women in tech that she calls "The Byte Club " that helps her fellow female engineers fight sexism at Speckulate.

The women band together to brainstorm helpful tips to interrupt the sexism. The tips and helping one another works and Mariana finally gets her ideas heard.

Wyatt Casey is mentioned. Wyatt and Jesus are still building treehouses together, though their business is slow and has yet to take off. In the meantime, Jesus wants to build tiny houses in San Diego to help with the housing crisis.
Dennis and Jesus bond while drinking together and talking about their mutual feelings about independent work. Dennis also refers him to a financier who would be interested in helping him get his business off the ground. Later as Jesus is ready to leave, he promises to be back in a couple of weeks for his meeting with the finance broker.
Dennis' ex-wife, Jennifer, is revealed to be dating the financier he recommended to Jesus.
Raj apologizes to Mariana and she forgives him.
Rebecca used to clerk for Judge Hendlemann until she left after experiencing sexual harassment. Callie reveals to Rebecca that she was raped and mentions the situation that happened between her and her rapist.
Callie and Jamie begin getting intimate.
Jesus reminds Mariana that his life hasn't come easy either, especially because of his TBI. He sympathizes with her for how the guys at Speckulate are treating her.
Raj reports Alex's in exclusivity toward Mariana to HR and gets him called out in front of the entire team.
Raj agrees to take part in the "The Byte Club"'s spreadsheet project.
Featured Music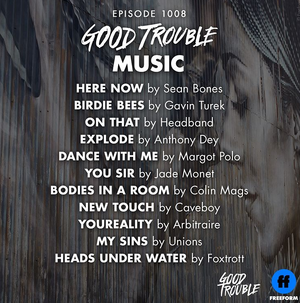 Gallery
Promotional
Behind the Scenes
References