Jurassic World: Dominion Dominates Fandom Wikis - The Loop
Play Sound
"
Just because things won't be the same doesn't mean they won't be ok.
"

— Brandon Adams Foster

Brandon Foster is a main character on The Fosters.
Brandon is the biological son of Stef Adams Foster and Mike Foster. He is also the step-son of Lena Adams Foster. He is the husband of Eliza Foster, and the adoptive older brother of Mariana, Jesus, Callie, and Jude.
Brandon is portrayed by David Lambert.
Biography
Brandon was born on August 28, 1996 [2] and is the son of Stef and Mike.
Personality
Brandon is a sensitive, brooding type of person who is known for his musical talent. He is also very selfless and would do about anything for the people that he loves, as shown variously throughout the series, often putting others ahead of himself. Brandon is not a geek nor a popular kid. He is somewhere in between.
Physical Appearance
Brandon is tall, has short and messy brown hair, and has greenish/gray eyes. His style is mixed between casual and formal.
Season 1
Season 2
Season 3
Season 4
Season 5
Season 1
Brandon appears in Re-Birthday as a Coche driver. He explains that with Eliza gone for the symphony, money has been tight so he's been driving. He feels uncomfortable using Eliza's money, something that he gets over with some help from Dennis. He later admits that he wants to be a driver, as he gets lonely, enjoys talking to people, and wants to make his own money. His visit allows him to reconnect with Callie and Mariana, his unique insight helping Callie.
Season 2
Brandon visits the Coterie for Christmas alongside his wife.
Relationships
Familial
Main article: Brandon and Callie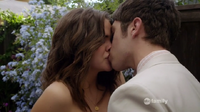 In Consequently, Brandon and Callie's relationship was hinted as he ditched his girlfriend, Talya, who had become jealous, in order to play music with Callie. Their relationship grows stronger when Brandon becomes jealous of Wyatt. After Callie and Brandon have their first kiss in I Do, Callie runs away due to an argument she has with Jude after Jude sees them kissing. In House and Home, Brandon tells his moms that the reason Callie ran away was that he kissed her.
Stef and Lena try to convince him that it's just a phase, but he fights back by saying that he loves her. He then overhears which group home Callie is staying in and goes there to find her. Callie sees Brandon standing across the street and runs out of the house to hug him for the first time since the wedding. Throughout Callie's time at the group home, Brandon and Callie dated and met up a few times behind the family's back. However, Callie decided to focus on her own self-growth while at the group home and gave up the phone that she used to contact Brandon. They eventually break up in Padre after they realized Callie needed a family more than a boyfriend.
Since then, they formed a sibling and best-friend bond as opposed to a romantic one. This proved difficult for them, and they did have sex under the belief that Callie would never be adopted. After a difficult time contemplating what to do, Brandon told Callie that a family is what she truly needs and they put their relationship in the past. When questioned about the relationship by an adoption judge, Callie informed him that their relationship was strictly platonic. In Where the Heart Is, after five years, Brandon married Eliza Hunter. Brandon and Callie found closure with one another, acknowledging they did the right thing choosing the family over them and that they are best friends.
Romantic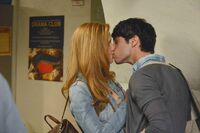 Main article: Brandon and Talya 
The couple was introduced in Pilot, and had been dating for some time before Callie joined the Fosters family. They broke up in Quinceañera since Talya had become jealous of Brandon and Callie's growing relationship. They reunite in Clean and get back together by Vigil since Brandon may have realized he and Callie may never be together. Although later, Brandon breaks up with Talya for a second time in the episode House and Home, much to her devastation.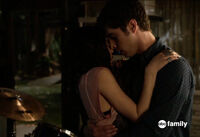 Main article: Brandon and Lou
Brandon met Lou in the episode Take Me Out. He joined her band Someone's Little Sister soon after, despite her initially not thinking he was "rock 'n roll" material. As a result of joining the band, he and Lou developed a flirtatious relationship. The two started a romantic relationship in "Someone's Little Sister" and have been dating ever since. Lou tells Brandon she loves him in "The End of the Beginning". They ultimately broke up when Lou received a chance to go on tour and Brandon decided not to follow her.
They met when he and his family had gone to the restaurant she works at as a bartender. They soon begin to hang out, with her teaching him how to surf. They hung out during the day that she was doing inventory. Their first date was during her 15-minute break at work which was interrupted before they could share a kiss by her son Mason and her ex, Eddie. After he offered to watch Mason whilst she worked, she agreed. Later when she returned to take her son home and they shared a kiss.
Stef and Lena found out about the relationship in The Show. They had a fight in between Rehearsal and The Show, shown in flashback. They had sex in Kingdom Come on his birthday and he moves in with her in Safe which he admits to Eddie in Trust when he came to take Mason. In Now for Then, they host a party and during the said party, Brandon tells Mariana that he isn't a dad. He broke up her whilst in New York. Later, they hooked up but she told him they can't get back together.
Main article: Brandon and Grace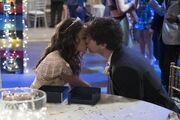 Brandon first met Grace in Doors and Windows at the hospital, when he finds Grace in a class with kids with autism. Brandon asks if his brother, Jesus, can join his class. He later comes by to learn more and helps Grace out with a class. In The Long Haul, they both were at the wedding for Sharon and Will, and one of Grace's scary things to do for the day was to kiss Brandon.
In Prom, Brandon finds out from Grace's mother, Susan, that Grace's leukemia had returned. Knowing this, Brandon wanted Grace to have her best night at prom. Afterward, Grace is in the hospital and started her chemotherapy. In Mother's Day, she makes Brandon her proxy instead of her mom because Grace knows her mom might make the wrong decision. Grace later died from her cancer, leaving Brandon heartbroken.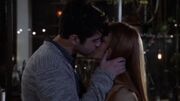 They first met in Brandon's scoring program at USC. They each admired the other's work but believed the other wasn't romantically interested due to their mutual work ethic. However, after one finally asked the other out for coffee, they connected instantly and talked for hours. During their long talk, Brandon opened up to Eliza about losing his girlfriend, Grace Mullen, to which Eliza expressed her sympathies. After they walked out of the coffee shop together, Eliza and Brandon shared their first kiss, quickly becoming a couple. After a short engagement, they were married in "Where the Heart Is". They are currently traveling overseas for Eliza's work.
Trivia
Brandon is left-handed.
He excels in music, particularly piano, and has shown throughout the series to be skilled in it whether it be playing an instrument or singing. He even creates instrumental piano songs based on or dedicated to his family and loved ones.
His favorite band is The Weepies.
He has been arrested once under the order of Stef, when confessing to creating false ID's when the blame was going to be cast on Callie.
Brandon has tried teaching Jesus and Mariana how to drive in Not That Kind of Girl.
According to Stef, Brandon was conceived with "a bottle of whiskey and in the back seat of Mike's car".
Brandon was statutory raped by Dani Kirkland, his father's then-girlfriend, while drunk and reeling from his heartbreak over Callie. He dealt with a great amount of guilt over it, including refusing to view it as sexual assault. However, he was forced to see that Dani was the adult in the situation and knew better and agrees to have her sent to prison for the crime.
He is the first of the main young adults to get married. He is the second one to be engaged, following Jesus who proposed to Emma Kurtzman while they were in high school.
Brandon is the only member of the Adams Foster family to not legally take Lena's surname of Adams.
Gallery
Appearances
References