Jurassic World: Dominion Dominates Fandom Wikis - The Loop
Play Sound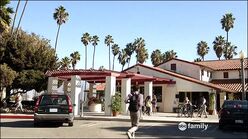 The Anchor Beach Community Charter School, also known as, Anchor Beach Charter School and ABCC, is a public charter in San Diego, California. The school is run as a K-12 school.
History
Formed in 1993, Anchor Beach is a public school for grades kindergarten through twelfth grade. At an unknown time, Lena Foster founded the charter that is still used by the school.
Originally, Karina Sánchez served as the principal of the school, with Lena Adams as her vice principal. Under Karina's leadership, the school began to suffer financially and entered a financial crisis. Karina later left the school under unknown circumstances. Karina's role as principal was temporarily filled by Lena until the school found a suitable replacement in business graduate, Monte Porter. Lena and Monte originally struggled to find a balance in their relationship, as Karina had been more of a dictator while Monte wanted to work as an autonomy.
When Lena decided to take an administrative, the school hired Drew Turner to fill in until she could return. His ideas and moral were more like Monty's, but he also seemed to sway in whatever direction best fitted him. After Monte was fired, the school decided to make Drew the interim principal of Anchor Beach. This lead Lena to believe that he planned to have Monty fired all along.
Under Drew's leadership, the school almost became Anchor Beach Private, a for-profit school for rich and seemingly privileges students. He almost sold the school to Craig Stratos, who wanted to turn the school into luxury condos, until Lena exposed him and saved the school. In addition, the students walked out of school and classes, lead a protest, and he threatened to cancel prom along with many other indiscretions. When Drew decided to propose merit-based bonuses, Lena decided that she had enough of his leadership and took a stand against him and the board.
She aligned with over half the teachers at the school, all who promised to quit if Drew didn't meet Lena's demands. At a meeting, Lena demanded that Drew is fired immediately, that Lauren resign, and Lena be made principal of the school. The teachers then gave the board a petition in Lena's favor which had signatures from over three-quarters of the faculty. Lena was than appointed principal of Anchor Beach following Drew's firing.
Faculty and Staff
Current
Former Staff
Known Students
Former
Graduates
Former
Clubs, Organizations, and Teams
Name
Leader
Status
Wrestling Team
Coach Spears
Ongoing
ABCC Dance Team
Unknown
Kaitlyn (Former)
Ongoing
STEM Club
Craig
Ongoing
Drama Club
Unknown Teacher
Brandon Foster (Former)
Ongoing
Anchor Beach Newspaper
Unknown
Zac Rogers (Editor-in-Chief: former)
Unknown
Mariana's Dance Team
Mariana Adams Foster (Former)
Tia Stephens (Removed: former)
Disbanded
Trivia
The school was founded in 1993.
Lena Adams Foster has a reserved parking space.[1]
When Jude needed 65 points on an exam to enter the school, but failed to earn them, Lena altered one of his answers so he would pass.[3]
The school colors are maroon and white.
Although it's a charter school, the school district name appears on the sign in front. Possibly, the district owns the building and property, but doesn't run the school directly.
It is a K-12 school.[4]
The school suffered from a potential shooting committed by a troubled student, Nick Stratos.
ABCC was almost sold to Craig Stratos, who planned to demolish the school and build luxury condos in its place.
Gallery
References