And no, I won't be judged by who I love.

— Alice
Alice Kwan is the manager of The Coterie apartment complex. She is a first-generation Asian-American woman.[1]
Alice is portrayed by Sherry Cola.
Biography
Alice was born in America to Trea Kwan and Alan Kwan. They are both immigrants, making Alice and her brother the first-generation American in their family. Alice's parents are strict and traditional and often set Alice up on dates with their friends' sons. As a result, Alice made a point to not come out as a lesbian to her parents.
At some point, Alice took over The Coterie and became a manager at the apartment building. She then met Malika Williams and let her stay at The Coterie for a few months for free, on the condition that Malika would get a stable job. They later became best friends and consider each other their family.
Alice once dated Sumi, and the two were in love. However, their relationship fell apart when Sumi cheated on Alice and then left her to be with Meera Mattei. Despite their breakup, the pair remained friends despite Alice's lingering feelings for Sumi.
Personality
Alice is humble, down-to-earth, and extremely selfless. She puts everyone else's needs above her own and trusts people too much. She doesn't handle confrontation well, and instead, brushes off instances where she should stand up for herself. Alice views herself in a negative light and thinks she is a disappointment to her parents, which was why she refused to come out as a lesbian to her family.
It wasn't until Joey pointed it out that Alice realized the reason she refused to come out and her peculiar behavior was because she couldn't fully accept herself. After coming out to her parents, Alice realized they already knew and are fully supportive. This gives her the confidence to move on from her ex-girlfriend, Sumi.
Physical Appearance
Alice is a pretty young woman in her mid-twenties who wears minimal to no makeup.
Throughout Series
Appearances
Relationships
Main article: Alice and Sumi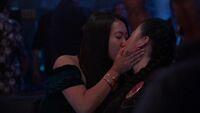 Alice and Sumi were in a serious romantic relationship for a few years. They traveled around the world together, with one of their trips including going to Mexico where they got drunk. Sumi was accepting of Alice's desire to stay closeted about her sexuality when it came to her parents. Because of this, they pretended to best friends when Trea and Alan visited. One night, the pair fought and Sumi presumed that the fight meant that they were broken up. She then hooked up with Meera Mattei, whom she met at the bar that evening. Alice and Sumi broke-up shortly after the cheating scandal but remained best friends despite Alice still being secretly in love with her.
Despite being close friends, Alice wanted to get back together with her. In "The Coterie", Sumi announced her engagement to Meera. The couple then asked Alice to help plan her wedding to which Alice agreed, only because she didn't want to hurt Sumi's feelings. Sumi often used Alice for money, clothes, or went on non-official dates with her. Sumi even kissed her at Davia's birthday party in "Re-Birthday", but acted as if it weren't a big deal. In "Broken Arted", Sumi admits to Alice that she still loves her. In "Vitamin C", Sumi calls off her wedding to Meera Mattei in the wake of Alice's decision. Alice later admits that while she loves Sumi, it isn't a romantic love anymore. They agree to remain friends.
Malika and Alice first met when Malika was living in her car and stuck in a dead-end job. Alice let Malika stay at The Coterie for free for three months until she got back on her feet, with the contingency that Malika had to find a real job or she would have to move on. Malika began bartending at Duoro, which allowed her to stable. Malika and Alice have been best friends ever since and now consider each other to be family. Malika often yanks Alice out of her co-dependent nature and encourage her to stand up for herself - particularly when it comes to Sumi, who uses often uses Alice.
Notes and Trivia
Alice is a member of the LGBTQ+ community, and a feminist working on not saying that she is sorry.[2]
In Season 1 she was closeted to her parents as a lesbian.

Alice finally came out to her parents in "Vitamin C". However, they were already aware of her sexuality and were merely waiting for her to tell them.

She works with a charity that rescues Guinea pigs and makes sure every member of The Coterie works with a charity.
Alice provided free toilet paper to all the residents of The Coterie until the tenants started abusing the privilege.
She is allergic to crab cakes.
Alice and Sumi once traveled to Mexico together. During the trip, Alice once became so intoxicated, that she is still convinced that a tree talked to her in Mandarin. She also ate a worm while on the same trip, as she believed it was an ayahuasca worm.
Quotes
"Alice [in her head]: How about you get married up your stupid little ass [out loud] A beach would probably be nice."
"Malika: You gotta stop letting people take advantage of you.
Alice: I have commitments...
Malika: You are not the Mother Teresa of ass wiping. You don't have to give people free toilet paper or plan Sumi's stupid wedding, OK? Sometimes you gotta break your commitments to take care of yourself, Alice."
—Malika and Alice "Playing the Game"
Gallery
References
Community content is available under
CC-BY-SA
unless otherwise noted.