Adriana Martinez is a minor recurring character in the Freeform series, Good Trouble.
Adriana is the old-fashioned first generation Mexican-American mother of Gael and Jazmine. She has very specific views on the world, views that begin to shift as she learns to accept her children for who they are.
Biography
Personality
Physical Appearance
Adriana is a middle-aged woman in her fifties or early sixties, with honey brown hair that she often styles in a bun, almond-shaped brown eyes, and a thin frame. She wears modest yet classy clothing and enjoys accessorizing. She almost always has a cross necklace around her neck.
Throughout Series
Season 2
In Doble Quince,
In Nochebuena,
Season 3
In Anticipation, Gael and Jazmin sit down with their family to tell everyone that Gael is going to be a father. His mother Adriana didn't know he had a girlfriend and his father, Hugo, remarks that he knew being bisexual was just a phase. Gael clarifies that he's still bisexual and the mother of his child isn't his girlfriend. His parents are confused why she isn't Gael's girlfriend. Hugo presses that the honorable thing to do is marry the woman. Gael presses that the times are different, but his father firmly states that things in this family aren't different. Gael tells them that if they can't accept his choices then they don't need to be involved in the baby's life. Adriana believes that every child needs two parents, but Gael assures everyone that his daughter will have two parents. Adriana is touched that they're having a girl but he clarifies that they don't want to gender the child. Jazmin notes it wasn't her idea but she thinks it's very enlightening. Hugo comments to Rafael that he's lucky he raised his kids in the "dark ages". Rafael, Gael and Jazmin's Grandfather, congratulates Gael and is thrilled to be a great-grandfather. Adriana wants to meet the mother of her grandchild, so Gael exchanges a look with Jazmin.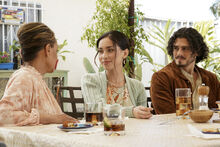 The next night, Gael brings Isabella to meet his family. Mrs. Martinez tells everyone that dinner will be ready soon and is happy to meet Spencer, Jazmin's boyfriend for the first time. Hugo is grateful for the rum. Mrs. Martinez asks Isabella about her family history, learning that she is a third-generation Argentinian and doesn't keep up with traditions. Hugo asks how her parents feel about everything so Isabella gives Gael a look. He gives her a nod so she admits that they aren't supportive. Hugo thinks they're probably just concerned for her, but Isabella clarifies that they don't want her to have the baby. Hugo asks Spencer what he does for a living. He's in the engineering business as he designs AC ducts for industrial companies.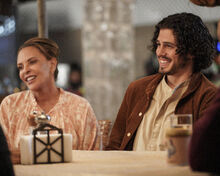 The Martinez and company finish dinner, with Mrs. Martinez asking if Isabella lives alone. Gael admits she's living in his loft while he crashes with a friend. Isabella is getting a job to get her own place, but Hugo doesn't think it's a good idea for her to be pregnant and alone. Mrs. Martinez wonders if she'll be up all night doing feedings with no help, but Gael will figure it out with her. He holds her hand as Mrs. Martinez assures her that she will be there too. Gael leaves that up to Isabella if she's comfortable with that. Isabella welcomes all the help while Mrs. Martinez wants to throw a baby shower. Jazmin tells them not to overwhelm Isabella, but they're just excited the family is having a baby. Jazmin then reveals they are also having a wedding because she and Spencer are engaged. Everyone is thrilled over the announcements, especially Rafael who thinks they are blessed. Spencer then says it will only happen if Mr. Martinez gives his blessing, offering his hand. Hugo stands and agrees to give his blessing. Jazmin hugs her father and everyone shares hugs paired with happy smiles.
That night, Gael talks to Callie about how well the meeting went as they were a family again with Jazmin's acceptance. The baby is what they needed to bring everyone together. She's happy for him and they kiss, just as Mrs. Martinez enters unannounced. She came to give Isabella a gift and can see that Isabella isn't there. Gael introduced his mom to Callie - his girlfriend.
In Blindside, Callie is polite to Mrs. Martinez and smiles, happy to be meeting her despite the awkward situation and glare that Adriana gives Gael. When Isabella arrives Mrs. Martinez is ecstatic and tells Isabella to call her Adriana. This is an offer she doesn't extend to Callie. Isabella offers to come back but Adriana came to see her as she had a gift for the baby. The next afternoon, Gael stops by his loft to grab a few things and sees Isabella pasting the first ultrasound photo in the pregnancy journal Adriana gave her. He assures her it isn't cheesy so she apologizes for Adriana showing up but makes sure Adriana will call next time. Gael tells her it isn't her fault but appreciates it.
Relationships
Notes and Trivia
Gallery
Appearances
References